Hi Crafty Friends,
Every so often I get the urge to watercolor. It is very soothing to my soul so today I am sharing a beautiful spray of roses that are in the Penny Black Rose Dance stamp. I also thought it was a perfect time to use the awesome  Karin watercolor markers that are new in our shop.
This design all starts with stamping the array of flowers on an A2 piece of Fabriano Artisco hot-pressed watercolor paper, using Versafine Black Onyx ink. This is a cling stamp so the detail is very fine and I know of no better ink to use than the fine selection of inks from Versafine. Their ink is always so crisp and fine, as well as being waterproof, an essential attribute for water coloring!
I arranged and stamped sections of the roses twice on the watercolor paper, thinking I would make this a one-layer card. Then, started to work painting the roses. I used only a few Karin markers since they blend and mix so beautifully on the paper. I used a few pinkish-reds, a yellow, and a few greens.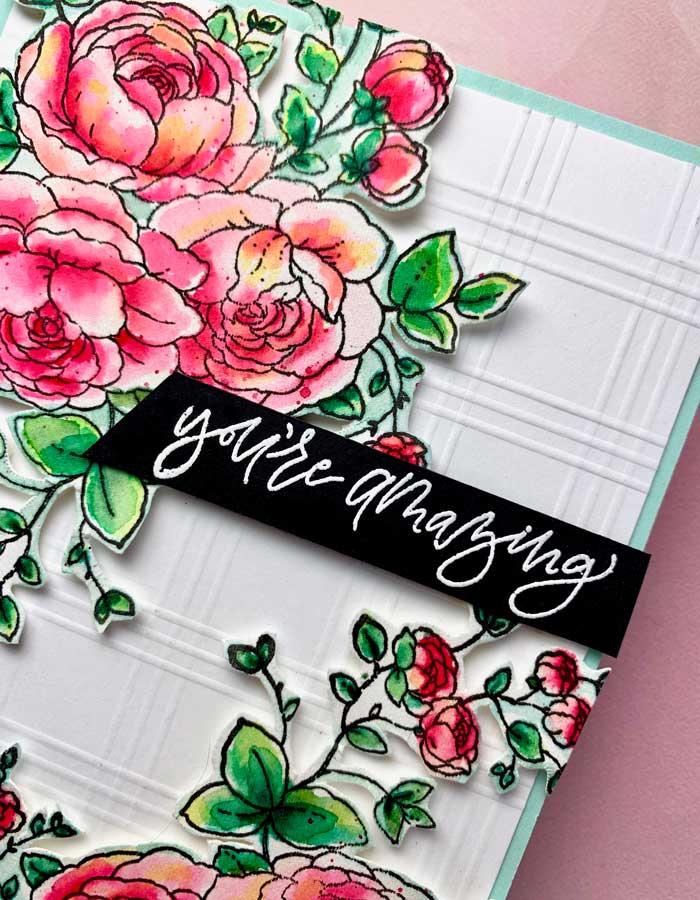 Using a small water brush, I lightly moistened a petal, then added a bit of color where it would be most heavily shaded and blended out the color with a little more water from the brush. These markers have such rich, gorgeous, intense color it doesn't take much to color the petals. I went petal by petal until each rose was finished. Once all the flowers were painted and using a few green markers (and a yellow) and painted the leaves.
With the flowers and leaves painted, the only thing left to do was to decide what to do with the background. This is where I went awry – ugh! I decided to paint the background and had a vision in my head of how I wanted it to look. I scribbled a few colors of the markers on my glass mat, then added some water to dilute it to a watery color. BUT, where I went wrong, is that I didn't test the color before I started painting – double ugh! I just jumped in and added paint to the background. It started out ok but as I got into it, the more I wasn't liking what I was seeing. I was heartbroken because I had spent so much time painting the flower, and I really liked them but felt I had ruined everything by not taking a tiny bit of time to test the color I chose for the background. Hmmm… I wonder if I will ever learn!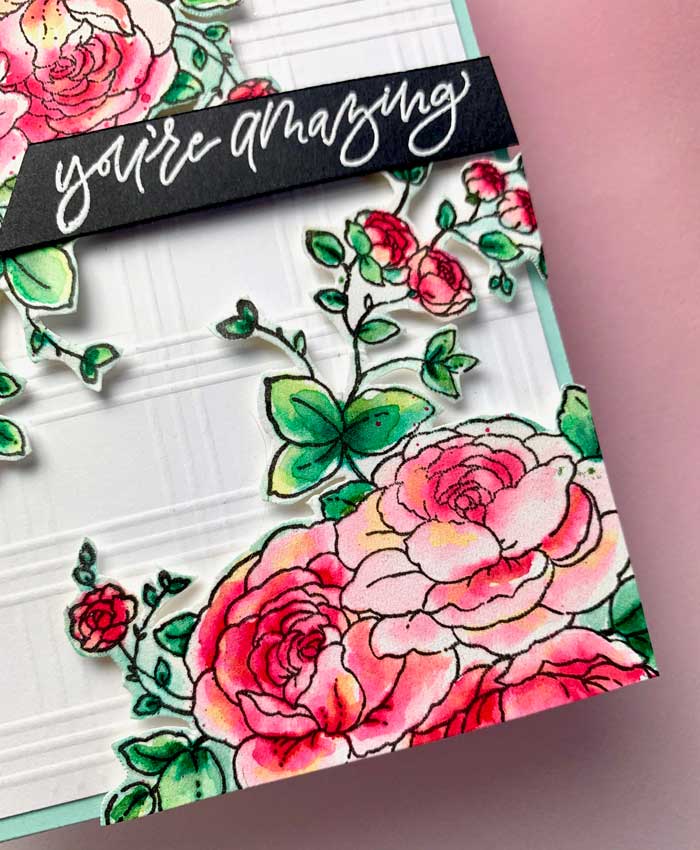 I decided to walk away for a bit and ponder if I trash it or try to save it. This is where the fussy cutting came in. In the end, I fussy cut out the flowers and leaves – that made them look much better!
To finish, I created a background by scoring a pattern onto a heavy white cardstock panel. If you haven't done this before, you might think it is difficult. But, in reality, it is very simple. All you need is a cardstock panel (heavy cardstock works best), a scoreboard, and its tool (see supply list, I added two for a choice).
For this pattern, I scored three lines 1/8″ apart (three score lines together), then skipped four lines and scored on the fifth line, scored three lines together again. I repeated the pattern across the panel, then rotated it and repeated the pattern going the other way.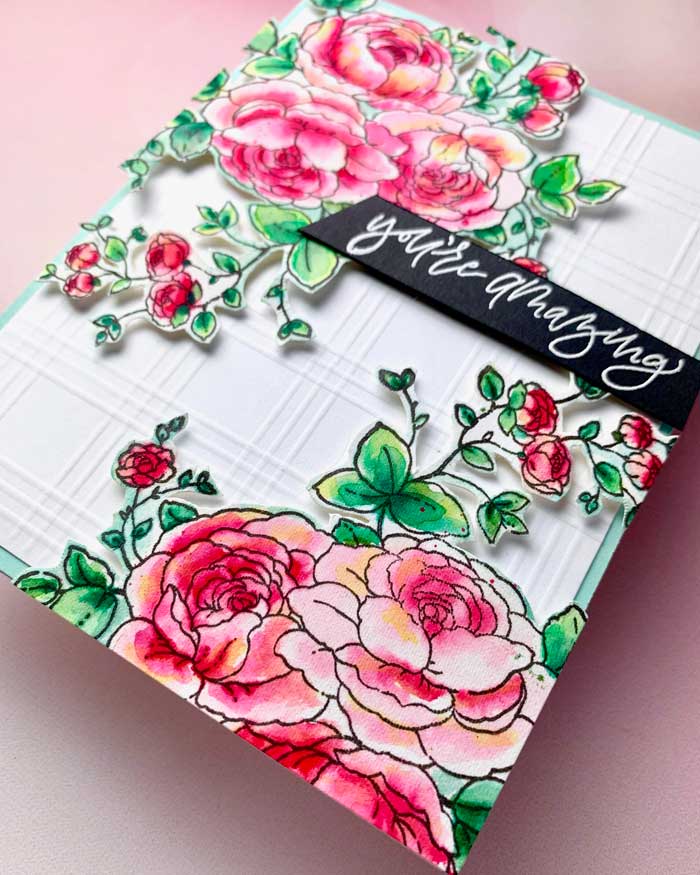 Now it was just a matter of adding an Aqua Mist teal card stock panel to my white card base, then the white scored panel, The two sprays of flowers were added with small bits of foam tape on the back so the flowers were popped up. The sentiment was stamped onto black cardstock and white heat embossed. The sentiment was from one of my very favorite mini sentiment stamp set, Just Sentiments: Tagged by Papertrey Ink-Ink To Paper. The sentiment strip was added with foam tape.
Whew! the card is done and gratefully I was able to save all the water coloring! ♥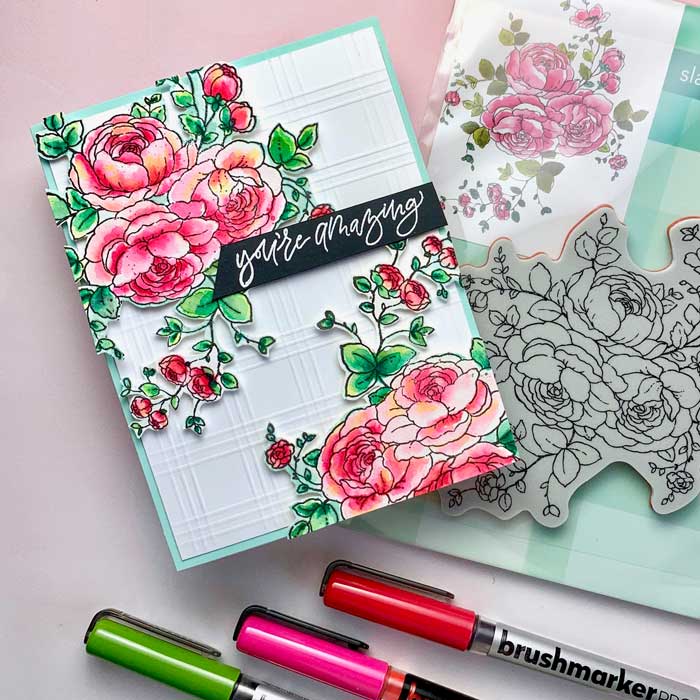 By the way, I added all the different sets of Karin markers in the supply list below. You can choose any one of them and make it work as these colors blend magnificently!
Goodies Used: