Hi Creative Friends,
We are excited today to share a wonderful card design by Heather Telford. Heather is so awesome! She has a varied palette of beautiful and creative projects! Take a look at today's beauty below.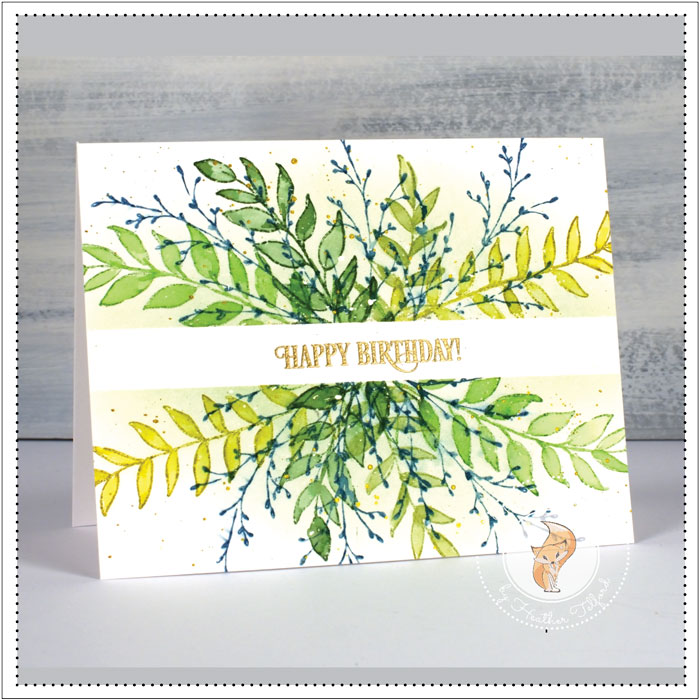 It is lovely to be back on the Foiled Fox blog and sharing a card with you, my creative friends. To make this leafy card I used a couple or foliage sets from Penny Black. The sets could probably be categorized as fall and winter sets but I like to make my stamps span the seasons where possible. By choosing simple leaf stamps and spring colors I have created a birthday card using the 'leaf trio' and 'nature's garlands' sets.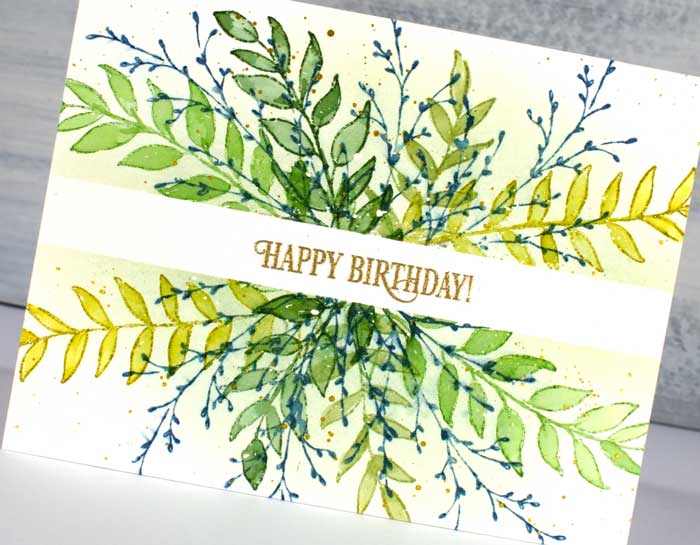 I worked on hot-pressed watercolor paper with masking fluid splattered on it. The effect from the masking fluid splatter is fairly subtle but I always think it adds some visual interest to have little white dots over a panel. With my panel in the top right corner of a stamp positioner, I used washi tape to mask a strip across the middle of the design. I positioned one of the leaf stamps from 'leaf trio' and stamped it in mowed lawn ink. Without moving the stamp I rotated the panel and stamped again. I changed inks and stamps and added another leafy spray to both the top and bottom of my design. I completed this step four times with the following distress inks: shabby shutters, mowed lawn, rustic wilderness, and crushed olive. To fill the outline leaves I used a small watercolor brush and water to blend the stamped ink. Where needed I add ink from my glass mat which I use as a palette with smooshed ink from the ink pad.
After I had blended all the leaves the design still needed some 'filler' and a different pop of color. Of course 'uncharted mariner' the beautiful sea blue distress ink volunteered for the job. Instead of adding more leaves from the 'leaf trio' set I chose a twiggy spray from the 'nature's garlands' set and stamped it over the leaves. I could see without removing the washi tape that the masked area would look distinct in the middle but not at the sides. To increase the impact I blended shabby shutters distress ink over the tape to capture the edges. (by the way, make sure your stamping is dry before you do this step or you might have a few blurry twigs)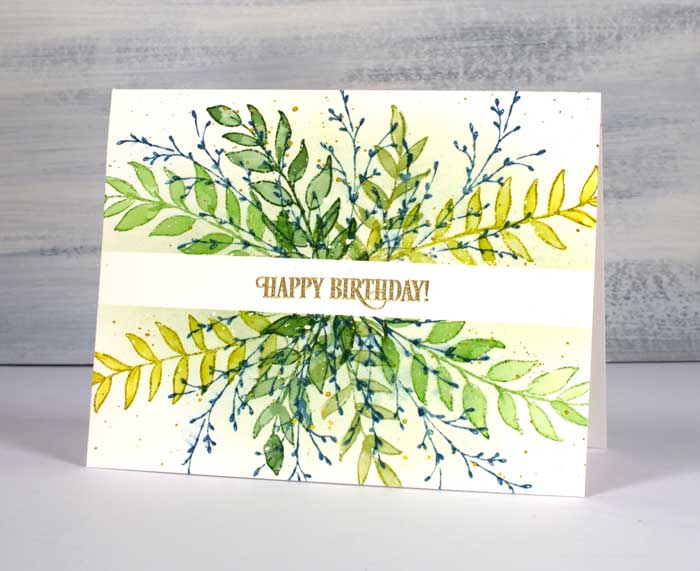 I decided on a gold embossed sentiment which of course pairs perfectly with gold splatter. I'd like to tell you I did the splatter before removing the washi tape as any organized person would do but I thought of it after I had removed the tape. Luckily the tape was at hand so I replaced it before splattering it with Coliro gold paint.
I had fun using these stamps from the autumn and winter Penny Black collections. I would love to know if you have some stamps you like to use year-round.
Learn more about Heather: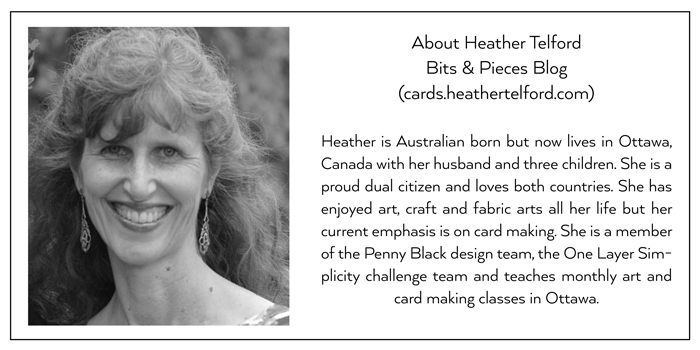 Goodies Used: