Hi Crafty Friends,
We are so pleased to share another card design with you. We are hoping that all of you, especially for those  'sheltering in place' will find something inspiring in our posts to lift your spirits and get your creative juices flowing. We, here at Foiled Fox, are at the ready to help and hopefully supply you with fresh ideas. Additionally, our online store is always open and ready to send out your latest muse – while making sure to keep everything extra clean and sanitized.
So, with this in mind, here is a tranquil card design, a lovely park bench on the edge of a garden. The garden was created with  Penny Black's Bunches For You, along with Penny Black's Bench die.
This design started by stamping the flowers from the Bunches For You stamp onto a piece of Fabriano Artistico hot-pressed watercolor paper. I used Versamark ink and a stamp positioner to make sure I got a good impression. By the way, don't forget to use the anti-static powder before you start stamping,
I was careful how I stamped because this design actually features an envelope with flowers bursting out. To avoid the envelope outline, I used a Versamark pen around those areas (not the ink pad) so I could ink the flower bits and avoid stamping the envelope lines. After everything was stamped, I heat embossed it with rose gold embossing powder. If there is any stray embossing powder particles, brush them away with a small paintbrush before heat setting.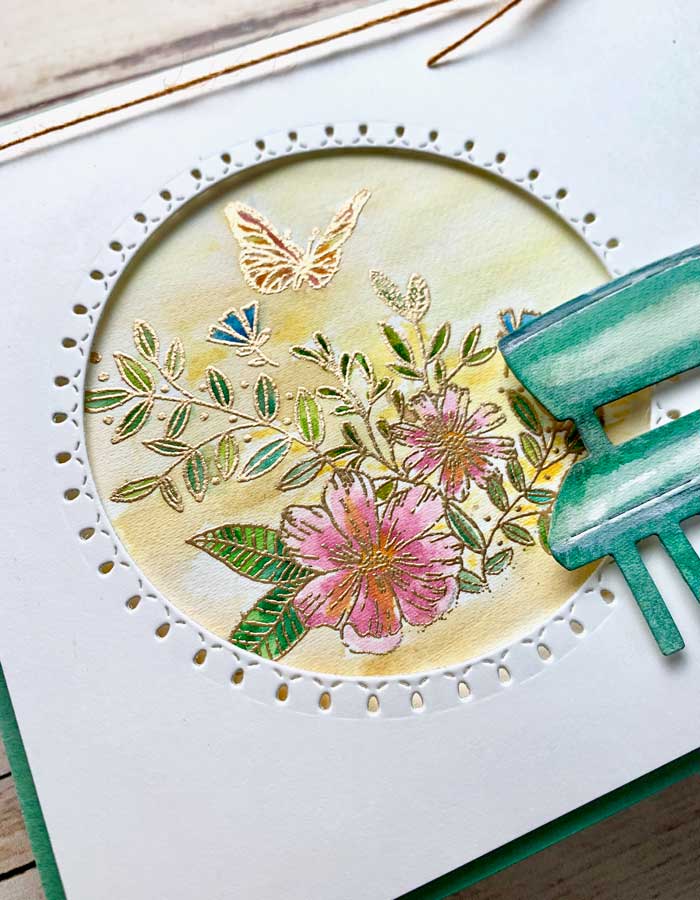 Next, was the fun part… I love to paint and color so with a few colors of ink from Papertrey smooshed onto my glass mat, I started painting the leaves and flowers. I have listed the colors of ink used in the supply list below. It is a fairly simple coloring so it didn't take long. The background was painted with Fine Linen, Lemon Tart, and Summer Sunrise.
While the 'garden' was drying, I cut out a decorative stitched circle from a Neenah 110lb. white card stock panel. At the same time, I cut out a park bench, using the Bench die by Penny Black. For the bench, I used a piece of hot-pressed watercolor paper.
To color the park bench, I used Ocean Tides, Blueberry Sky, and touches of True Black for a few edges. When dry, I added a white gouache line at the edges of the bench.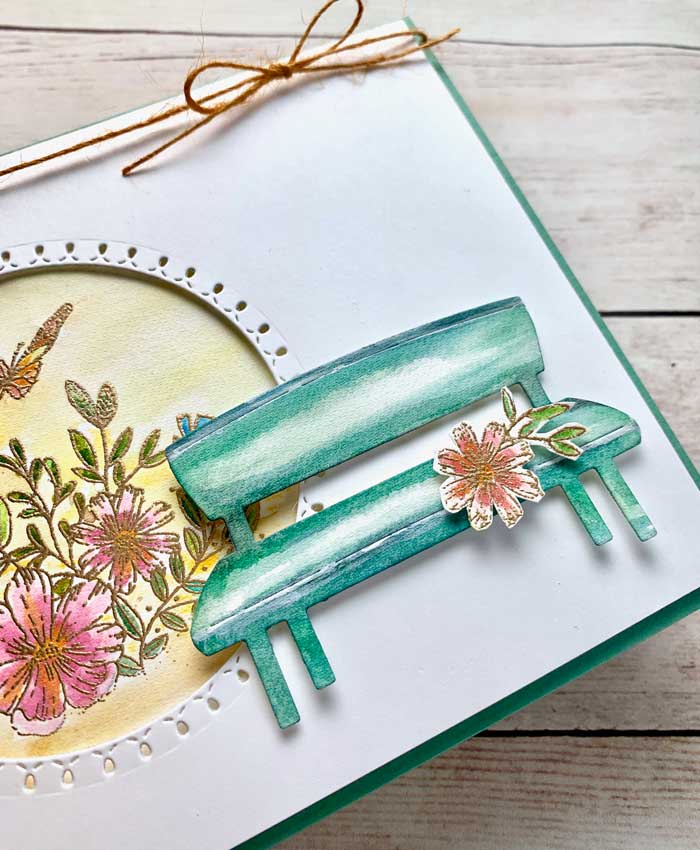 With all the pieces ready, it was time to assemble. Using a Eucalyptus card stock card base that was slightly larger than the white, stitched circle panel, I mounted the stamped and colored flowers onto the front. Next, I adhered the stitched circle panel on top with a little foam tape. Next, I added the bench, again with foam tape.
I had previously stamped a single flower with leaves from the Bunches For You stamp. It was easy to isolate the flower by using the Versamark pen, stamping it onto watercolor paper, then heat emboss it with the same embossing powder.  It was then painted the same way as the other pink flowers.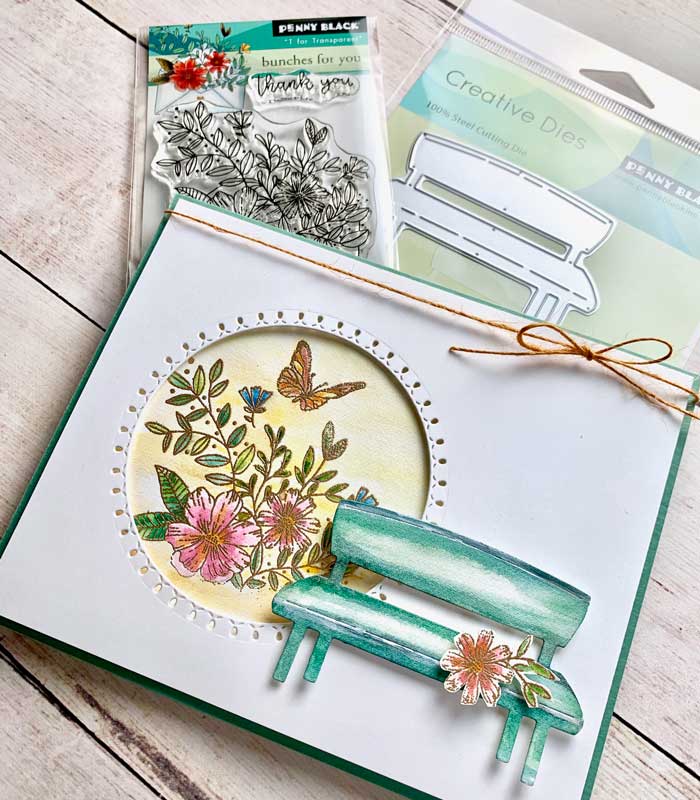 The single flower was fussy-cut and applied to the bench, along with a jute string tied at the top – and there you have it, all done! ♥
Oh, I almost forgot, I borrowed the butterfly from Alluring Arrangement. I stamped it and embossed it the same way as the single flower on the bench. Perhaps you have a favorite small butterfly you can use.
`   `   `   `   `   `   `   `   `   `   `   `   `
I hope you enjoyed the project for today and that it truly lifted your spirits. We need to support one another and cheer up any that need it right now. Make a card today and send it to someone you love to lighten their load! Stay safe, wash your hands often and take care of one another! See you next time!
Goodies Used: