Hi Crafty Friends,
I love roses and I think this "Painted Rose" by Concord & 9th is one of the prettiest ones available. It is very versatile too. You can keep it a single rose or you can accompany it with other flowers for a bouquet.
For this card design, I decided to add a second flower called Hydrangea from Penny Black and the "Just A Note" die, also from Penny Black was used for the sentiment.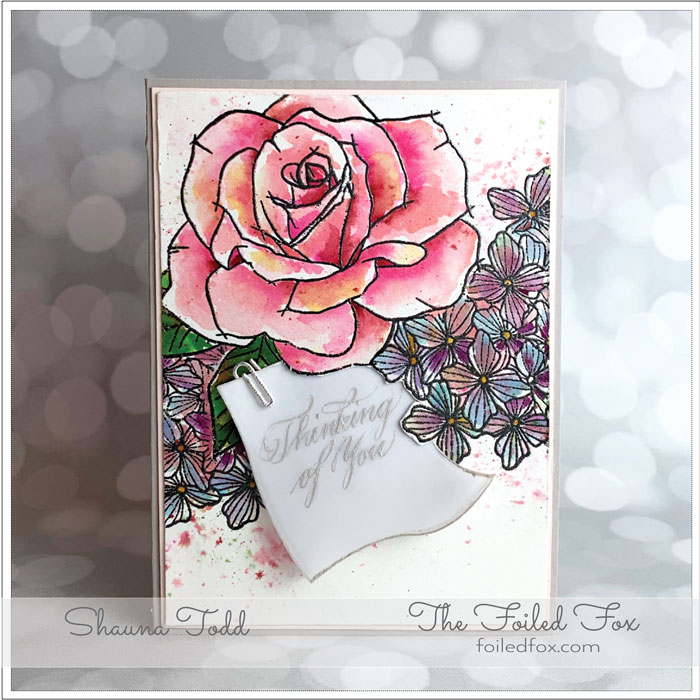 This card design starts with a watercolor paper panel, prepping it with anti-static powder and stamping the rose with Versamark ink. I did use a stamping platform so I could stamp it a couple of times just to make sure I got a good impression. I then sprinkled Gunmetal embossing powder and heat embossed it.
Next, I wanted to nestle the hydrangea flowers around the rose. To do this, I stamped another rose impression onto a piece of masking paper, cut it out, peeled off the release backing and then placed it over the previously stamped and embossed rose. Now, the rose is protected so I then stamped the hydrangea twice, first by stamping on the left side of the rose and then rotating the stamp and stamping again on the right. Just so you know, since you can't see it, the hydrangea flowers nearly meet in the center. With the hydrangea stamped with Versamark ink, they too were heat embossed with Gunmetal embossing powder.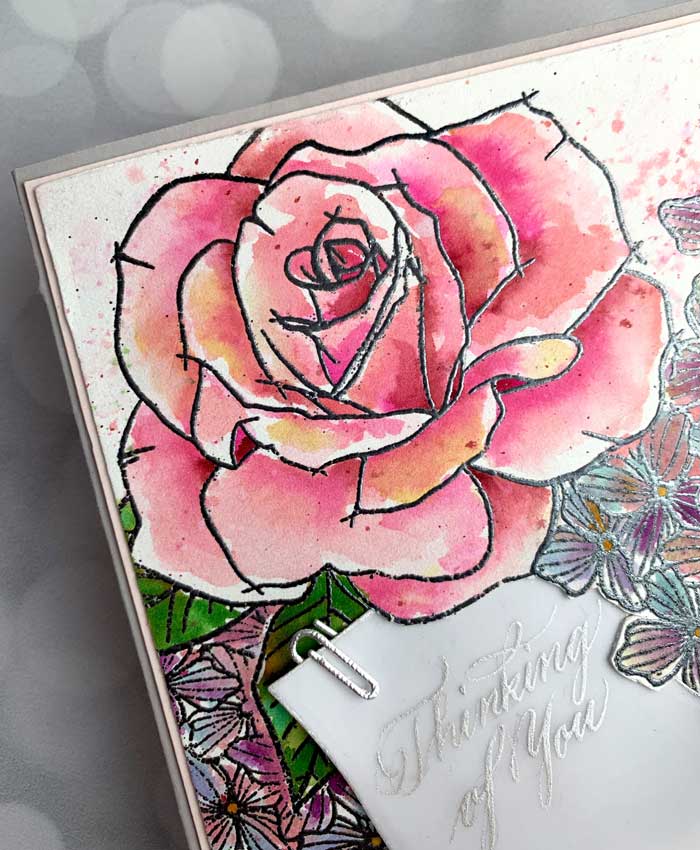 Now, for the fun part – watercoloring. I chose to use distress stains today for my watercolors. I used Worn Lipstick, Picked Raspberry and Dried Marigold for the rose and Peeled Paint and Crushed Olive for the leaves. Next, I colored the hydrangea with a few more stain colors, namely, Seedless Preserves, Stormy Skies, and a little Crushed Olive. To finish the water coloring, I made splatters with Worn Lipstick, Picked Raspberry and Peeled Paint.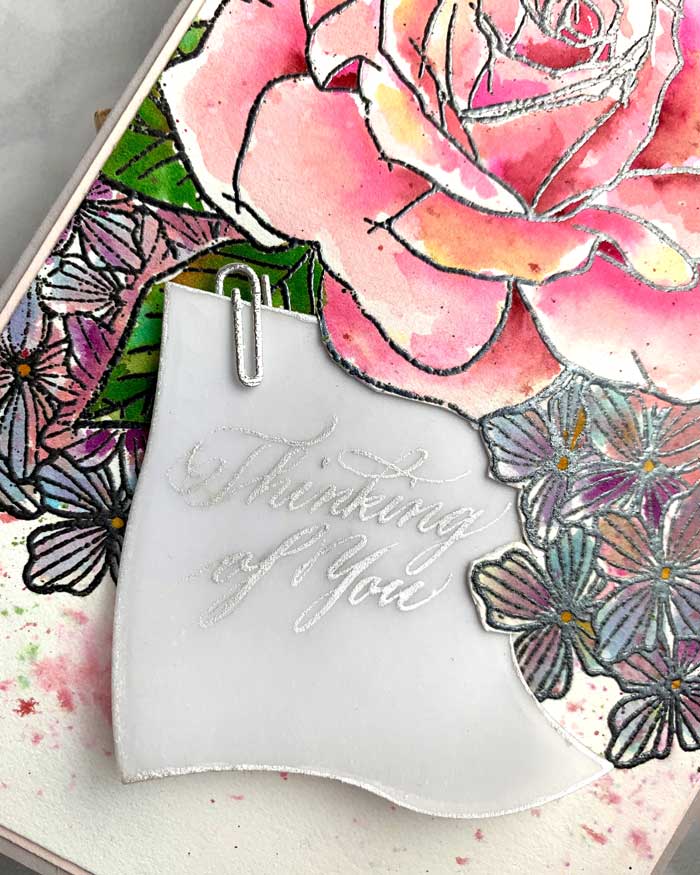 While the panel was drying, I cut a 'note' from vellum and another from a high-grade regular weight paper (so it has a sheen) using the Penny Black "Just A Note" die set. This die set also includes an adorable paper clip die. So, with a scrap of textured Silver Silk paper, I cut one of those too.
I chose to hand letter the "thinking of you" sentiment by using an oblique pen holder with a Nikko G nib and Zig Kuretake Silver ink. But, of course, like always, you can stamp your sentiment and heat emboss it to get a similar look.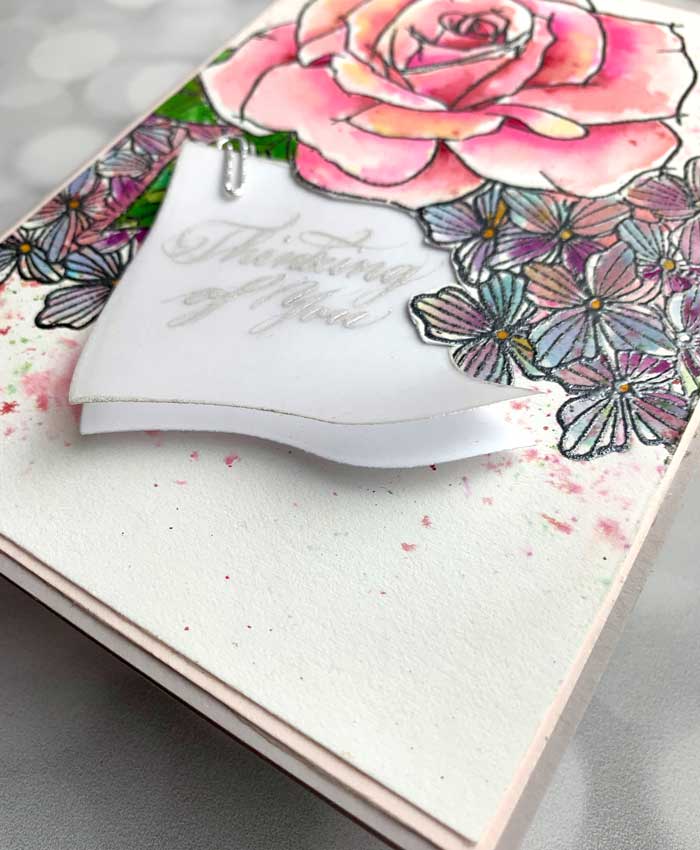 I wanted the note to have the look that it was tucked into the flowers so I cut around part of the hydrangea edge with a craft knife, only cut enough where I could wedge the 'note' in amongst the flowers. added the paper clip.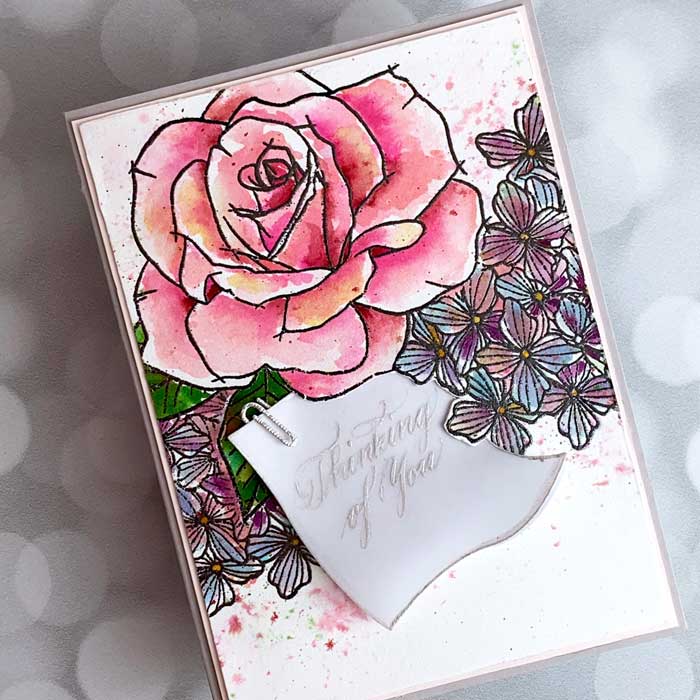 To complete the card, I mounted a Pale Rose pink panel onto an Antique Gray card base, then added the watercolor panel with the note and added that cute paper clip.
And there you have it. Thanks for joining me. I hope to see you next time ♥
Goodies Used: