HI Friends,
Heather Telford, our good friend, is sharing two fabulous cards today. She has brilliantly used the Art Impressions Watercolor stamp series to create welcoming friendship cards. We just love their cheery warmth!
Take a look at how she did it, then try you hand at it! Also, don't forget to pop over to Heather's blog for loads more inspiration.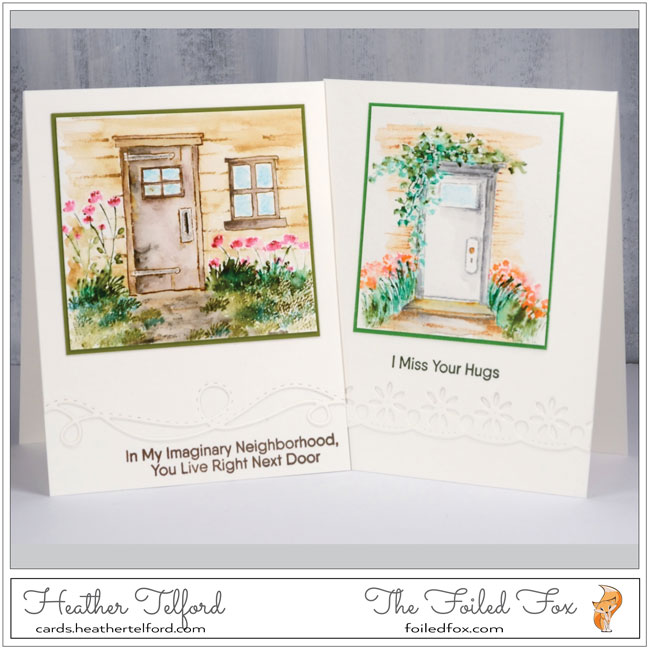 Hi there friends,
I am very happy to be here on the Foiled Fox blog sharing my first ever 'Art Impressions' cards. Art Impressions make all sorts of different stamps but as you can imagine I am interested in their 'watercolor' ones. I used several sets to create today's 'front door' themed cards.
To create my first door scene I inked the door with a gray zig clean color real brush marker then wiped some of the ink off one side of the door and stamped it on cold pressed watercolor paper. Where the side of the door was missing I stamped the ivy stamp from the 'Foliage set 3' in two different green zig markers.
When stamping the foliage and floral stamps, it is worth stamping a few times without reinking, that way you get dark and light impressions. (I learned that trick from the Art Impressions youtube channel). Next, I stamped stems from the same 'Foliage set 3' either side of the front door and step in the same two greens. I inked a flower stamp from the flower set in orange and pink then stamped that repeatedly about the stems.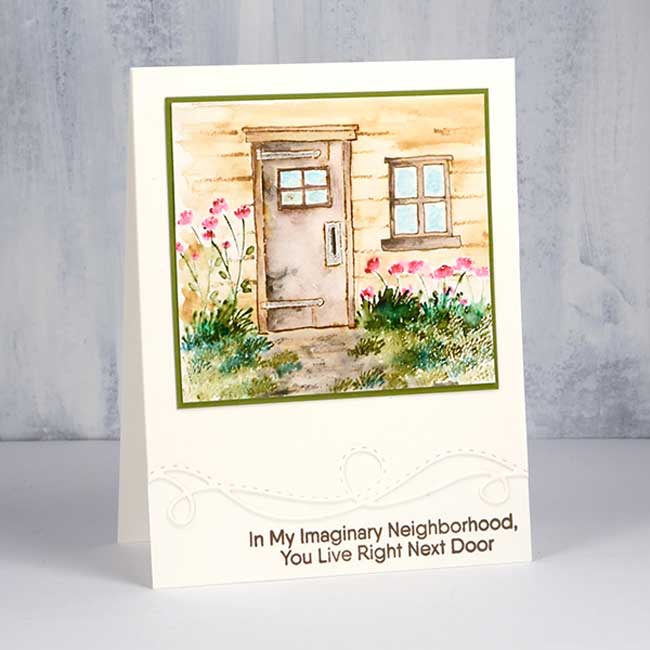 With all the leaves, grass and flowers stamped I switched to a small watercolor brush and started adding a little water to all the stamping. As the markers are water-soluble I was able to blend the images to look painted.  I used a gray watercolor pencil to color the door frame and add shadow to the door, then a light blue watercolor pencil to color the window.
To finish off the scene I used a light brown Zig marker and a watercolor pencil to color the front step, path and wall surrounding the door. I painted light brown around the door first then drew a few lines either side of the door frame to look like bricks or wood.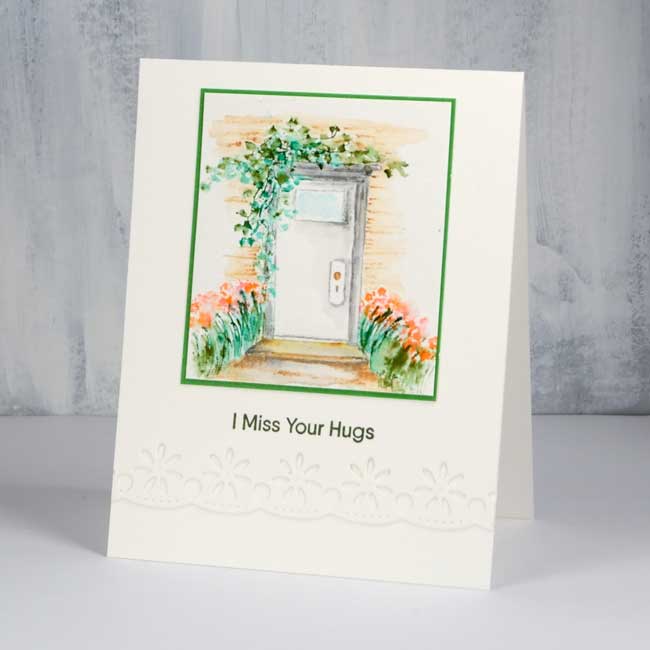 For my second scene, I used some of the same techniques but utilized distress inks as well. It is important when using these stamps to ink with a water-soluble ink like distress, zig or Tombow markers. This time I inked the whole door in frayed burlap distress ink. Once again I stamped the stems in green zig marker and the grass in two greens for variety. The flowers (from flower set 3) are stamped in red zig marker. I used a paintbrush again to blend the flowers and stems but just a spritz of water to blend the grass (from foliage set).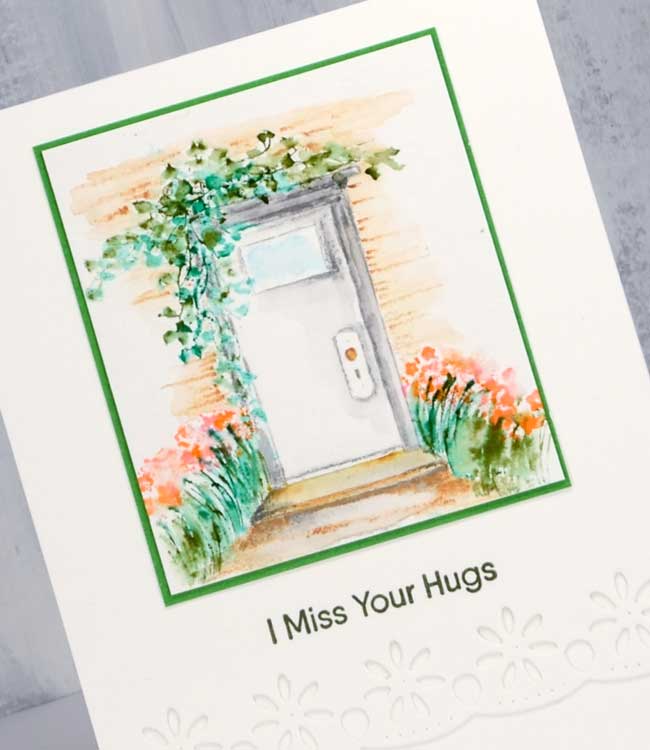 I worked on the door and a hand-drawn window with black and brown watercolor pencils and once again colored the window panes in light blue. I used a wet brush to pick up pigment from a light brown watercolor pencil and painted around both the door and window then drew some lines over the painted area. I painted a front path in black and brown pencil between the grassy sections.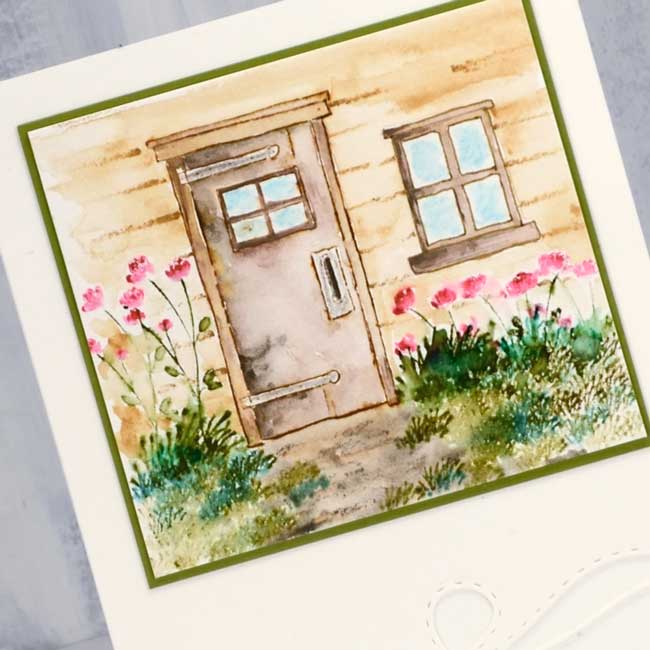 To turn my panels into cards I matted both panels in green cardstock. I prepared two cream card bases and cut an extra front panel from the same cardstock. I used two Penny black dies to create decorative edges for the extra panels then glued them to the card bases. The sentiments from a My Favorite Things set are stamped in Versafine inks. Don't you think that 'imaginary neighborhood' stamp works beautifully with a front door scene?
Thanks for joining me today.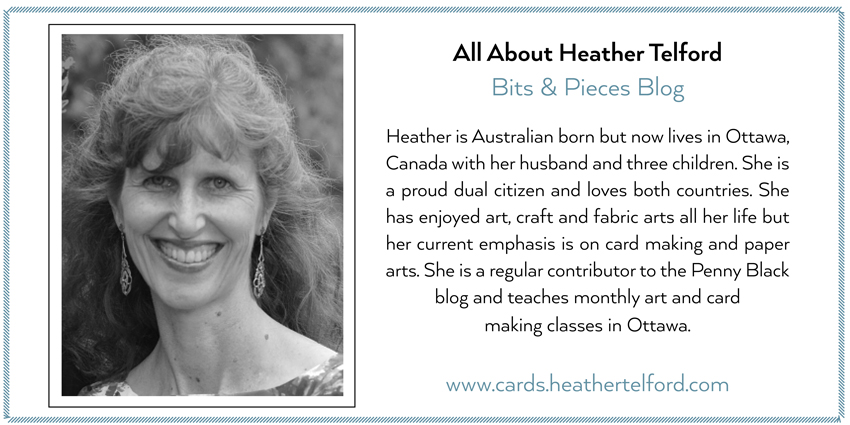 Supply List:
Art
Impressions
Watercolor
Door
Set

Art
Impressions
Watercolor
Foliage
Set 1

Art
Impressions
Watercolor
Foiliage
Set 3

Art
Impressions
Watercolor
Flower
Set

Art
Impressions
Watercolor
Flower
Set 3

My
Favorite
Things
Anything
But Basic
Stamp Set

Penny
Black
Border
Edgers
Set
Juicy
Pear
Heavy
Cardstock

Easter
Grass
Heavy
Card Stock

Caramel
Apple
Green
Heavy
Card Stock

Cold Pressed
Watercolor
Paper
Pad

Cream
Neenah
Cardstock

Tim
Holtz
Frayed
Burlap
Distress
Ink

VersaFine
Vintage
Sepia
Ink Pad
Versa Fine
Olympia
Green
Ink Pad

ZIG
Clean
Color
Real
Brush

Inktense
Watercolor
Pencils