Hi again,
As promised, I am back with another card design using a few more of those fantastic leaves created with the Lovely Leaves stamp and die set of Ink To Paper. If you had a chance to see yesterday's post, you know that I stamped and cut a bunch of these lovely leaves… so, here is another way to use more of them.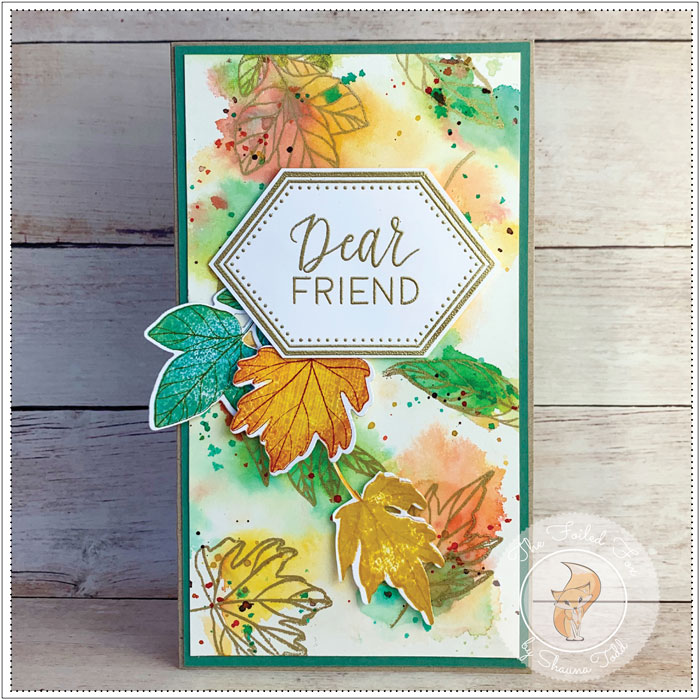 You have probably figured out that I have eclectic tastes. I like lots of different styles, mediums, and techniques. So, with that in mind, here is a simple card with an artsy, freestyle form feel.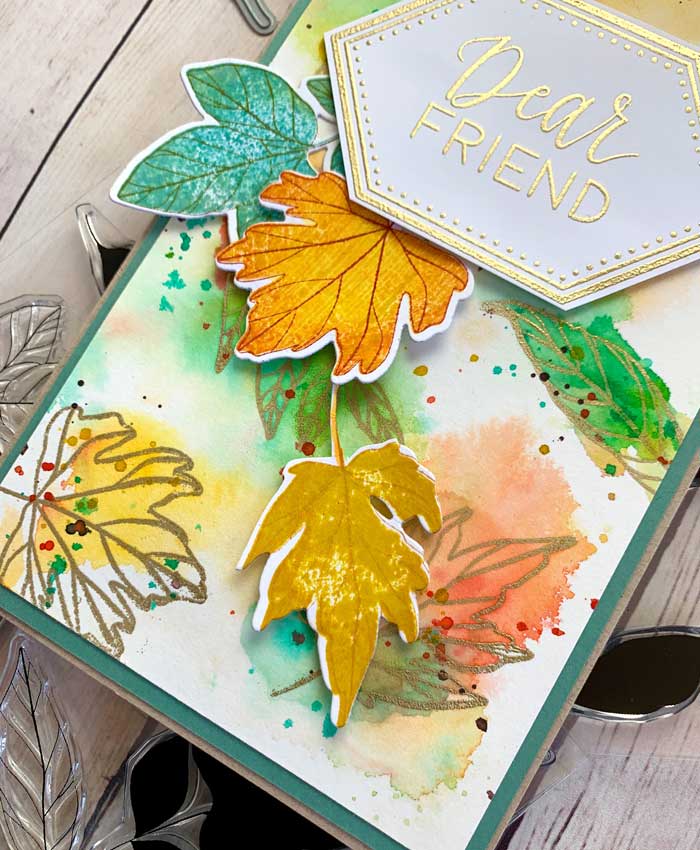 It started with a slender watercolor paper panel where I randomly stamped and gold heat embossed leaves on it from the Lovely Leaves stamp set by Ink To Paper.
Next, it was time to add some color. I wanted rich Fall hues without being too muted or soft. This called for Dr. Ph. Martin Hydrus watercolors. These watercolors are so vibrant and beautiful! I always get a little excited when I use them 'cuz I know the colors will be amazing!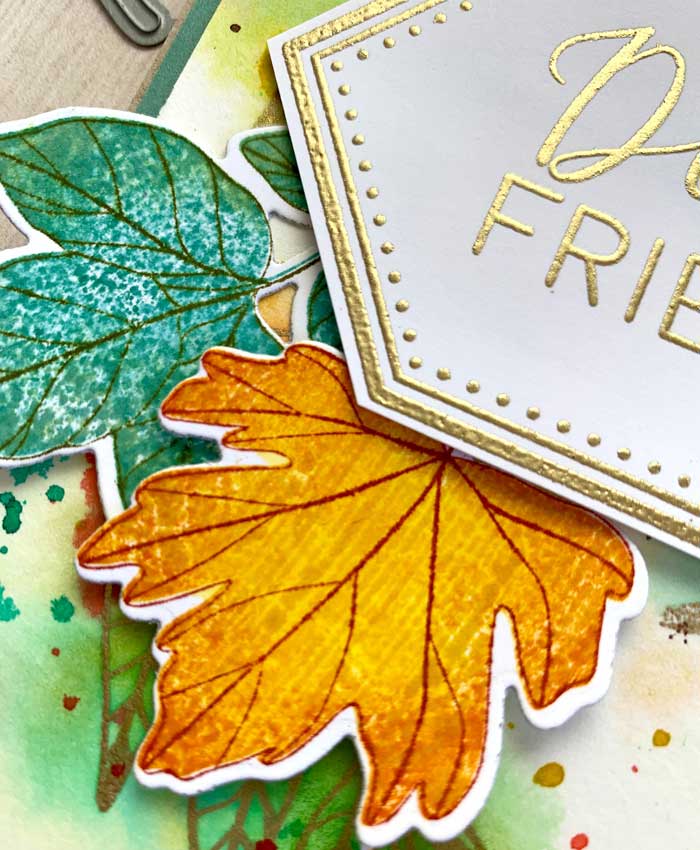 With the watercolor panel already heat embossed, I brushed on clear, clean water with a wide brush, then added splashes of color, making sure to maintain a lot of white space and only loosely coloring the leaves. The colors I used were Dr, PH. Martin Gamboge, Brilliant Cad Red, Phthalo Green with splatters of all three colors plus Venetian Brown.
While the panel was drying, I gold embossed a label from the Framing Florals stamp and die by Ink To Paper and also embossed the "Dear Friend" sentiment that is included in this set.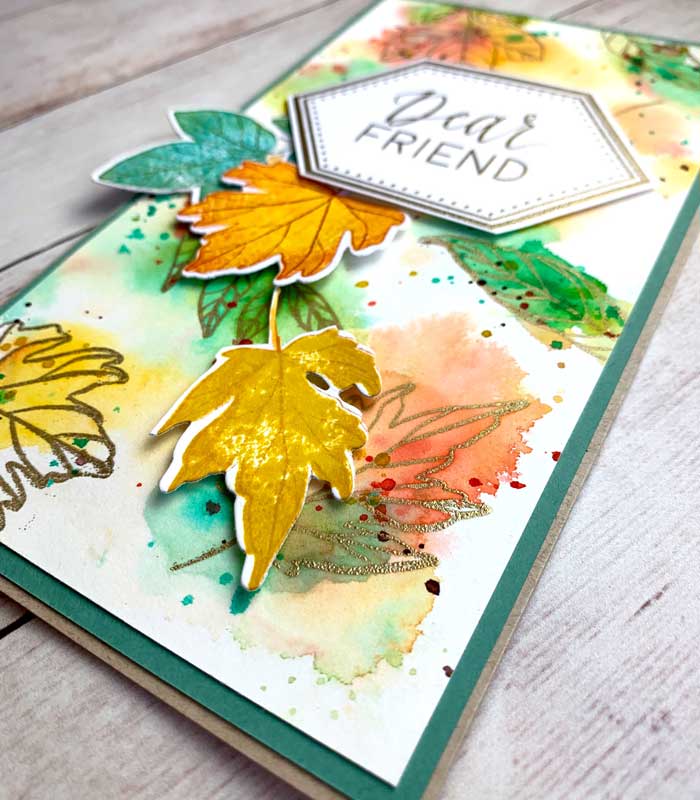 All that was left was to mount a Eucalyptus card stock panel onto a Desert Storm card base, then add the watercolored leaf panel on top. Using a few of the stamp and die-cut leaves made the day before, I mounted them with foam tape and added the sentiment label on top.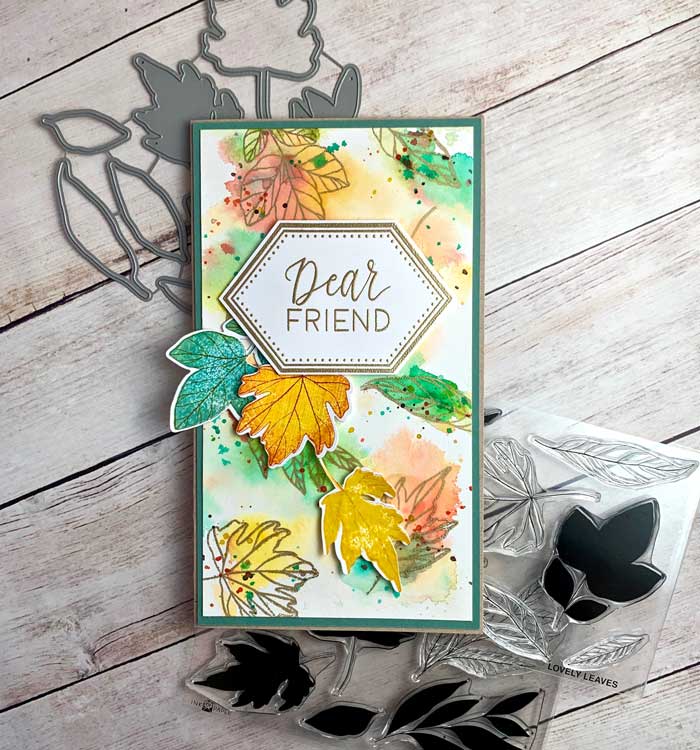 And that was all there was to it. Another Autumnal card design to celebrate a wonderful time of year!
🍂 🍂 🍂
By the way, if you would like more detail on creating the cut-out leaves, pop over to yesterday's blog article. You can easily get there by clicking here. There you will find complete instructions and a list of the inks used.
Thanks for visiting!
Goodies Used: