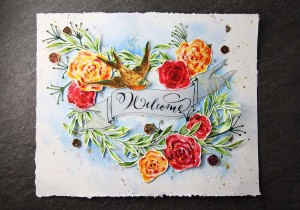 Hello Fellow Crafters,
We would like to take a moment and introduce ourselves.  We are a 'family' of passionate crafters. We have enjoyed many years of crafting, calligraphy and mixed media. It has been our best therapy and has been a way to connect and share. We are betting that many of you feel the same way!
We know we have loved learning from and hearing about talented and resourceful bloggers and designers.  It is a wonderful community of people that make up this elite group and everyone, from all walks of life, has something special to contribute.
We have enjoyed this obsession so much (really, it is an obsession, isn't it?) that we wanted to create a meeting place for fun, talent and technique.  We respect all the artists out there.  Everyone has something to contribute, so we wanted to do our part.
With this in mind, we have created The Foiled Fox.  The Foiled Fox offers a wide selection of products and we have so many more yet to add (so much to do, so little to time).  We also invite everyone, from every level of experience and excitement to join with us to create a meeting place of like-minded friends.  We have searched out some of the best and unique products and technique to bring to you.  It is our commitment to strive for the best in paper crafting, open the door to calligraphy and dabble in the mixed media world.
So come join us… sign up for our newsletter (get a free treat with your signup)…. participate in blog hops and challenges and feel free to share your experiences.
We look forward to getting to know you!
Kind regards,
Amber, Shauna, Ruri, Sara and Wayne (the heavy-lifting guy)