HI Crafty Friends,
I am so glad you are joining me today – thank you! I am featuring a beautiful floral stamp set by Papertrey Ink – Ink To Paper called Lush Bloom. These are big and beautiful flowers that are arranged onto a slimline card design.
Slimline cards have become all the rage and for good reason. It gives you the opportunity to express yourself on a much bigger palate and allows for bigger designs. Since the blossoms in this stamp are large, this size was perfect.
The background and flowers are watercolored so the background and the flowers were painted onto hot-pressed watercolor paper. I begin with a hot-press watercolor paper, slimline panel and started adding color by first moistening the entire panel with clean water, then adding Papertrey Ink's Weathervane ink. I continued to add color until I was satisfied with the panel, making sure I left some areas with a lot of white and others with dark grey areas. I then splattered on some Hibiscus Burst, Autumn Rose pink, and bleed-proof white ink (see 'Goodies Used' list below) over the panel, which was then left to dry.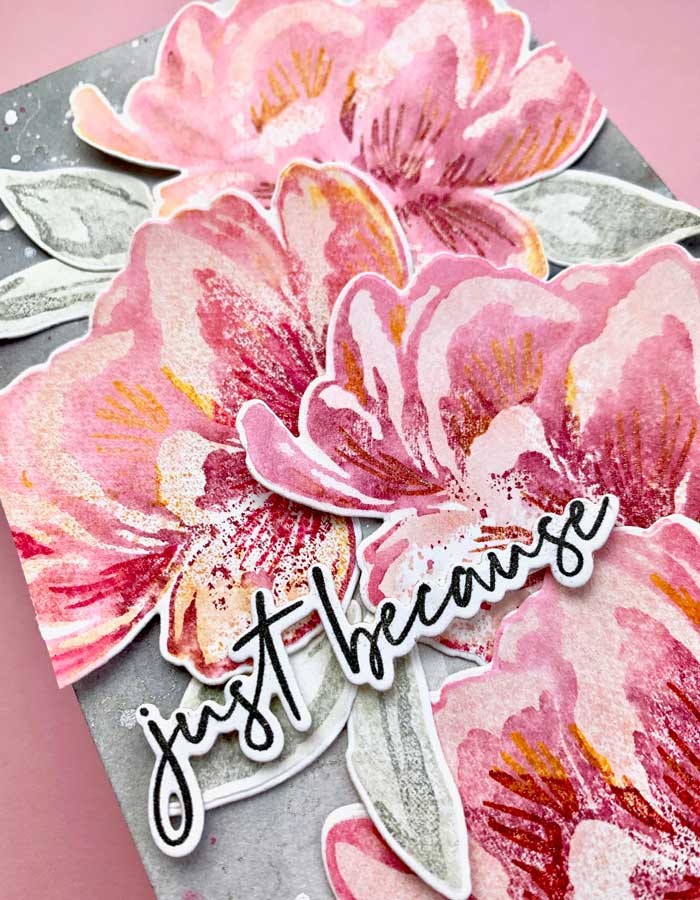 Meanwhile, I cut out a blossom using the matching die set from watercolor paper, then mounted the whole thing, positive and negative pieces in a stamp positioner, taping down the negative piece (outside frame or 'jig') in my stamp positioner. Then, I placed the cutout flower back in place (see pics below). By keeping the frame in place I could stamp multiple flowers, with multiple color layers for perfect placement.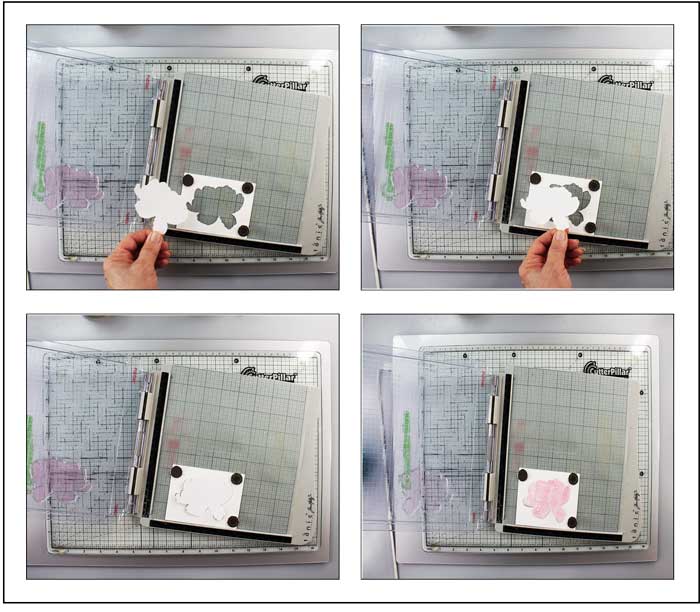 By using this method, I was also able to stamp each flower with the solid base stamp first. I started with using Sweet Blush ink for the base stamping.  Then, removing the base stamp with the next layer and stamped each flower with Hibiscus Burst and a touch of Summer Sunrise. The third layering stamp was then used and stamped with Autumn Rose.
I cut out and stamped the leaves in exactly the same way as the flowers, using Soft Stone as my base color and Weathervane for the second layer.
With the flowers and leaves done, it was just a matter of mounting the now dry watercolor background panel to a white card base, then adding foam tape to the back of each flower and pressing them in place. The leaves were added with a little glue.
This set also has an awesome "Just Because" stamp and die that cuts out the sentiment exactly, making it perfect to stamp the sentiment, using the same mounting method as the flowers and leaves. The sentiment was cut out of watercolor paper and stamped with True Black ink. It was then mounted with a strip of foam tape.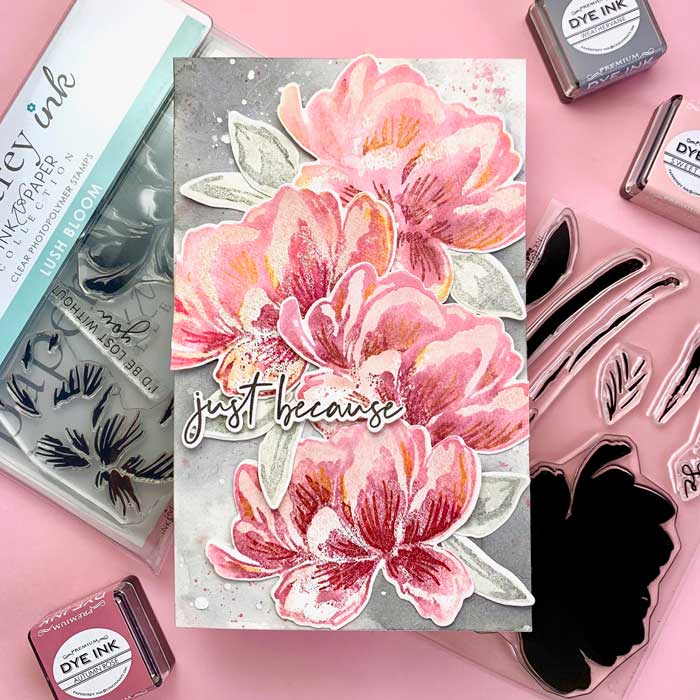 This completes the card. I hope you enjoyed it! ♥
Goodies Used: