Hi Everyone,
We are excited that Heather Telford is visiting our blog today and she is sharing two beautiful card designs using Alexandra Renke's Autumn Rose patterned card stock and a few of Penny Black's dies. These are a brilliant combination for card designs that are easy to make and oh, so beautiful!
Soak in all the beauty and talent Heather has brought with her today, then pop over to her blog to see more!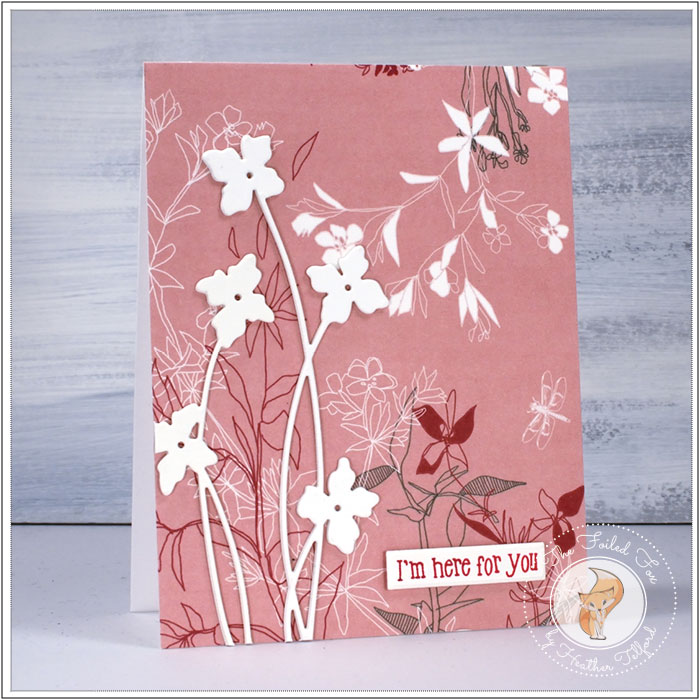 Hello again, my artsy craftsy friends, I am happy to be back here chatting to you about beautiful papers, dies and stamps. If you have browsed around my blog at all you will know I don't use patterned papers too often but when Shauna from the Foiled Fox introduced me to Alexandra Renke papers I knew that was going to change. If you haven't heard of Alexandra Renke before you need to stop reading and type her name into the search bar on the Foiled Fox website to see her beautiful designs.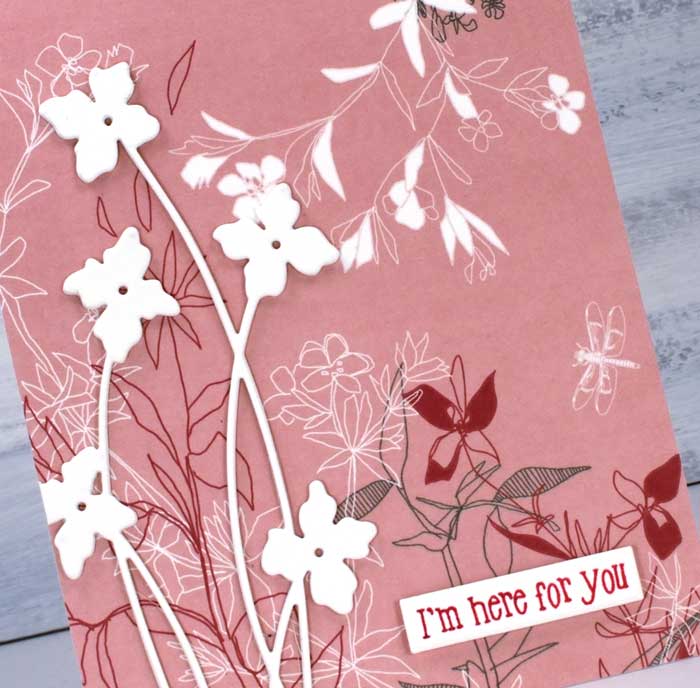 I kept today's cards pretty simple because the papers are so lovely. I decided to cover the whole card front with Alexandra Renke (AR) Autumn Plant Rose paper. The designs on the paper are nature inspired with flowers, leaves, dragonflies and the occasional line or two of poetry.  I looked for dies that would either mimic the designs on the paper or co-ordinate with its theme.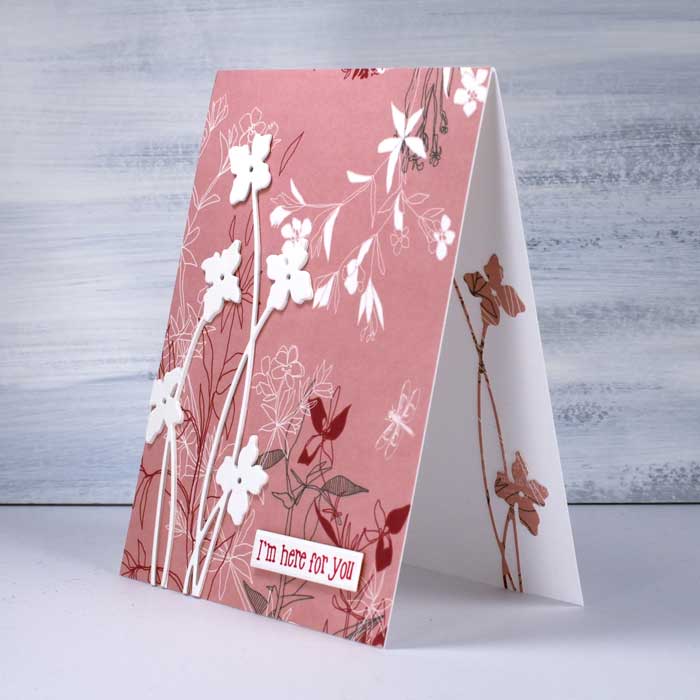 Adding detailed images on top of patterned papers doesn't always work, it is important to make sure the images on top don't get lost in the pattern of the paper or create discord in the overall design. The flower die I chose, 'shall we dance' from Penny Black has tall stems like the flowers in the paper and the flower heads look a bit similar also. When I first lay one of the die cuts on the paper it didn't stand out enough. By stacking three on top of each other I was able to boost the look . I used stick-it adhesive on the back of the watercolor paper before die-cutting to make assembly easier. Are you wondering why I used watercolor paper for the die cuts? The watercolor paper just happened to be an exact match for the white elements in the patterned paper. You know I love the matchy-matchy. I think die cuts in the burgandy color would have been very striking also.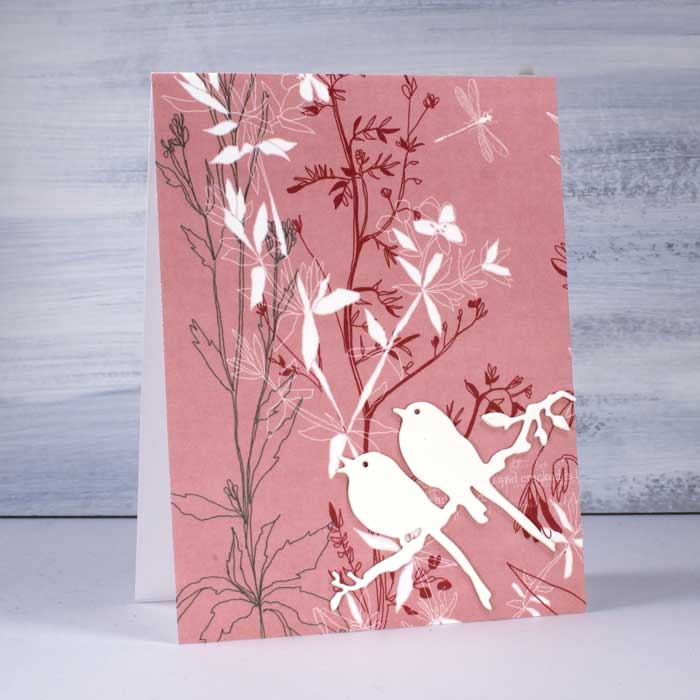 The second card features another Penny Black die, 'the sweetest sound'. I stacked three layers and attached it to the lower right corner. Initially both cards had no sentiments but I ended up adding one small sentiment which fitted with the calming design of the paper. The sentiment is from the ever useful PB set, 'happy snippets' die-cut with  an Avery Elle 'simple sentiment' die. I added one more finishing touch by die-cutting the flowers and birds from the patterned paper to peek out from inside the cards.
I love using patterned paper for sets of cards, whether I cover a whole card front with the paper or just add shapes or die cuts here and there it is lovely to have the art of another designer appearing on every card. Finishing off a set with a custom box featuring the same paper is also a nice touch. Sorry I don't have all those elements to show you today but you can see where I'm going with this idea can't you. I hope I have given you some simple ideas for using some gorgeous patterned paper.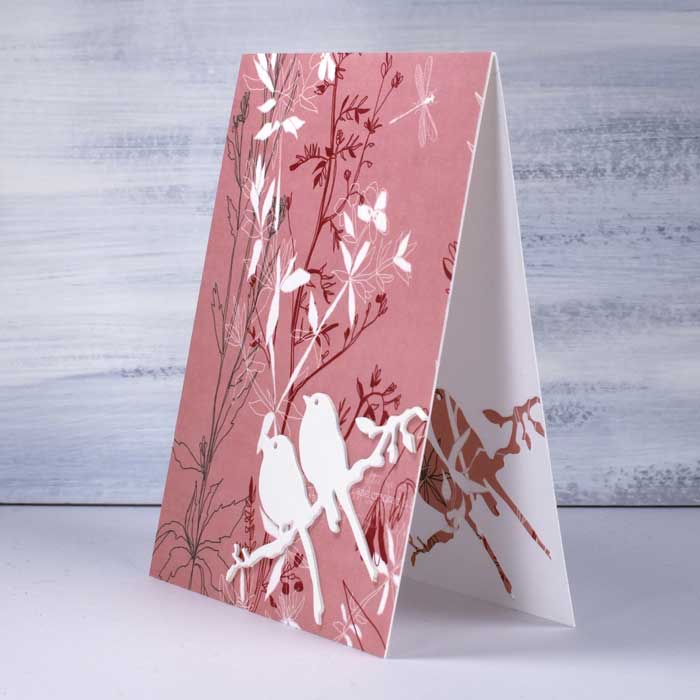 Learn more about Heather: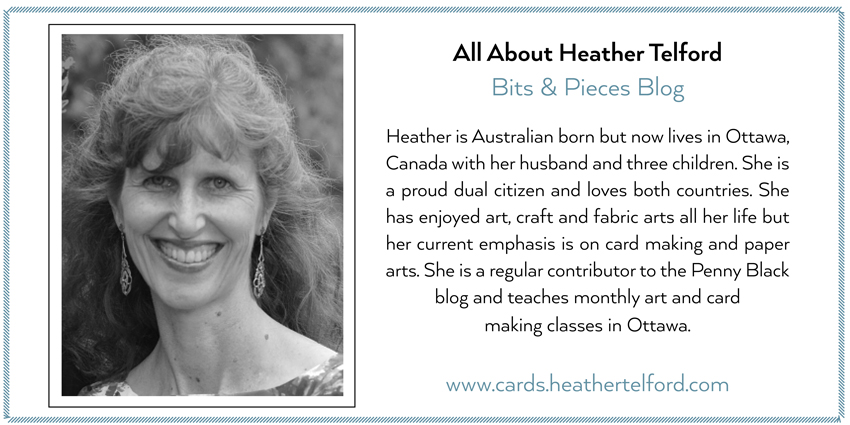 Supply List: