Hi Crafty Friends,
It is another red-letter day – we get to share another beauty from Joan Bardee and her Dear Paperlicious blog. As you know, Joan makes the most creative card designs and as an extra bonus, we are treated to one of Joan's fun anecdotes – YAY!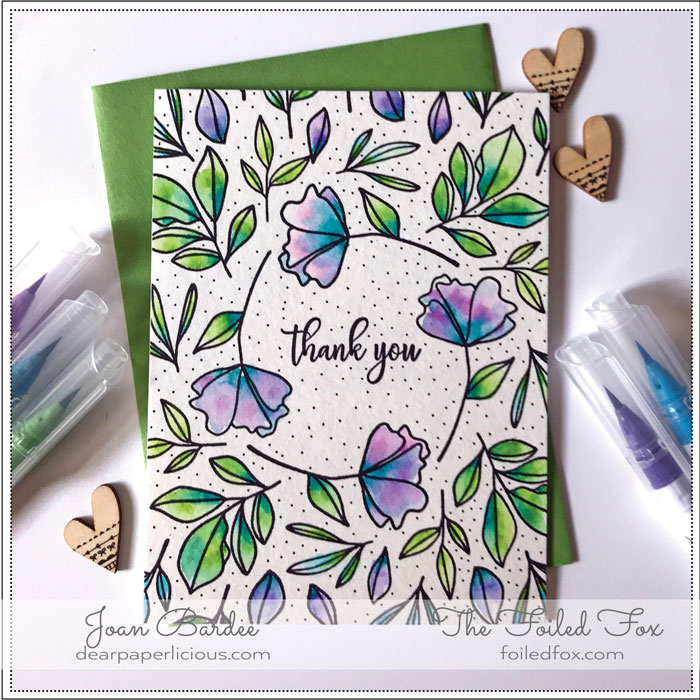 Happy to be back on the Foiled Fox blog! Today I'm sharing a couple of similar cards that use The Stamp Market's Bloominous set. But, I'm mainly talking about math and design.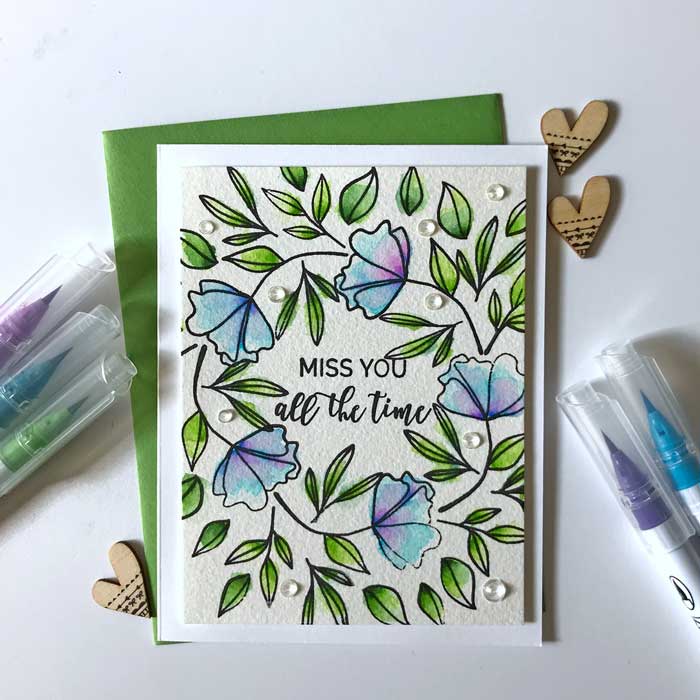 I wanted to stamp a wreath and didn't want to use a template for wreath building, mainly because I don't have one. So, after practicing on some typing paper, I curved one of the flowers from Bloominous and stamped it in a circle of sorts. I like the fact that it's not really a circle because I. Am. Not. Hallmark.
However, while there is a lot to like about this card, the flowers and leaves crowd the sentiment just a bit and are not perfectly centered. So, I decided to try again and made version #2.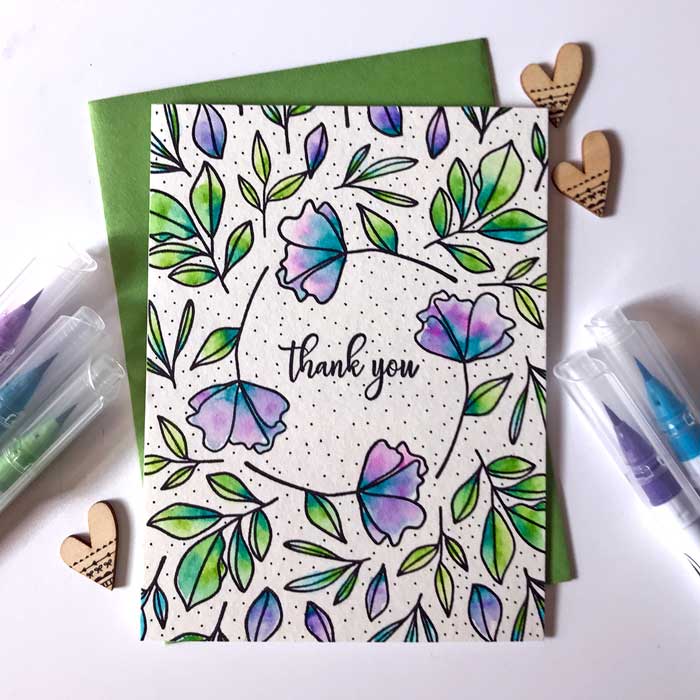 The cards are pretty similar and use nearly identical supplies. Both use cold press watercolor paper, Zig Clean Color Markers, and Versafine Clair Nocturne ink. But they are a little different. Before you continue reading, take a closer look at each card. What are the differences? Which do you prefer? Why?
I prefer one-layer cards with no embellishments, so the second card is my favorite, even though something about it was bugging me. When I'm not sure what's up, I 
show my cards to my husband and sometimes my son. They are both honest and have no problem crushing my dreams!!
Actually, it's very helpful to get out of the stamping/papercraft social media world and get feedback from someone who doesn't make cards. Sometimes we can get so caught up in what everyone else is making, and what is trendy, that we start making things that we don't like. I don't know about you, but I don't like every trend and it's a waste of time and money and effort to make things because I think I should like them.
Here's how it went when I asked my son about these cards.
Son, pointing to Card #1:  "This is better. It has 5 flowers instead of 4. Don't ever make anything with an even number of flowers."
Me:  "But the saying on the first card is crowded."
Son: "It's fine. Quit overthinking. "
My son created exactly two art things in preschool. He didn't like painting or coloring or doing anything with his hands. So, rather than gluing elbow macaroni to construction paper, he sat around preschool thinking about numbers. This led to lots of parent-teacher conferences, where my husband and I would worry about the lack of macaroni gluing. Luckily, there's not a big market out there for gluing macaroni to anything and there is a market for kids who can count so he is doing just fine!
It's not surprising that a math kid, even one who never made any art, recognized a basic design principle that odd numbers of things are more pleasing to the eye.  If you have 2 flowers (or 4) on a card, or two vases on a mantle, your eye has no reason to look at one more than the other. It can get lost. But if you have 3, your eye is forced to move around, or to settle on the middle one. If my explanation doesn't make sense, don't worry. I'm not a math person and I don't have any background in graphic design. I'm just repeating what I've read and what makes sense to me.
Interestingly, much of graphic design is based on math — google "mathematics and graphic design" and you'll see thousands of articles. So when my son chose the card with 5 flowers, rather than the one with 4 flowers, he was demonstrating, at least to me, the connection between math and design.
Nevertheless, I still prefer the card with only 4 flowers – the sentiment in the center helps focus your eye, despite the fact that I've committed the design sin of using an even number of flowers. And, sometimes we can just like something for no reason at all — even if breaks a rule and even if no one else does. Really.
Learn more about Joan: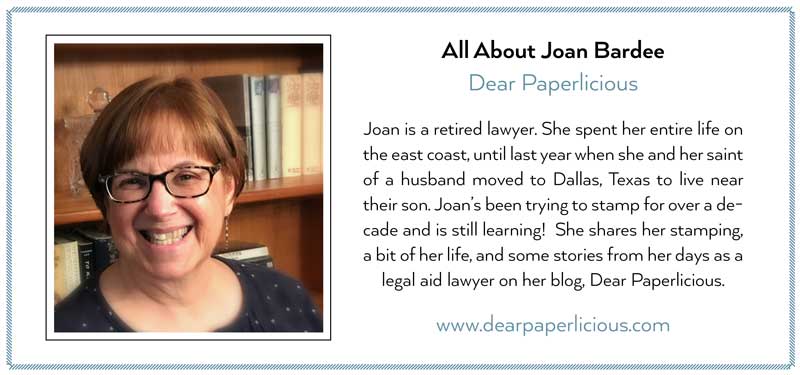 Goodies Used: