HI Crafty Friends,
We hope all is well in your house and that you are enjoying the Spring to Summer weather… and a little creating time too! To help spur you along the creative path, we are sharing a dramatic and beautifully watercolored blossom by Rosali of I Love Stamping (Instagram: @ilovestamping). She used the Wallpaper Art stamp and mask set by Altenew for this exquisite card design.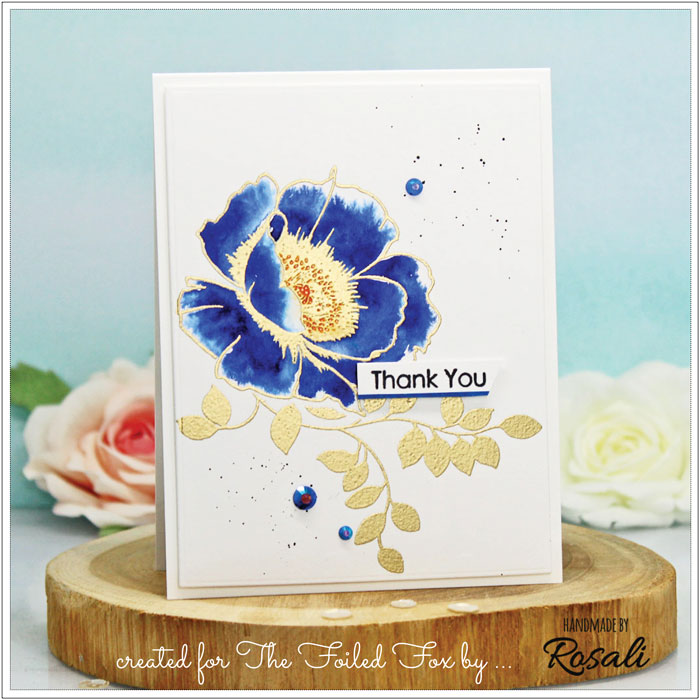 This card design starts with a Neenah white card panel. Rosali has stamped the flower with Versamark ink and then heat embossing it with WOW! Gold embossing powder. To stamp the leaves, she used the matching mask set to mask (cover) the flower, then stamped the leaves with Versamark ink and embossed it with the same embossing powder. By masking the flower, she was able to get the leaves right next to the flower and look like they are coming from behind the flower.
All the coloring of this big, beautiful blossom was done using the Pinkfresh watercolor, Sapphire Blue but you can choose whatever bright watercolors you have on hand, Dr. Ph. Martin Hydrus colors or Distress reinkers are a good alternative.
Rosali used the wet-on-wet method for painting the blossom. This means she first dampening one petal at a time with clear, clean water then adding the blue watercolor at the inside of the petal, then letting the water help blend it out to the tip of the petal. After all the petals were painted, a touch of orangey-red watercolor was added to the center of the flower.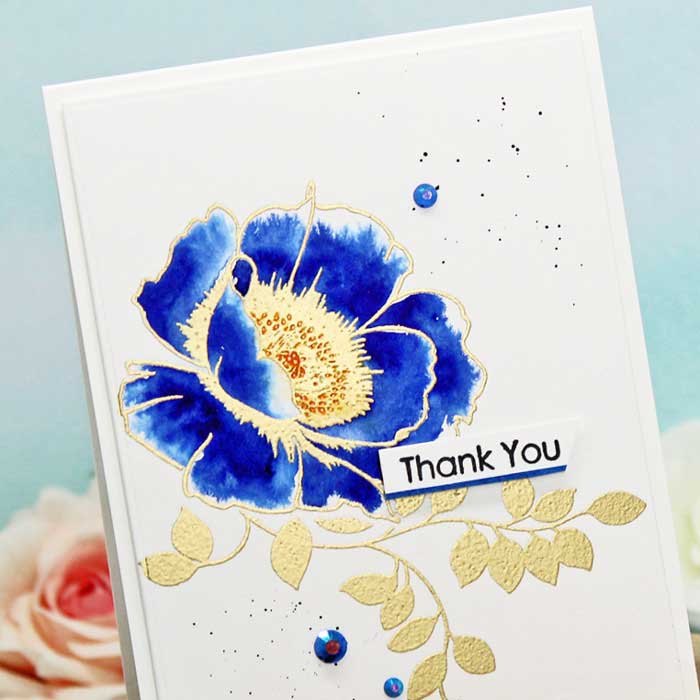 When all the painting was done, a smattering of tiny splatters was added with a very small brush and black ink. When the panel was dry, it was mounted onto an A2 card base.
To complete the card, Rosali stamped "Thank You", one of the sentiments included in the stamp set with black ink onto a strip of white cardstock, added a blue cardstock strip to the back, then adhered it to the front with a bit of foam tape. A few faceted jewel dots were added for the finishing touch!
Learn more about Rosali: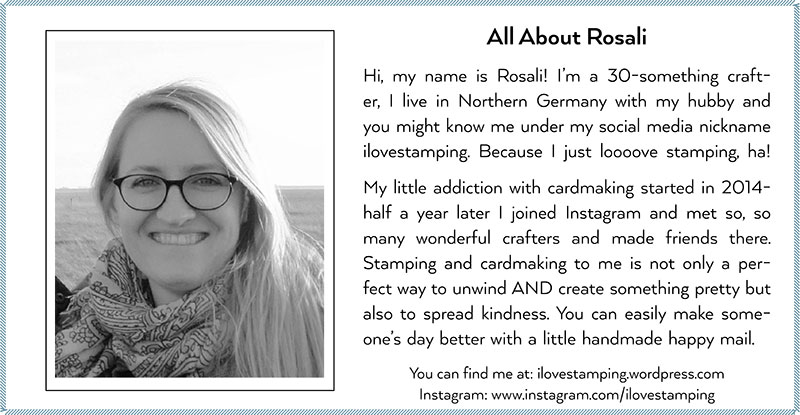 Goodies Used: