Hi Creative Friends,
To officially kick off the holidays, we are sharing a gorgeous card design by the ever-talented Heather Telford. She is using a new stamp by Penny Black called Winter Blooms. Look below to see more images and read how Heather created it. Then, be sure to hop over to Heather's blog for more.
Before we turn you over to Heather and her wonderful card design, don't forget to check out the information about our Black Friday sale at the end of this post. Enjoy 15% off through Monday by using the code: JOY2021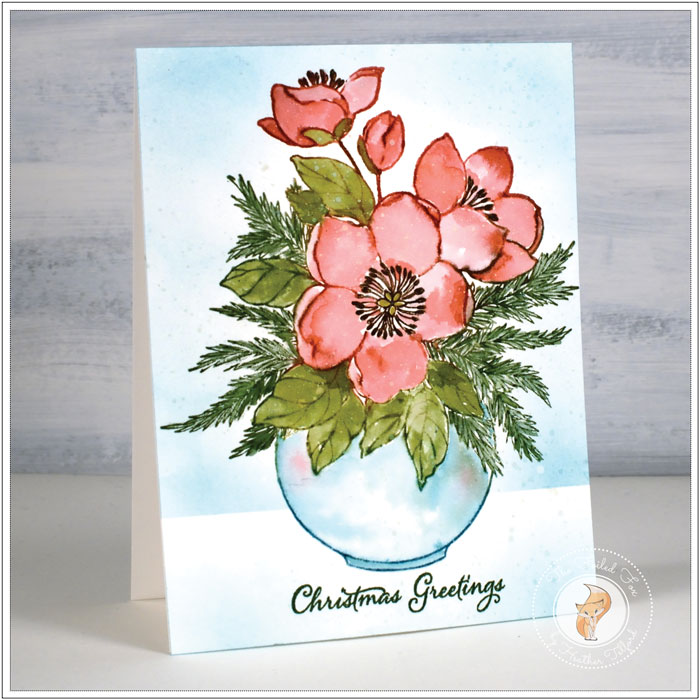 Hello, my creative friends,
It is wonderful to be back on the Foiled Fox blog chatting to you about Christmas cards, watercolor techniques, and floral stamps. Anything that includes watercolor and floral stamps is totally my thing. The last time I was here on the blog I shared a card with a sweet bird on it and chose non-traditional Christmas colors. This time I think I am a bit more traditional and probably true to life with the color of the flowers on the Penny Black stamp 'winter blooms'. I looked up 'winter rose' also known as 'Helleborus' and saw they can be white, pink, burgundy, and black along with variations of those colors. The petal color I used is a pinkish burgundy ink from Catherine Pooler called peppermint scrub.
As I usually do for this technique I worked in a stamp positioner on hot pressed watercolor paper. I inked all the colors and sections of the stamp except for the centers of the flowers before stamping. I used Catherine Pooler inks for the leaves, petals, and vase applying one color then cleaning off any areas where that ink wasn't wanted before inking with the next color.  Once the stamp was totally inked I spritzed it lightly with water and stamped it. There was a bit of bleed from one ink to another but not too much. A similar effect could be achieved by inking and stamping one color at a time then spritzing only on the last impression. I wanted a little blending of the ink but not so much as to flood the design and make mud from the green and pink combination.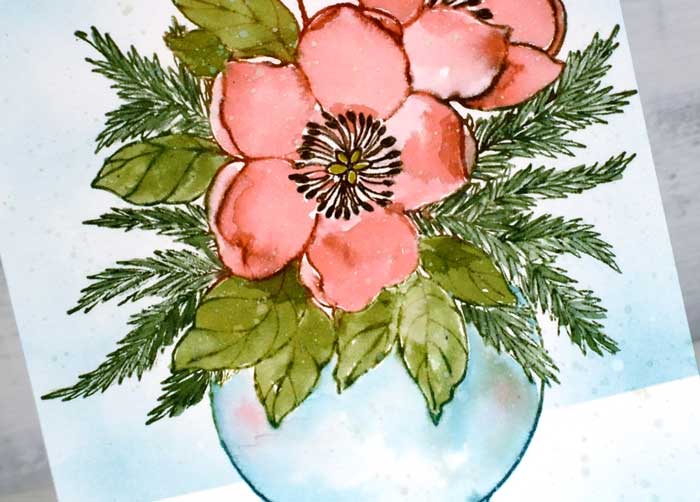 Next, I used a paintbrush and water as I blended the stamped ink to fill all the petals and leaves. I blended the ink on the panel and occasionally picked up extra 'smooshed' ink from my glass mat. When painting the vase ( stamped with CP daydream ink) I dropped in a bit of peppermint scrub and eucalyptus ink to look like the petals and leaves were reflecting on the outside of the vase. Once every element was painted I dried the panel (still in the positioner) and inked the flower centres with a ground espresso distress marker and stamped without spritzing to keep the lines distinct. I used the bullet tip of the same marker to go over the lines where they needed to be darker, then used a gold gel pen for the center of the large flower.
It is quite a large stamp so I kept the greeting small to fit on the 4.25 " x 5.5″ panel. The sentiment is from the Penny Black set, 'festive snippets' and is stamped in Versafine Clair shady lane and rain forest ink. Sometimes I use one ink over another to match the colors in my design.  I grounded the vase by blending daydream ink over a horizontal post-it note mask to look like a wall behind. To finish off I splattered a bit of water, then patted it dry with a paper towel before splattering some white gouache. It is quite subtle but you can probably see it in the close-up photo.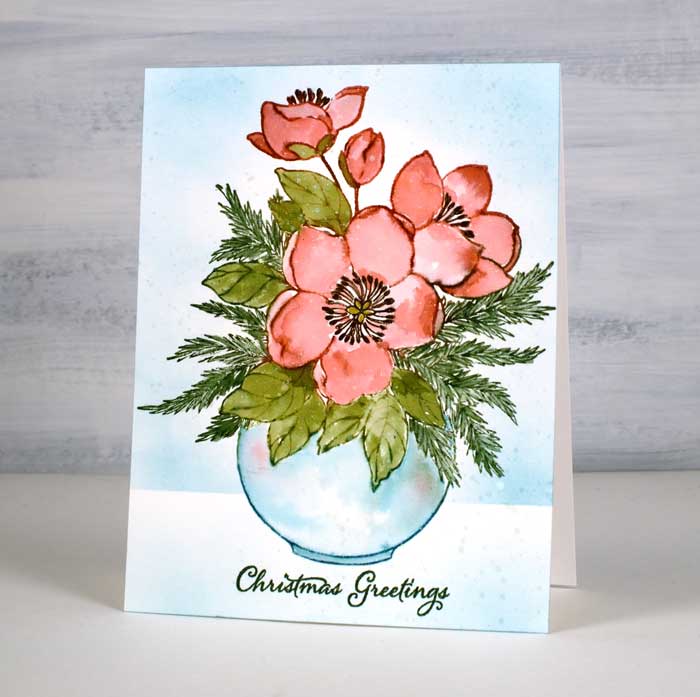 As I made this card twice, my pile of Christmas cards is still growing. I have written all the ones going to Australia but they are not yet in the post. Next, I will do the remaining international cards before settling down to the Canadian ones. I think I probably need about twenty more at this point. Hope this card inspires you to try something new or perhaps something tried and true.
Learn more about Heather: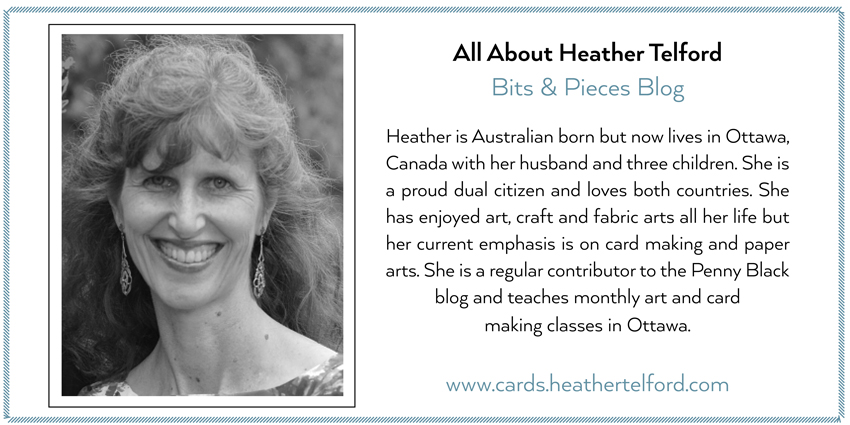 Sale Info: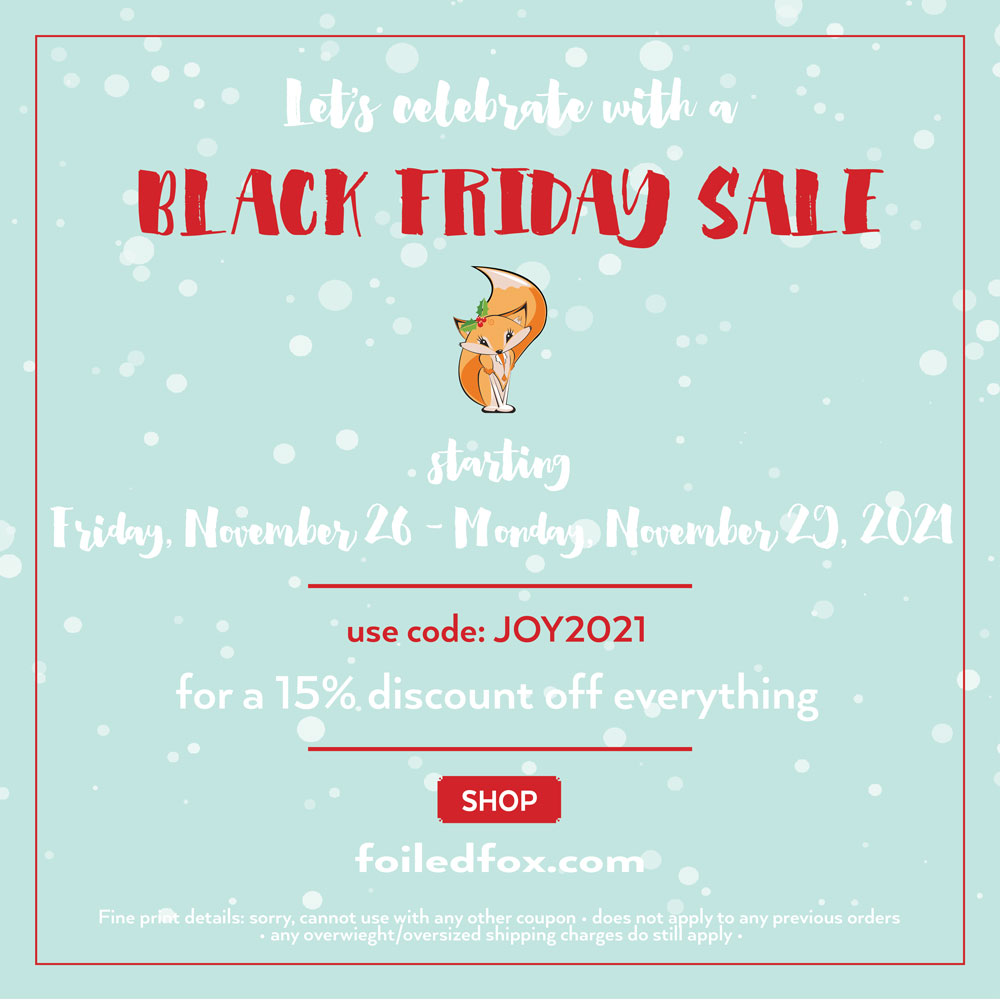 Goodies Used: