Hi Everyone,
Today we are so delighted to have Heather Telford of the Heather Telford blog with us again. She always has a stunning project to share and today is no different. Check out how she creates this beautiful card using the Penny Black Berry Speckled stamp. Then, be sure to learn a little about her in her mini bio below.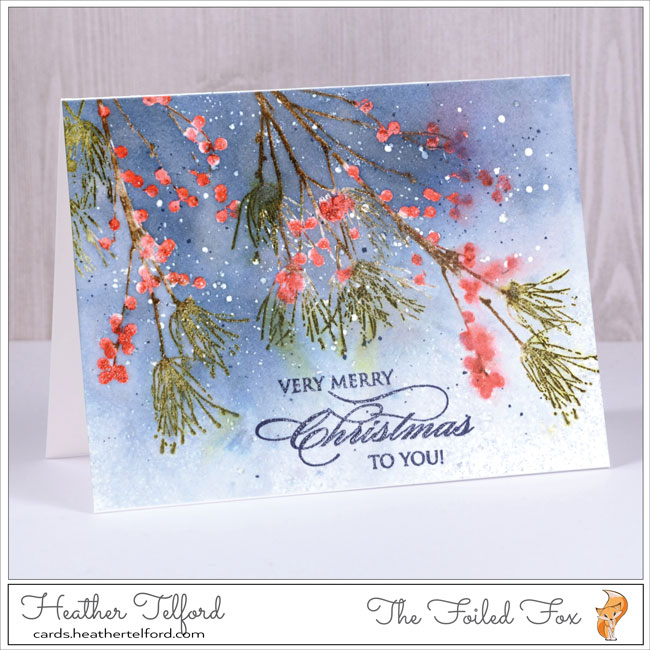 Hi there readers, I am so pleased to be sharing a project once more on the Foiled Fox blog. I have something wintery and Christmassy which features some of my favorite products and techniques.
As usual, I started with a piece of hot pressed watercolor paper. I used my stamping platform to make the card as there was a lot of color by color stamping as well as some embossing over the top. I positioned the stamp where I would get almost a whole image on the right-hand side of the panel then inked all the berries with a festive berries distress marker. I stamped, then added some shadows with a barn door distress marker. Next, I inked the twigs with a gathered twigs distress marker. If I missed any of the twigs I stamped again or drew directly on the panel with the bullet tip of the marker. I inked and stamped the needles with frayed burlap and forest moss markers. I restamped where necessary to get good coverage then cleaned my stamp, inked it with Versamark ink and stamped over the colored image before embossing in clear powder to make the image waterproof. I moved the panel (or was it the stamp?) so I could stamp some more of the pine and berries, in the same manner, colors first one by one then Versamark and clear embossing after.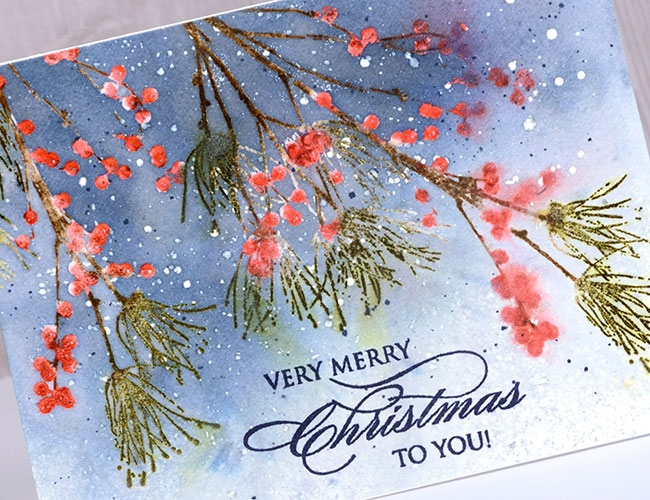 With the images embossed I splattered masking fluid over the panel and let it dry. I painted the background with distress stains and spritzes of water, first a pale layer of weathered wood. Then, some stormy sky for added depth of color. You can see some blurred red from the berries. That is accidental but I quite like it. My embossing was obviously not heated well enough there so when the water and stain hit the berries they bled out! Once the background was thoroughly dry I removed the masking fluid and added a few splatters of stormy sky stain. I couldn't decide whether to go shiny silver for the sentiment or shiny blue; I ended up choosing Versafine majestic blue ink which I embossed with clear powder. Often I mat my panels or at least pop them up on my card base but this time I let my panel fill the whole card base unframed.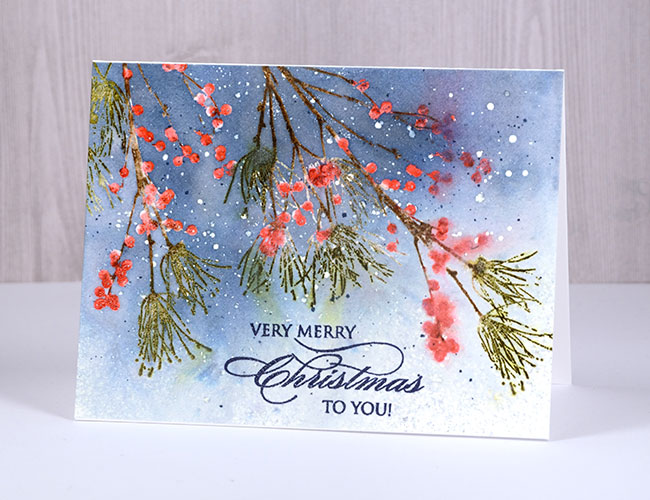 It is a privilege to be a guest on the Foiled Fox blog and work with the lovely team of creative people who regularly create and post here.

Supply List:
Penny
Black
Berry
Speckled
Stamp

Penny
Black
Sweetest
Moments
Stamps

Arches
Hot Press
Watercolor
Paper

Neenah
110lb.
Solar White
card stock

Festive
Berries
Distress
Marker

Barn
Door
Distress
Marker

Gathered
Twigs
Distress
Marker
Forest
Moss
Distress
Marker

Frayed
Burlap
Distress
Marker

Weathered
Wood
Distress
Stain

Stormy
Sky
Distress
Stain

VersaMark
Watermark
Ink Pad

Versafine
Majestic
Blue
Ink Pad

WOW
Clear
Embossing
Powder
Tim
Holtz
Stamping
Platform

Masking
Fluid