Hi Everyone,
Wow, we have two absolutely stunning card designs by our good friend, Heather Telford. As many of you know, she is an awesome artist and always has beautiful creations to share with us. This one uses the Big & Bold Daisy and Dahlia stamp from Colorado Craft Company. She used a variety of inks and Brusho dry paints.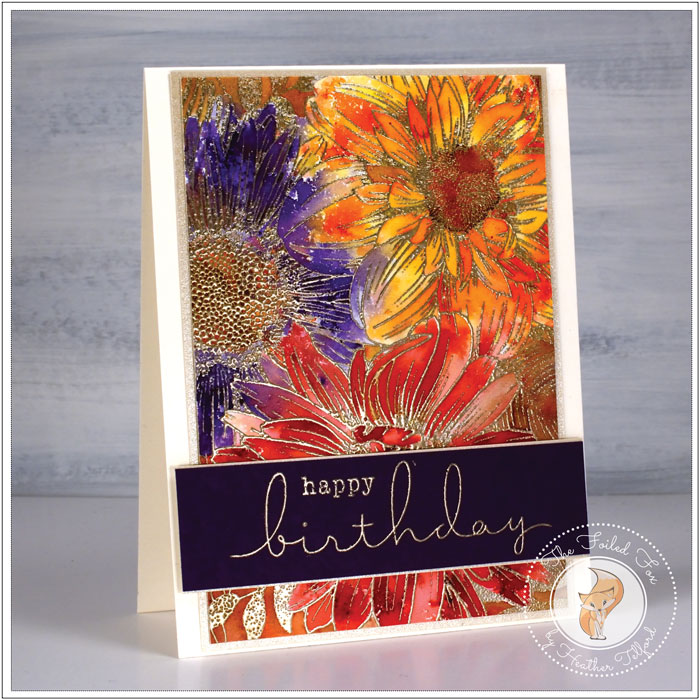 Hi there, Creative friends,
I am still stamping flowers but they have taken on some definite autumn tones. Both cards today feature a large Colorado Craft Company stamp, or as CCC likes to call them, Big & Bold! This one is Daisy & Dahlia and it is 6″x6″. I used it on both a large square card and the more common sized 4.25″x5.5″ card.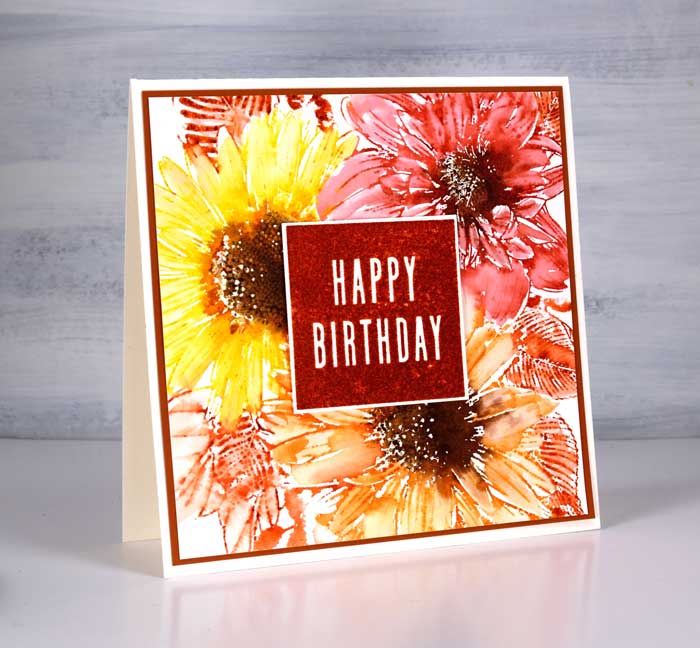 The large square card features watercolor with Papertrey inks on Fabriano hot pressed watercolor paper. With the help of a stamp positioner, I inked the three flowers each with a different color of ink ( bright buttercup, canyon clay & pure poppy). I inked the center of each flower with dark chocolate ink then spritzed the stamp before stamping. I blended the ink on each flower to fill the petals. The Papertrey inks are very juicy so I was able to blend them easily to get good coverage on the flowers. I inked the surrounding leaves with terracotta and blended them a little with a paintbrush. Once the blending and stamping were dry I stamped the flower centers a second time with the chocolate ink and did not add spritzing, that way I was able to get more definition on the tiny seed-filled centers. I stamped the square 'happy birthday' from Concord & 9th 'all the birthdays' set in terracotta ink and popped it up over the flowers I also matted the panel in terracotta cardstock. You know I love it when everything matches.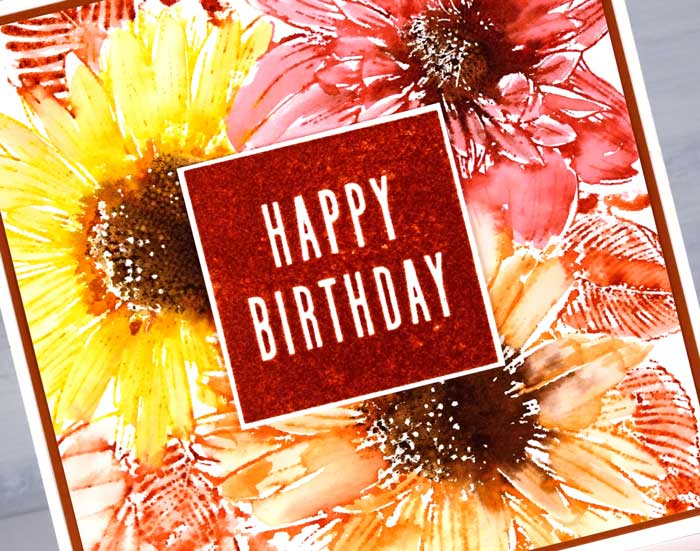 The second card features looser watercolor trapped by embossing. I embossed the stamp with platinum embossing powder then sprinkled different Brusho powders over each flower. Brusho not only contains more than one pigment in each jar, but it also tends to scatter further than you expect it to result in unpredictable patterns and blends. I particularly like the way the tips of the yellow flower petals ended up purple. I sprinkled Brusho then spritzed lightly; that is the usual order for me but you can add water first then sprinkle the Brusho. I used a yellow, a red, a purple, and a brown Brusho and kept as many of the natural Brusho patterns as possible when blending with a paintbrush after spritzing.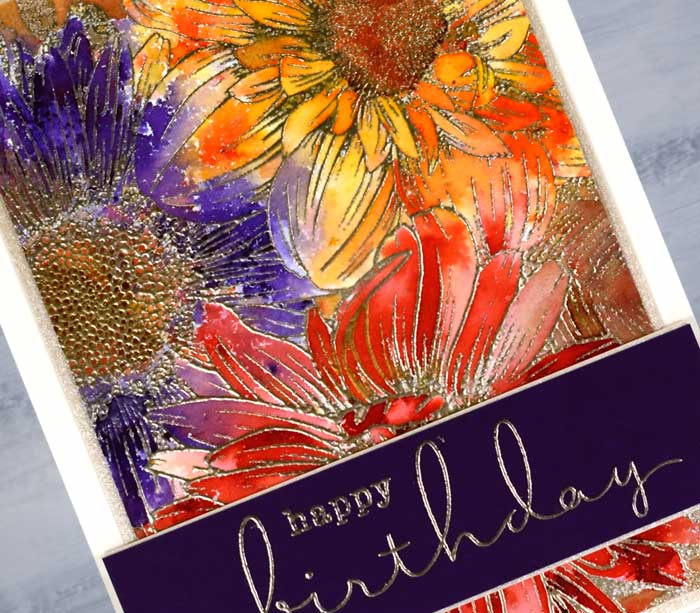 As with the first card I used sentiments from the  C&9th 'all the birthdays' set to create an aubergine sentiment strip across the floral panel. I matted both the panel and the strip with quartz shimmer cardstock.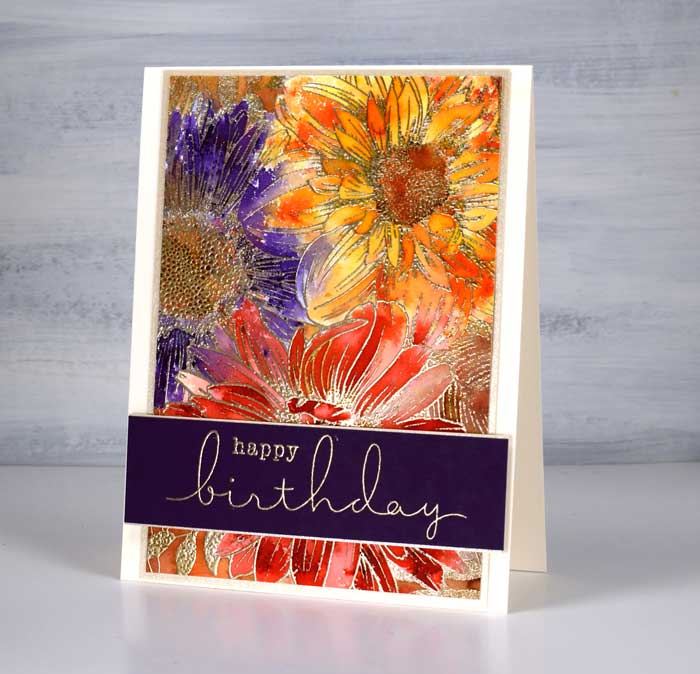 Thanks for dropping by today, I hope you find some inspiration while browsing here on the Foiled Fox blog.
Learn more about Heather: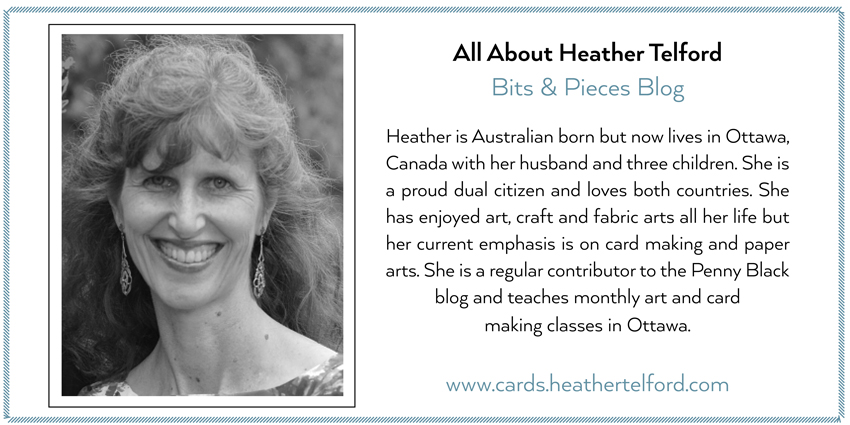 Goodies Used: