Hi Crafty Friends,
I am sharing a festive card design that is bursting with color. It features the awesome Big Balloon cover plate by Papertrey Ink-Ink To Paper and a Birthday die set.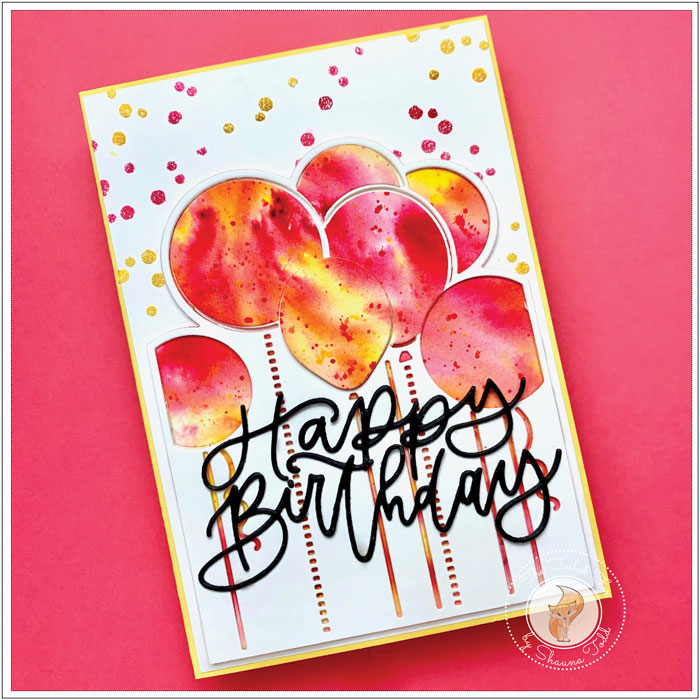 You can create these bright colored balloons so easily, especially when you use watercolor powders. Of course, you can use any medium to create brightly colored balloons, but if you love the marble-y, multi-colored look like I do, then watercolor powders are a natural fit.
So, to start, I spritzed a cold-press watercolor panel with water, then sparingly sprinkled on tiny crystals of color (you don't need much). I used a trio of Color Burst powder but you can choose your own color mix too. I waited a minute to let the crystals dissolve, then spritzed it again to bring out more color. At this point, I was deciding the desired intensity of the color.  I wanted a little more color so I added a sprinkle or two of crystals. If you want less, just let the crystals dissolve and spread.
Once I had the desired colors on the panel, I let it dry thoroughly.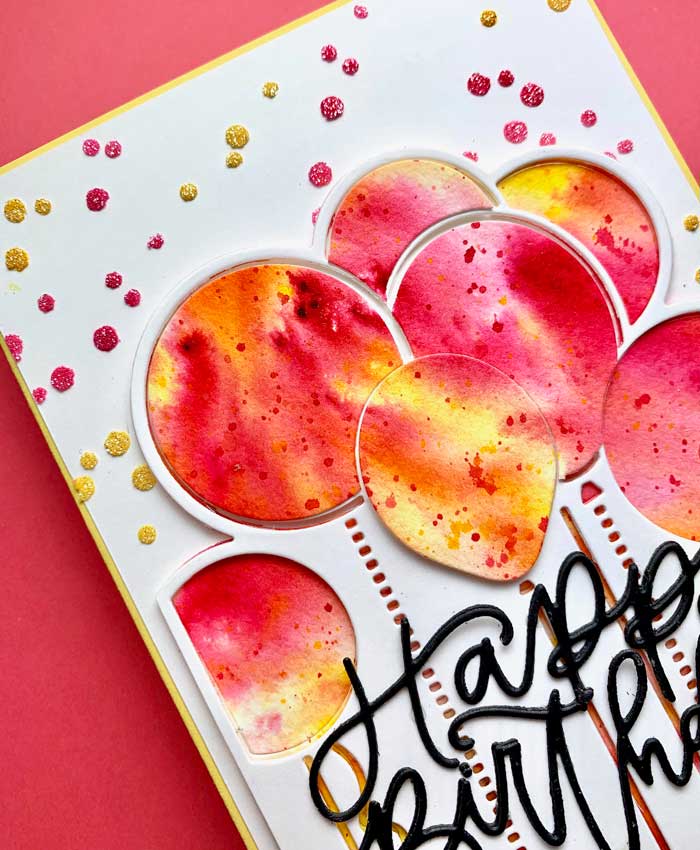 Meanwhile, while the panel was drying, I cut out the balloons using Neenah white card stock and the Big  Balloon cover plate. I then punched out all the tiny pieces and balloons and added foam tape to the back.
Next, using a larger white cardstock panel, I added some glittery dots of color at the top. This was done by first adding a spot of Wild Honey distress ink and a separate spot of Picked Raspberry distress ink (you need very little) onto my glass mat. I then mixed in a very small amount of Iridescent Glitz Gel to each spot of color.
To apply the dots, I laid the new Big Balloon dot stencil by Papertrey Ink-Ink To Paper onto the panel and spread the colored Glitz Gel through the dots of the stencil. I moved the stencil around several times until I got the desired coverage. (By the way, sometimes I had to wait a few minutes for one section to dry before moving to another section.)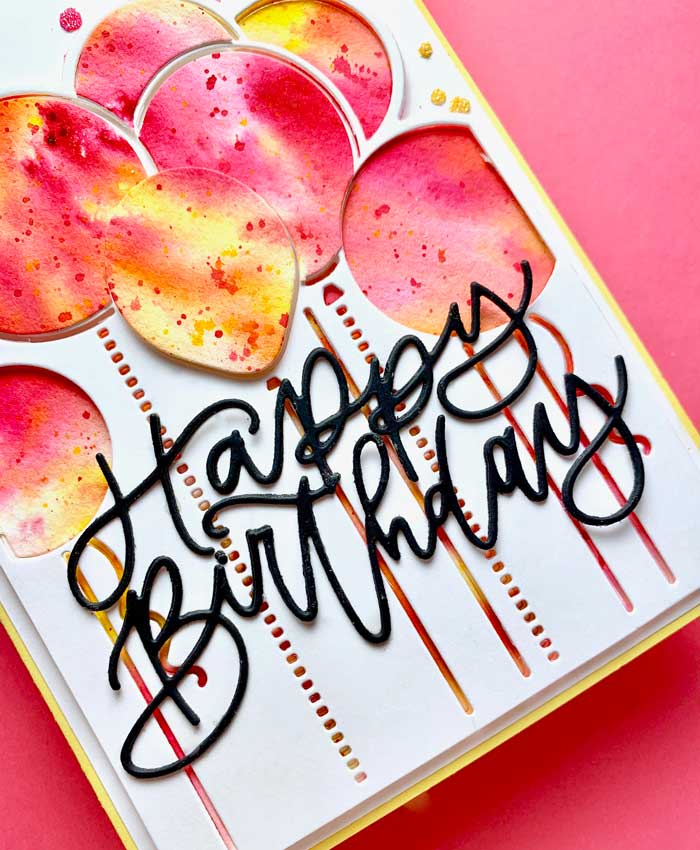 When this panel was done, I mounted it onto a Bright Buttercup card stock base that was slightly larger (when folded). I then moved on to cutting out the watercolored panel, using the Big Balloon cover plate again. making sure all the tiny pieces stayed intact, but removed the balloons.
This panel was then layered onto the stenciled panel and the white cardstock Big Balloon panel cut earlier was added right over the top of the watercolored panel, using foam tape.
To complete this balloon bonanza, I placed the watercolored balloons (previously reserved) on top of the white balloon panel, making sure I varied the height but added some watercolored balloons with foam tape and others just into the empty balloon spaces.
The final step was to add the sentiment by cutting two black cardstock "Happy Birthday's" using the Birthday die by Papertrey Ink-Ink To Paper.
Thanks so much for joining me today! I hope you try your hand at making your own Big Balloon birthday card! ♥
Goodies Used: