Hi Creative Friends,
It is our great pleasure to share a wonderful project created by the super-talented Heather Telford. She used the Window stamp by Penny Black and created a charming scene. Read all about how to make it below.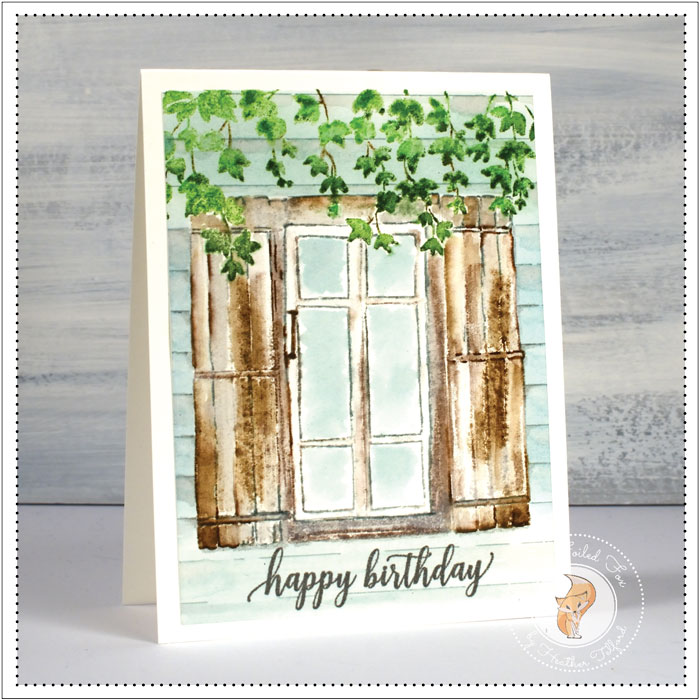 Hi, my creative friends, it is lovely to be sharing another Penny Black card here on the Foiled Fox blog. This one features the rubber cling set 'Window' made up of a window stamp and an ivy stamp. The ivy works beautifully overhanging the window but of course, I am going to be looking for other ways to use both stamps in the set. Penny Black has a brick wall background stamp which I will definitely pair with the window stamp in the future.
For this card, I just used the two stamps in the set. When I get a new stamp or set I tend to keep the design of my first card simple as I get to know the stamp. This is particularly true with brushstroke stamps (made to look like a painting) as the shading can be hard to see on the back of the stamp but more obvious when stamped. It can help to stamp a brushstroke stamp first on scrap paper in a dark color so you can see where all the shading and shadow are.
I worked in my stamp positioner the whole time and began by stamping the ivy on hot pressed watercolor paper with green distress inks, rustic wilderness, and mowed lawn. Using two greens helps suggest light and shade. I stamped again with a few dabs of brown for the stems.
I did consider stamping and cutting a mask of the ivy but that sounded a little fiddly and fussy for me so I decided to stamp the window stamp partially in order to get it to appear behind the ivy. I think I have described this process before but I ink the stamp and then wipe off any ink which might land on top of the ivy. It is a bit of a guessing game but I wipe off more than necessary then bit by bit add more ink to the stamp here and there to fill in the image. Sometimes I complete any small missing sections in the blending and painting step.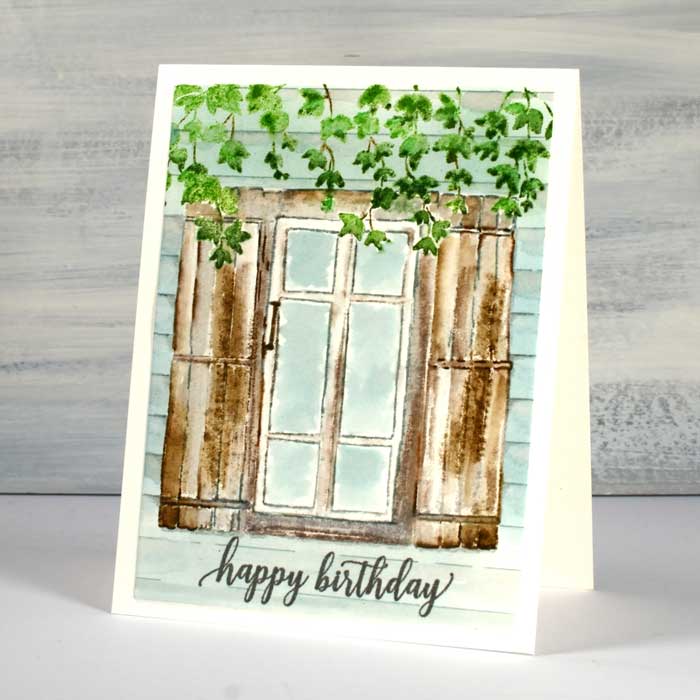 On this card, I blended the inks with a paintbrush after I had stamped both ivy and window. I smooshed some extra inks on my glass mat then picked up color as needed with a damp paintbrush. It was my first time using lost shadow distress ink which is a nice medium grey. When it was released I thought it might have a mauve tinge but no, it's grey. It paired nicely with walnut stain distress inks for aged wooden window frames and shutters. Working in the stamp positioner meant it was possible to add more ink to the edges of the shutters on the stamp and then transfer it to the panel.
To finish the panel I blended speckled egg ink outside the window and painted speckled egg distress stain on the window panes. I ruled some lines in grey marker to suggest wooden planks then blended the lines a little with a wet brush.
Because I always need more birthday cards I stamped a sentiment from the PB 'special sentiments' set in hickory smoke archival ink. I think I know who will receive this card too as I have a friend with windows like this at her cottage.
Learn more about Heather: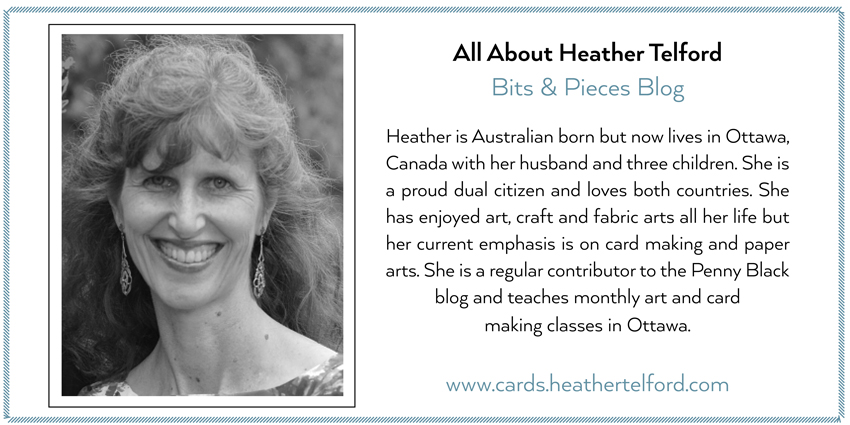 Goodies Used: