Hi Everyone,
Today we are sharing a stunning "Meadow Blossoms" card design by Heather Telford! As many of you know, Heather is awesome at creating floral and scene cards. Her projects are always filled with gorgeous colors and layout. Take a look at what she has created for us today!
Hello my friends,
I hope you are enjoying some lovely fall weather these days. Although I've been creating with autumn colors and even a few snowy scenes full of blues and purples I hope you don't mind if I sneak in another floral card. I think we can use floral cards all year, don't you? It's great to have them when we are surrounded by blooms but it is also nice to see them when all the gardens are bedded down for the winter!
Concord & 9th recently came out with a fabulous new set called 'All the Birthdays' and it is one of those sets I will use again and again, I'm sure. If you need a square birthday greeting, it's in this set, a large greeting, a small greeting, a solid, outline, it's all there. I was excited when Foiled Fox sent this one to me because I've often need inspiration when it comes to sentiments; I tend to leave them to the end rather than planning with them from the start.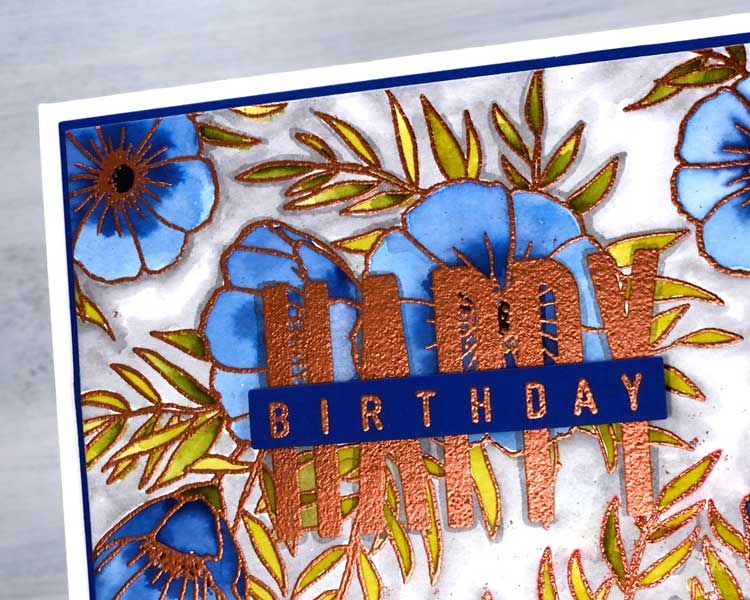 For this card, I factored in the sentiment from the very beginning; it became part of my overall pattern. In essence, I created my own background pattern by combining flowers from the C&9 'meadow blossoms' set with a large 'HAPPY' stamp from the new 'All the Birthdays' set. I stamped both the large and the small flower stamps from 'meadow blossoms' to fill my panel of hot-pressed watercolor paper. I used tulip red Versafine ink knowing the color would end up being covered by the embossing powder; using colored ink instead of clear helped me arrange the stamps without any overlapping. I stamped the large happy stamp over the top of the floral images then embossed the whole panel with Brutus Monroe's penny' embossing powder which is a lovely copper color.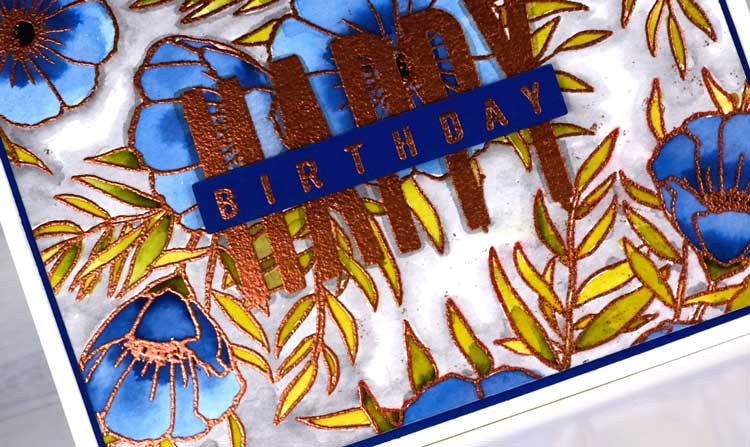 To paint the flowers I smooshed Papertrey ink cubes, ripe avocado, and enchanted evening on my glass mat and picked up ink to fill the embossed petals and leaves. I switched to a grey zig clean color real brush marker to fill in the background, shading around all the shapes then blending the grey with water to fill the space. To finish the card I once again reached for the lovely blue 'Whirlypop' cardstock to cut a frame and a sentiment strip. I embossed the word 'birthday' from the same stamp set in 'penny' embossing powder and popped it up over the word 'happy'. The whole panel is attached to a luxe white card base. The luxe white card is an off white textured cardstock which I also reach for all the time.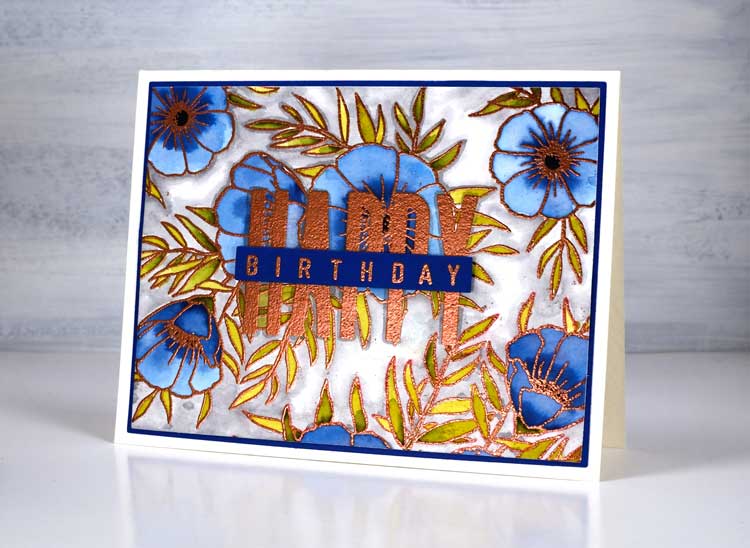 Now if I can just commit to a system that works for sending out birthday cards on time I will be even happier. Let me know in the comments if you have a foolproof method.
Learn more about Heather: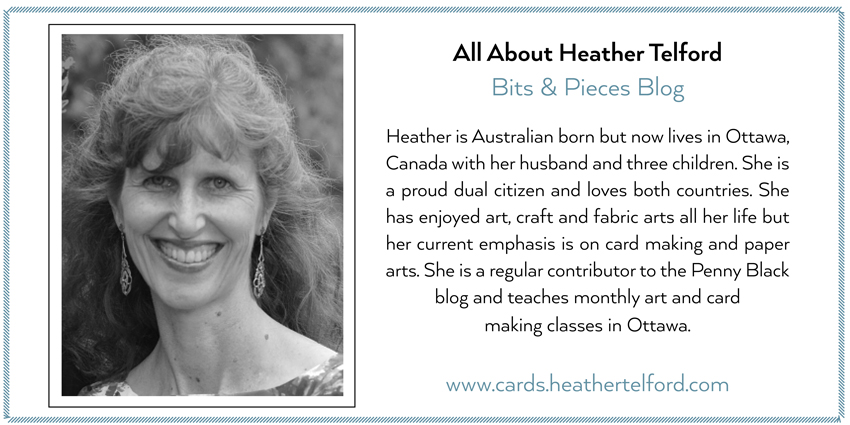 Goodies Used: