Hi Crafty Friends,
We are sharing another holiday tradition with you to celebrate our Holiday Traditions giveaway and also to hopefully encourage you to share a few of yours. We are loving your comments about your own family traditions you have posted on Heather Telford's blog and Instagram and our own The Foiled Fox blog and Instagram. Keep up the great work! Who knows, maybe you will be one of our winners of a $30 gift certificate for sharing your comments.
Now, on to this holiday tradition. The one depicted in our card design is a common one, but it has our own little twist to it. I hope you enjoy it!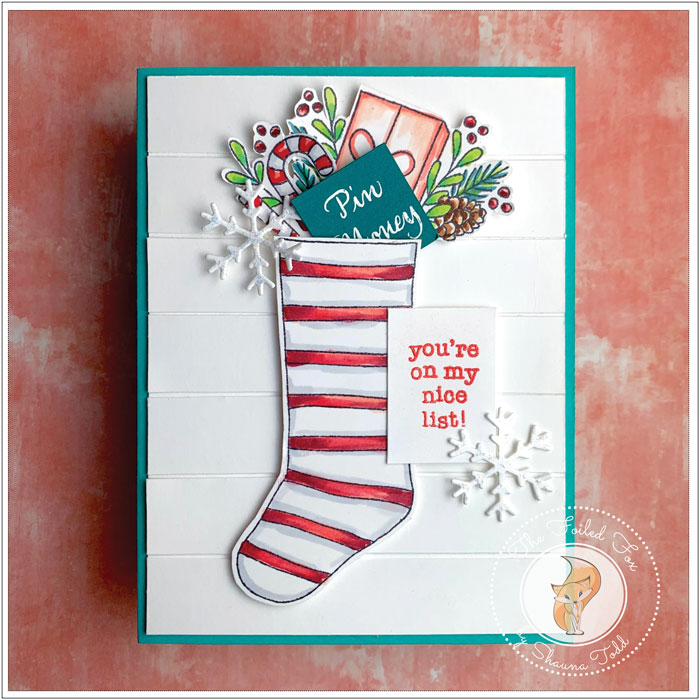 When I started my family many moons ago, I handmade Christmas stockings for everyone. We have continued to use these same Christmas stockings throughout the years but since my beloved dad has passed, we have added another tradition to our Christmas stocking treats.

My father would always say that for man to feel good about the world, he needed to have a little change in his pocket, no matter how little, and for a woman, she needed a little "Pin Money'. You can probably tell that he was from a generation nearly past but this continues to be a charming memory of Dad for me.
I wanted my daughters to always remember my Dad's sweetness, so I make tiny little "Pin Money" envelopes and fill them with money and a note, "In memory of H.L.T". Since Christmas is a special time of year, it makes sense to remember a special man at the same time!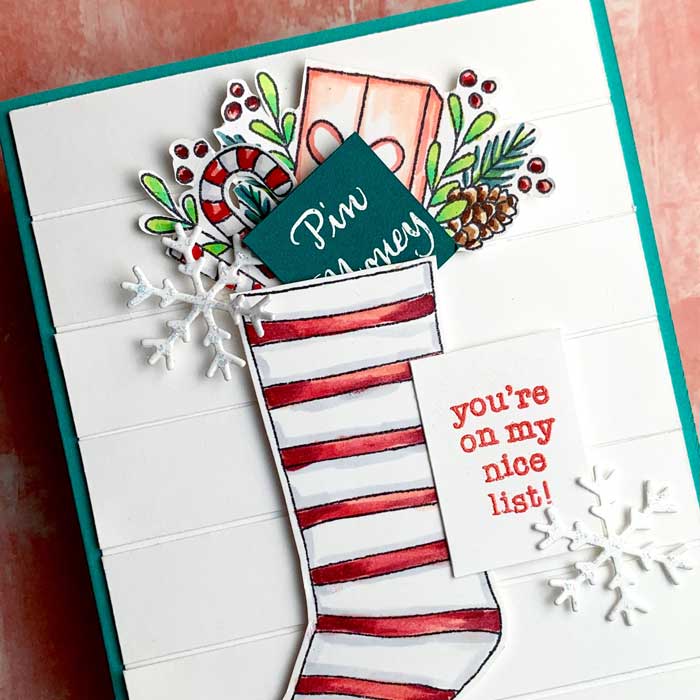 I created this card using an awesome Concord & 9th stamp and die set,  Christmas Stocking. It has a few stocking bodies and several tops to choose from. I started with the striped body stamped onto Neenah 110lb. card stock, using Memento Tuxedo Black ink. At the same time, the 'present' top and a section of the Candy cane one was stamped with the same ink. These cute little elements were then colored with Copic markers. When finished, they were cut out using the coordinating dies.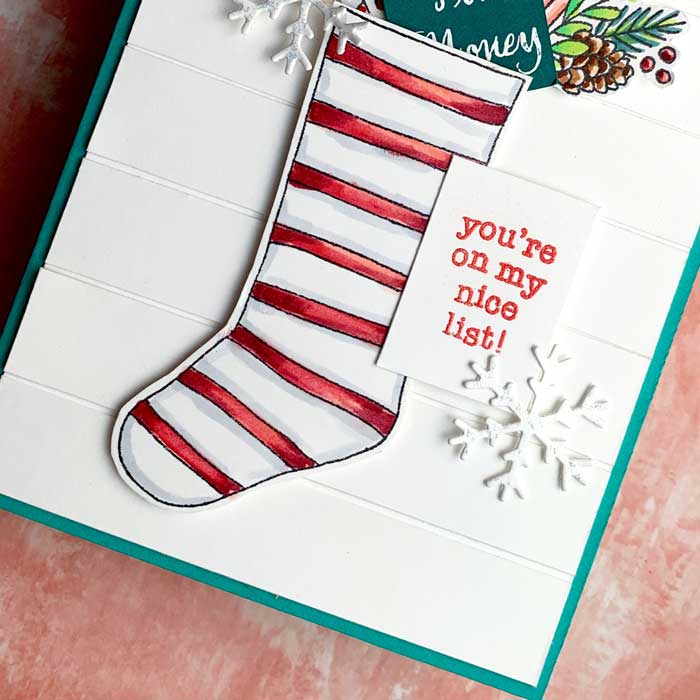 The Stocking Stuffer stamp and die set is brimming with little stamps that help you create your complete design. I die cut a couple of snowflakes, added a little sparkle with Stickles (see supply list below) and stamped the sentiment onto a small piece of Neenah white card stock, using Versamark ink and then heat embossed it with Range Carnation Red embossing powder.
With all the key elements done, I could now 'fiddle' with the arrangement and the background. For the background, I choose a white 'shiplap' pattern. The background was inspired by my sister's new feature wall in her house. I created this one by starting with a white card stock panel, then cutting 5/8″ strips and gluing them on top of the panel. I trimmed the edges and mounted it onto a Candy Necklace card stock card base.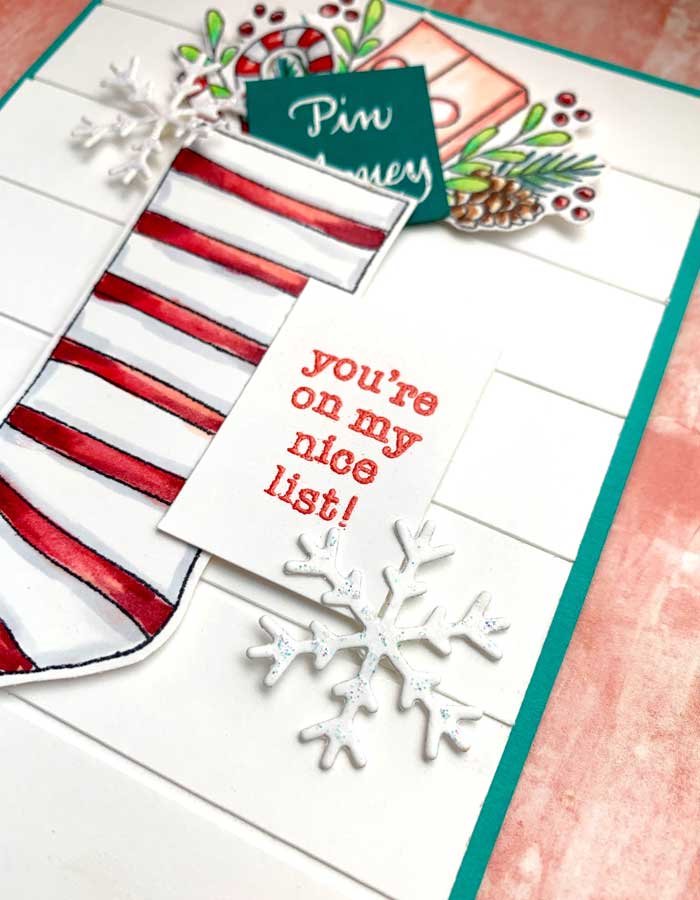 The next steps were to arrange and adhere all the elements onto the shiplap panel using bits of foam tape. The "Pin Money" envelope was made using a scrap of Evergreen card stock and a new toy for me, the We R Memory Keepers Mini Envelope Punch Board. This adorable punch board makes envelopes as small as 1″ square. So, with the punch board in hand, I made a cute envelope and added "Pin Money" with Dr. Ph. Martin's Bleedproof white ink and an oblique pen. When the ink was dry, I tucked it into the stocking, just like I do with our real Christmas stockings!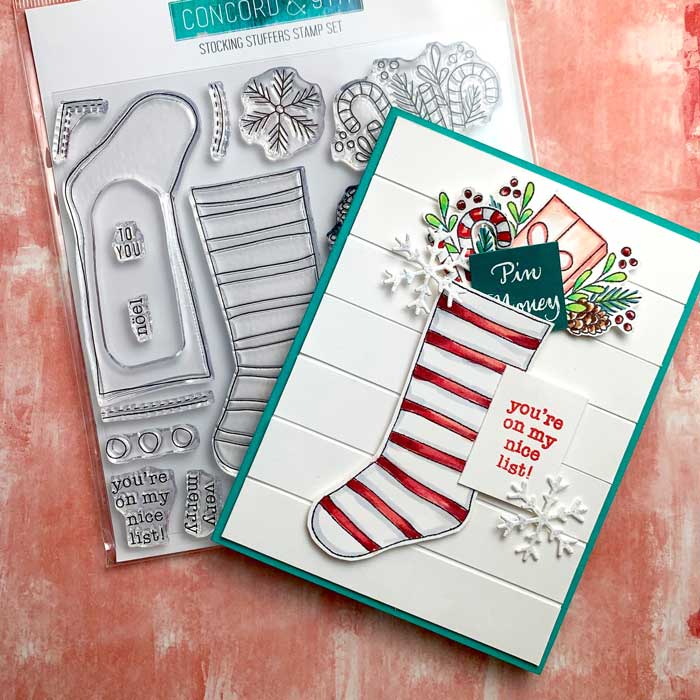 And, there you have it. I hope you enjoyed this little tradition. I know that the tiny envelopes are the first thing they search for in their Christmas stockings, both for the money and the memory of their dear grandpa! 🎄
Goodies Used: