Hi Crafty Friends,
I am sure you know that Heather Telford and The Foiled Fox are co-hosting a Sparkle Card Challenge.  So, with that in mind, hopefully this project will inspire you to create your own sparkle card to enter to the challenge.  Take a look at our video on how it was done! Then, add your entry…you could win a prize… YAY!
You have until Wednesday, March 21st at midnight to get your Sparkle On! See the info below!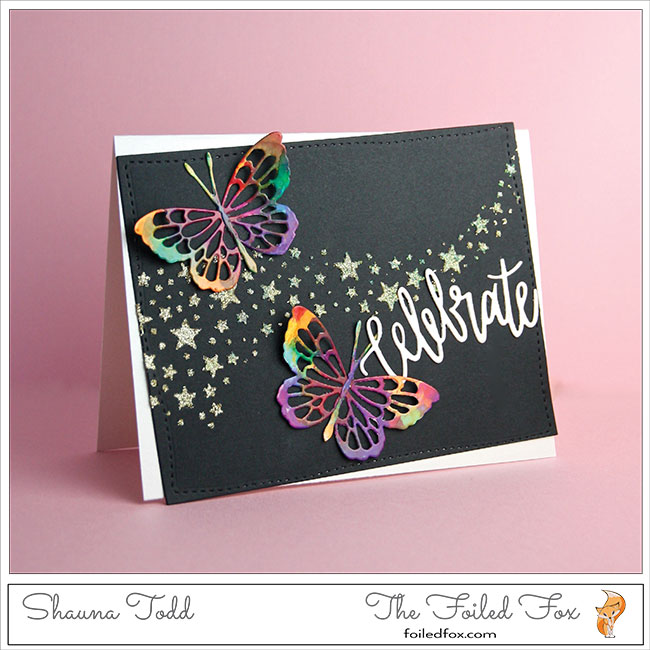 This card was a lot of fun to make. It starts with the die-cutting of the butterflies from Yupo or Adirondack Alcohol Ink Paper and then pouncing a mosaic of alcohol ink colors using the new Tim Holtz Mini Alcohol Ink Applicator. The butterfly die was the Poppystamps Theo Butterfly but you can use any butterfly you like. The nice thing about the Theo Butterfly is that it has a lacy, open look.
I used a few trios of alcohol ink packages, then randomly colored the butterflies. I have listed the packets below in the supply list. If you have a moment, take a look at the how-to video too!
After the butterflies were colored, they were set aside to dry completely and I started on the beautiful array of stars. This spray of stars was easy to create by first making a stencil out of a piece of heavy cardstock and the Penny Black Starry die.
After it was cut out, I secured the newly cut 'stencil' on top of a heavy black cardstock panel that I had die cut with a frame die for a finished edge, then spread Nuvo Golden Crystal and Moonstone Glimmer paste over the star swash. After all the stars in the stencil were filled with Glimmer paste, I gently peeled off the stencil and allowed the black panel to dry.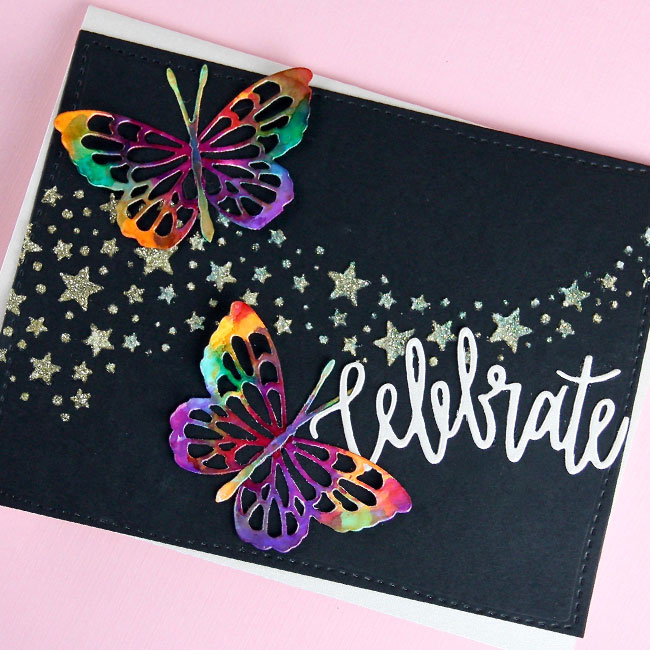 Next, I made a card base from Shimmer Quartz paper and die cut the sentiment 'celebrate' from the same paper as well.
For the final assembly, the black panel was applied to the card base, then the butterflies and sentiment were added.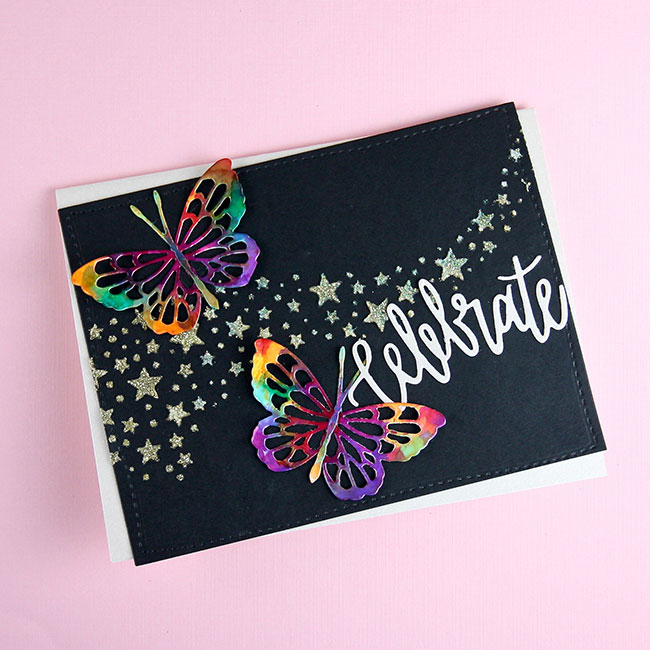 And, there you have it, a sparkly, elegant card ♥
I hope this video and card inspired you to get your SPARKLE ON! and create a sparkly card of your own to enter in our card challenge. Hurry! you have until Wednesday at midnight to enter – hope to see you there!!
(click the blue frog button below for instructions and to enter)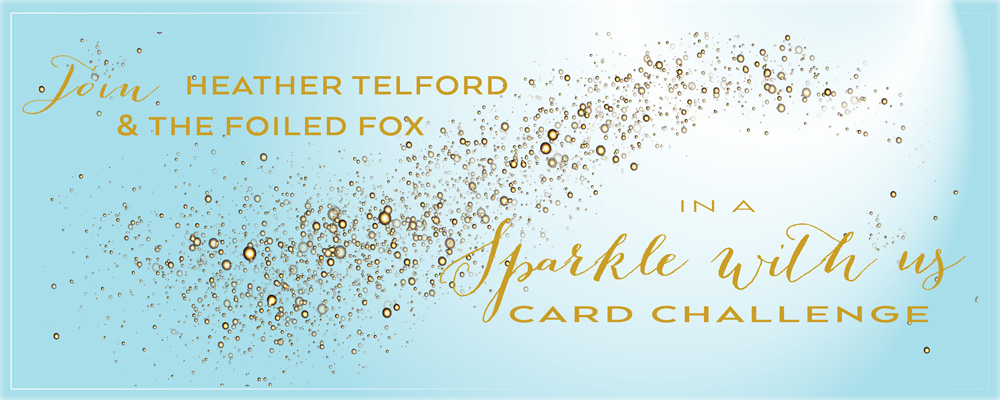 Supply List:
Poppystamps
Theo
Butterfly
Die

Penny
Black
Delicate
Wings
Die Set

Penny
Black
Starry
Die

Whimsy
Stamp
Hand
Stitched
Rectangle
Die Set

Neat &
Tangled
Celebrate
Die

Shimmer
Quartz
Pearlescent
Paper

Licorice
Twist
Heavy
Black
Card Stock
Yupo
Paper

Adirondack
Alcohol
Ink
Cardstock

Adirondack
Summit
View
Alcohol
Ink

Adirondack
Summit
View
Alcohol
Ink

Tim
Holtz
Beach
Deco
Alcohol
Inks

Tim
Holtz
Valley
Trail
Alcohol
Inks

Tim
Holtz
Alcohol
Ink
Mini
Applicator
Nuvo
Golden
Crystal
Glimmer
Paste

Nuvo
Moonstone
Glimmer
Paste

Palette
Knife

Tim
Holtz
Alcohol
Ink
Tool
Set

Tombow
Mono
Liquid
Glue

Tombow
Mono
Adhesive