It is nearly Christmas and what could be more timely… and beautiful than Saria Simmonett of Little Princess Cards DIY Christmas Wrap.  Yes, Sarita has been creating again and has so kindly shared this project with us.  Her elegant style makes this wrap extra special.  Who wouldn't love getting a gift wrapped like this?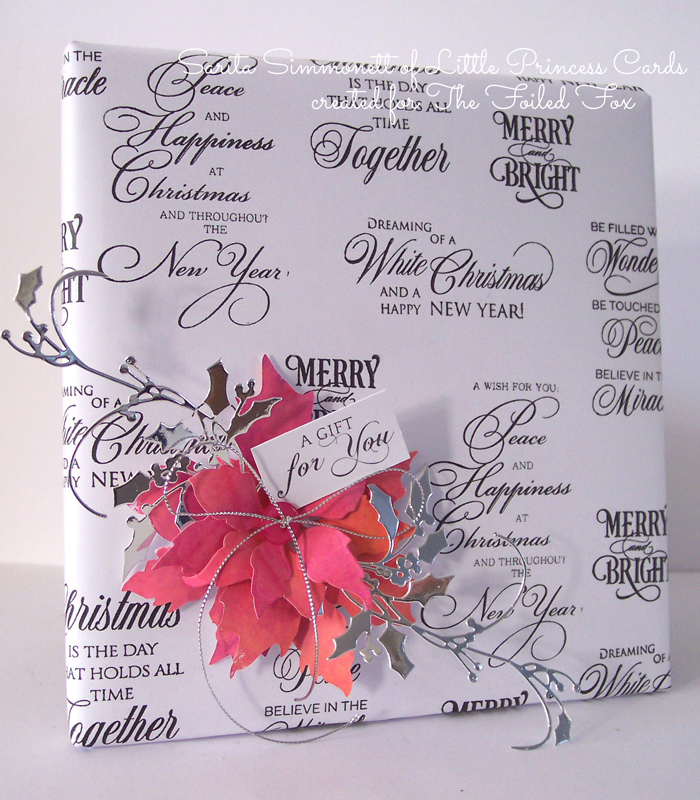 The paper wrap was created using the Penny Black Yuletide Wishes stamp set and stamping all the greetings in this set onto a lightweight white paper using a permanent black ink like Versafine Onyx Black.
.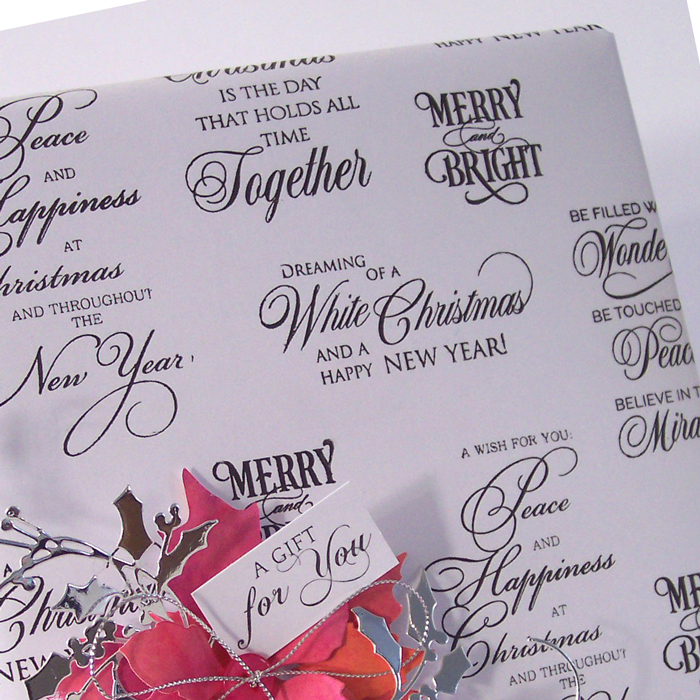 With the paper complete, it was on to the making of the poinsettia. This exquisite poinsettia was made using the Elizabeth Craft Designs Poinsettia Die Set. Sarita cleverly first inked a sheet of white card stock using Tim Holtz Picked Raspberry and Spiced Marmalade distress inks. After the ink was dry, the poinsettia was die-cut. She cut a few extra petals and added them to create more fullness and increase the size.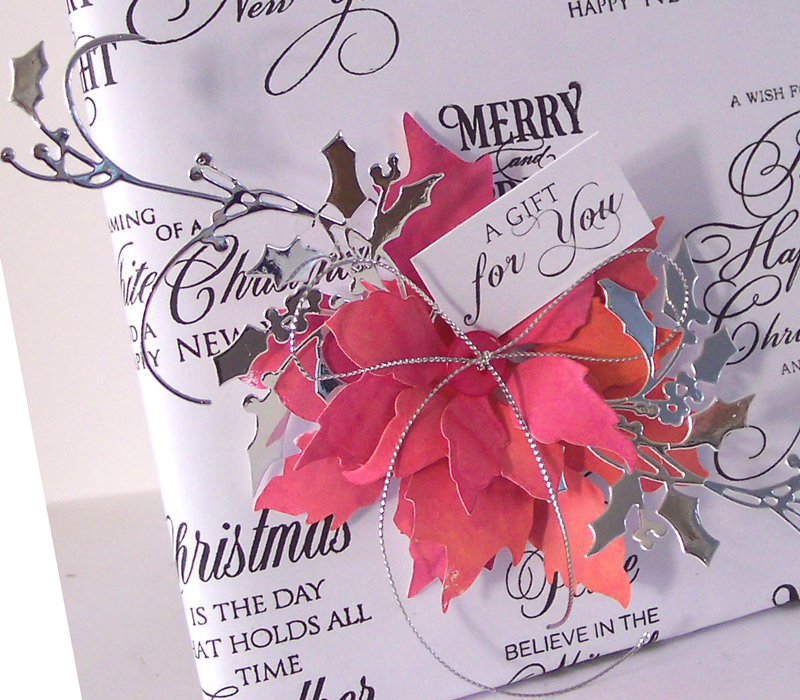 After the gift was wrapped with the newly created paper, the poinsettia was adhered to the package.  Holly berry sprigs, from the Holly Berry Penny Black die, were cut from shiny silver card stock and added, along with a matching button and a silver bow in the center.  She added the 'A Gift for You" sentiment and Viola…. a gorgeous Christmas package ready to be given to your favorite recipient.
P.S. If you don't have the Holly Berries die, a good substitute is the Jolly Holly die also by Penny Black. Sarita also uses a silver cord for the bow.  I found the DMC silver thread works well too.  You can see these choices in the supply list below.

Supply List:
Elizabeth
Craft
Designs
Poinsettia
Die

Penny
Black
Holly
Berry
Die Set

Penny
Black
Yuletide
Wishes
Stamp Set

Versafine
Onyx
Black
Ink Pad

Picked
Raspberry
Distress
Ink
Spiced
Marmalade
Distress
Ink Pad

Neenah 110lb.
Solar White
card stock

Silver
Foil
Cardstock

Silver
Cord

DMC
Silver
Metallic
thread

28 Lilac
Lane
Pretty
Princess
Buttons