Hi Creative Friends,
I am starting out the week with a lovely floral card design using a beautiful stamp and die set from Pinkfresh Studio called English Garden. There are so many charming floral motifs and sentiments packed in this set that it makes it a set you will reach for time and time again!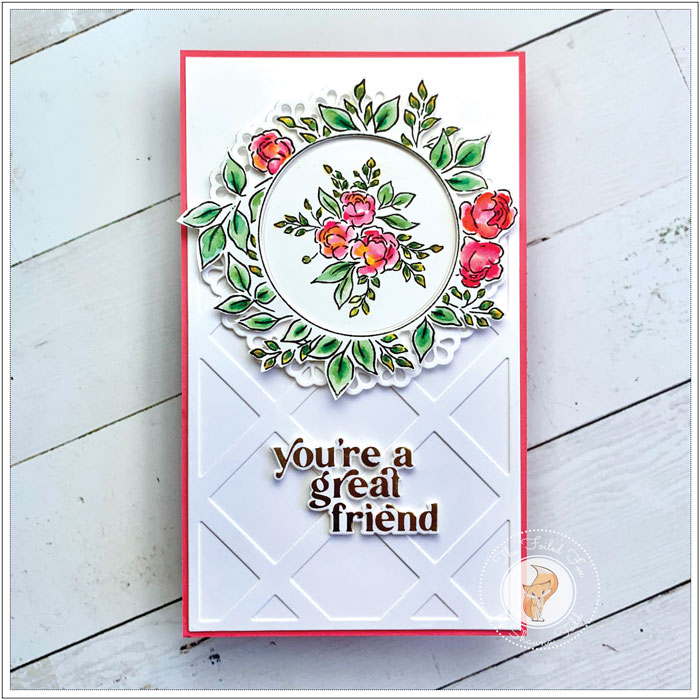 I began this project by stamping the circle of the flowers stamp from the set onto a piece of Bristol paper using Versafine Black Onyx ink, a waterproof ink. Since I was going to use the Karen watercolor markers and a little water, the Bristol paper was perfect. It will give me a perfectly white background and it can tolerate a little water!  I then painted the flowers and leaves with the markers, using only a few markers as they blend so beautifully with a little water.
While I was waiting for the flowers to dry. I cut out a diamond background and a large doily from Neenah white card stock using the Pinkfresh Studio Simply Diamonds die and Papertrey Ink Delicate Doilies die set, respectively. At the same time, I cut out a white slimline panel and a slightly larger panel of Candy Hearts pink cardstock. I also created a white card stock card base from Neenah cardstock.
With the basics cut out and prepared, I set them aside while I carefully mounted a circle die from the Hero Arts Infinity Circle set over the colored flower motif so it would fit just barely inside the inside black inked circle. I then cut out the circle, creating an outer ring of flowers and a small inner circle of a cluster of flowers.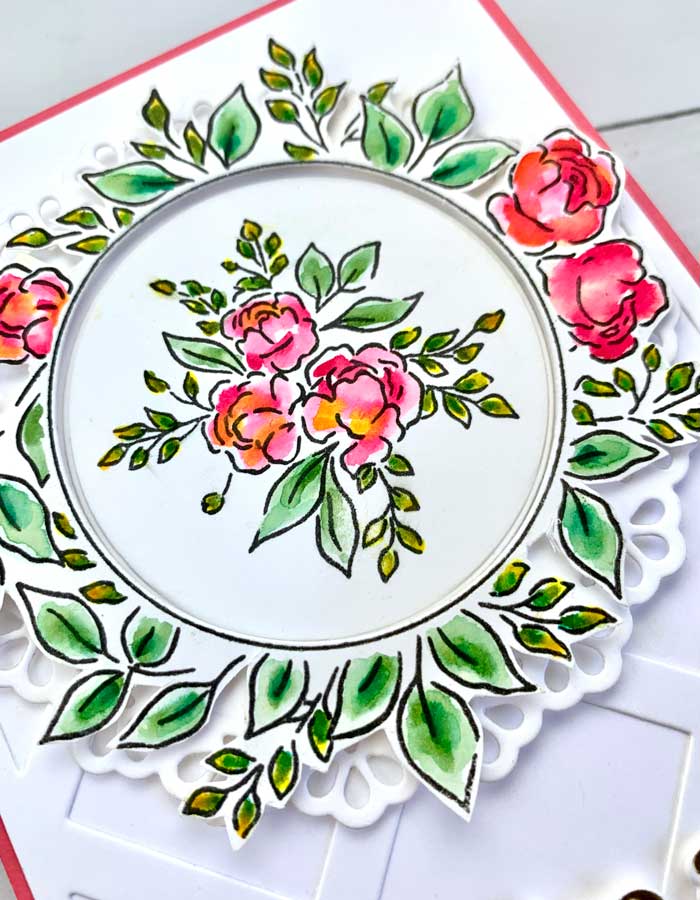 I was just about ready to assemble. I was just missing a sentiment. I chose to hot foil one using the Spellbinder's Glimmer machine. I love this little machine. It helps me create a host of shiny metallic decorative designs and sentiments. One of the hot foil sets I love most is the awesome Pinkfresh Studio Perfect Sentiments hot foil set. It hot foils a bunch of lovely sentiments at one time, and cuts them all at once too when you use the matching die set. How perfect is that… a whole grouping of sentiments created in one fell swoop? Then, as if that is not perfect enough, another great thing about this set is that it also has a matching stamp set so if you don't have a hot foil machine or you want to stamp or heat emboss a sentiment, that's possible too using the coordinating stamp set. I have shown it in the supply list below so you can check it out and decide which one suits you best.
All the pieces were then ready for assembly so I mounted the Candy Hearts pink panel onto the top of the white card base. Then, I mounted the white panel on top. Next, I added the Simply Diamonds lattice panel for the next layer.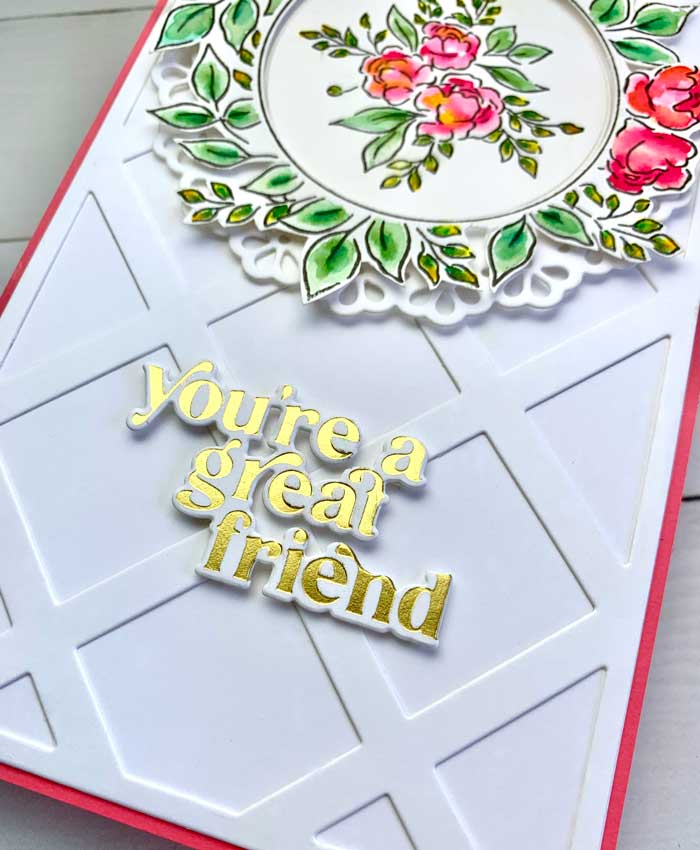 The lattice panel was not as long as the slimline panel so I mounted it on the bottom two-thirds. This left the top one-third blank. This is where I mounted the white doily cut-out.
Remember where I cut the floral circle into two pieces earlier? Well, this is where they come in. I added the floral outer circle on top of the doily using some foam tape so it popped up, then pressed the inner floral circle through the center and mounted it using a bit of glue. This created a two-level floral motif.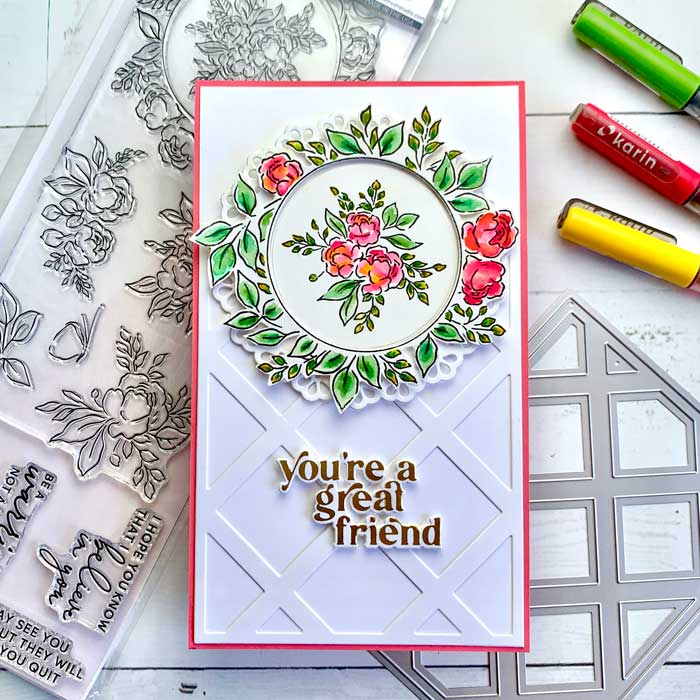 Then, as usual, the only thing left was to add my foil sentiment. It was mounted with a little foam tape and VIOLA! all done! ♥
Goodies Used: