Hi Creative Friends,
I am bringing a little Fall to you today by using luscious Autumn colors in an array of foliage. I used a few new stamp and die sets by Papertrey Ink that are awesome! They are Eucalyptus Elegance and Sprigs and Sprays: Fall.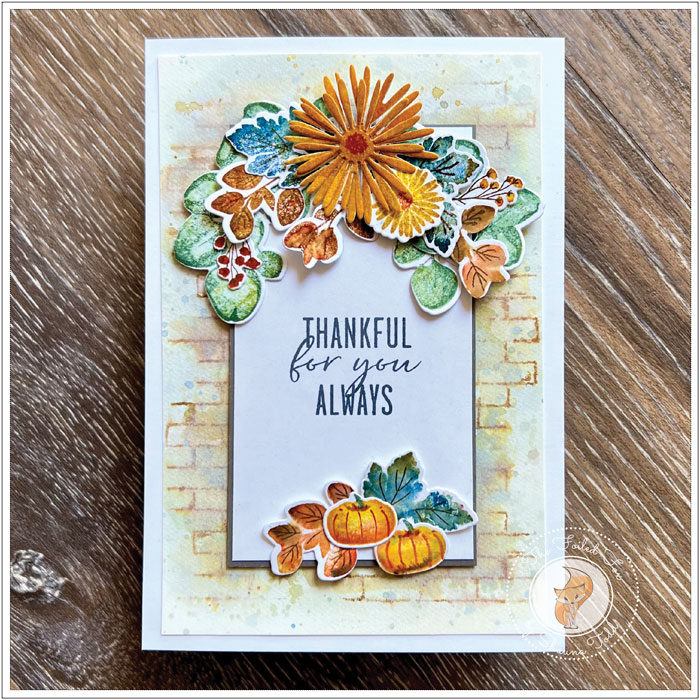 To jump in making this card design, I started with the brick background. To make easy work of it, I began with a hot-pressed watercolor panel, made a very watery mixture of Hickory Smoke and Weathered Wood distress ink, then loosely painted the panel. The panel was dried, then the brick stamp was inked with Gathered Twigs, spritzed with water, and lightly stamped onto the panel. I stamped the panel again but this time with no ink, just spritzed the stamp and stamped the panel. This loosed the ink a little so it was not as intense. Next, with a wet brush, I lightly spread the ink, along with very loose, watery splatters of Weathered Wood and Faded Jeans. When I was happy with the panel, I let it dry.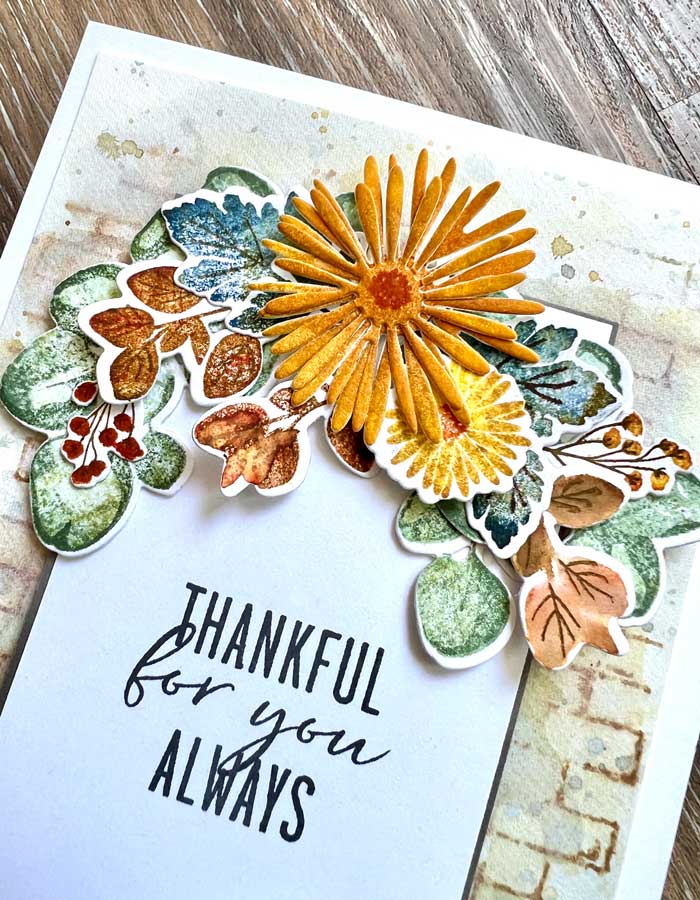 Next, I cut out all the eucalyptus branches from the set out of watercolor paper, mounted them in my stamp positioner, then stamped the body of the branches with Spring Moss, spritzing them with water every time I inked. Once the main parts of the branches were stamped and using the layering stamp next, I stamped the branches again but this time with Ocean Tides ink (see supply list below).
I followed these same steps for the foliage in the Sprigs and Sprays: Fall stamp and die set. I love inking my stamps with a few colors when I am using watercolor paper, then spritzing with water before I stamp. This melds the colors together beautifully!
By the way, the colors I used were Blueberry Sky, Enchanted Evening, and a touch of Cocoa Bean for the broad leaves, Honey Nut, Terra Cotta, and Cocoa Bean for other leaf clusters, and Bright Buttercup, Orange Zest, and a tiny bit of Honey Nut for the pumpkins. For the small flower, I used Bright Buttercup and a touch of Honey Nut.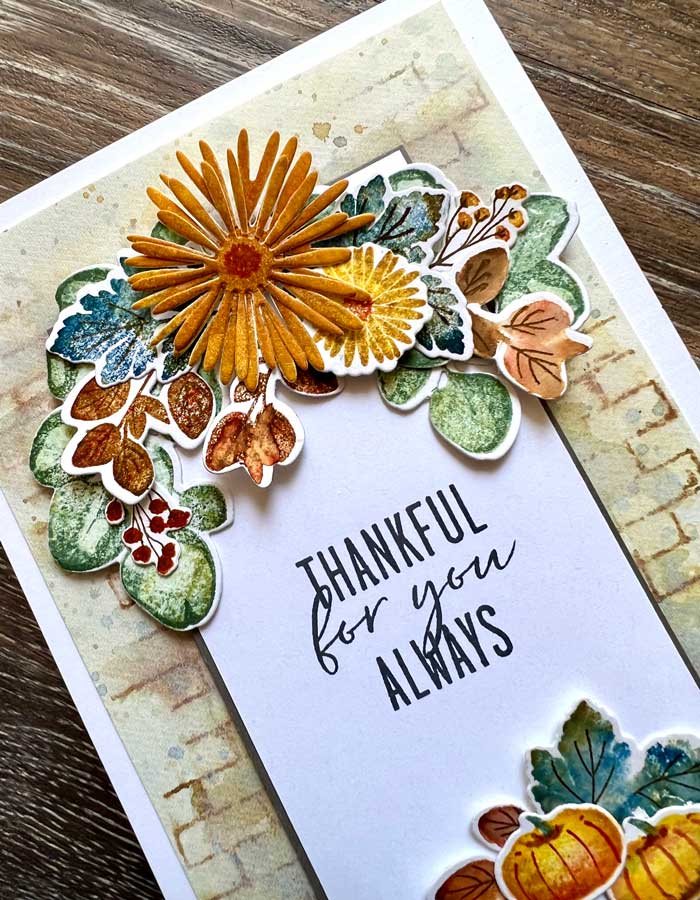 I then borrowed a flower from the Into The Blooms set (this is a set I reach for time and time again…it's a goodie!) and cut it out from watercolor paper too. It was then colored with Bright Buttercup and Terra Cotta ink.
To assemble, I made a white card stock card base that was 4 3/8″ x 6 1/2″ when folded and another white card stock panel the same size (4 3/8″ x 6 1/2″). The panel was mounted on top. The brick panel was trimmed and mounted.
Next, I cut a slender panel of Slate Grey cardstock and another white card stock panel that just fit inside the Slate panel. The sentiment, from the Just Sentiments: Appreciation stamp set, was stamped using Weathervane ink. The dark grey and sentiment panel were glued together, and a foam backing was added, then mounted on the card front.
The flowers and leaves with arranged, then attached with glue to a bough. The flowers were added and pumpkins, with a few leaves, were placed at the bottom to complete this card.
I love the Autumn feel to this card … you will have to let me know what you think too! ♥
Goodies Used: