Hi Crafty Friends,
Have you started working on your Christmas cards yet. I have barely just begun but Heather Telford has been in full swing with her glorious Christmas projects and we get to share one of her amazing cards using the Penny Black Christmas Berries stamp. Feast your eyes on this beauty, then be sure to pop over to her blog for more inspiration.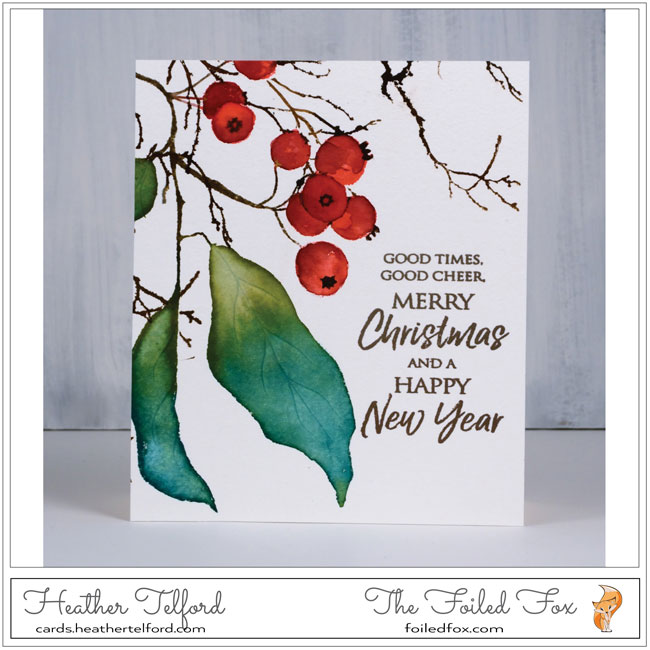 Hi there; is it getting chilly where you are? Here in Ontario, the days are still warm but the nights are getting cooler – perfect in my opinion. Warm days do make it a little harder to stamp wintry scenes but I am on my way with Christmas cards. Have you started yet? Perhaps these lovely berries will get you inspired. I used the new Penny Black 'Christmas berries' stamp along with the 'winter branches' to add a few more twiggy bits to the design.
I used a stamp positioner to create this panel so I could work on one element at a time. I stamped the berries first in 'festive berries distress ink on hot pressed watercolor paper then blended the ink with a little water to give them a more 'painted' look. Once they were dry I painted some 'aged mahogany ink in the shadow areas to give each berry more shape and definition.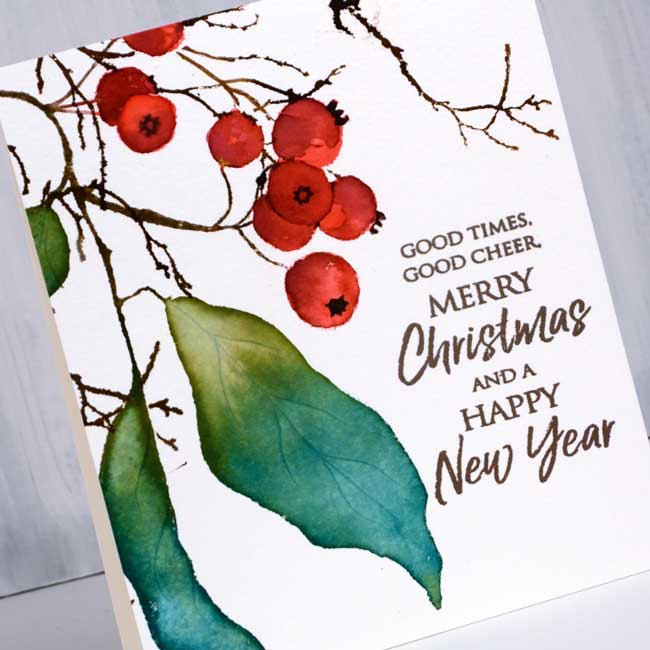 To create variegated leaves I inked one end of each leaf in pine needles distress ink and added peeled paint at the other end. After stamping I blended the two colors together with a damp brush. Blending over the stamping makes the fine detail disappear so I lightly scored vein lines back into the leaves with a craft knife. I stamped all the branch and twiggy bits with ground espresso distress ink which is a particularly dark brown and used the same color to paint details onto the berries. I used the 'Winter Branches' stamps to fill out the design but first I stamped the Christmas berries stamp on post-it notes so I could cut some masks to cover the berries while I stamped the branches over the top in ground espresso distress ink.
I restrained myself from adding splatter to this panel but finished it off with a sentiment from the 'joyous wishes' set in Versafine vintage sepia ink. I hope this card inspires if you are wanting your holiday card stash to grow but if you just want to keep on stamping flowers and sunshine, I can't say I blame you…maybe you'd like these berries in blue or orange??
About Heather: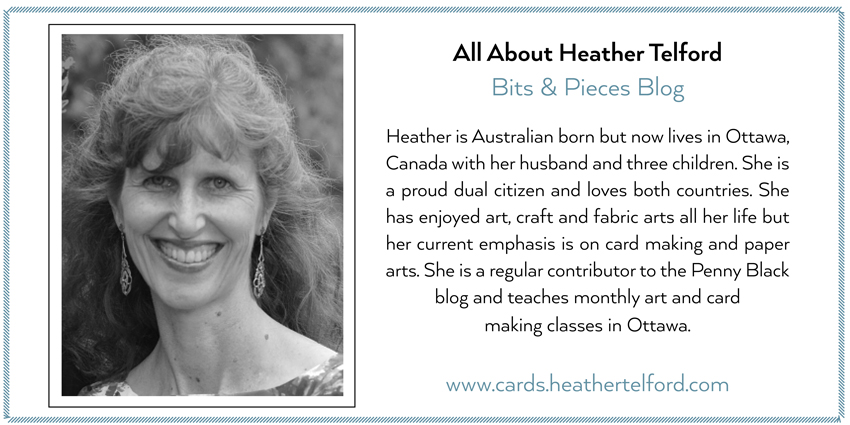 Supplies used: