Hi Crafty Friends,
Summer is fading and soon Autumn leaves will be falling. To get us in the mood, I have created a card design filled with colorful Autumn leaves. For the leaves, I used the beautiful Fall Foliage die set by Penny Black.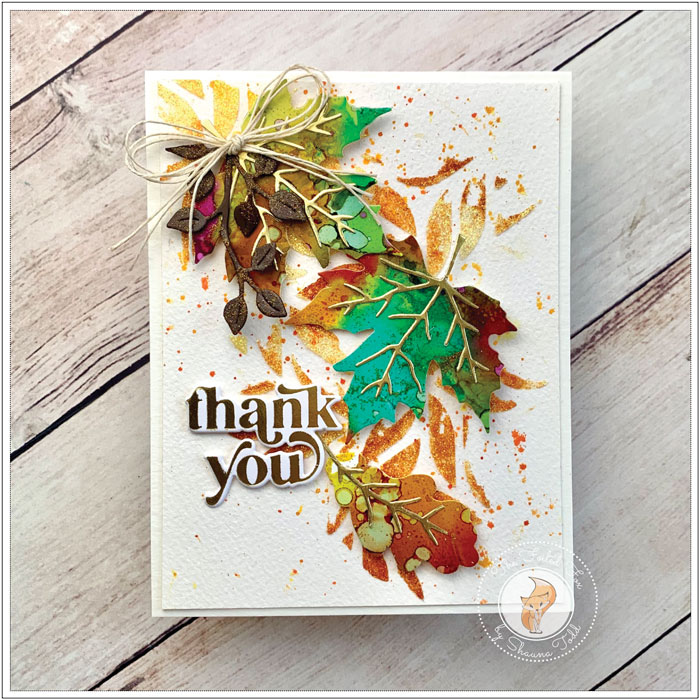 To begin, I made a panel of random Fall alcohol ink colors by first squirting a little alcohol blending solution onto a Yupo paper panel to help the ink mingle, then added small droplets of Patina, Meadow, Butterscotch, Sepia, and even a splash of Wild Plum.  I spread the inks around by blowing bursts of air using the Tim Holtz Alcohol Ink Blower.
While the alcohol ink panel was drying, I created another panel. For this one, I started with a cold-pressed watercolor panel and the Thick Brush stencil by Gina K Designs (check out the supply list below for all the items we used). Instead of using ink, I used a few sparkly texture pastes. I tinted a little mound of Nuvo Moonstone paste with Wild Honey distress ink by smearing a little ink on my glass mat and mixing it with the paste, then randomly spread some on the panel through the stencil.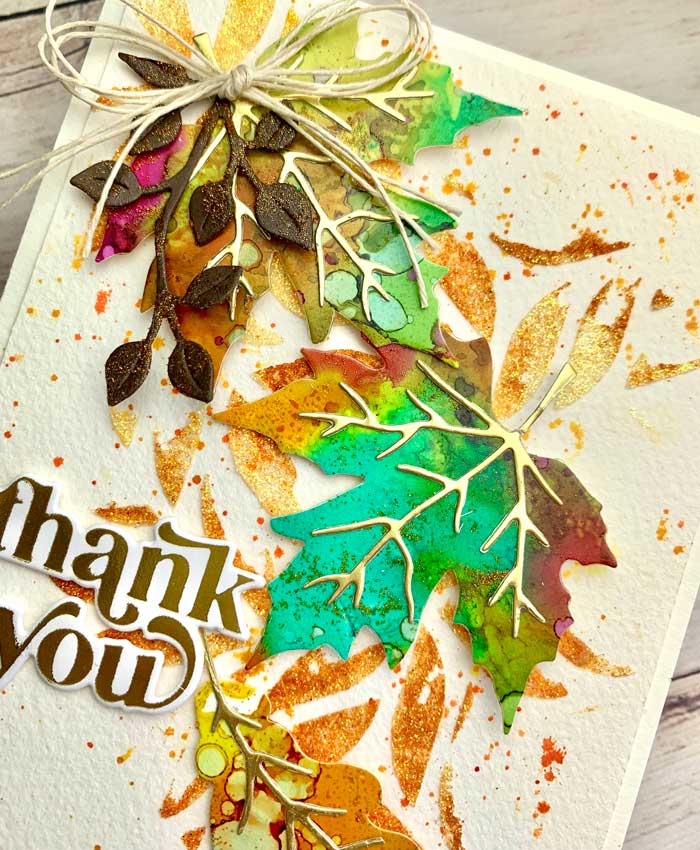 I was also lucky enough to have some gold IZINK Diamond 24 Carats Glitter Paint to play with. I know it says the color is gold but it is very coppery in color. It is also called paint but it is more like a paste! The IZINK paints come in a very handy pouch with a spout making it easy to squeeze what you need onto your palette knife and spread it onto the stencil. I intermixing the two pastes where needed. To finish, I splattered droplets of Campfire and Wild Honey distress ink over the panel. then let it dry.
Hint: if you don't have glittery gold or copper texture paste, just make another mound of Moonstone paste and tint it reddish-brown with ink. Rusty Hinge distress ink would work well.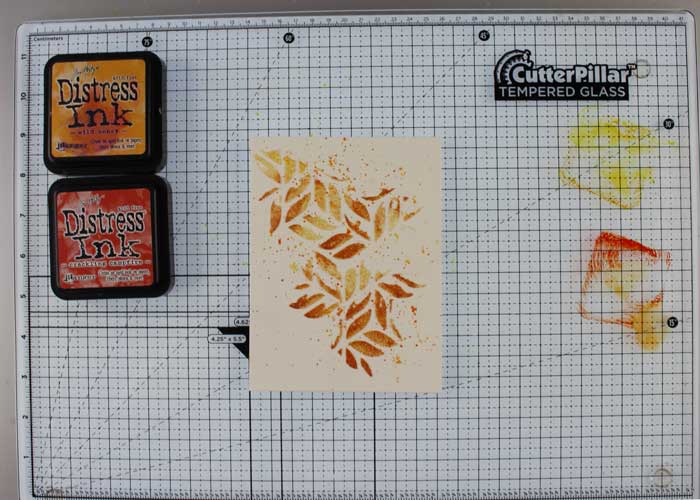 The alcohol ink panel was now dry so I cut out several leaves. Then cut the veining parts out of shiny metallic gold card stock, then glued them onto the leaves, and added foam tape to the back of each leaf.
Using a Luxe White card stock card base, I mounted the glittery textured leaves panel to the front, then arranged the leaves, pressing them into place with the foam tape. I added a sentiment I had made previously by hot foiling a bunch of them at once. Pinkfresh Studio was so clever to create a stamp, a hot foil plate, and die so that you can ink or hot foil a group of sentiments at one time. Then cut them all with one coordinating die that matches up perfectly with the stamp or hot foil plate.  It is absolutely BRILLIANT!!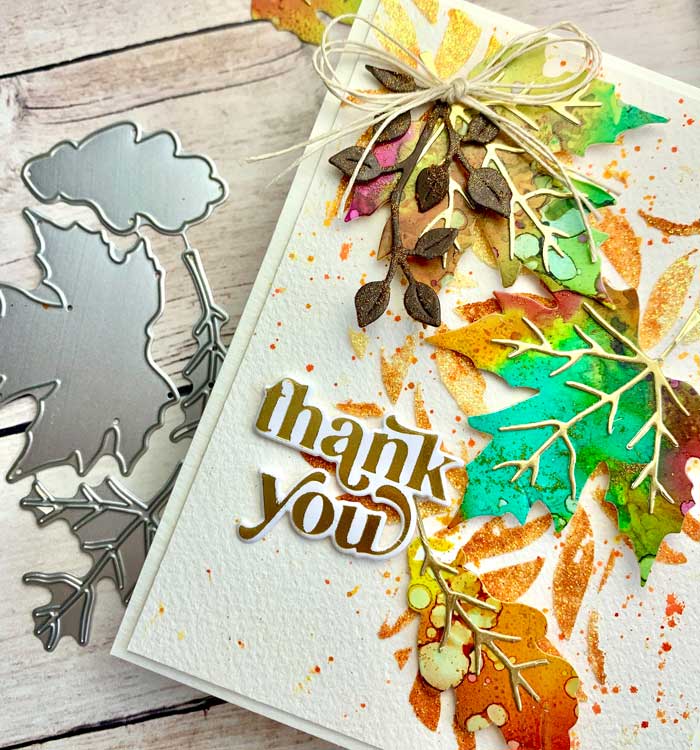 To finish, I added a twine bow and a little sprig cut from brown card stock using the Pinkfresh Studio Curvy Leaves die ♥
By the way, before I go, don't forget to enter our giveaway. Just leave a comment of your favorite summer activity in the comment section below!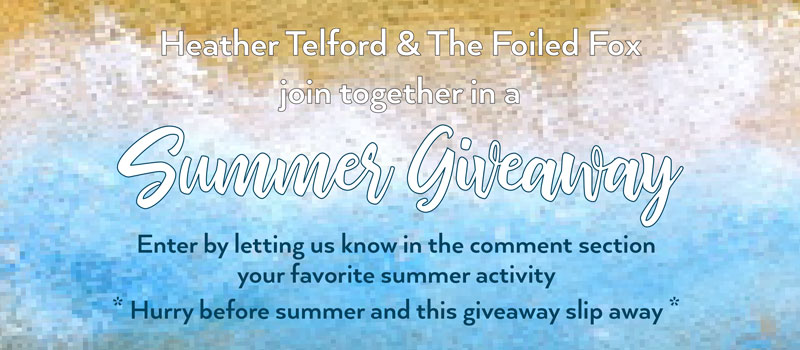 Goodies Used: