Hi Everyone,
Heather Telford of the Heather Telford blog is treating us to the loveliest card! The subtle background and the gorgeous feathers watercolored with Brusho paints make this another one of Heather's masterpieces. Take a look how she cleverly creates her textures and colors.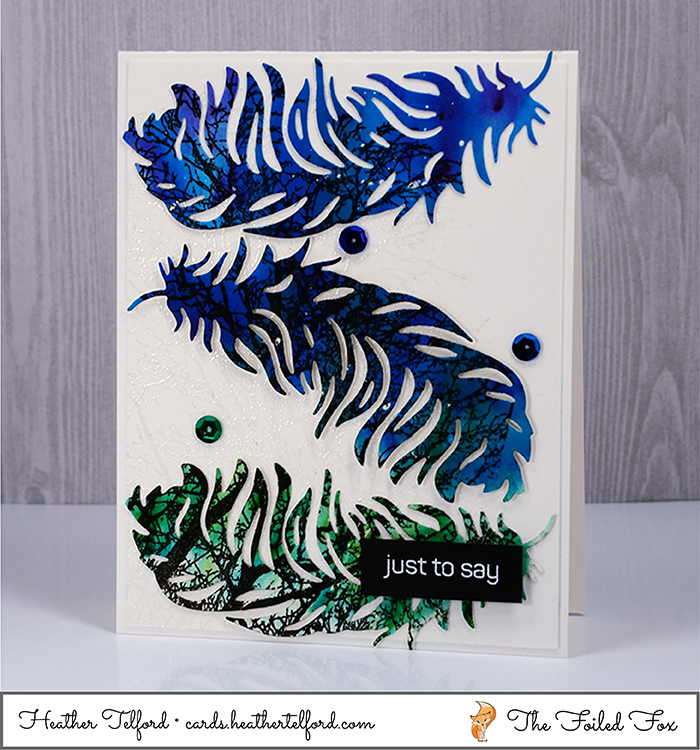 I'm beginning to feel quite at home here on the Foiled Fox blog, thank you for having me back as a guest. I have created a card that has been floating around in my head for a while waiting for the chance and the inspiration to carry it out. I wanted feathers floating down my card but I also wanted a picture in the feathers. It is not all that obvious but there are branches stamped on the feathers. I like what happened on this card but I still want to develop the 'picture in the feathers' idea further.
I began with a piece of hot pressed watercolor paper sprinkled with masking fluid. I taped the paper to a firm surface then painted water over it. Into the water on the paper, I dropped some violet, cobalt blue and leaf green Brusho crystals. As they reacted with the water, I tilted the panel so the colours would mix and move.
I kept adding colour and water until I had good coverage and a pretty pattern of the three colours. Once the panel was dry I removed the masking fluid and stamped the 'skyward' stamp in Versafine onyx black ink. When that dried I used the 'light as a feather' die from Penny Black to cut three feathers.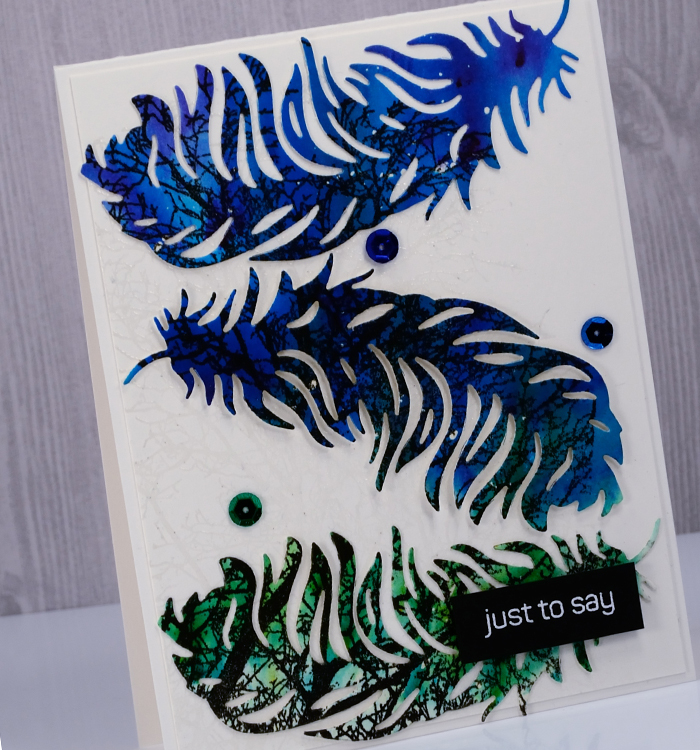 The background panel has a subtle pattern on it too created by stamping the skyward stamp in Versamark ink and embossing in clear powder. I arranged the feathers on the panel and popped up the centre one on dimensional tape before adding an embossed sentiment from the happy snippets set and a few coordinating sequins.
I'm looking forward to trying more techniques with this pretty feather die; I hope I've got you thinking about its possibilities too!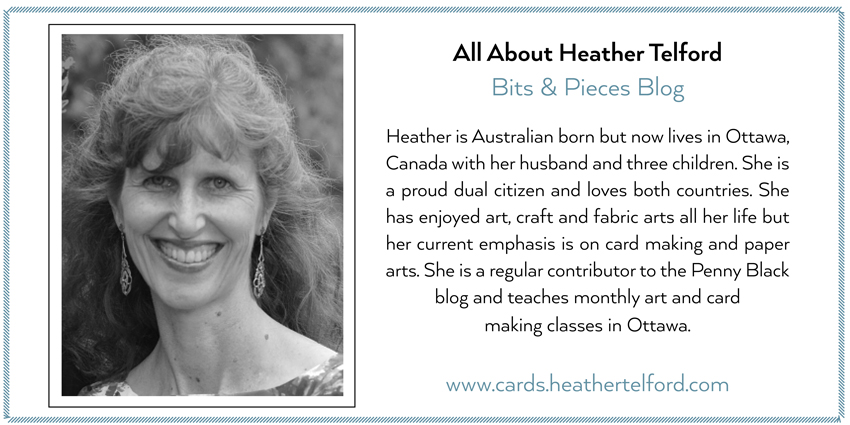 Supply List:
Penny
Black
Feather
Die

Penny
Black
Skyward
Stamp Set

Penny
Black
Happy
Snippets
Stamp
Set

Arches
Hot Press
Watercolor
Paper

Brusho
Crystal
Colour
Set

Versafine
Onyx
Black
Ink Pad
VersaMark
Watermark
Ink Pad

Wow
Super
fine
White
Embossing

Wow! Clear
Sparkle
Embossing
Powdedr

Foam
Tape

Neat &
Tangled
Peacock
Feathers
Sequin

Masking
Fluid