Hi Creative Friends,
We have another Friday video for you – YAY! This one features a beautiful stamp set by Penny Black called Painter's Vase. The stamp set has a bouquet of flowers and an awesome vase. We have used the vase in another project in the past and it is a wonderful one to use for a potted plant or bouquet of flowers. This time, though, we opted to create "Flower In The Round" and leave the vase for another time.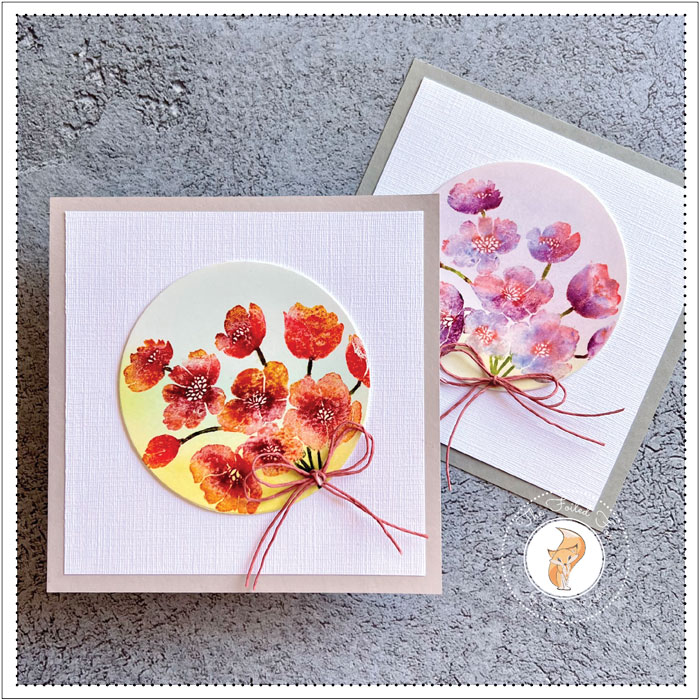 To view the video, just click on the image below. There are step by step instructions on making your own 'Flowers In The Round'.
As you saw in the video, we focused on the bright reddish flowers. We did another one off camera using soft lavender colors. Both versions of this design were made the same way, using an array of distress inks. For the reddish one, we started with a background of Crushed Olive and Salvaged Patina and the flowers used Saltwater Taffy, Festive Berries, Abandoned Coral, Seedless Preserves, and Wild Honey. We also used a few Tombow pens to add color to the small areas.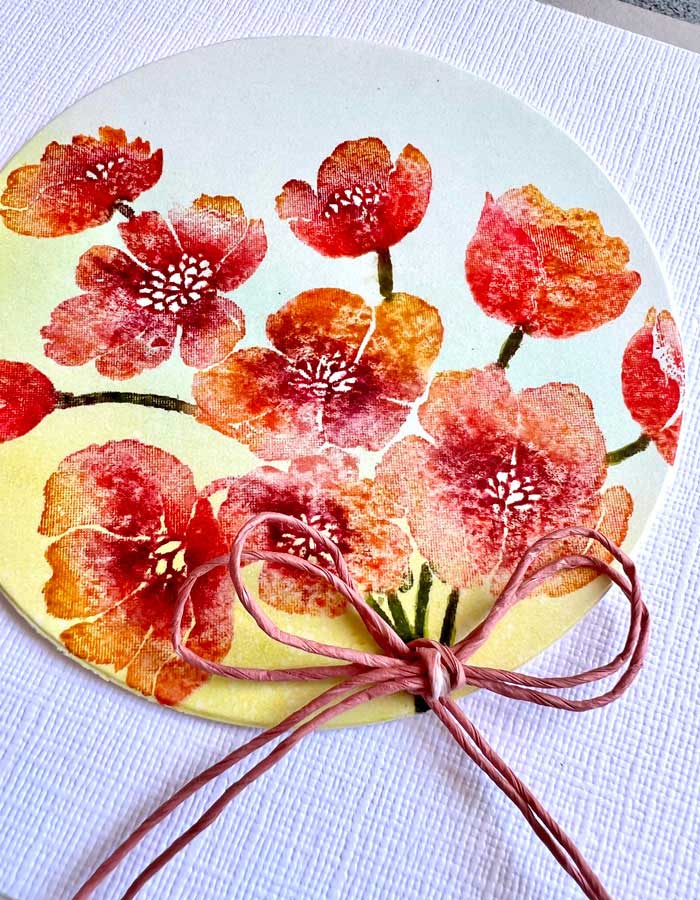 In the close-up above, you can see how all the colors came into play. Together they created a vibrant bouquet of flowers.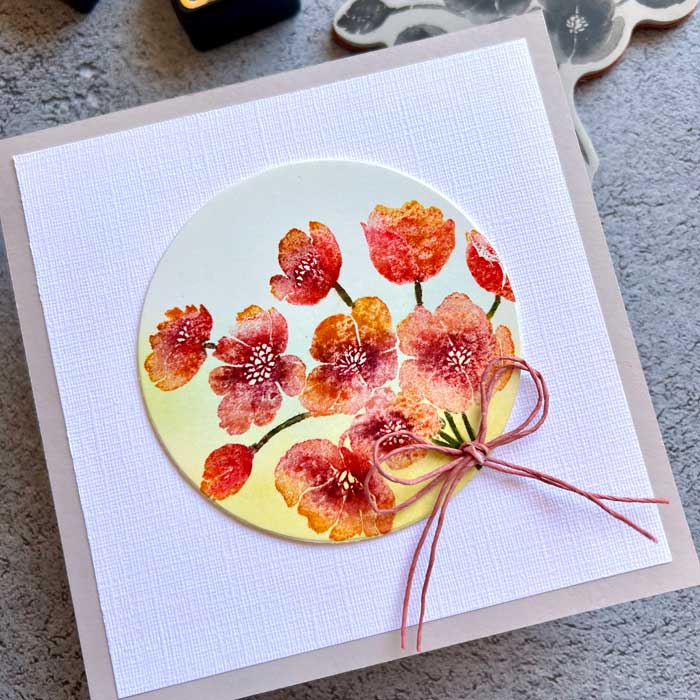 The round of flowers was mounted onto a white Snowbound linen background and an Alpaca gray border. The whole card measures 5 1/2″ x 5 1/2″.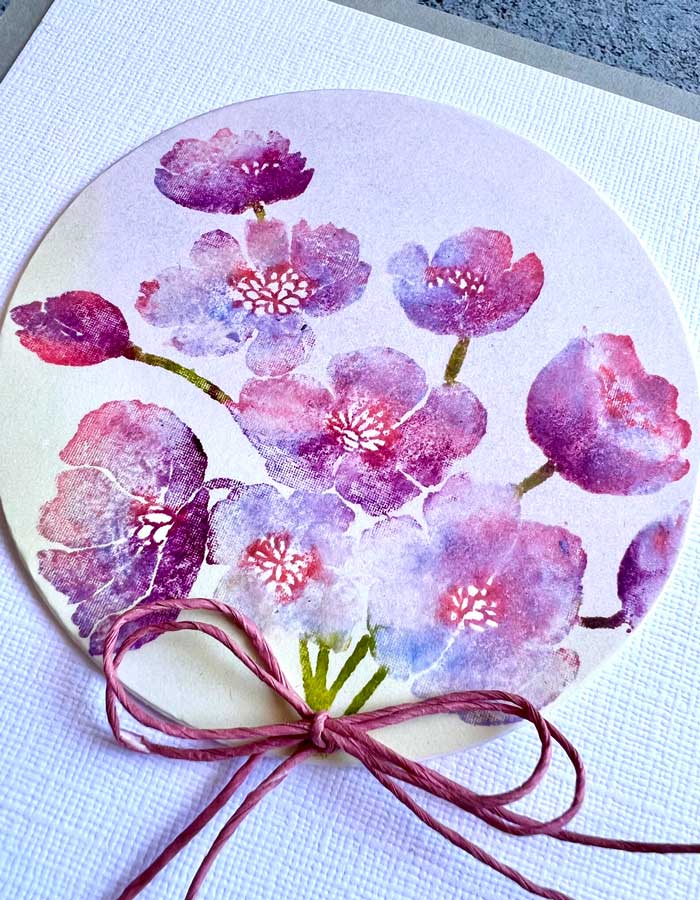 For this next version above, we used Shaded Lilac and Crushed Olive for the background and Saltwater Taffy, Shaded Lilac, and Seedless Preserves inks. The centers were colored using a bright pink Tombow pen.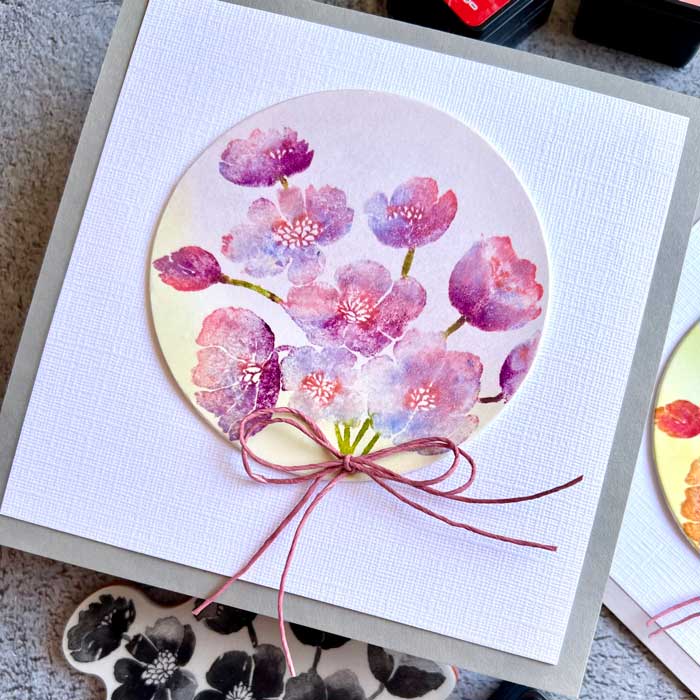 We mounted the round of flowers in the same way as the other one but used a Gravel gray border instead of the Alpaca one in the red flower version.
We used a light touch with this one, creating a softer, more delicate feel.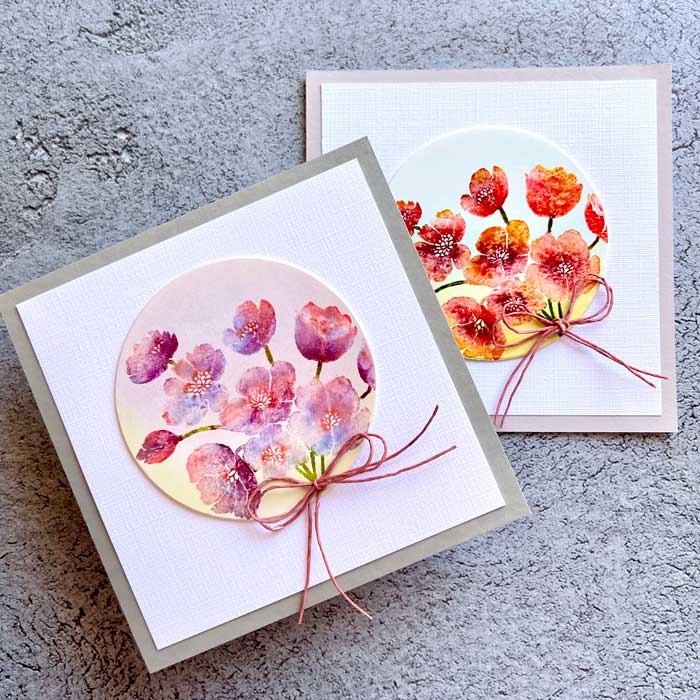 Thank you so much for joining us today and watching the video. We hope you enjoyed the project!
Be sure to let us know which one you like best… see you next time! ♥
Goodies Used: