HI Crafty Friends,
I was caught a little short this year. I need more Christmas cards… and who doesn't? They are always a welcome card to have on hand… for that unsuspected family, you left off your list inadvertently! So, here is my latest.
It features the versatile Floral Christmas stamp and die set from Ink To Paper. It has all the components to make a beautiful floral display!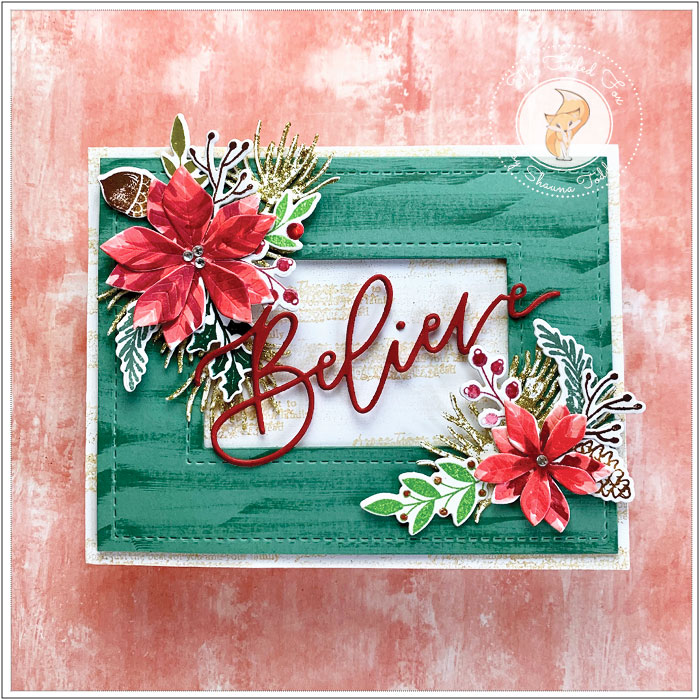 When I do a card like this, I like to start by getting the card base and foundation pieces done first. That way, I have a better idea how many floral pieces I will need and how to arrange them. So, with this in mind, I made a white card base and also cut a frame using a piece of Eucalyptus green card stock and the Ink To Paper's Basic Border Frame and Border Bling: Stitched. It is ingenious how Ink To Paper makes use of their dies. First, you get the basic frame and then you can use an endless supply of "bling" – more bling coming up in the next release in a day or two – YAY!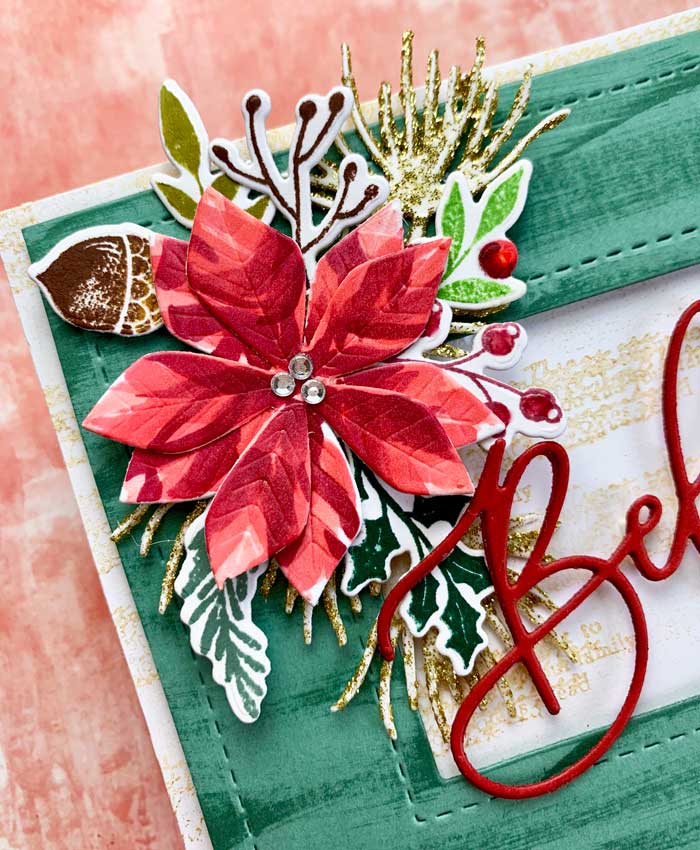 Next, I stamped groupings of text (a stamp included in the Alexandra Renke Christmas All Around The World stamp set) onto the front of the white card base. I used Delicata gold ink and randomly stamped it several times. I also accented the green frame (I thought it looked a little plain) with horizontal swipes of Ocean Tides ink. This gave it a distressed look.
While the foundational pieces were drying, I started to work with the floral pieces. I was not sure what pieces I would use so I stamped a few of every floral piece in the Floral Christmas stamp and die collection. I didn't use all of them (but nearly) and this way I had a plethora of elements to work with. I have provided a guide to the colors of ink I used below.
By the way, I thought I needed a larger element to the display so I added poinsettias. There are several poinsettias dies that will work but this one is from the Ink To Paper's Modern Gift dies.  They were colored with Copic Markers but they would be lovely watercolored too!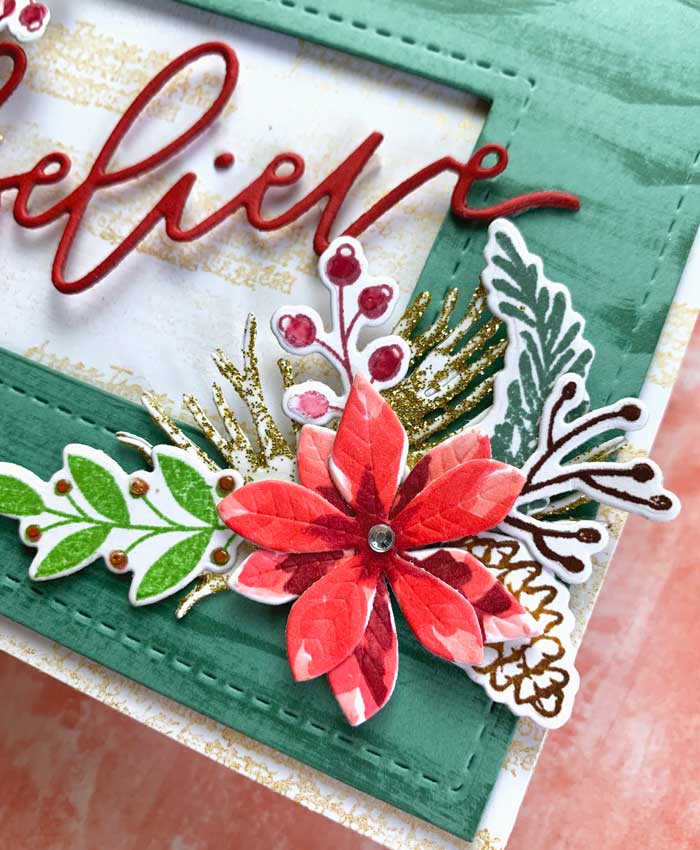 I also cut out two of the word "Believe" from Ink To Paper's Christmas die from Peppermint red card stock, stacking and glued one on top of the other.
Now, it was time to get to work on arranging and gluing these pieces in place. While I was busy doing this, I thought the arrangments needed a little sparkle. So, using Penny Black's Pine Branch die, I cut one sprig out and slathered it with Gina K's Gold Glitz glitter gel. Once it was dry (it dries pretty fast – YAY!), I clipped it apart and used the pieces for the foundation of the floral sprays.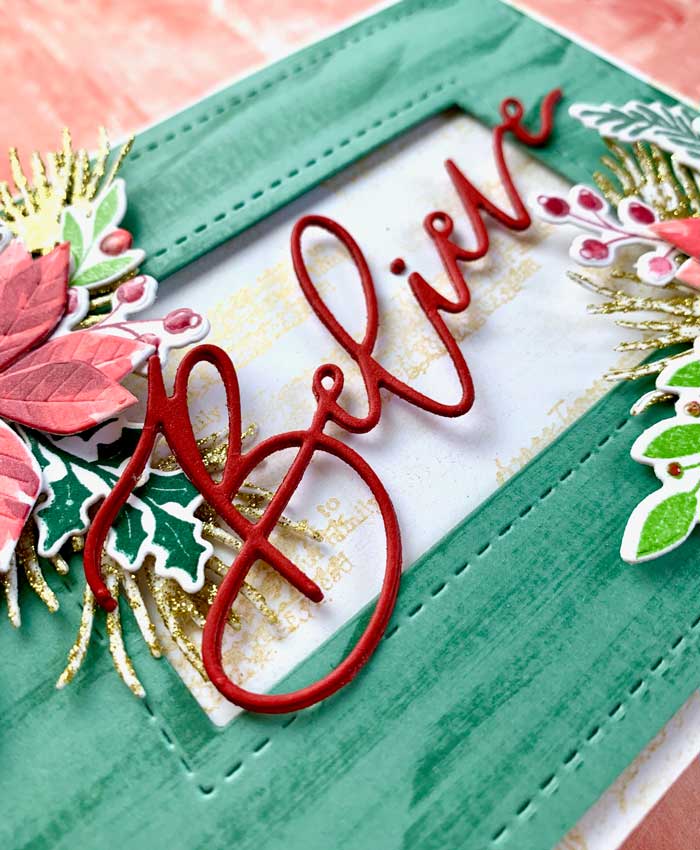 It was time to position and adhere everything in place… so, I started by adding foam tape to the back of the green frame and positioned it over the card base. Next, I finalized my floral arrangements in each of the two corners and glued them in place.
The final steps were to add the Believe sentiment, adhere sparkly gems to the center of the poinsettias and apply IrRESISTible Pico Embellisher on the berries so they shine!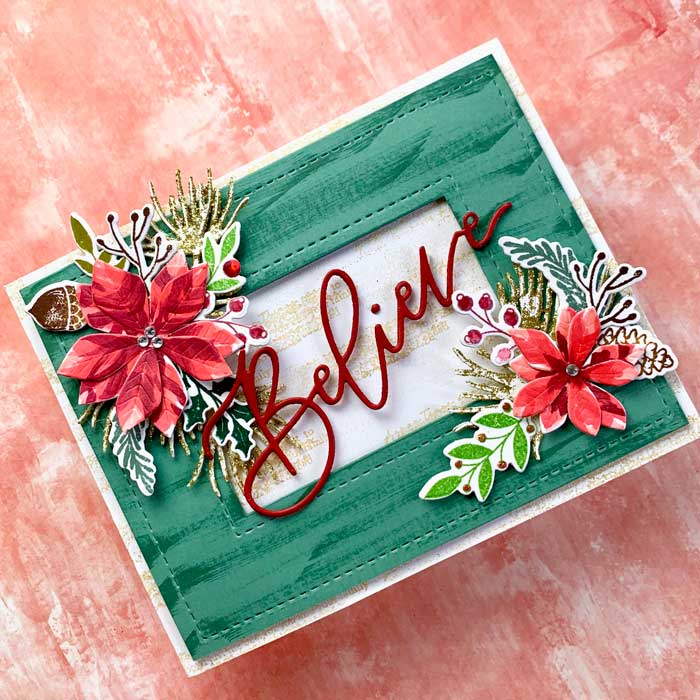 Thank you so much for joining me today, I hope you enjoyed it! Here is the guide to the inks and markers I used:
GOODIES USED:

.