Hi Everyone,
We have a special treat for you today! We are sharing another floral beauty by the ever-talented Heather Telford. She has combined the graceful Floral Notes stamp set by Pinkfresh Studio with the awesome Karin markers to create this beautiful card design.
Heather's creations are always fabulous! To see more, click here.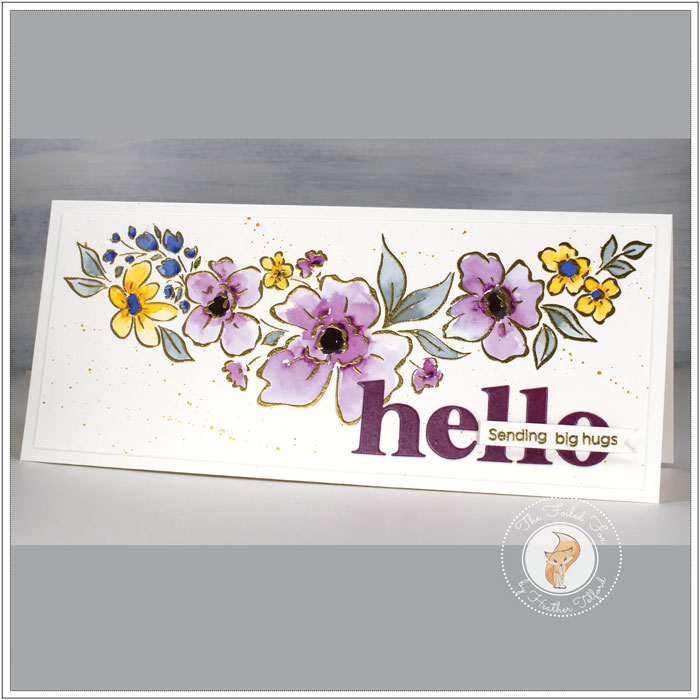 Now, here's Heather…
Hello my crafty friends,
Have you tried slimline cards, either the wide but shorter version or the tall but thinner style?  I've done a few and although my favorite techniques and colors don't need to be altered the layout, of course, is a different matter. Many companies are coming out with stamps and dies the size of a slimline card which helps when designing for the longer card base.
This pretty stamp from Pinkfresh Studio is called 'floral notes' and is an example of a stamp where you don't have to think much about the layout unless you want to. Without being perfectly symmetrical it is well balanced with a large flower in the middle flanked by smaller flowers and foliage.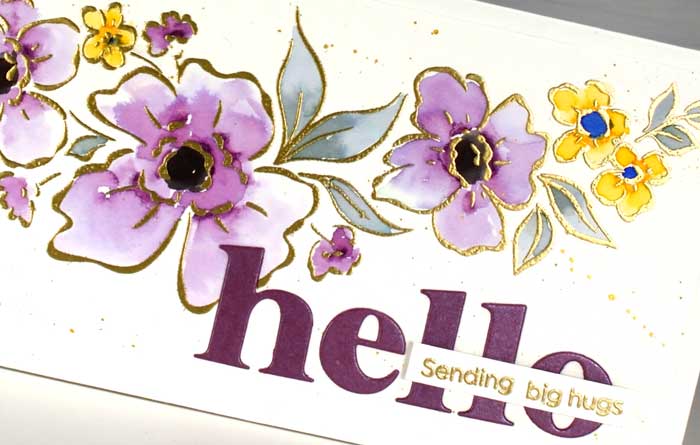 I embossed on hot pressed watercolor paper with WOW metallic gold embossing powder. To add color I used black, royal blue, lilac, and gold Karin brushmarkers. As I've mentioned before the markers are juicy and highly pigmented so I just dotted ink in the centers of the flowers or ends of the buds and leaves then blended with water to fill the shapes with ink, achieving a nice gradation of intense to pale color easily. I mixed the royal blue and gold inks to make a green by scribbling each on my glass mat then blending with water. Rather than splatter one of the marker inks I used Finetec 'pearl gold' to add gold specks and spots over the panel.
I built my own sentiment by pairing die-cut (for Mulberry cardstock) 'Heather lowercase alphabet' letters with words from 'scripted bold sentiments 1' both from Pinkfresh Studio. I trimmed the stamped panel to 3 3/8″ x 8 3/8″ before attaching it to a 3 3/4″ x 8 3/4″ card base. I will be putting this floral stamp to use on my 4 1/4″ x 5 1/2″ cards as well so check my blog to see more in the future.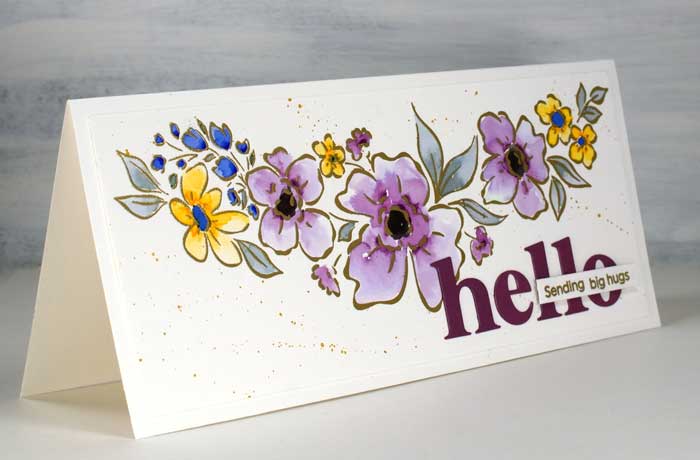 Thanks for joining me today. Let me know if you have some tips and tricks for creating slimline cards.
Learn more about Heather: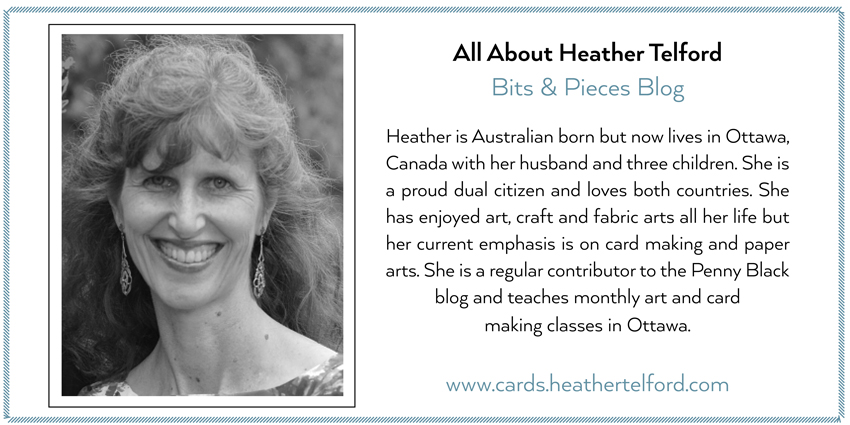 Goodies Used: