HI Crafty Friends,
We are sharing another cutie by Rosali of I Love Stamping. Remember her last card design using the same Frightfully Sweet stamp and die set by My Favorite Things. Well, she kept on going with her coloring fun and made a second card with more adorable critters.
Take a look at this next creation, then pop over to her blog. She has tons more inspiration to share!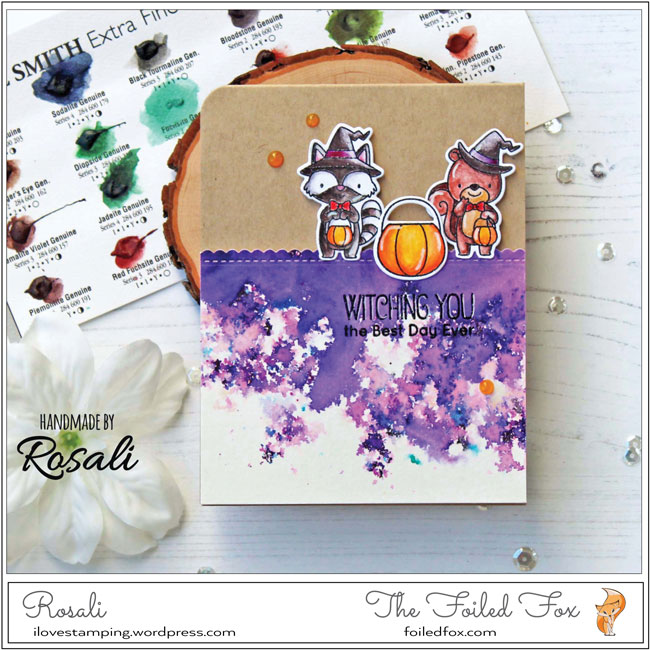 Hi there, it's Rosali again with a second Halloween card! I just couldn't stop creating with My Favorite Things' "Frightfully Sweet" stamp set. 😀
Although this card was rather quickly put together I really like the look of it. Here it is: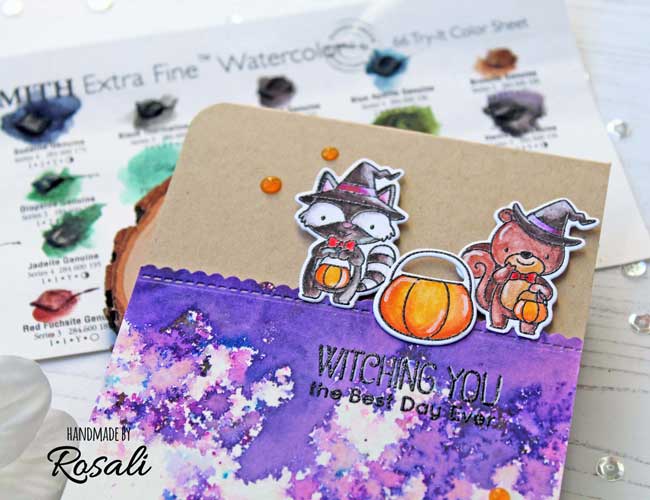 For my card base, I used kraft cardstock this time. I went through my stash of pre-made panels and pulled out this purple Color Burst piece which I thought fit very well for a Halloween card. I had made it using watercolor paper and sprinkled the Color Burst watercolor powder onto a previously wet area. Now I die cut the panel using a scalloped border die and foam-mounted it onto the bottom part of my card base.
I watercolored the "Frightfully Sweet" images using the Daniel Smith 66 dot chart (just as I did on my last card) and a no. 2 round brush. The watercolor dots last longer than you think! Especially when you are coloring small critters like these. 🙂 Here are a few Daniel Smith colors that I used:
Cadmium Yellow Deep Hue and Cadmium Orange Hue for the pumpkins

Quinacridone Purple and Bloodstone Genuine for the hats

Black Tourmaline Genuine and Sugilite Genuine for the raccoon

Red Fuchsite Genuine, Burnt Tiger's Eye Genuine and Bronzite Genuine for the squirrel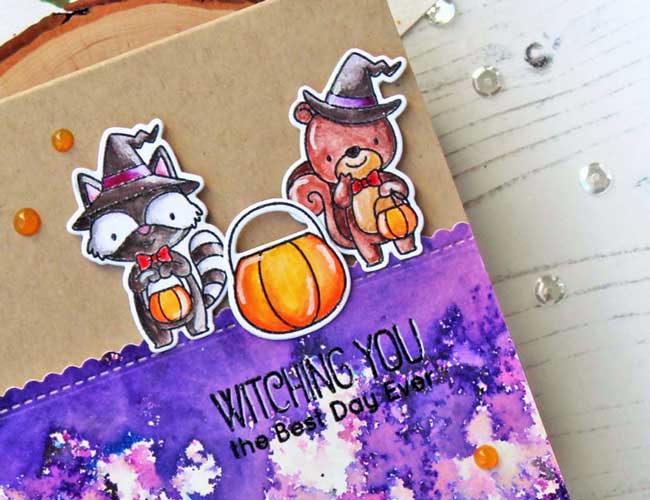 Together with the two cute critters and big pumpkin, I think the card has already plenty of things to look at so I just added three drops of Nuvo Jewel Drops as embellishments.  
I hope you like the card! Have an amazing day! ♥
Rosali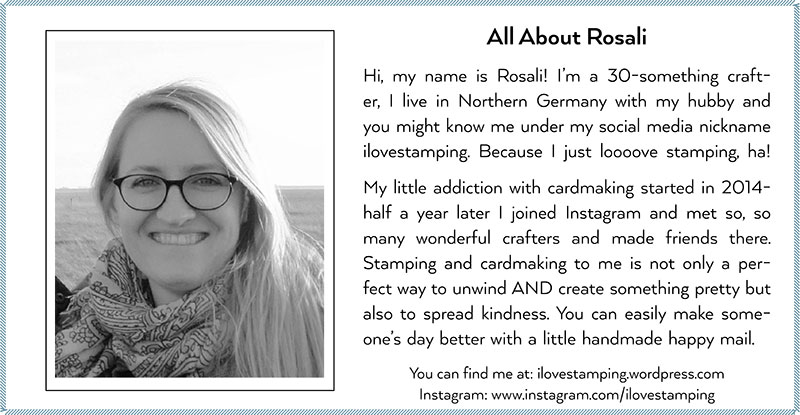 Goodies Used: