Hi Creative Friends,
Another glorious Autumn season is upon us and the new Fantastic Foliage stamp and dies set from Papertrey Ink helped me get into the season. It has beautiful Fall leaves that can be used in so many ways. Today I made a wreath and added a few pumpkins from the Pumpkin Parade die set by Penny Black.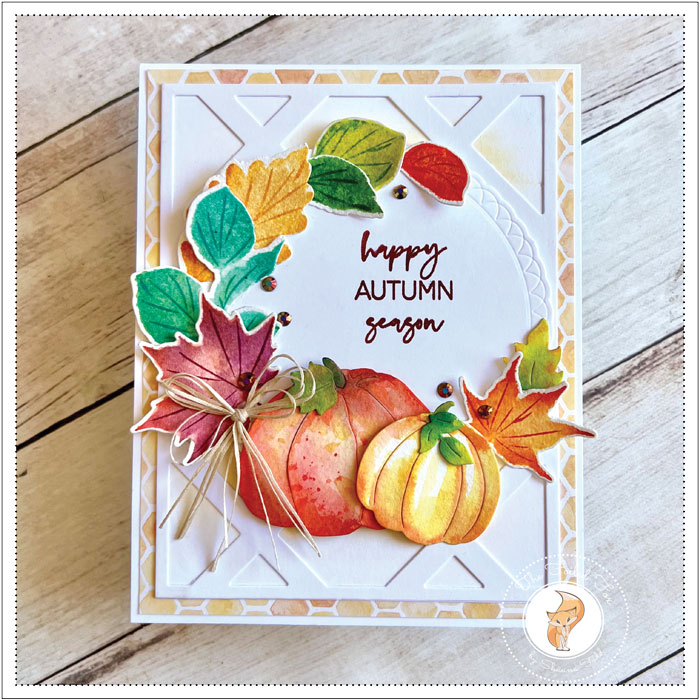 To start, I cut out all the leaves and pumpkins from watercolor paper. Since I want to blend a few colors together, the watercolor paper will make it possible. Next was to stamp all of them with the various distress inks I chose but first I had to mount them in my stamp positioner. To make it easy, I cut out all the pieces without separating the individual dies from each other. By leaving them all still connected I could cut them all out at once, leave them intact with the negative and positive space and mount them into my stamp positioner.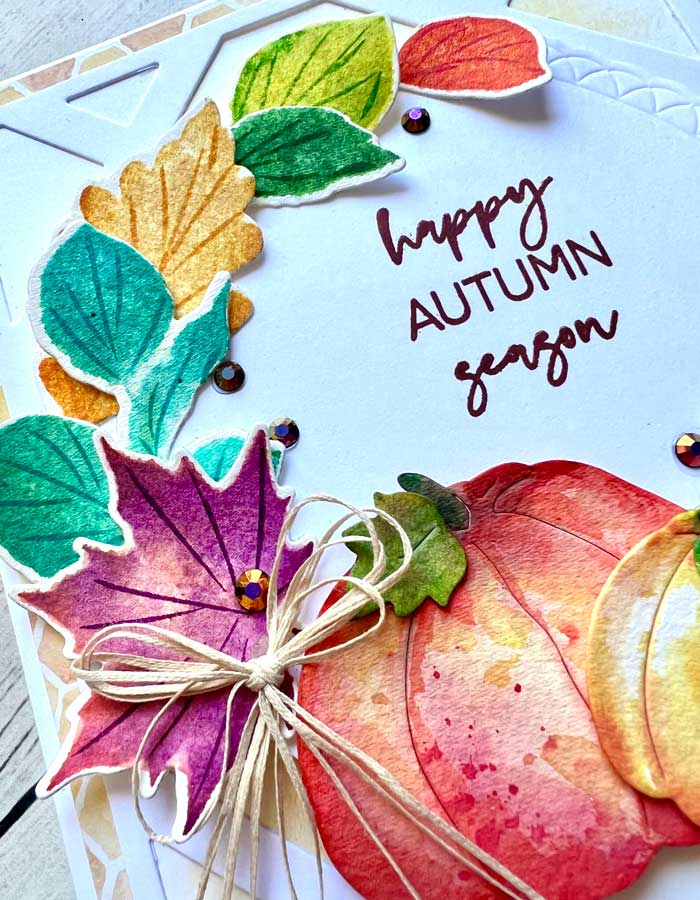 I began to ink up each leaf with a different color. I used distress inks and at least one color, if not two, for coloring the background. I have listed all the colors in the supply list below but to give you a little guide, here are some color combinations:
Seedless Preserves and a dash of Villainous Potion on the edges, spritzed with water – Villainous Potion for the veins
Peacock Feathers with a bit of Evergreen Bough on the edges, spritzed with water – Evergreen Bough for the veins
Squeezed Lemonade and Wild Honey on the edges, spritzed with water – Wild Honey for the veins
Mowed Lawn and Rustic Wilderness, spritzed with water – Rustic Wilderness for the veins
Crushed Olive and Mowed Lawn – same treatment as above
Wild Honey, Ripe Persimmon, and Candied Apple
Squeezed Lemonade, Ripe Persimmon, and Crackling Campfire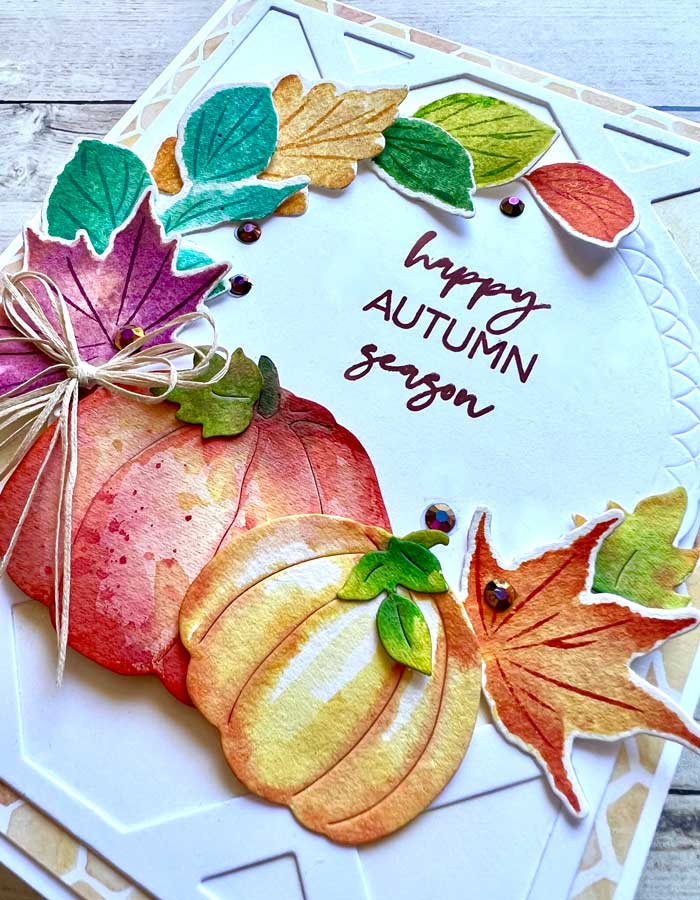 The pumpkins were my favorite to paint. I used Squeezed Lemonade as the base color and added Wild Honey, Ripe Persimmon with a dash of Crackling Campfire, and Candied Apple, plus a few greens for the top. For the small pumpkin, I used lighter colors like Squeezed Lemonade, Wild Honey, and a tiny bit of Ripe Persimmon.
While these pieces were drying, I cut out an A2 white cardstock panel using the Pinkfresh Studio Simply Diamond die and a circle from the Papertrey Ink Scalloped Circle set. I also cut out a larger panel of patterned paper and an even larger white cardstock panel so I could get a layered look.
With all my pieces now ready to assemble, I mounted the large white cardstock panel to the card base, then the patterned paper on top of that. Next, I added an A2 white card stock panel and the diamond panel on top. The scalloped circle was backed with foam to pop it up and centered on top. The leaves were arranged around the circle and attached with glue. For the pumpkins, I used a few foam squares.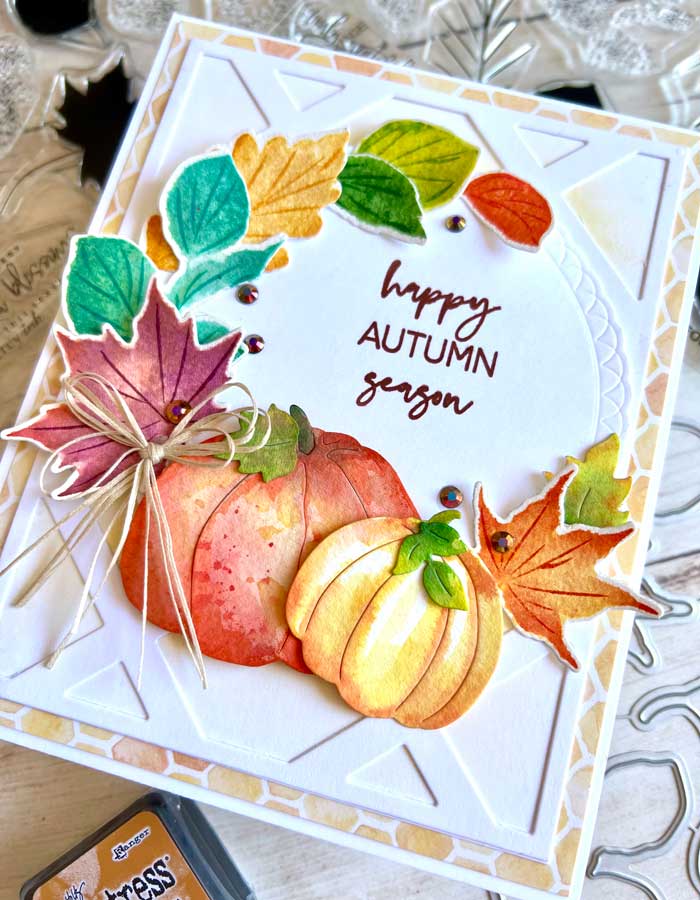 Next, I placed the card into my stamp positioner and stamped the sentiment using a combination of Vintage Photo and Crackling Campfire, then applied a natural white bow with a few Expresso gems to finish.
I always love Autumn colors and this card design lets me use all of my favorites! YAY! ♥
Goodies Used: