Hi Creative Friends,
It's time to share an easy Halloween card using a few of the fun Halloween stencils and dies from their newest release. For this card, I decided to try something a little different. I used acrylic paints for the background to make the colors really stand out!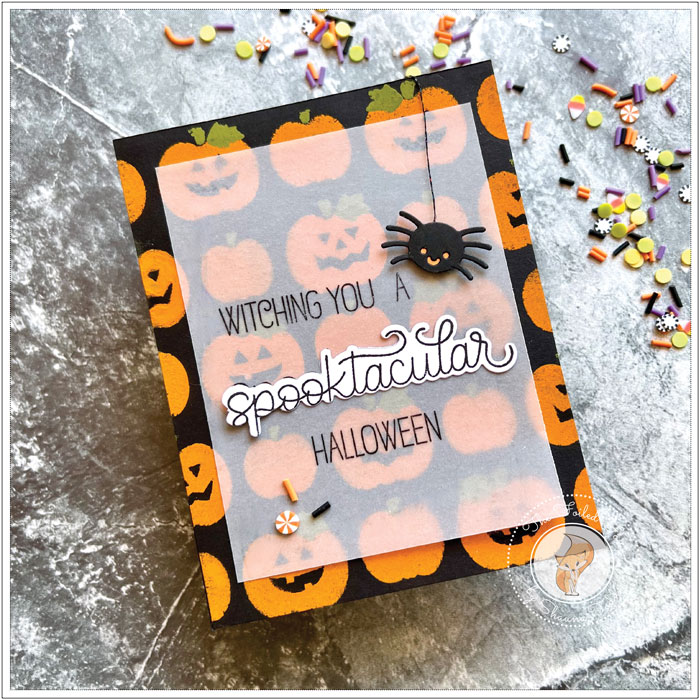 The Layering Pumpkin stencil set and acrylic paints were perfect for making the bright orange pumpkins. I started with a black A2 panel, securely taped down the main pumpkin layering stencil over top, and used a large dauber to sponge on the bright orange paint. I have listed below in our 'Goodies Used' list a few different paints you can use. The Dylusions acrylic paints work great but so does the gouache acrylic paint. When all the bright orange paint was applied, I very carefully removed the stencil and allowed the paint to completely dry before going to the next step – fortunately, I didn't have to wait long, acrylic paint dries super fast.
TIPS FOR APPLYING ACRYLIC PAINT: Dabbing it on with a sponge or dauber worked the best for me (both are listed in the supply list below – pick what you like best). Be super careful to keep the paint thick and opaque so I didn't add any water to the paint. Then, carefully remove the stencil so as not to smear and wait until each layer was dry before handling or applying another layer.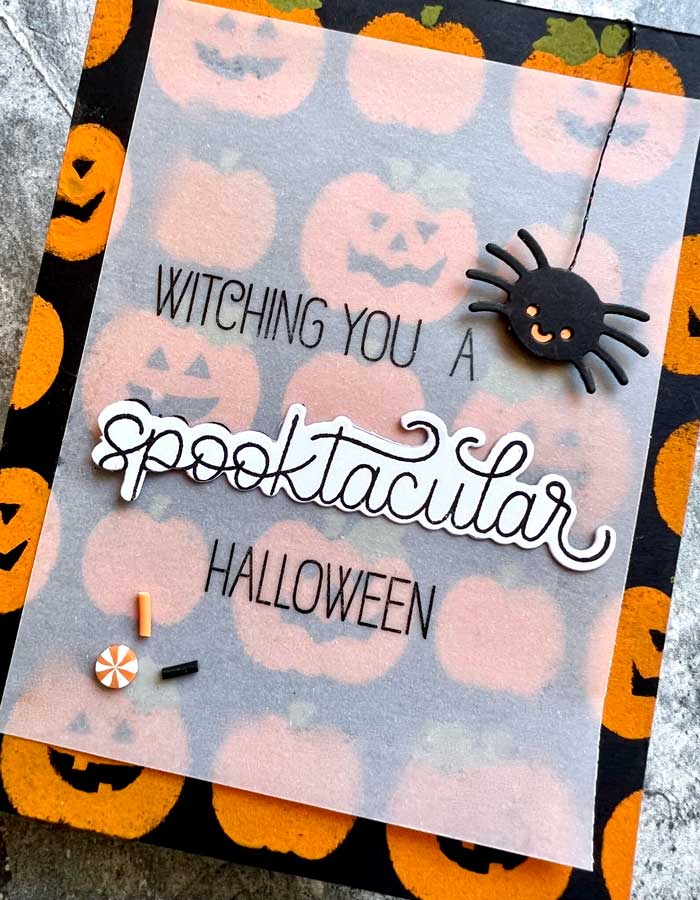 With the first layer done, I placed the stem and leaf layer over top next and sponged on the green paint. Allowed it to dry, then moved on to the face layer of the stencil set, and dabbed on the black paint.
YAY! the background was done and I accomplished just what I wanted, brightly colored Jack O'Lanterns on a black background.
The next steps were a snap. I added the pumpkin panel to a black card base, then cut a smaller panel of heavy vellum where I stamped a sentiment from the MFT Frightfully Sweet stamp set. It worked well with the scripty 'Spooktacular" that I had stamped with Versafine Black Onyx ink and cut out using the Halloween Critters stamp and die set. By the way, be sure to use Stazon ink when stamping on vellum. It doesn't smear, where most other inks will!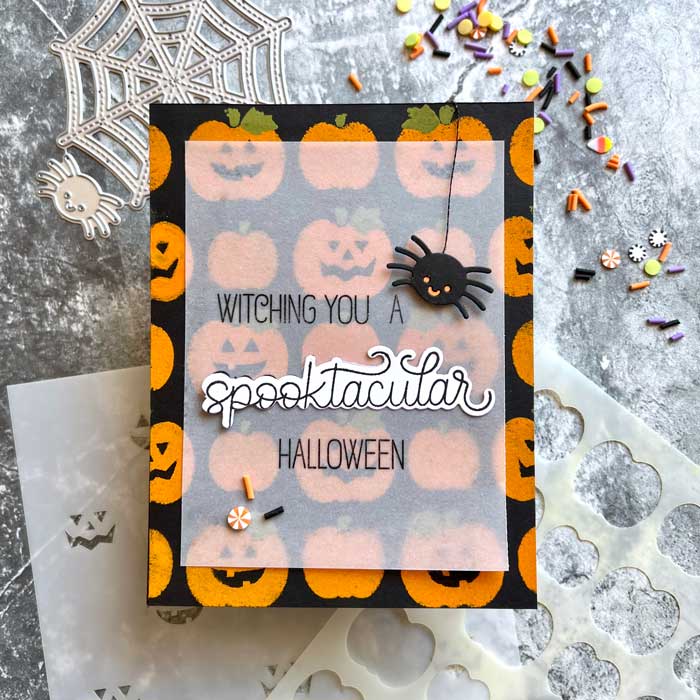 I cut out two spiders, one from black cardstock, the other orange, and layered and glued them together.
The vellum panel was added on top of the card front and the spider with a black thread attached was mounted over top, along with a few uber cute Halloween Party embellishments to finish! ♥ 
Goodies Used: