Hi Crafty Friends,
I am popping in with two simple cards made from a brand new stamp set by Penny Black, named Lighthearted. It features the cutest hedgehogs ever. There are five of them in different poses in the stamp set and every one of them is a delight. Here are two card designs, each with its own hedgie. These designs are simple and just for fun.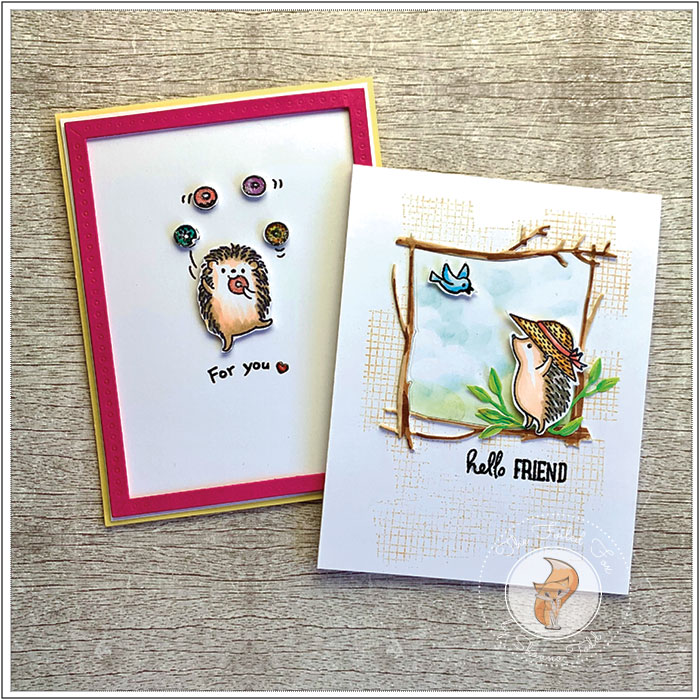 I have to start with the hedgie juggling the doughnuts! He is adorable!
To start, I stamped the hedgehog with doughnuts and the sentiments onto a Neenah white card panel and I also stamped another one onto a small piece of Neenah white card stock. I lightly colored the one on the panel with Copic Markers. Then,  I more seriously colored the hedgie and doughnuts (yum!) that I had also stamped. When the coloring was finished, I fussy-cut them out.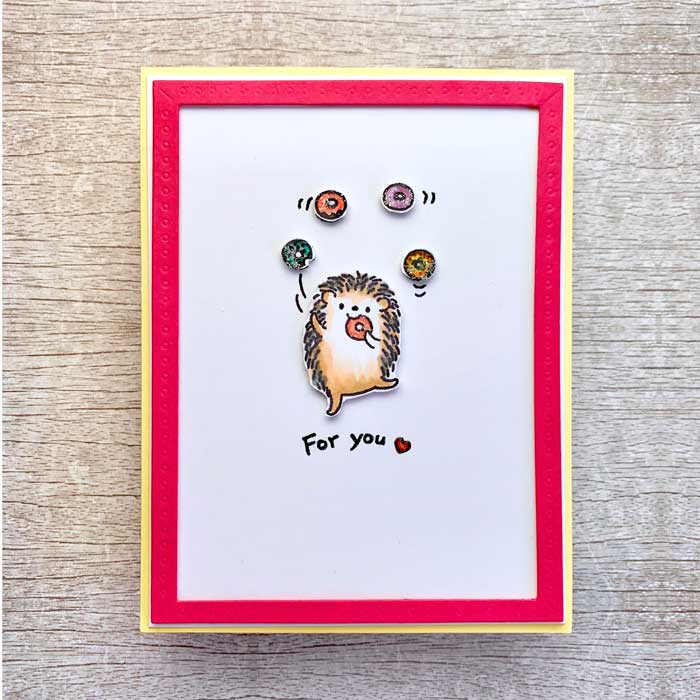 Believe it or not, the card was nearly done. All I had to do was to mount the hedgie panel onto a yellow card base and add a Fuchsia colored frame that I had cut using Ink To Paper's Dotted Frame die. The frame was adhered with foam tape to pop it up. At the same time, I layered (with a bit of foam tape) the cut-out hedgie and doughnuts on top of the stamped image and added clear IrRESISTible Pico Embellisher and a smidge of glitter to the doughnuts and heart for a little extra dimension and shine.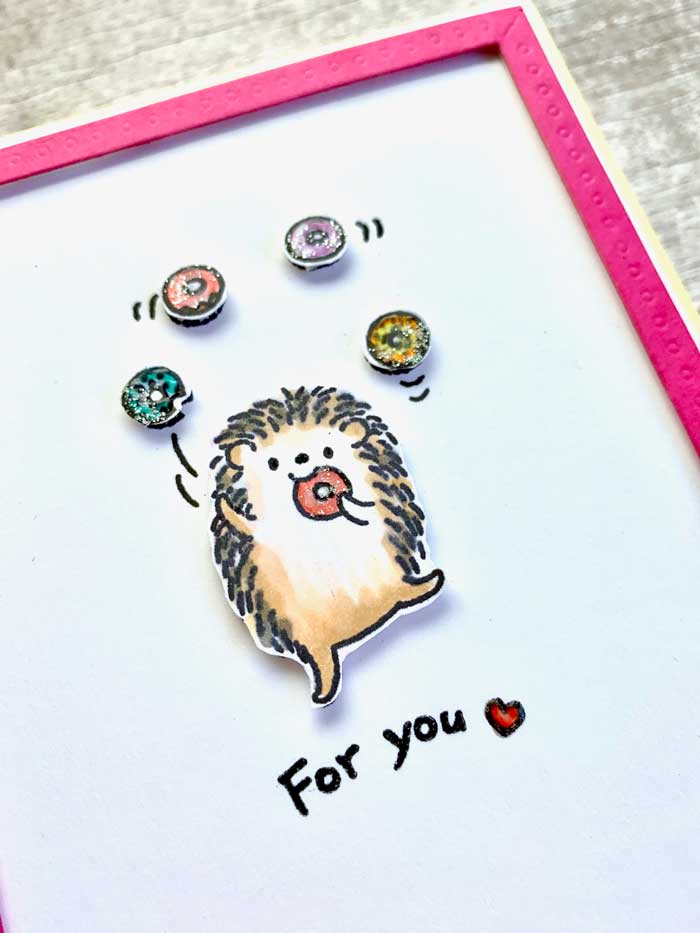 With the doughnut hedgie done, it was onto the sweet one with her hat.
I started with a white card base and lightly stamped the front using the Loosely Woven stamp by Ink To Paper and Fine Linen ink by Papertrey. Then, I stamped the little girl hedgehog and the birdie onto Neenah white card stock and colored them with Copic markers.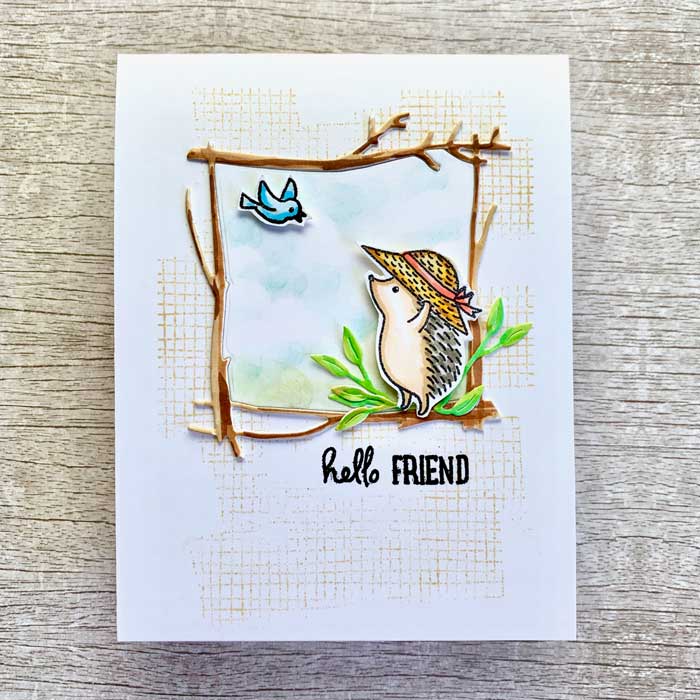 Next, I cut out the frame by using the largest frame in the Branch Frame set by Penny Black and the foliage. These pieces I colored with Copic markers too. I saved the center section of the frame and added a few little clouds with a cloud stencil and Tumbled Glass distress ink and a bit of Peeled Paint at the bottom.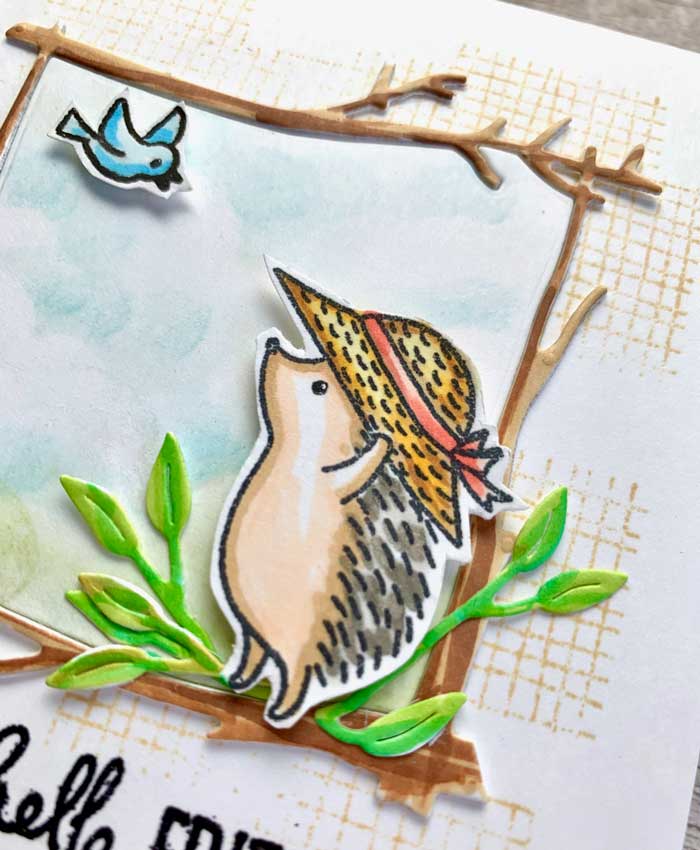 To finish, I mounted the frame with some foam tape to the card front, pressed the center section inside the frame and mounted the cut out little hedgie and bird with a bit of foam tape.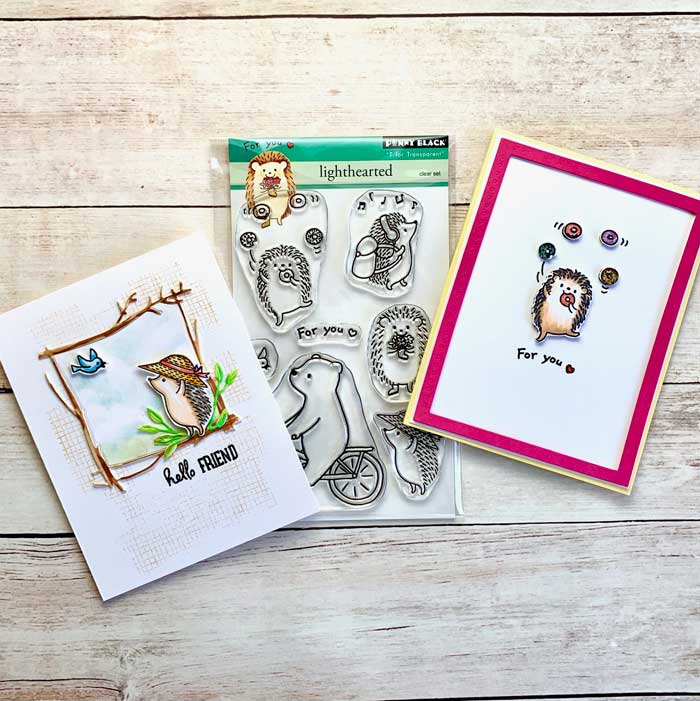 I wasn't sure what sentiment I was going to add but after seeing the little hedgie looking up at the bird, it just said "hello Friend" to me, so that was the sentiment I added with Versamark ink and Hero Arts black embossing powder.
Goodies Used: