Hi Everyone,
We have lots to share with you today! We have a new card design, with video included (see below or on our YouTube channel) that features the awesome new stamp and die set by Papertrey Ink, an Ink To Paper collection, called Growth. It has oodles of creative and fun ways you can have a green thumb, even if you are like me and kill every house plant in the house!
Then, today is the big announcement of the winners of the Heather Telford and The Foiled Fox 'Refreshing' giveaway! So, be sure to check below to see if you are one of our lucky recipients.
This was a super fun 50's retro, yet modern card design to make! Check out the video below to see all the ins and outs.
Here is a quick run-down of a few details included in this card design.
First, the background was created by masking off a border on a piece of Bristol paper and ink blending Aqua Mist and a tiny bit of Topic Teal ink. Once the mask (Post-It tape) was removed, it revealed a beautiful 'frame' for our backdrop.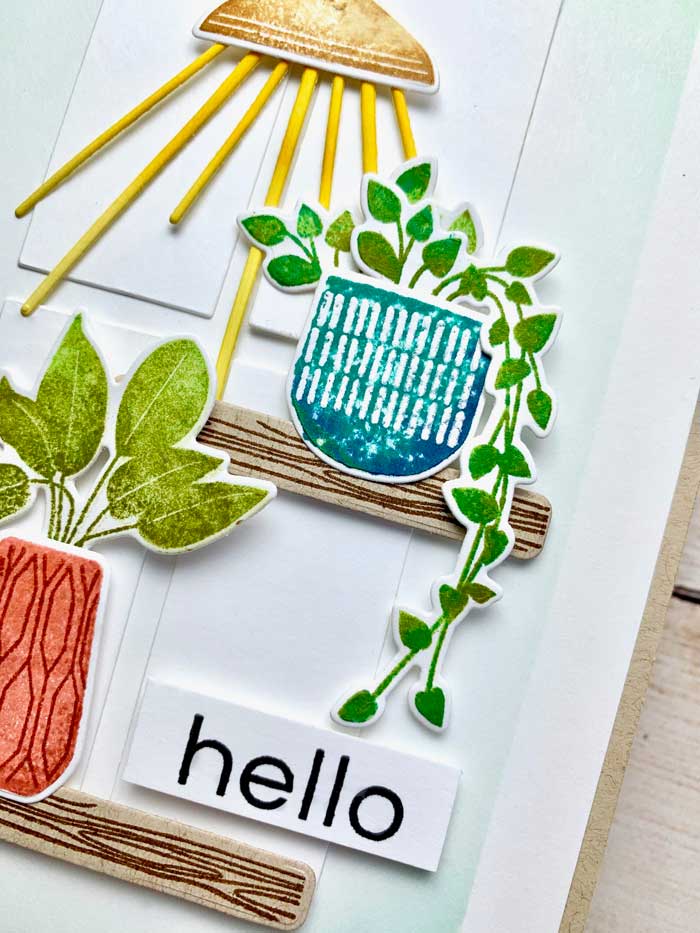 Next, all the elements were stamped, again on Bristol paper for easy blending. Using a stamp positioner, the pots were stamped using Melon Berry and Americana for accent for the tall pot and Tropic Teal and Enchanted Evening for the short pot. The short pot was also white heat embossed with its pattern detail.
The tall pot plant was stamped with Green Parakeet, New Leaf, and Ripe Avocado for shading, and the ivy was stamped with New Leaf, Ripe Avocado, Aqua Mist, and Tropic Teal. A second ivy section was stamped as well. Then, the lamp was stamped with Fine Linen and Honey Nut, and the shelves were stamped onto a piece of Desert Storm cardstock using Cocoa Bean.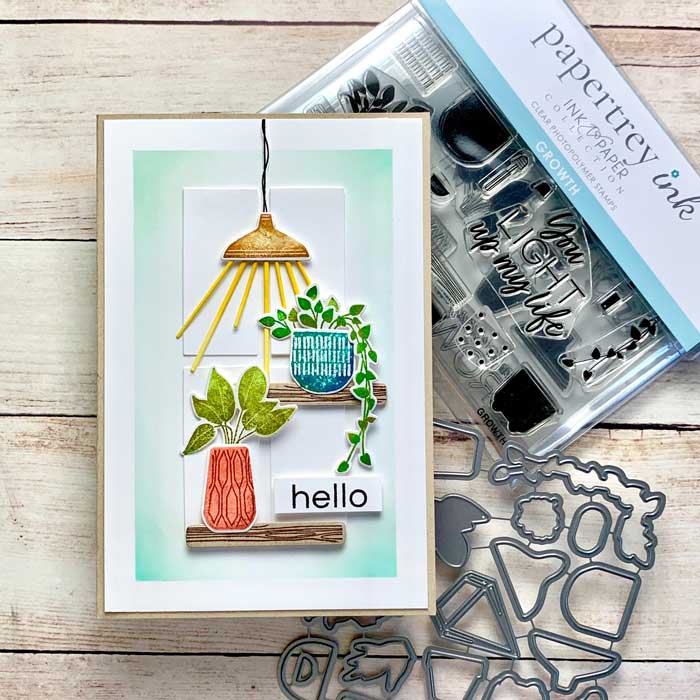 When the stamping was done, they were cut out using the matching dies and at the same time, four rectangles were cut out of 110lb. white cardstock, using one of the rectangles dies included in the Hero Arts Infinity Rectangle die set and a Sunburst was cut from a piece of Harvest Gold cardstock. By the way, the Sunburst was lightly colored with Bright Buttercup and Summer Sunrise before removing it from its negative space.
With all the pieces finished, it was time to assemble. Using a Desert Storm cardstock card base, the ink blended panel was added, Then, the elements were added using foam tape and a bit of glue.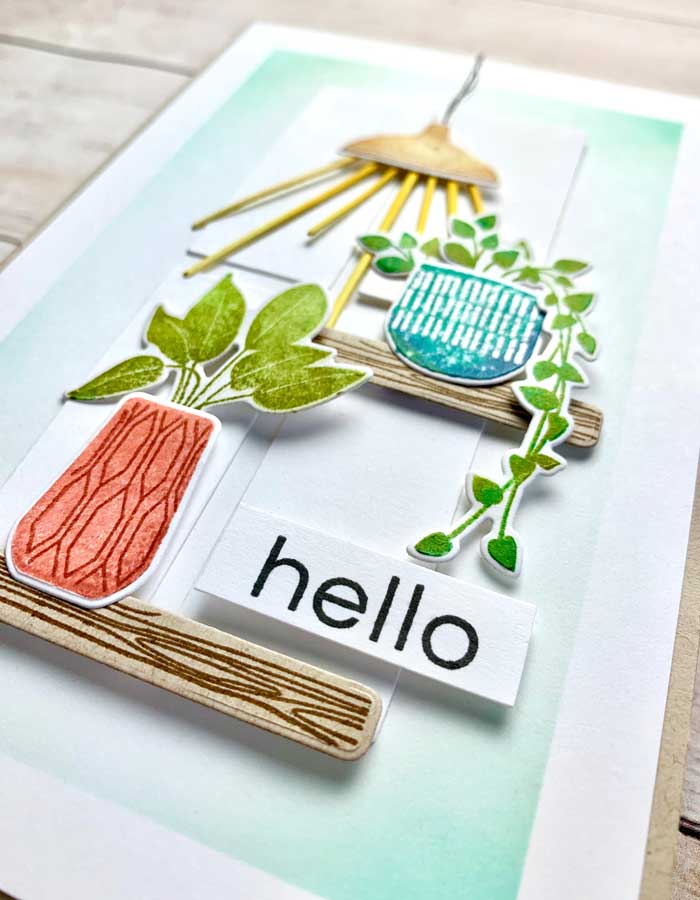 The sentiment 'Hello' from the new Just Sentiments: Just Because stamp set, was stamped onto a strip of white cardstock, trimmed, then added to the card front. That almost completes the card design.
For an extra treat, another panel was created for the inside and one of the sentiments from the new Inside Greetings: Just Because stamp set was stamped on it, plus a small pot and plant were stamped on the bottom of the panel. Once done, the panel was mounted inside and now we can call it done!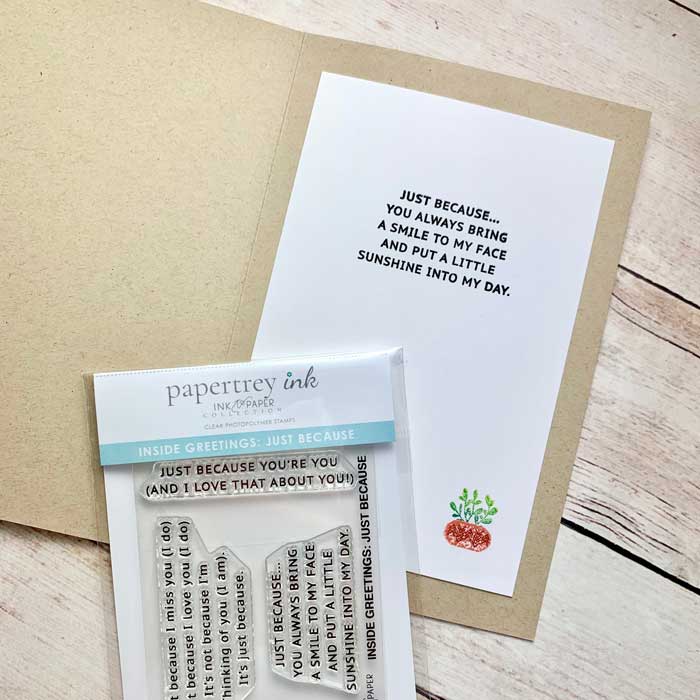 It was a pleasure to make this card and especially to use an inside greeting too. What a perfect way to complete your card! ♥
Now, here are the winners of our 'Refreshing' giveaway hosted by The Foiled Fox and Heather Telford. ! YAY!

If you are one of the lucky winners listed above, check out your email for all the details. By the way, if you don't find it, check your SPAM folder. Sometimes good emails hide in there!
Hey, and a HUGE thanks to all that played along. It was awesome to read all your comments!! ♥
Goodies Used: