Hi Crafty Friends,
There are a few times during the year that really get my mo-jo going and one of these is Halloween. I love all the colors, big, fat moons and the fantasy you can indulge in! So here is one that uses an unsuspecting die from Penny Black called Mommy and Me.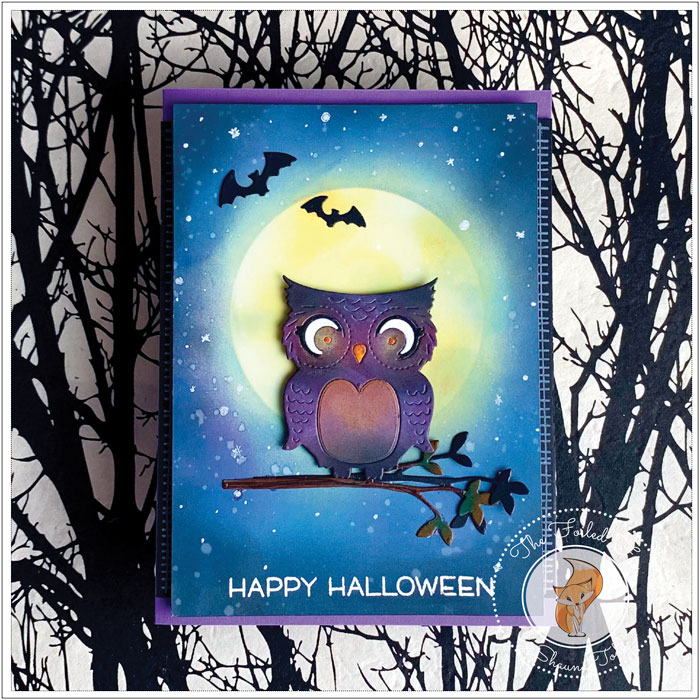 I started with the owl. I don't usually gravitate to owls but this one really called my name. It is a big, proud owl with piercing eyes so I couldn't resist. I often start with the main character so that when finished, I have a better idea of its personality and what best suits it.
So, with that in mind, the entire owl, except the whites of it's eyes, was cut from gray colored card stock, then distress oxide inks were added on top. I find starting with a colored card stock first when coloring deeper colors, allows the inks I apply on top to be that much deeper.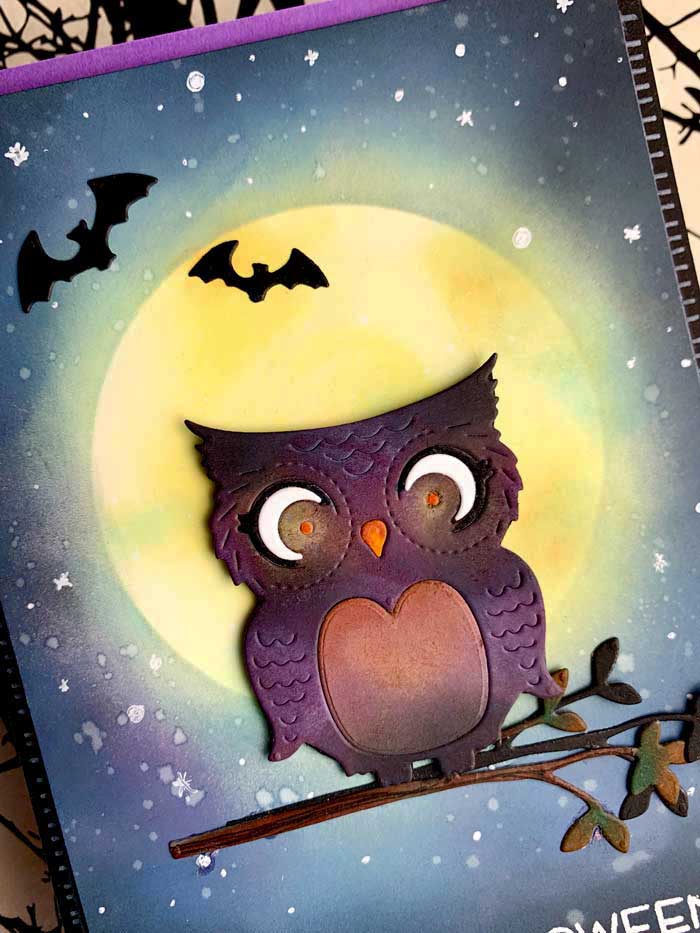 For the owl,  I used Ripe Persimmon, Rusty Hinge and Seedless Preserves for the tummy and Seedless Preserves and Black Soot for the body. I used a blending brush to blend the inks. For the whites of the eyes, I, of course, cut just that section of the owl with white cardstock, then pushed the 'whites' of the eye in place after I colored the center of the eye and the beak with a bright orange Copic marker.
Included in the die set is a branch die. I cut two of these from brown card stock and colored them with brown and green Copic markers.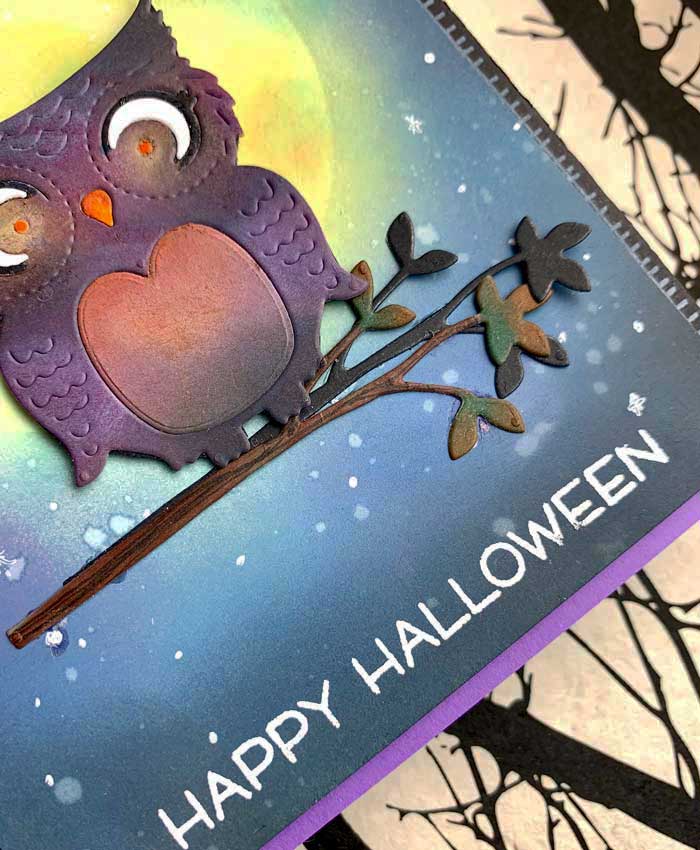 Now that the owl was done, I was able to visualize the rest. This imposing owl really needed a big, fat full moon behind it. To do this, I cut a 3″ circle from masking paper and positioned it over a Bristol paper panel. I then started applying Squeezed Lemonade distress oxide ink lightly around the moon mask, next I added Tumbled Glass, Faded Jeans, Chipped Sapphire and a tinge of Seedless Preserves distress oxide inks. All along the edges of the panel, I added Black Soot distress oxide ink. The finishing touches to the background were to remove the mask and lightly apply Squeezed Lemonade and hints of Fossilized Amber distress oxide ink to the inside of the moon.  I then splattered droplets of water over the panel and blotted them dry. To finish the background, I used a white gel pen to add tiny 'stars' and circles of white.
Once the panel was dry, I stamped "Happy Halloween" (see supply list below) on the bottom with Versamark ink and white heat embossed it.
To assemble the card, I started with a Gummy Bear purple card stock card base, added slices of patterned paper that I created by stamping Ink To Paper Loosely Woven with white ink onto black cardstock to each edge. Then added the Full Moon panel.
Hint: The new Ink To Paper Loosely Woven stamp is awesome! It is a background you will use over and over!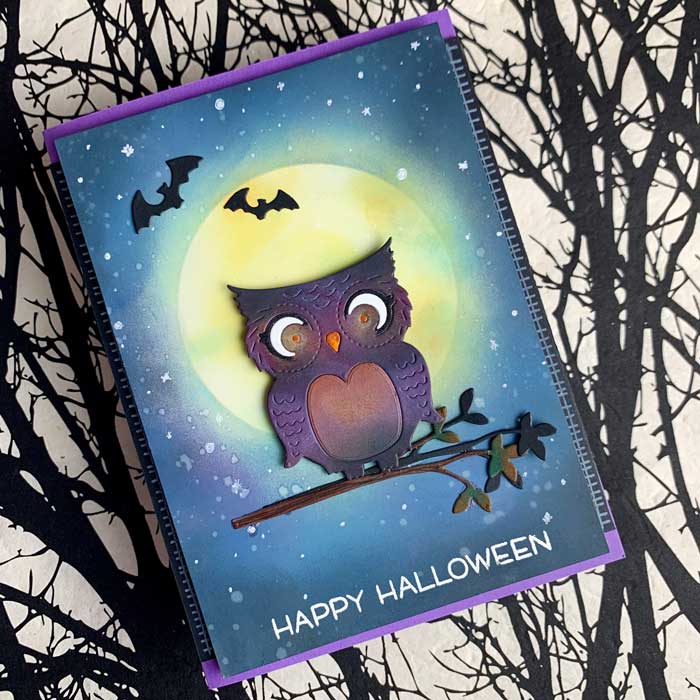 The only thing left was to mount the owl, apply overlapping branches with bits of foam tape and add a few bats for good Halloween measure!
🎃 🎃 🎃
Goodies Used: