Hi Everyone,
We are sharing a video we created for Papertrey Ink – Ink to Paper featuring the beautiful new stamp and die set, Leaves in Fall and of course, the adorable Feathered Friends 5 die. This video shows you two color schemes with this card design.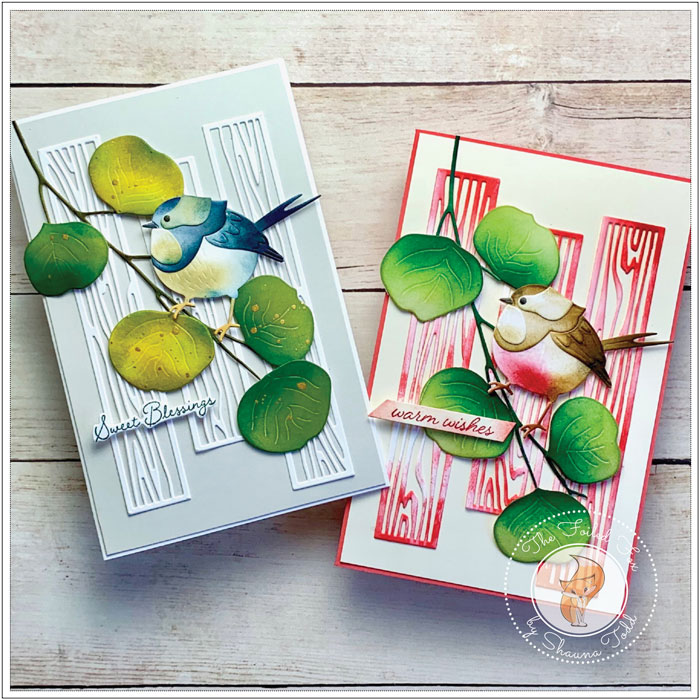 Check out the video for all the ins and outs to making this card.
Both of the card designs use the exact same elements. It is only the change in color schemes that make them different. You can see that you can really change the feeling and purpose for your design just by changing the colors! In the first card, a pinkish-red color was chosen, along with brighter greens for the leaves. And, the charming bird was made into a winter robin. I think this gives it a wintery, holiday vibe. Here is a close-up so you can get a better look.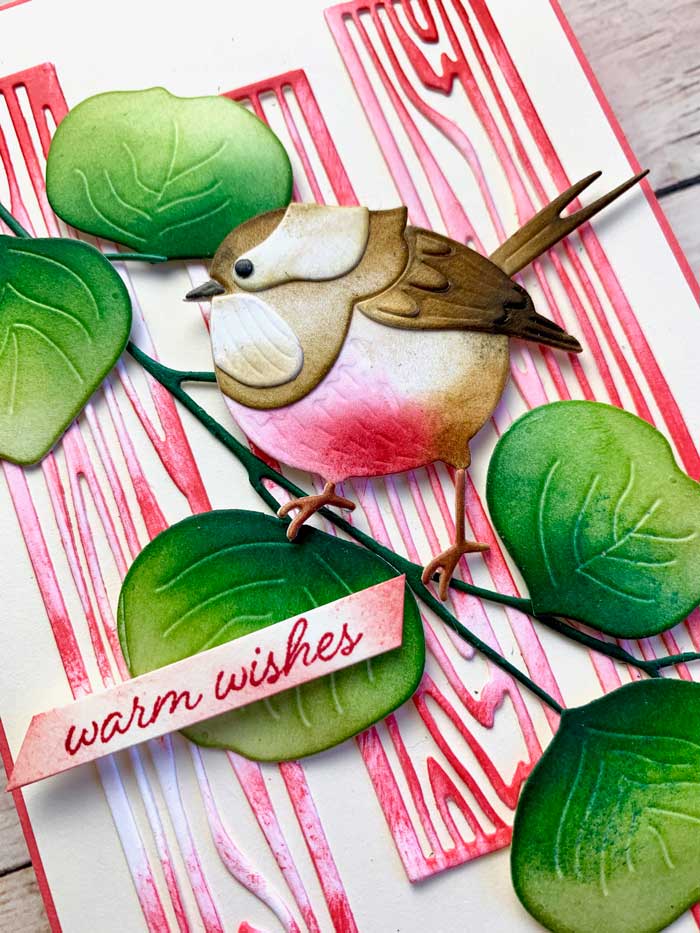 The background was created using another new die by Papertrey Ink – Ink To Paper called Woodwork. It is fabulous for a simple but dramatic backdrop. We used a smattering of Festive Berries Distress Oxide ink to tint the wood planks.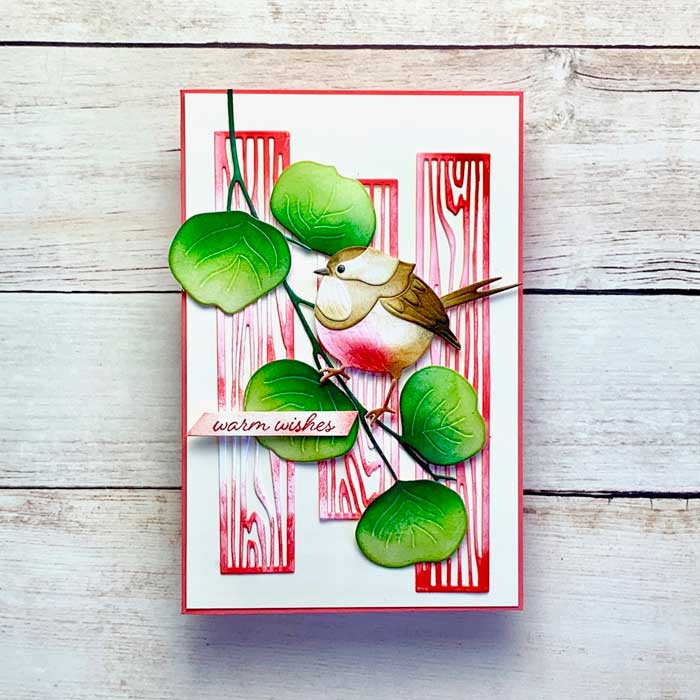 The leaves were colored with Green Parakeet, New Leaf, Pinefeather, and Enchanted Evening. For the bird, I used Fine Linen, Cocoa Bean, True Black, and Pure Poppy, but you can see all the colors in the 'Goodies Used' list below.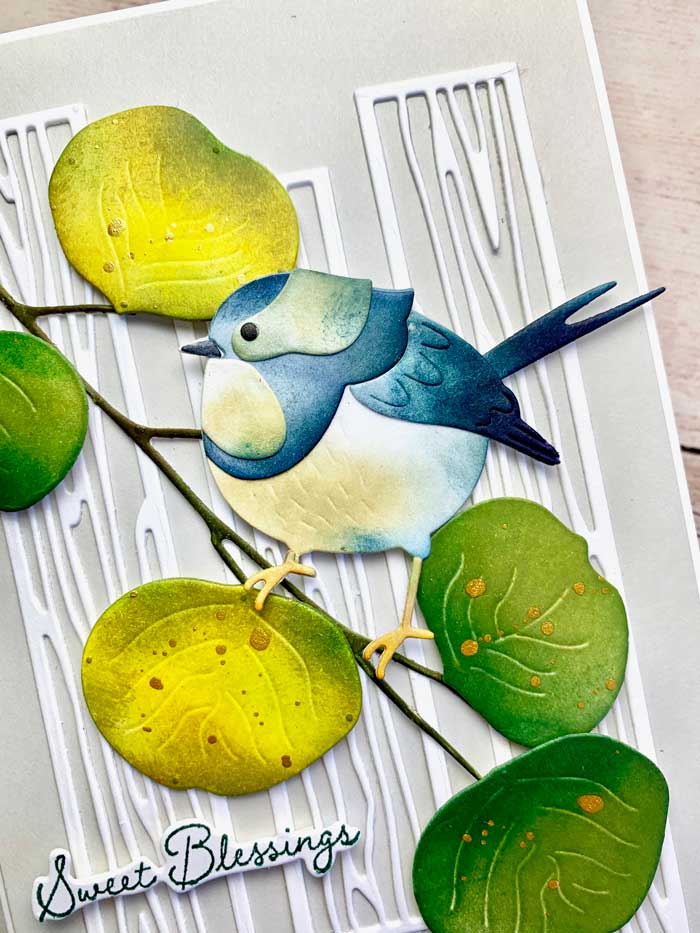 I think the color scheme for the card above gives a tranquil and serene feel. It is my ZEN card. The great thing about it is that it works for all occasions. Just change the sentiment to meet the event!
The colors used for these leaves are Spring Moss, New Leaf, Pinefeather, and Enchanted Evening with gold flecks lightly splattered on. The bird was colored with a selection of blue inks: Enchanting Evening, Dark Indigo, and Royal Velvet. Then I lightly applied Fine Linen for the breast and eye accents. By the way, a Soft Stone panel was used as the panel under the woodwork pieces. I have made a separate supply list below for this card.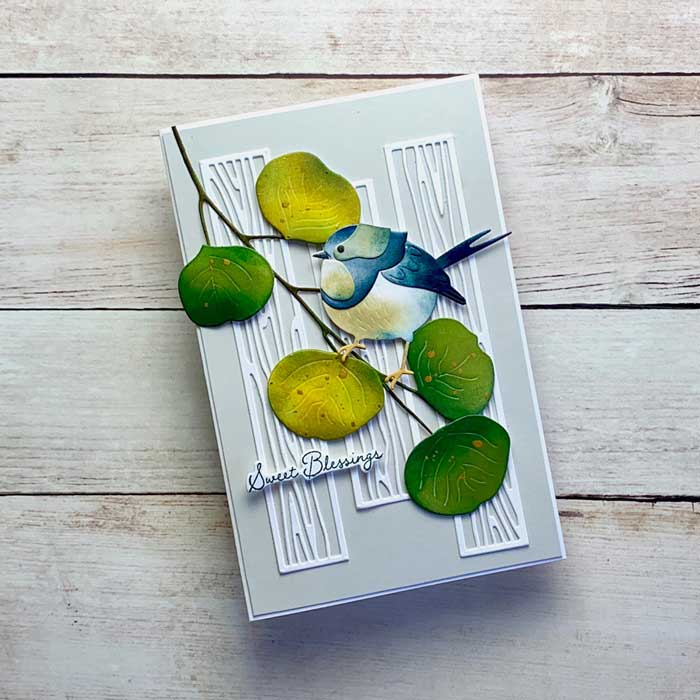 In review, here are the two color schemes together again.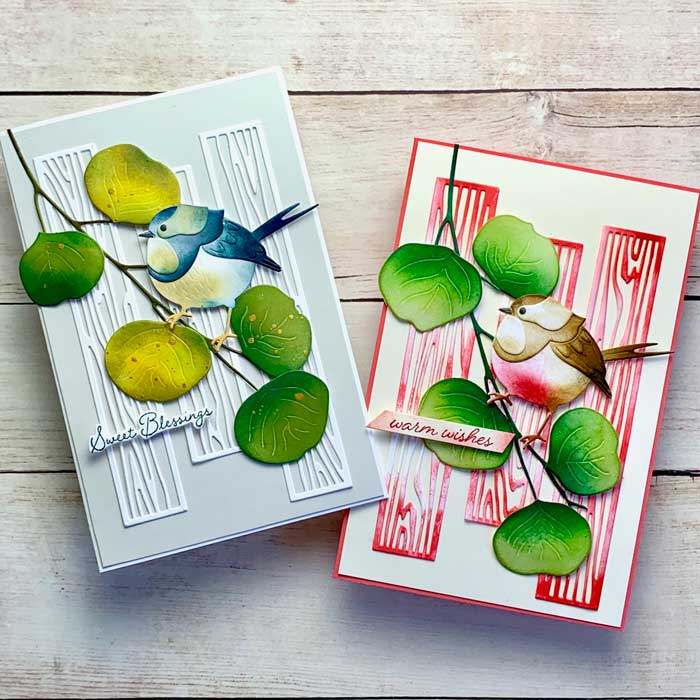 Thanks for watching the video and checking this project out. I hope you try and make your own version! ♥
Goodies Used:

Here is a quick list of the supplies used for the Blue Bird card