Hi there,
We have the best project today, featuring the charming, and super talented, Laurel Beard of Paper Crafts with Laurel.  Laurel has created the coolest card using the Concord & 9th Party Wishes stamp set and Party Pop-up die set. She has really out-done herself today. We just love this card… I am sure you will too!
By the way, be sure to pop over to Laurel's blog and enter her GIVEAWAY! She is giving away a Party Pop-Up Die – YAY!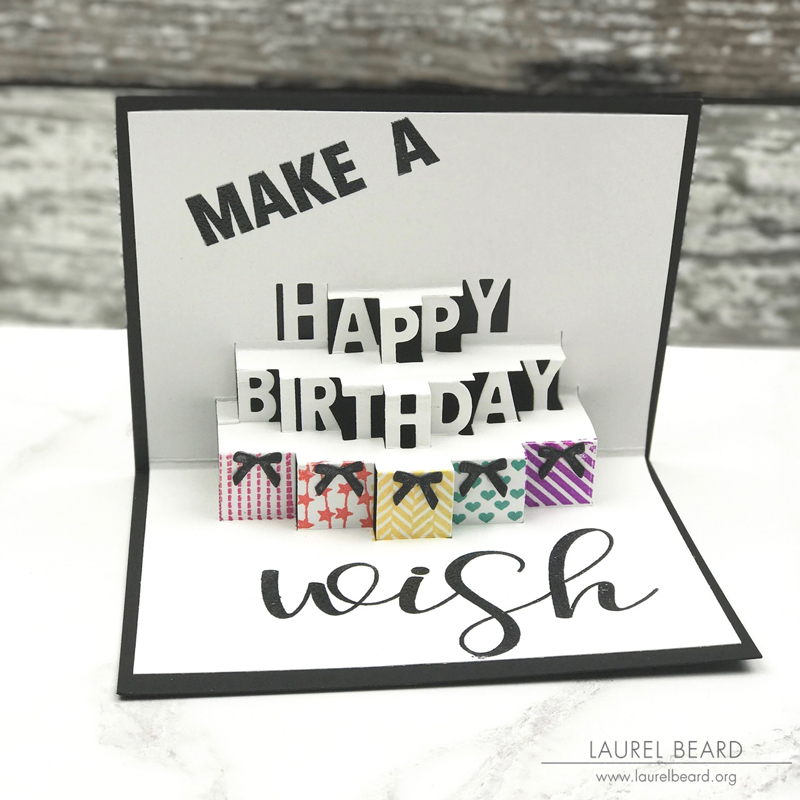 Hey there everyone! Laurel Beard here again with you today with a birthday card that really pops, literally! Have you seen the Party Pop up die from Concord & 9th? It is absolutely fantastic!!! The moment I saw a sneak of it, I knew I had to have it! This pop up die is really all you need to create a super fun birthday card! Picture your recipients face when she opens the card and POP!!!!!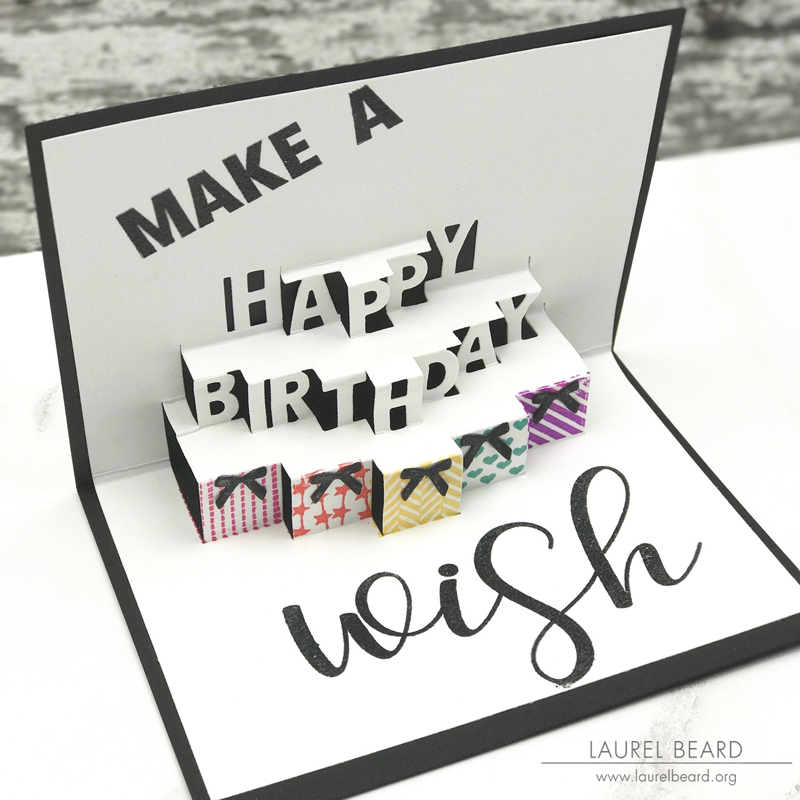 I also used the Party Wishes stamp set, which works perfectly with this die!  With the help of this stamp set, you can decorate the Party Pop up die to create a stack of presents or a birthday cake with candles!!!!! BRILLIANT RIGHT??? For my project, I opted to make an assortment of bright colored presents decorated with bows! Speaking of bows, the Party Pop Up die contains 5 bow dies which I so appreciate!!! I am a lazy crafter, lol! I was able to cut all the bows for the  5 presents in one passing rather than run a single die thru my machine 5 times! FIST BUMP!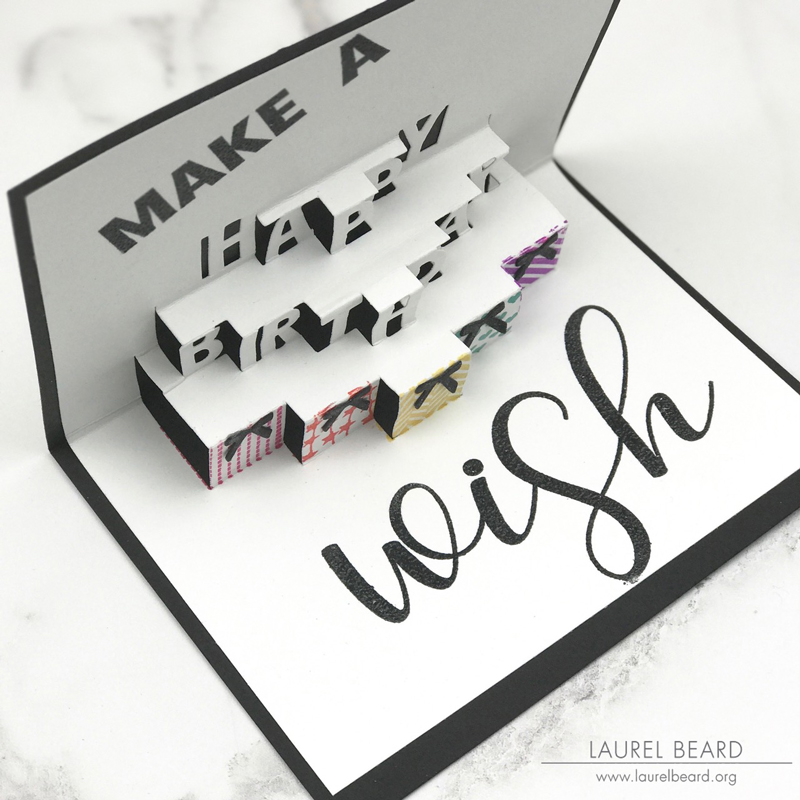 This die is FANTASTIC, but it did take me 4 attempts to really master how to manipulate the card stock to get all the dimension for the pop up. I followed the video (see below) Amy from Concord & 9th posted. After using this die, I have a few tips you might find helpful!  Again, these are tips that I personally found helpful while I was using this die. What works for me might not work for you.
Do not use heavy weight card stock. I used 80lb. You have to be able to bend along the score lines and using heavy weight card stock (which is what I did for my first attempt) made it difficult.
Trim your card panel smaller than the size of your card base.  When you glue your panel onto your card base, you will want it to fit!
Do all your stamping before you start working on the pop up portion.
Work on the square pop ups (my presents) first and then work your way up. The squares are by far the easiest.
Don't give up. Once you try it a few times, you will get in the groove. Work from the front side and back side of your card panel like Amy shows in her video. If you get this on the first try, I bow down to you, lol! This die is worth the practice! Trust me! And once you figure out the best way to work the card stock, it will be smooth sailing from there on!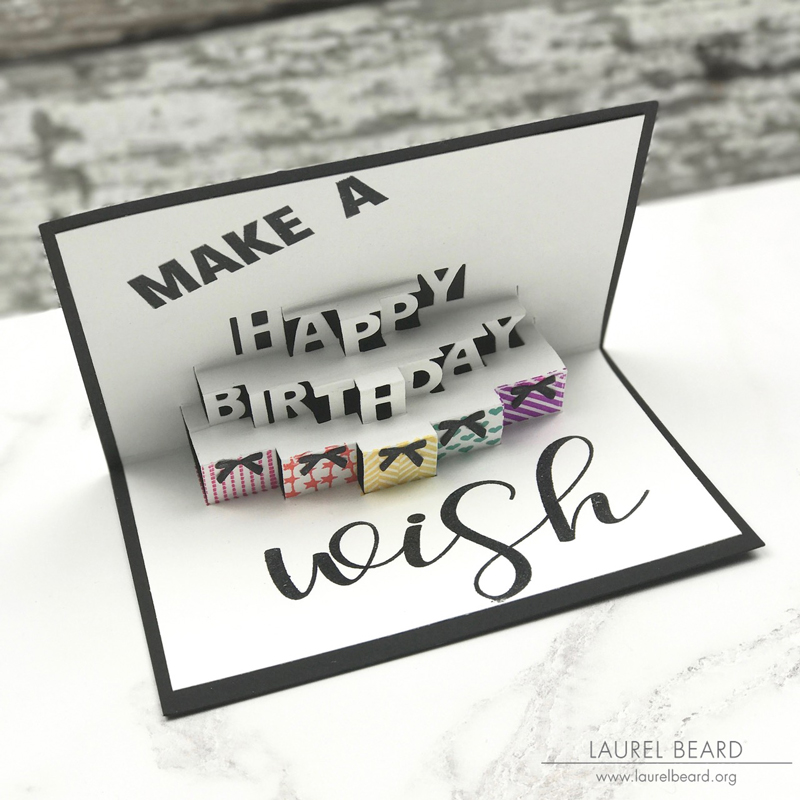 Thanks so much to the folks at Foiled Fox for having me again today! I will see you again real soon!

Supply List:
Concord
& 9th
Party
Wishes

Concord
& 9th
Party
Pop-Ups

Neenah
Solar
White
80lb.
Card Stock

Licorice
Twist
Black
Card Stock

Versafine
Onyx
Black
Ink Pad

Clear
Wink of
Stella
Brush