Hi Creative Friends,
Penny Black creates awesome stamps and dies and they have just recently released beautiful new dies for the holidays and/or winter. I couldn't wait to give them a try so today I am sharing a brand new video using a few of those lovely dies.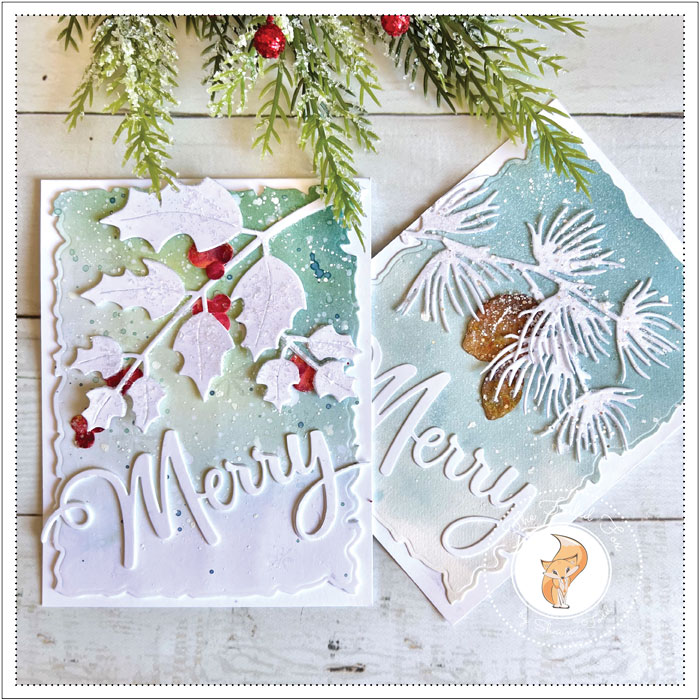 These card designs use Holly-days, Merry Edger, and Pine Branches (and a few supporting dies). Take a look at the video and see how easy it is to make a festive card for the holidays.
I hope you had a chance to check out the video. To give you a closer look, I have included a few more pics.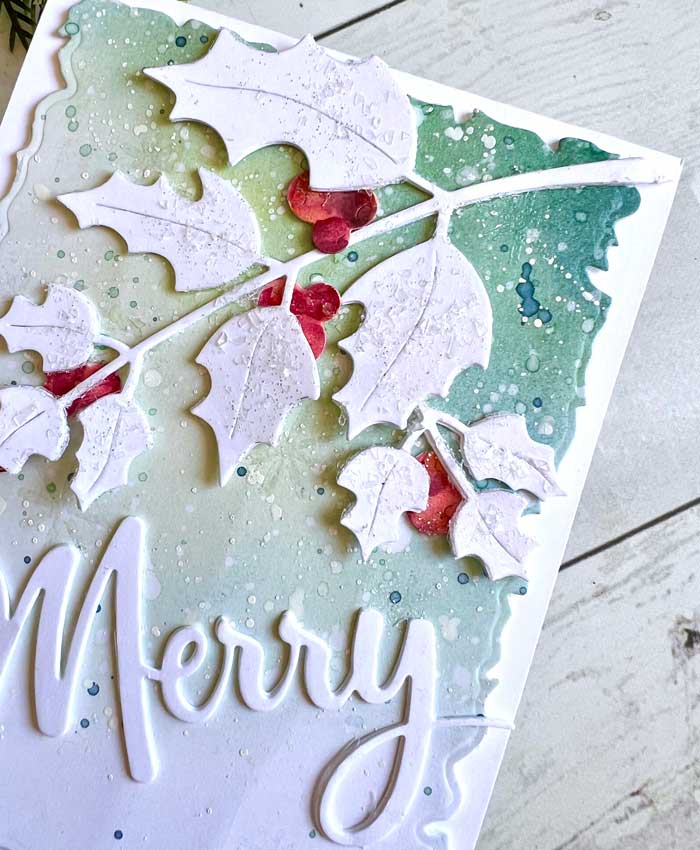 As you saw in the video, I used a few distress inks (Crushed Olive, Evergreen Bough, and Faded Jeans) to create the background. Then, added some splatters of water, ink, and my trusty Dr. Ph. Martin Bleedproof white ink.
The holly and merry were frosted with Crystal Glaze (or there are a few other choices you can choose from in the supply list below, then sprinkled with chunky glitter.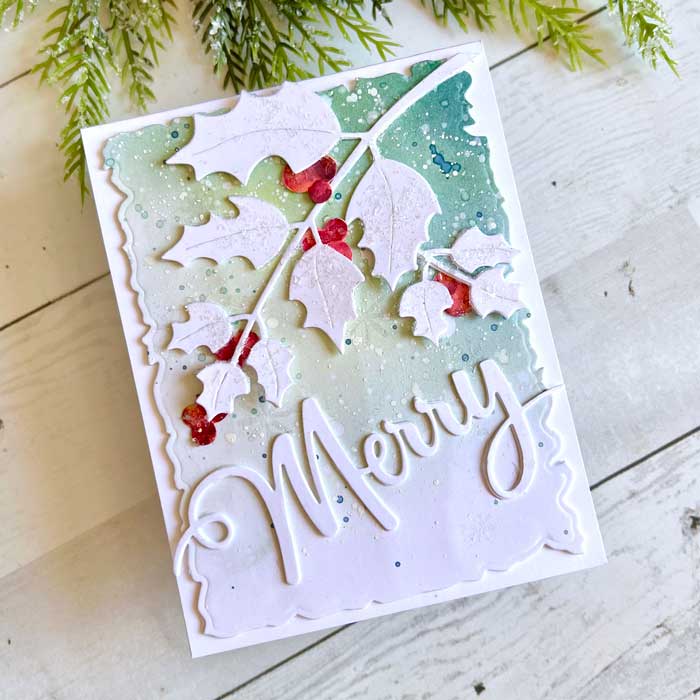 The berries were painted with watercolors. I used the Altenew paint pan palette. It has lots of beautiful colors, but you can use what you have on hand.
When the ink blended panel was dry, it was backed with thin foam and cut out using a decorative-edged frame. I have listed a few in the supply list.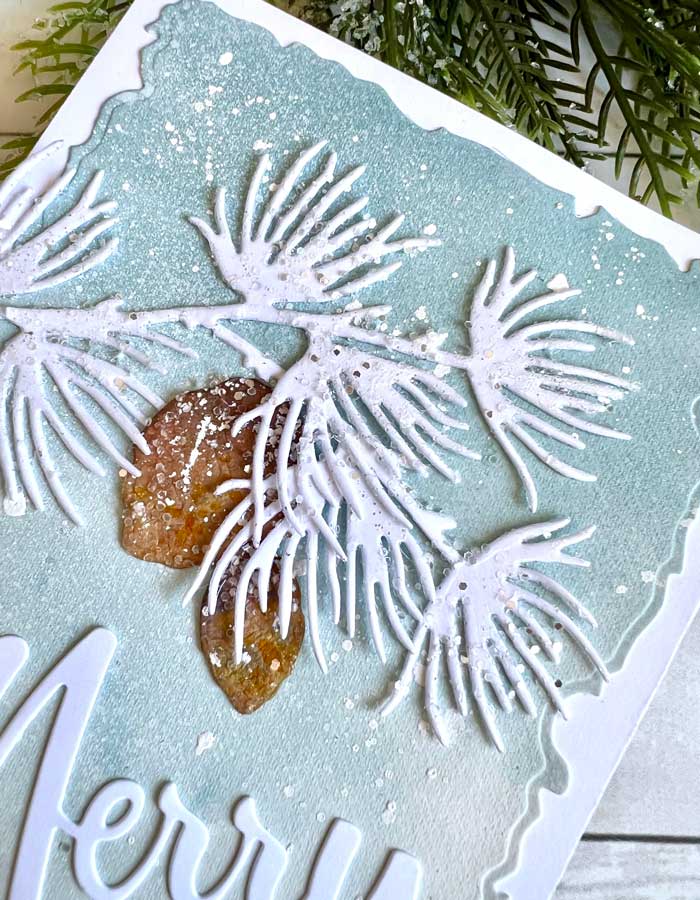 The second card was made the exact same way but used Penny Black's Pine Branches die set instead. The pine cones were painted with watercolor and the pine needles were frosted the same way.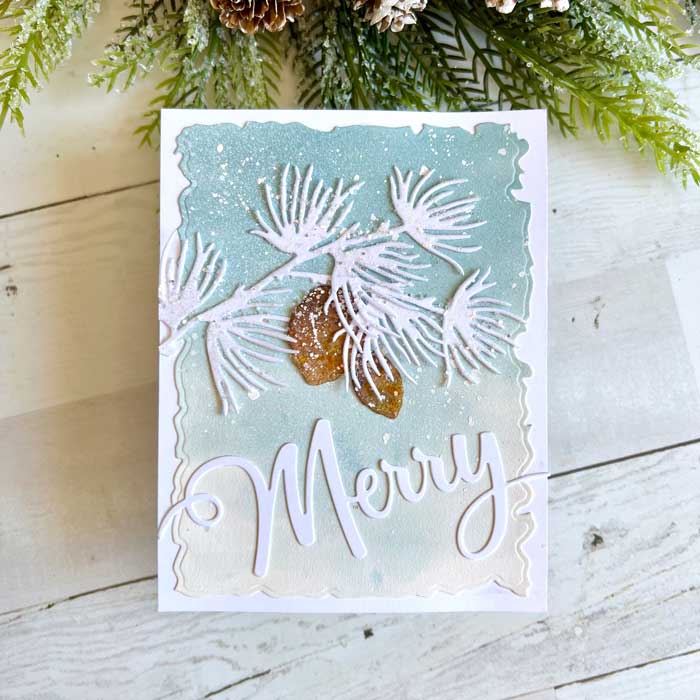 For the background, I used Tumbled Glass and Faded Jeans distress inks, splattered it with water, ink, and of course white ink. The card came together in the same way as shown in the video.
So, there we have it, two different cards using the same technique. I hope you enjoyed the video and the projects. I would love to know which motif you like the best.
Thanks for watching… see you next time! ♥
Goodies Used: