Hi Creative Friends,
I thought I would add a little twist to today's project. It features an abstract background with modern and beautiful flowers from the Unique floral stamp by Penny Black.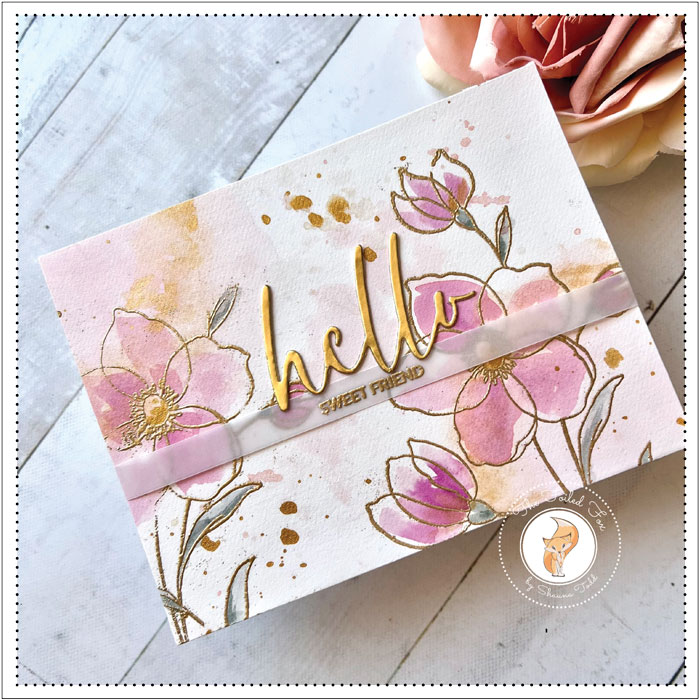 Sometimes I like to change things up a bit by adding a bit of the abstract. So, I began with a 4 1/2×6″ watercolor panel and a few distress inks. I smooched a patch of Worn Lipstick onto my work surface and loosened it with water to get a very watery consistency. I also moistened the paper with my spritzer.
Next, I gently added the ink, in a semi-circular fashion, to the upper left corner and the lower right corner. While the ink was still wet, I also added a little gold ink (my favorite is the Finetect Artist Mica (see supply list below) to the outside edges of the semi-circles. To get it to blend and diffuse into the Worn Lipstick color, I applied a little more water to the area with my brush.
Still using the very watery Worn Lipstick mixture, I splattered more ink to the center and surrounding areas. Once I was happy with the result, I splattered gold ink. You can see in a few of these close-ups that some of the droplets of gold were quite large comparatively.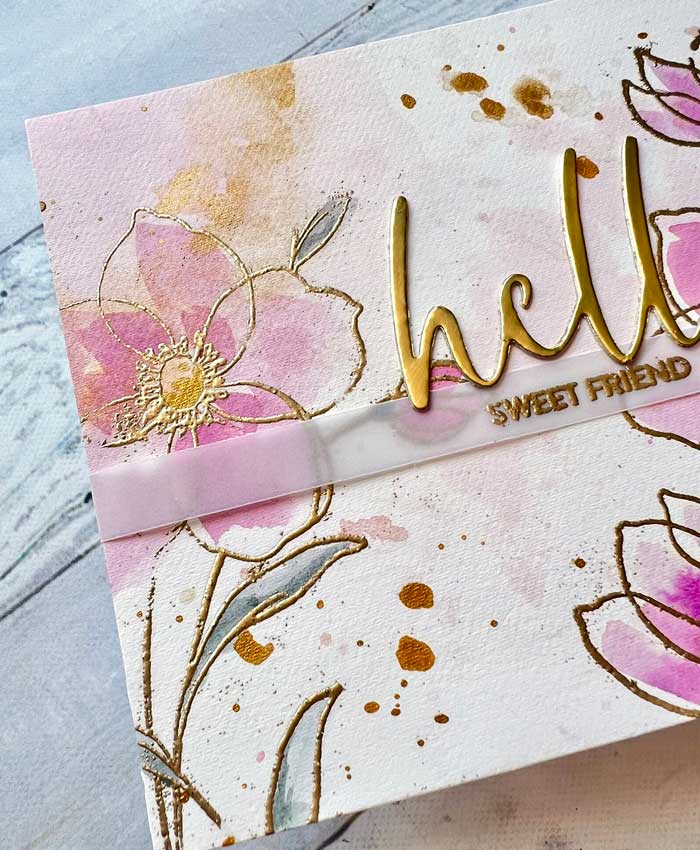 For the next step, the panel needed to be very dry. Since I am the impatient sort, I dried it with my heat tool until it was bone dry, then treated it with some anti-static powder.
Next, I stamped the Unique flower stamp twice, then sprinkled it with gold embossing powder and tapped it out. The powder was then heat set with my heat tool.
With the flowers stamped and embossed, I colored them with my patch of watery Worn Lipstick and a dash of Seedless Preserves, leaving some areas of the flowers uncolored. For the leaves, I used Iced Spruce distress ink, using the same method as the flowers.
For the sentiment, two gold foil 'hello's' were cut, stacked, and glued together. Also, a thin band of stiff vellum (see supply list below) was cut and the 'Sweet Friend' sentiment was stamped with Versamark ink and embossed with gold embossed powder.
The vellum sentiment strip was placed over the top of the panel, with the ends folded around the back, then secured with a spot of glue. The gold foil Hello was added on top.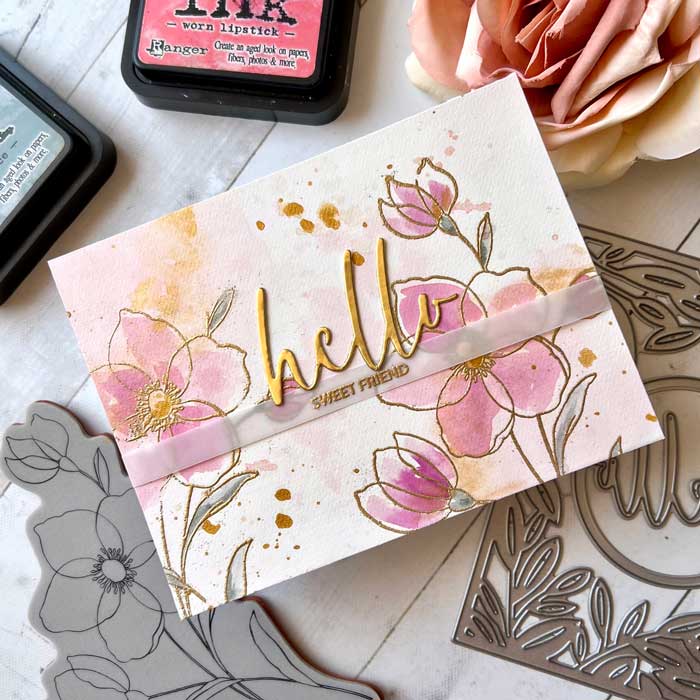 Using glue, the panel was then mounted to a white card stock card base to finish.
Hooray! The card was done… I hope you enjoyed it! ♥
Goodies Used: