Hi Crafty Friends,
I am in love with the Birthday Bouquet stamp and die set by Ink To Paper. I know you have seen me use it before but here are two card designs, using it a little differently. To illustrate how it is done, I have included a video – YAY!
So grab your favorite beverage and have a look! I hope you enjoy it. Then, have a glance at the close-ups below.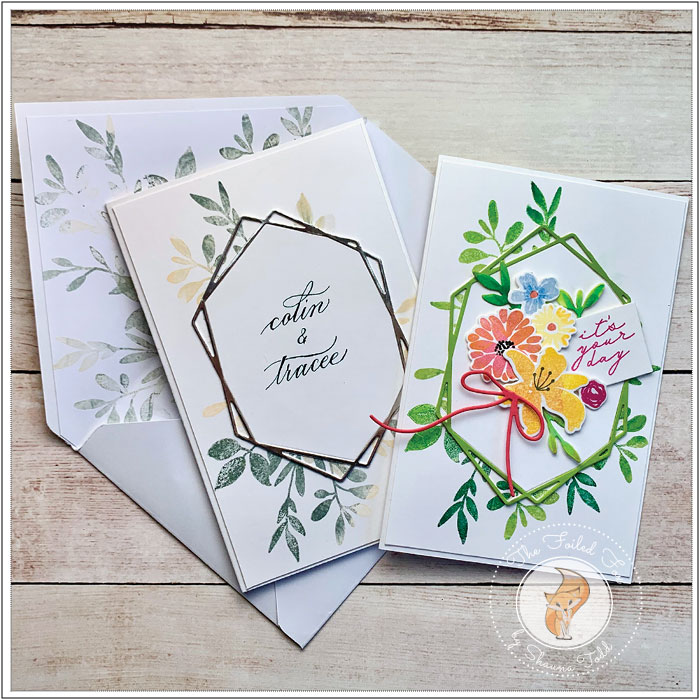 This card design all came about when I needed a congratulatory wedding card. I wanted something a little modern and slightly geometric for a young, modern couple that likes the sleek mid-century look. Then, while I was at it, I made a cheerful, Spring-like card using the same techniques.
Click on the video below to play.
Sometimes, after watching the video, you want a few close-ups. We will start with the Spring-like one. Hopefully, it will lift your spirits!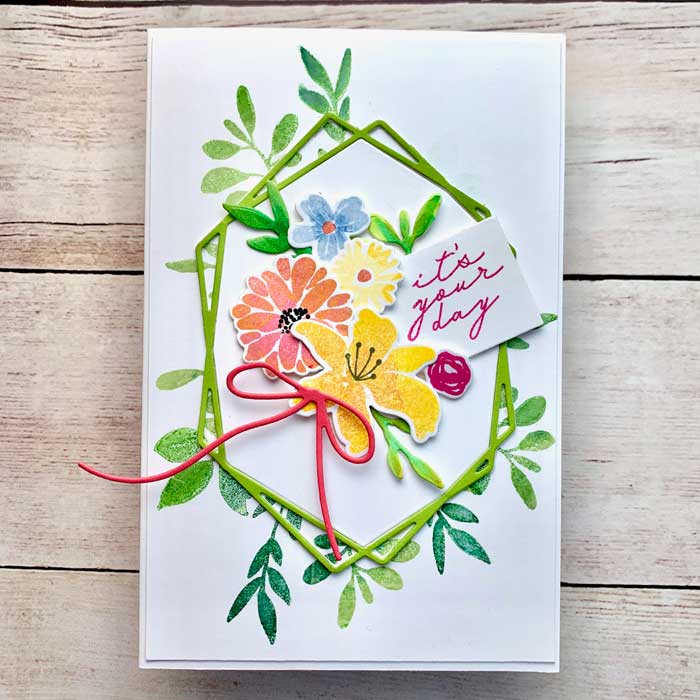 In each of these cards, I have used Papertrey ink cube to do the coloring. You can view the variety of colors used in the 'Goodies Used' list below. The ink cubes are very handy as they get into the small areas, not to mention easy to store! Watch the video to see how they are used.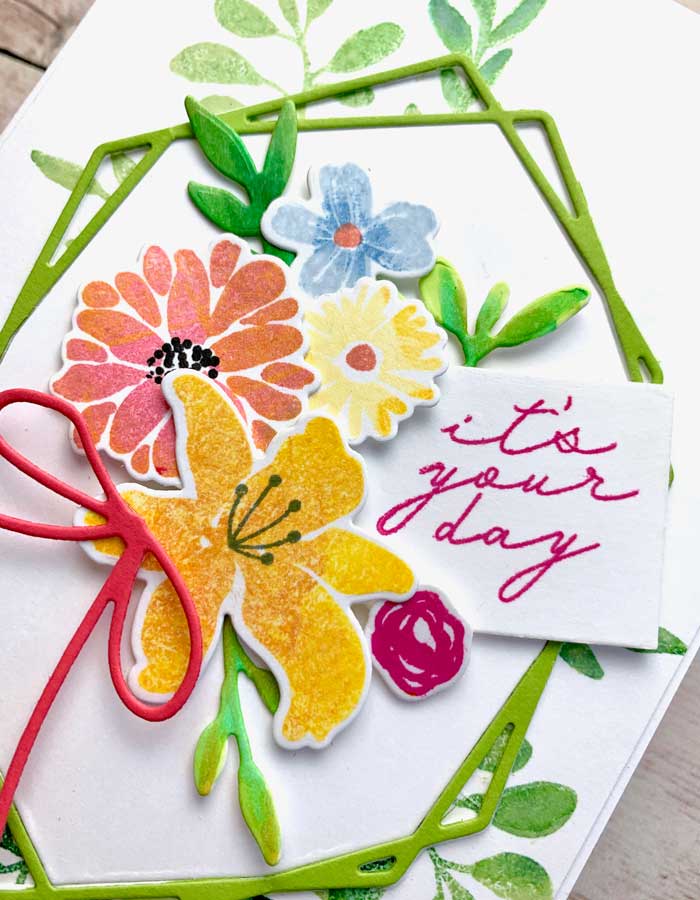 The Geometrix Hexagon die set by Ink to Paper creates the wonderful center background for the bouquet of flowers.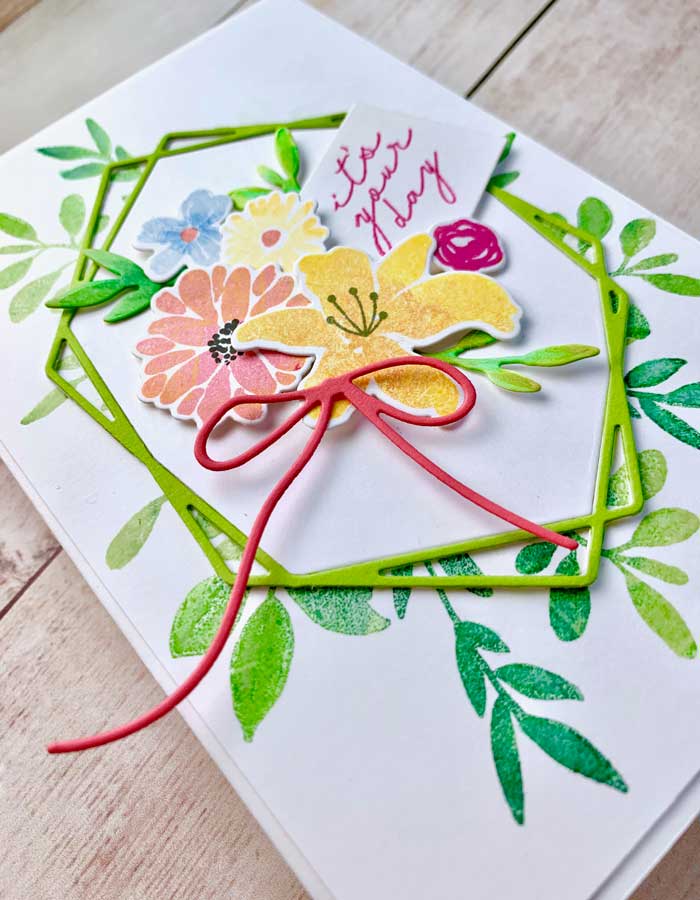 I am in love with the charming, slender bow that comes with the set. It is awesome and can be the perfect adornment for so many designs!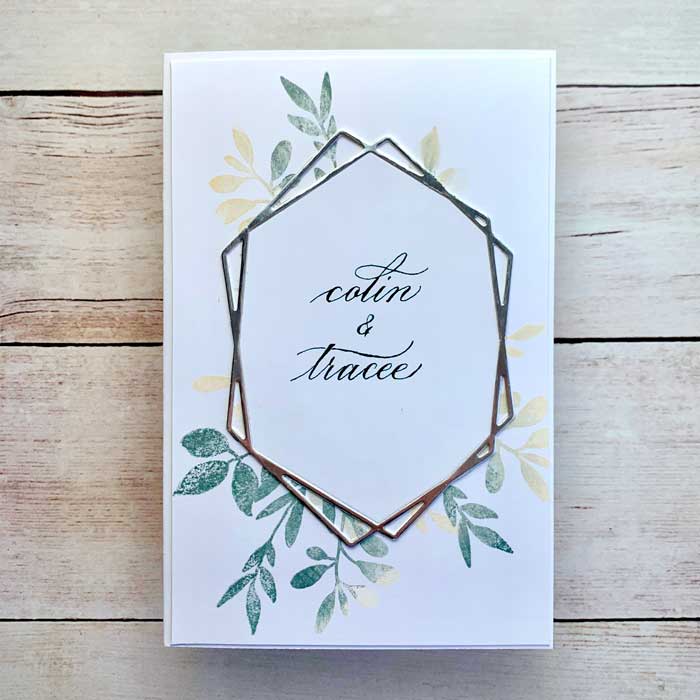 As I mentioned, this card came about when searching for a suitable design for a wedding card. I needed something simple and elegant.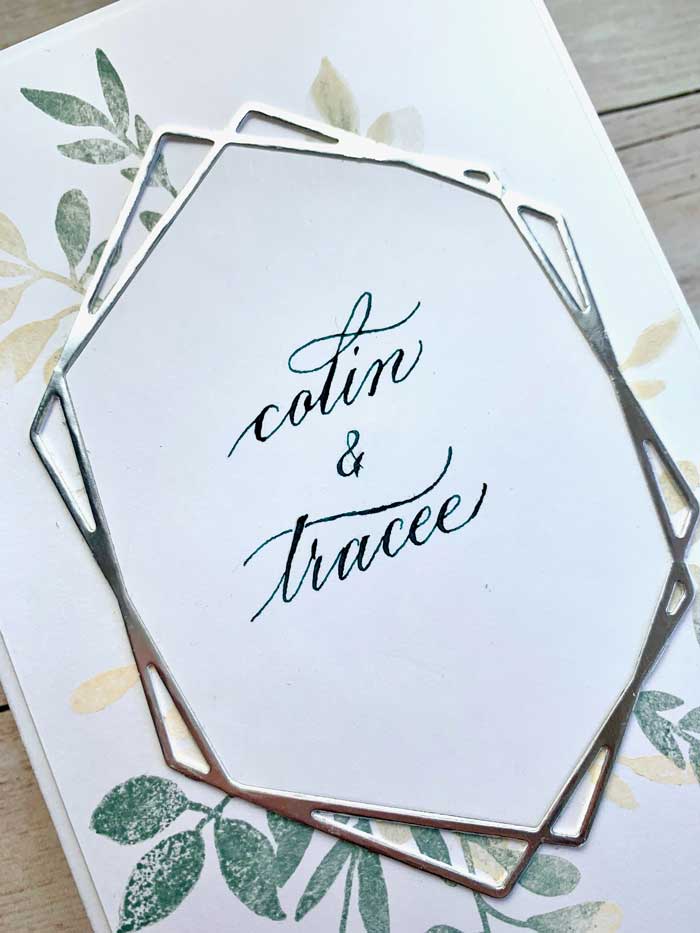 Using the same principals as the first card, I cut a frame from silver foil card stock and a white one too so I could stack and glue them together. Since I was personalizing the center section by lettering their names with an oblique dip pen and ink, I used Bristol paper for the center section. The Bristol paper has a hard finish thus doesn't absorb and feather out the ink, creating crisp lettering.
Of course, you can always stamp your favorite sentiment or greeting here instead!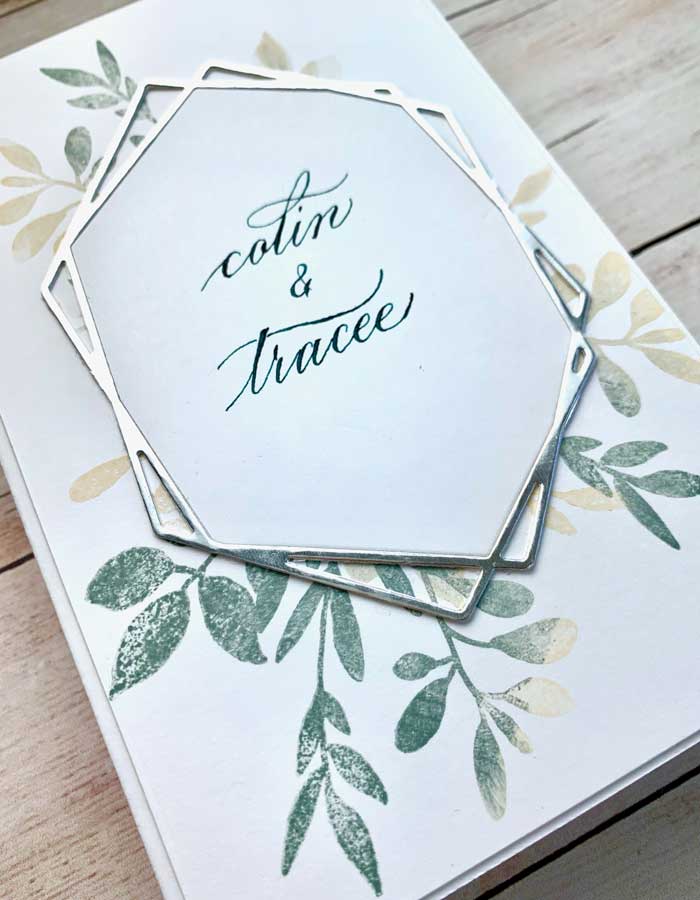 I only used two colors of ink for this design, Vintage Cream and Stormy Sea, each from the Papertrey ink collection. You may have noticed too in the joint photo that I also made a matching envelope. This was done by using the We R Memory Keepers envelope board (see supply list below) to make the envelope and then stamping the main floral stamp with matching ink colors onto lightweight paper that has a nice finish to it for the envelope liner. I used HP Printer Paper Premium (see below). It works beautifully and is a handy paper to have around.
And there you have it, two cards with two different feels to them!
~   ~   ~   ~   ~   ~   ~   ~   ~   ~   ~  
I really hope you enjoyed the video and that you clicked to subscribe to our channel. There is lots more to come!
Goodies Used: