Hi Crafty Friends,
You may remember our last blog post and video where we featured two card designs using the Many Anemones stamp and die set by Papertrey Ink – Ink to Paper. Well, there was one more to complete this trio of Many Anemones card design and here it is.
It uses the pieced or mosaic pieced flowers and the versatile Loosely Woven background stamp. And, like before, it has its own video for you to view too – YAY!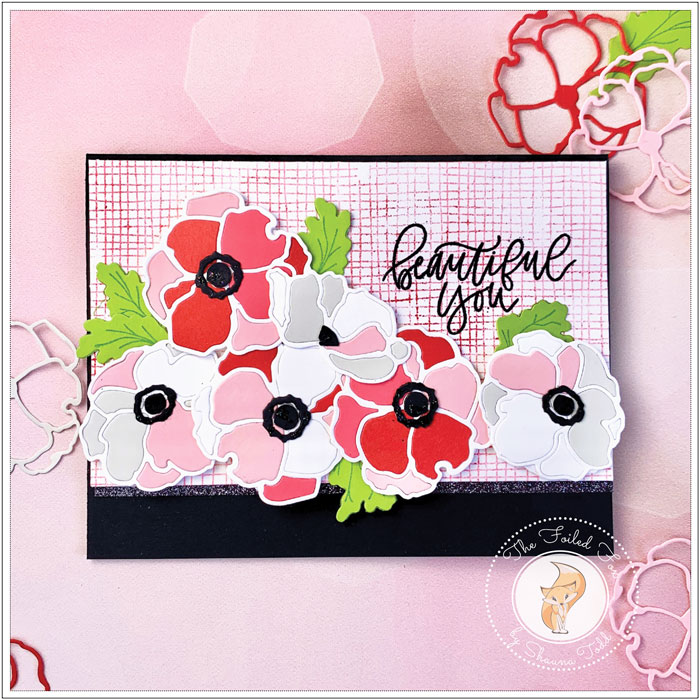 I had no idea how beautiful and special the anemones flowers were until this set. To add to the fun, the color scheme and the pieced nature of the flowers make for a playful and colorful card design. Check out the video below to see what I mean.
The pieced flowers really lend themselves to so many colorful color combinations. This one uses three different colors of pink, gray, and white. Check out the goodies list below for a complete list.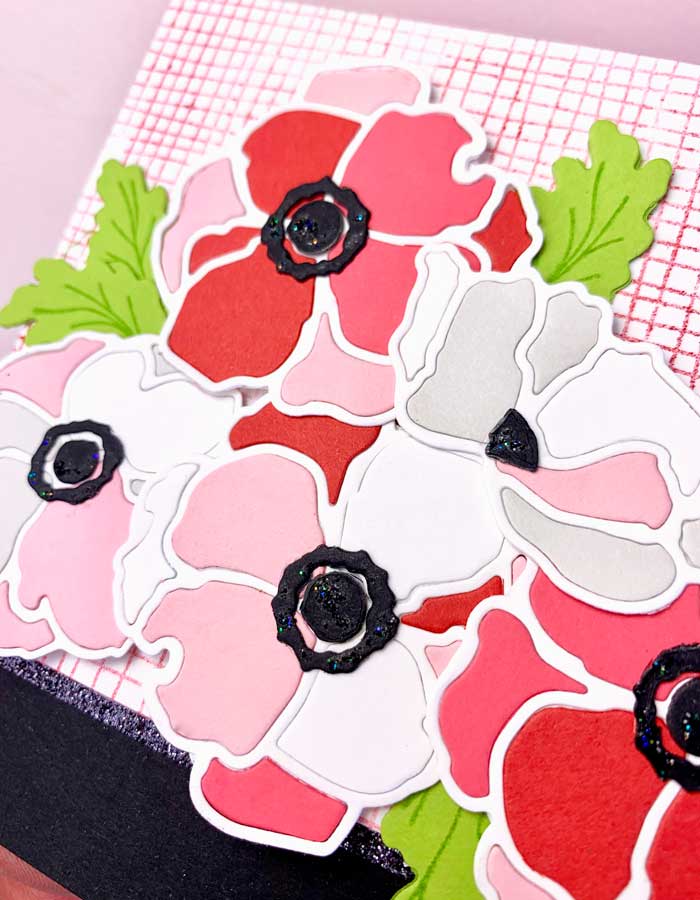 Here are close-ups of the awesome flowers this die set creates. Just think of all the color combinations you can use to change the look.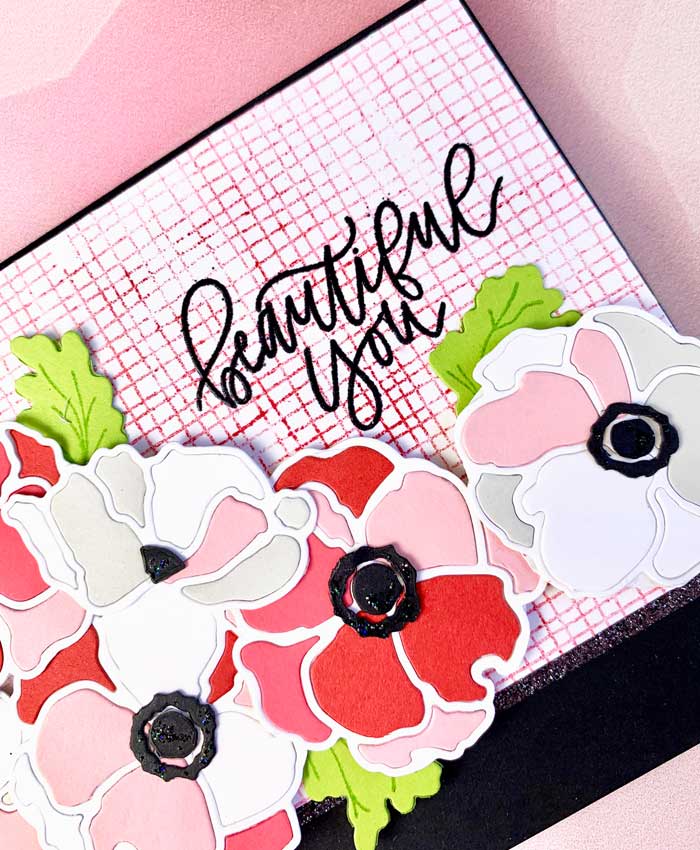 There are several leaf dies of different shapes and sizes to choose from and you can also choose different looks to the leaves by using the simple-veining stamps or a more 'foliage' look. Both styles are included in the stamp set.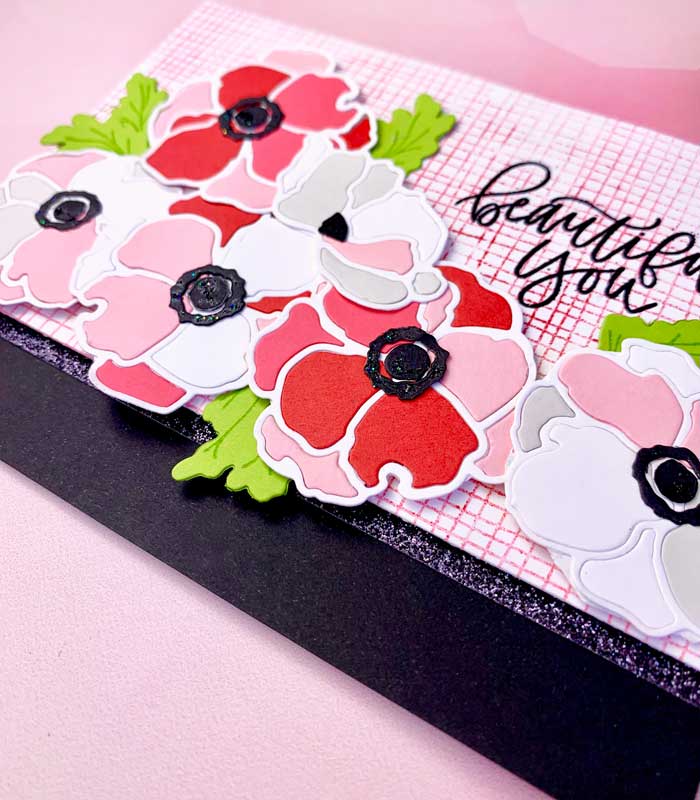 The background was made by using the Loosely Woven background stamp by Papertrey Ink – Ink To Paper. It was inked with Pure Poppy ink, then first stamped onto a piece of scrap paper, then finally stamped onto a white cardstock card base. By stamping it off once onto scrap paper, it lessens the intensity of the color.
Then, the"Beautiful You'" script sentiment was heat-embossed with Detail Black embossing powder by Hero Arts.
To add a little pizazz, a strip of black glitter paper was added, and black sparklies to the centers of the flowers. It just kicked it up a notch!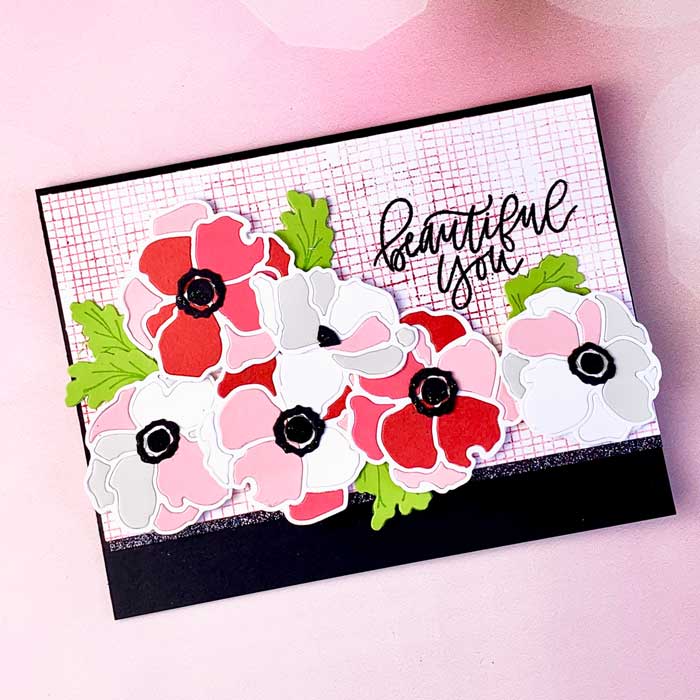 Did you miss these two companion card designs in our last post and video? Click here is see the video for these card designs. Or you can pop over to our blog for some close-ups and a complete supply list for these two cards.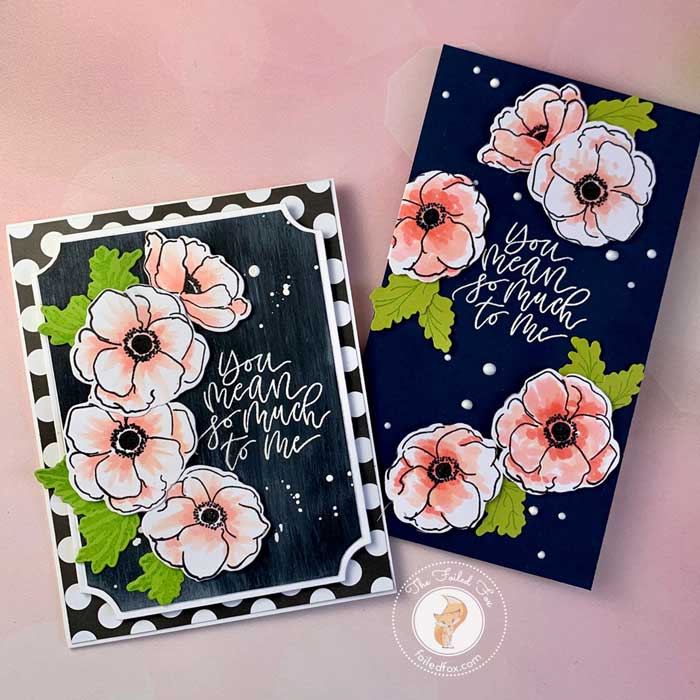 Thanks so much for joining us today! We hope to see you for our next adventure! ♥
Goodies List: