Hello Friends,
Here is a card for any deserving mom on Mother's Day. I can't think of anything more special than giving a handmade 'something' for her.  Since there is a good chance that most of you are mothers, you know how special it is when someone presents you with a piece of themselves through their art.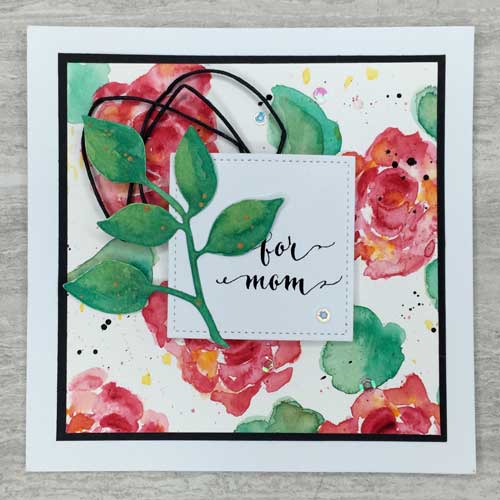 You can create this card, or add your own expression pretty easily.  Just follow these few simple steps.
First, I hand painted the flowers.  This is a fun, simple way to get a background with the colors and 'feel' you are looking for.  I am a complete newbie at watercoloring but that is not going to stop me. I checked out this video by Irmgard Rawn.  She has a good technique for painting an impressionistic flower – give it a try.  To make it ultra easy and quick, cut a 5″ x 5″ piece of floral paper (or any patterned paper that strikes your fancy) for your floral background.
For watercoloring, I personally prefer the Canson Cold Press 9″ x 12″ watercolor paper (the list of all the supplies used will be posted below).  For this card I cut the paper in half, leaving me with a 9″ x 6″ piece to work with.  Since the finished card is 6″ x 6″, I had plenty of space to create my background, plus an extra bit that I made into an A2 note card.  But, of course, feel free to make whatever size card you like.  I like the square shape and the 6″ x 6″ size is a lovely and elegant size to make a statement without it being too big or out of proportion – if I have gone to so much trouble to make a card, I want it to speak "specialness".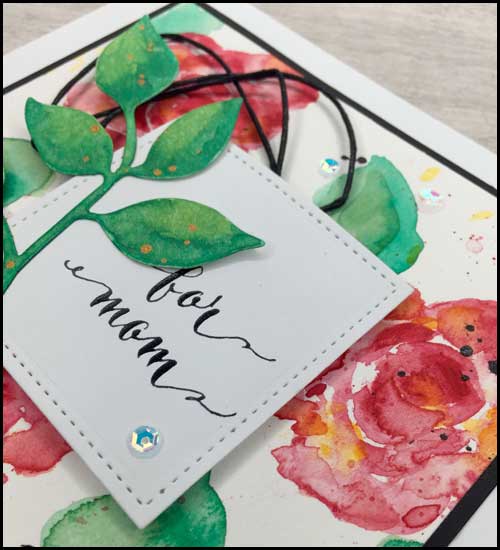 I randomly painted the blossoms using Irmgard's method, then added simple leaf shapes to fill in the gaps, then splattered paint with my brush around to create interest – set it aside to dry.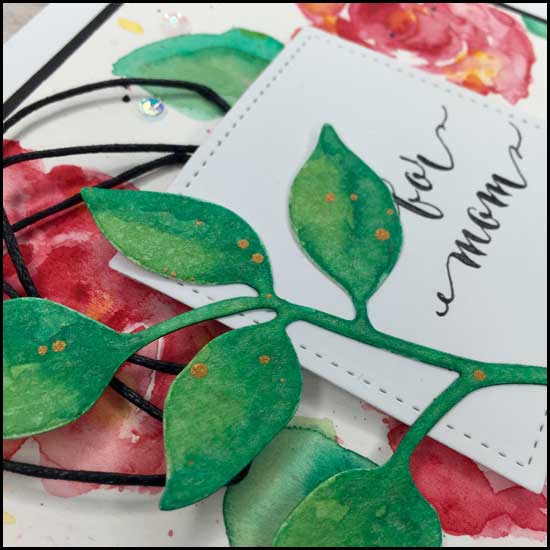 Next, is a short list of steps to assemble the card:
 Cut a 12″ x 6″ piece of white card stock, scored and folding it at 6″ on the long side to create the card base – set aside
Cut a piece of paper 5.25″ x 5.25″.  I used black but you can use any complimentary contrasting color
After your watercolored flowers are dry, cut a 5″ x 5″ piece from it
Cut out with your die cutting machine one 2.5″x2.5″ piece of white card stock, using the Lawn Fawn Large Stitched Squares.  Hand write or stamp your favorite sentiment on this piece.
Die cut one leafy stem out of watercolor color.  I used Penny Black's Leaves.  I love this collection of leaves.  They are so versatile.  If you don't have anything like this, it is a great one to have in your stash.  Watercolor the leaves.  I spritzed it with a Perfect Pearl mist and splattered with gold ink.
Wind 3 times around your fingers some black twine, tape flat the twine.
Assemble card by first centering and adhering the black card stock (5.25″x5.25″) to the white card base.
Next, add the watercolored floral piece on top of the black layer
Place the black twine in postion
Using dimensional foam tape, center and adhere the 2.5″x2.5″ white card stock with the sentiment stamped on it to the watercolor layer, making sure the black twine circles are tucking underneath
Adhere the green leaves on top of the white sentiment center piece
Add a few sequin ….
VIOLA! you are done.

Supply list:
12″x 12″ white card stock
Black card stock
Canson Watercolor paper
Kuretake Watercolors
Large Stitched Stackable Squares
Leaves by Penny Black
Black Hemp Cord
Finetec Artist Mica Watercolors