Hi there,
This is Zinia here with you today.  As the holidays approach I thought it would be fun to share with you a slightly Christmas themed project that can also work all year round.
Instead of working in my art journal, I decided to use a flat canvas board. This way I can hang it on the wall as decoration or gift it to someone for the holidays.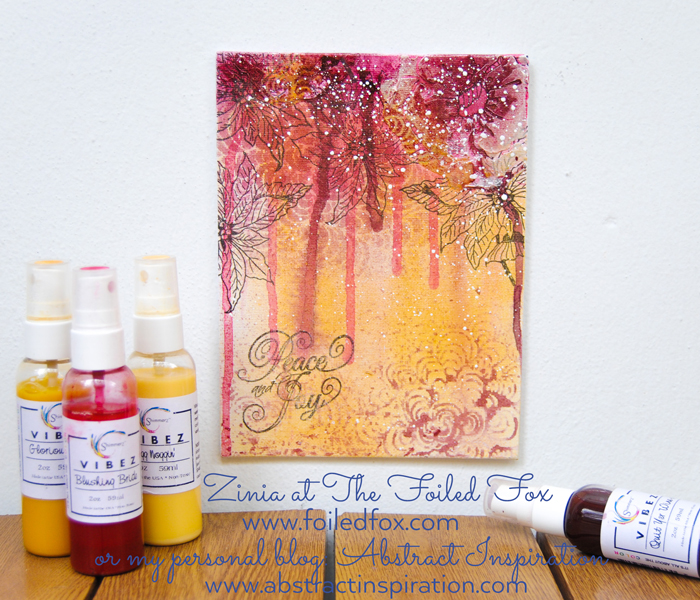 I started by stamping a flower image from the Penny Black "Winter Joy" set. I used Versafine Onyx Black ink because it's waterproof and I can add wet media on top of it.
To add some more interest and heaviness on that side, I also used a floral stencil and added some of the yummy Shimmerz Dazzlerz in Spun Sugar.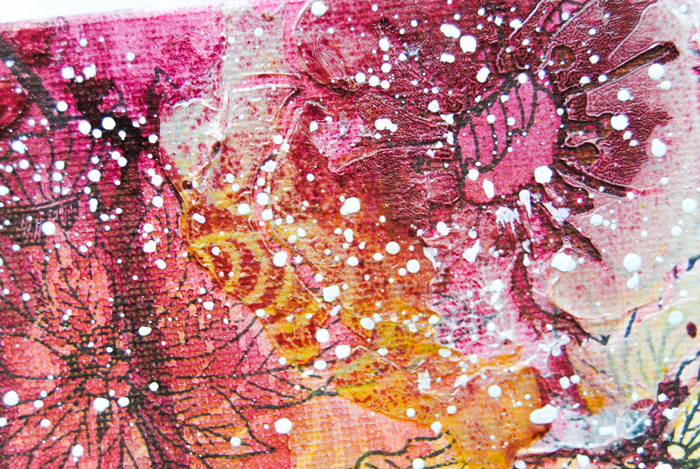 Once the paste was relatively dry, I started adding color. I kept my color palette simple using only reds and warm yellow shades. I let the colors drip and blend on their own without interfering a lot.
When everything was dry, I used another stencil and sprayed some more reds on the top to help with the balance. Then I used the excess paint on the stencil and stamped it on the opposite side of the canvas.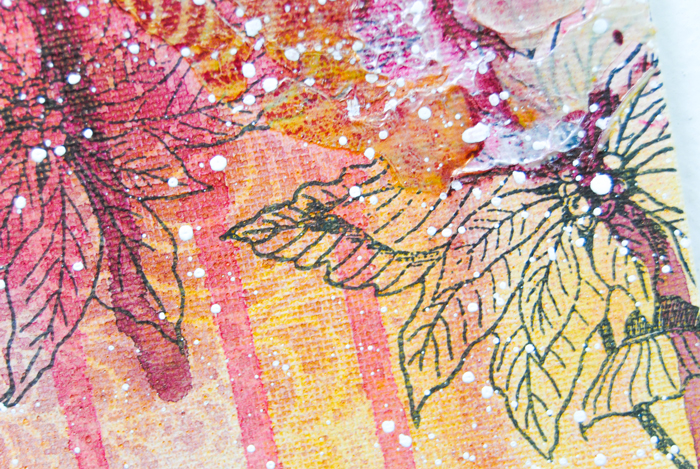 From the same stamp set, I used the sentiment "Peace and Joy" at the bottom of the canvas. To finish it off, I sprinkled some white ink splatters all over the project.
Take a look at my video for a step by step view of how this wall hanging was created.

Want to know more about Zinia?  Take a look at her short biography below and be sure to check out her personal blog, Abstract Inspiration.  It is packed with beautiful projects and ideas!
Supply List:
Penny
Black
Winter
Joy
Stamp Set

Stencil
Girl
Woodcut
Roses
Stencil

Stencil
Girl
Doodle It
Tornado
Bloom
Stencil

Shimmerz
Spun Sugar
Dazzlerz

Shimmerz
Quit Er
Wine-N
Spray

Shimmerz
Egg
Noggin'
Shimmerz
Paint
Vibez
Glorious
Day

Shimmerz
Blushing
Bride
Spray

Versafine
Onyx
Black
Ink Pad

Mini
Mister

Mc Caffery's
White
Ink