Hello Everyone!
Boy, are you in for a real treat today!  We are so excited to have Heather Telford of Bits & Pieces as our guest. If you haven't seen Heather's watercolor work, well, it is simply awesome!  She makes flowers and nature scenes come to life, as well as push the envelope on creativity, style and techniques.  The Finetec Pearl Watercolors make this design have a shimmery, glorious look!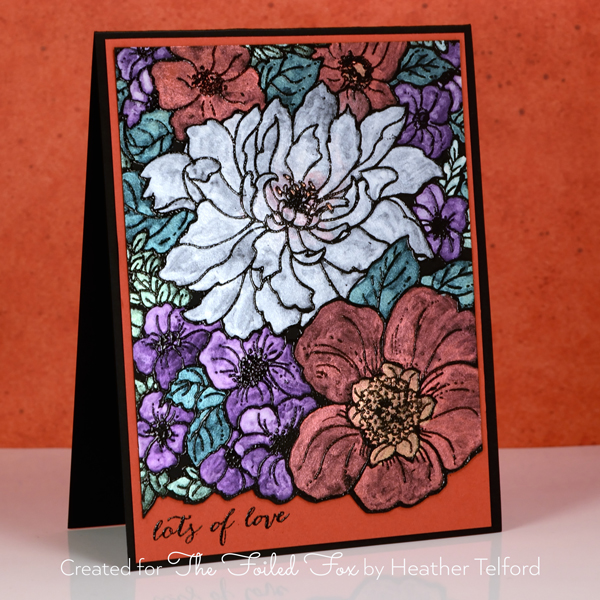 Isn't this card amazing!  For those of you that don't know a lot about Heather, here is a few little snippets about her to enjoy.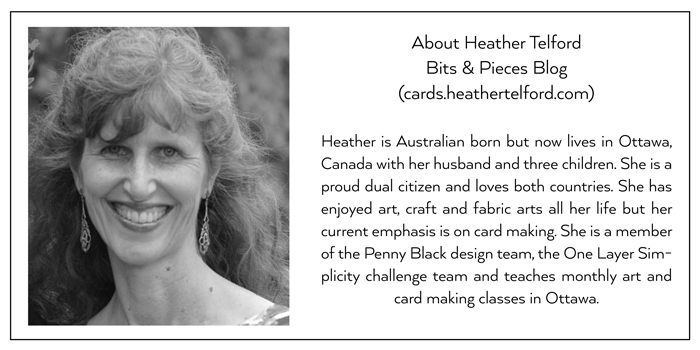 Now, here is Heather to tell you a bit of how she created this card.
•••••••••••••••••••••••••••••••••••
I am excited to be joining the lovely folk at the Foiled Fox today; thank you for the opportunity to be a guest blogger here.
I really enjoyed working with the pearl color paints from Finetec; the paint is quite creamy and the colors are beautiful. One thing I noticed straight away was the difference in color on different color bases. Naturally, I pulled out watercolor paper first as they are water based paints. Most of the colors are much paler on white or cream watercolor paper than they are on dark card bases. I decided to do a project on black to really show off how fancy these paints are.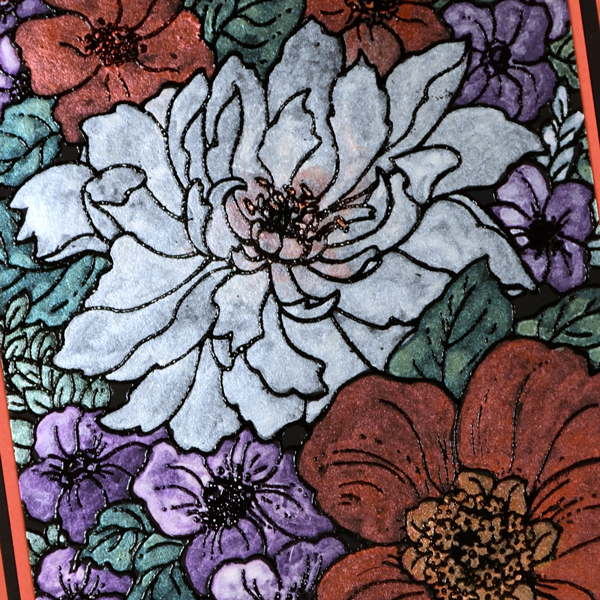 I stamped the detailed '
Sweet Perfume
' stamp from Penny Black on Neenah epic black cardstock with Versafine onyx black ink then embossed it in clear embossing powder. Since I wasn't using watercolor paper I didn't use much water when I painted but the cardstock is 100lb weight so it was able to handle some wet paint.  I worked with one color at a time, adding a little water to the paint in the palette first then painting inside the embossed lines with a small watercolor brush. It is always hard to capture in a photo the shimmer and shine of metallic elements on cards so take my word for it the paint really shines when it catches the light.
I trimmed the panel on three sides then fussy cut the lower edge before attaching to a mat in a coordinating color.  I embossed one of the little sentiments from the 'Happy Snippets' set so it would sit below the uneven edge of the panel then mounted it all on a black card base.

Supply List:
Neenha
Black
Cardstock

Penny Black
Sweet
Perfume
stamp

Penny Black
Happy
Snippets

Versafine
Onyx
Black
Ink Pad

FINETEC
PEARL
WATER
COLORS

Wow
Super
fine
White
Embossing
Tombow
adhesive