Hi Everyone,
We are over-the-moon excited to have TaeEun of Rainbow In November blog visiting today. She is a fabulous colorist! Just take a look at her color magic in this card. These alcohol ink colors just jump off the card!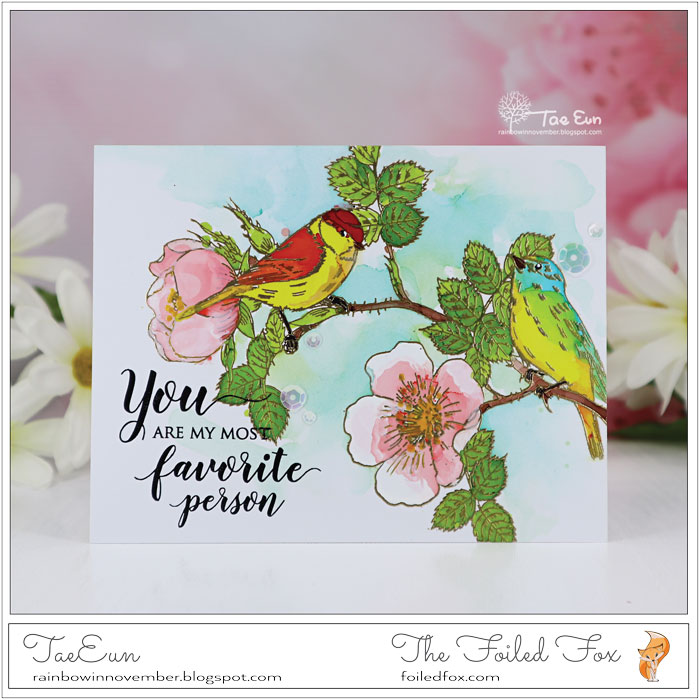 Hi There! It's TaeEun here! I'm so excited to be a guest at The Foiled Fox today! 
The gorgeous image I used for today's card is called Melody Makers. The large blossom and sweet birds were calling for alcohol inks when I saw them for the first time :)! 
To start off I heat embossed Melody Makers on an Alcohol ink cardstock from Ranger in gold. I then colored the image using Ranger Alcohol inks along with a Y06 Copic Refill.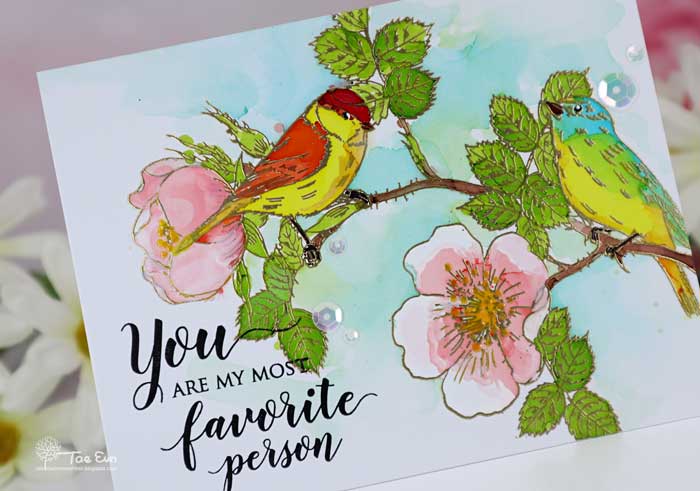 I applied the ink directly from the bottle onto the image and tilted the panel to move the ink. For small areas, I used a Micro brush. I once watched Jessica Frost-Ballas using it in one of her videos and started using it too. It is the perfect tool for this purpose!!!
The colors I used are:
• Flowers: Shell Pink, Snow Cap
• Leaves: Limeade
• Birds: Y06, Sunshine Yellow, Valencia, Red Pepper/ Pool, Y06
• Branch: Hazelnut
• Background: Aqua, Limeade 
I colored the beaks and legs using brown fine tip Sharpie pen and the eyes using black and white glaze pens.
The sentiment is from Grateful Heart by Penny Black. I stamped it in StazOn black ink on the panel. I added some dots with gold and yellow Pico embellisher as stamen of the flowers. To finish off I scattered some clear iridescent sequins. 
I've made a coloring process video. You can see the name of the used colors on the top left corner.
You can watch it in HD below or on my YouTube channel.
Hope you enjoyed looking my card and video! 
Thank you so much!
See you soon again! 
TaeEun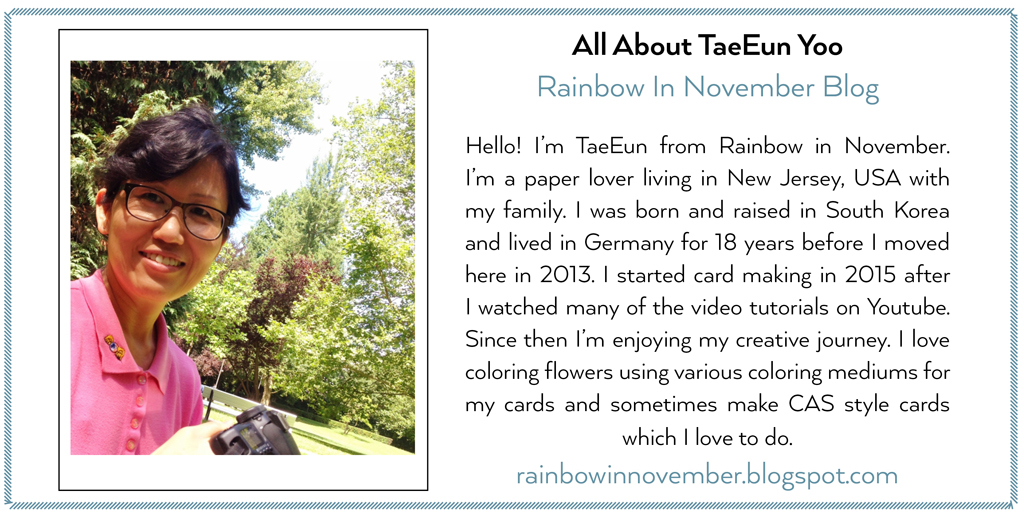 Supply List:
Penny
Black
Melody
Makers
Stamp

Penny
Black
Grateful
Heart
Stamp
Set

Adirondack
Alcohol
Ink
Cardstock

Yupo
Paper

Adirondack
Snow
Cap
Alcohol
Ink
Mixative

Tim
Holtz
Countryside
Alcohol
Inks

Tim
Holtz
Spring
Break
Alcohol
Inks
Adirondack
Summit
View
Alcohol
Ink

Tim
Holtz
Lakeshore
Alcohol
Inks

Tim
Holtz
Tuscan
Garden
Alcohol
Inks

Y06
Copic
Marker

Black
Gelly
Roll
Pen

Sakura
White
Gelly
Pen
Black
Staz-on
Solvent
Inkpad

Ranger
Super
Fine
Gold
Embossing
Powder

neat &
Tangled
Like
Magic
Sequins

Micro
Brush
Bendable
Applicators