Hi Friends,
Heather Telford is our guest today and she brought with her a magnificent Pink Poppies card. The colors and the softness she achieves is nothing short of gorgeous!
She is using the Spontaneous Joy stamp by Penny Black and she makes it simply glorious by using distress stains and her own special brand of magic! (Check out more of that magic on her blog!)
Oh, and just a note about the distress stains. Many of you know, the distress stains with the dauber top have been discontinued. In its place is the distress spray stain with a spray/mister top – it is the same formula. We bought up all the remaining stock of the dauber topwe could so most colors are still in stock so grab them while you can. As a color depletes, we will restock it in the spray version.
Finally, a bit of fun! Heather and The Foiled Fox are sponsoring a giveaway – YAY! Be sure to check out at the end of the blog how you can enter to win.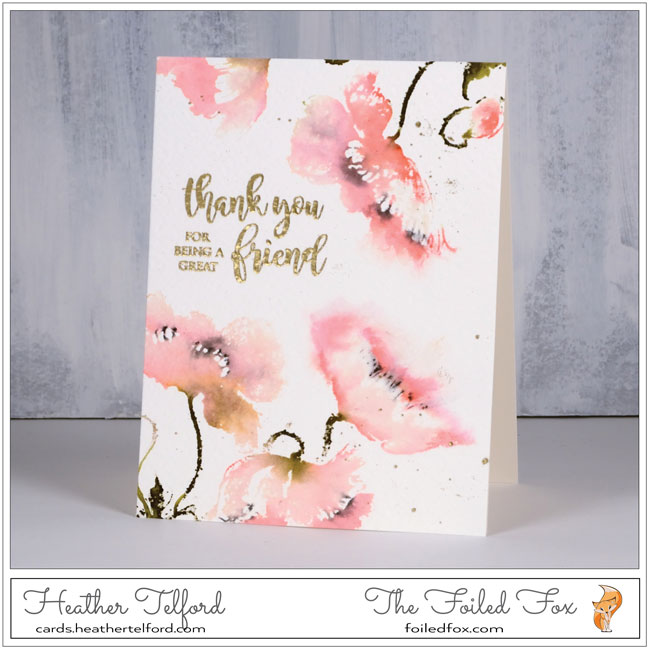 Hi my crafting friends! I'm happy to be back on the Foiled Fox blog sharing two of my faves: Penny Black florals and distress stains. You may be aware by now that the distress stain daubers are being discontinued, a distressing fact for sure! I plan to keep my daubers and refill them from the spray stain bottles. I have used stains on poppy stamps from Penny Black many times over the years so I paired them up once again for this card.
I wanted a soft and subtle look with the 'spontaneous joy' stamp so I used the some of the paler pinks available, spun sugar and tattered rose. I placed a piece of cold pressed watercolor paper in my stamping platform and inked the petals with spun sugar stain then stamped. It is a very pale color so I did that a few times then added some tattered rose stain and stamped again. I added stems and leaves with forest moss stain letting some bleed into the pink petals.  I dried the stamping before switching to markers for smaller details.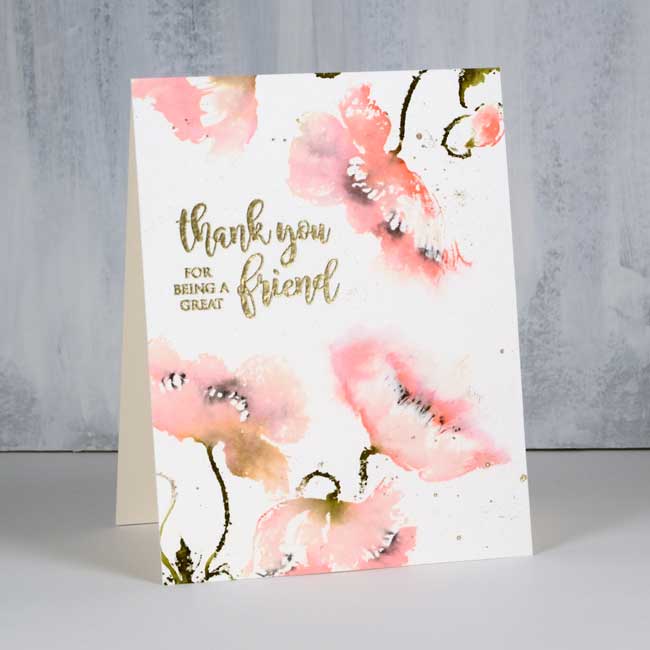 Where I wanted a bit more shadow and definition I used an abandoned coral distress marker, but a mini ink pad would work well too. I also used black soot distress marker to add black to the flower centers. I spritzed lightly on the stamp with water then pressed it down onto the panel. The light spritz enabled the ink to bleed into the pink softly without taking over. I chose forest moss stain for some splatter as the pinks were too pale to really show up.
The sentiment from the happy wishes is stamped in Versamark then embossed in gold powder. I sprinkled embossing fluid here and there too and embossed that in gold also to create some gold splatter along with the green. I cut the watercolor panel to cover the whole cream card base.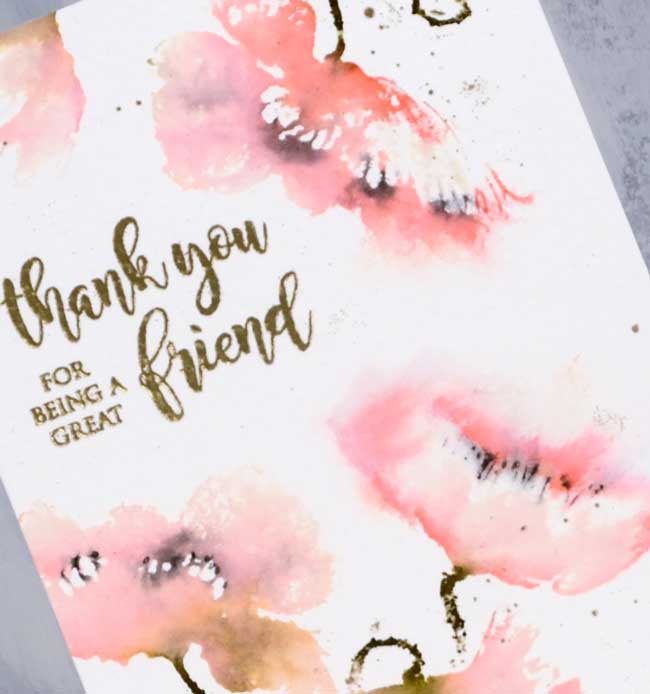 I know I've said this before but if you haven't tried inking rubber stamps with distress stains you should give it a chance. You won't get sharp definition but you will get soft painterly blends. I'd love to hear from you if you've given it a try.

Supplies Used: