Hi Everyone,
Valentine's Day is nearly upon us and I love the holiday so I was making one Valentine card after another. So, I have a backup of handmade cards for the cherished heart day.
Here is one of them, created using the Penny Black Red Blush stamp set and the Hero Arts Heart Infinity dies. The rose and bud are so pretty in this stamp, I knew I had to make something. My only regret was I didn't get it done sooner!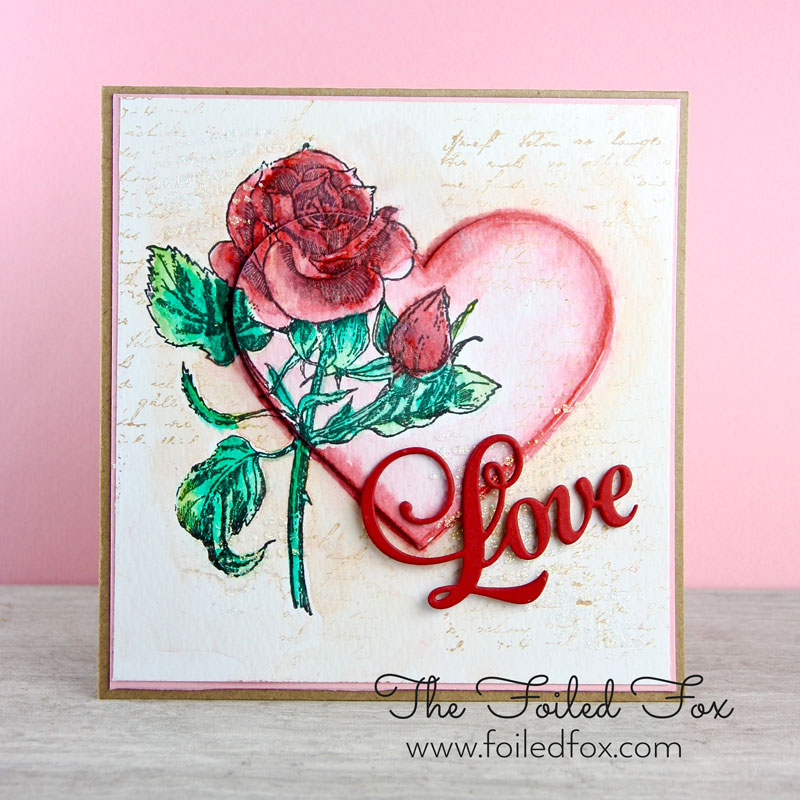 The card starts with a watercolor panel where I stamped the Red Blush rose in Versafine tuxedo black ink and painted it with watercolors. After it was dry, I cut out the heart with a large heart die in the Hero Arts Infinity Heart Collection. Without removing the heart from the panel, I watercolored the heart, making the edges a dark red and lighter in the center.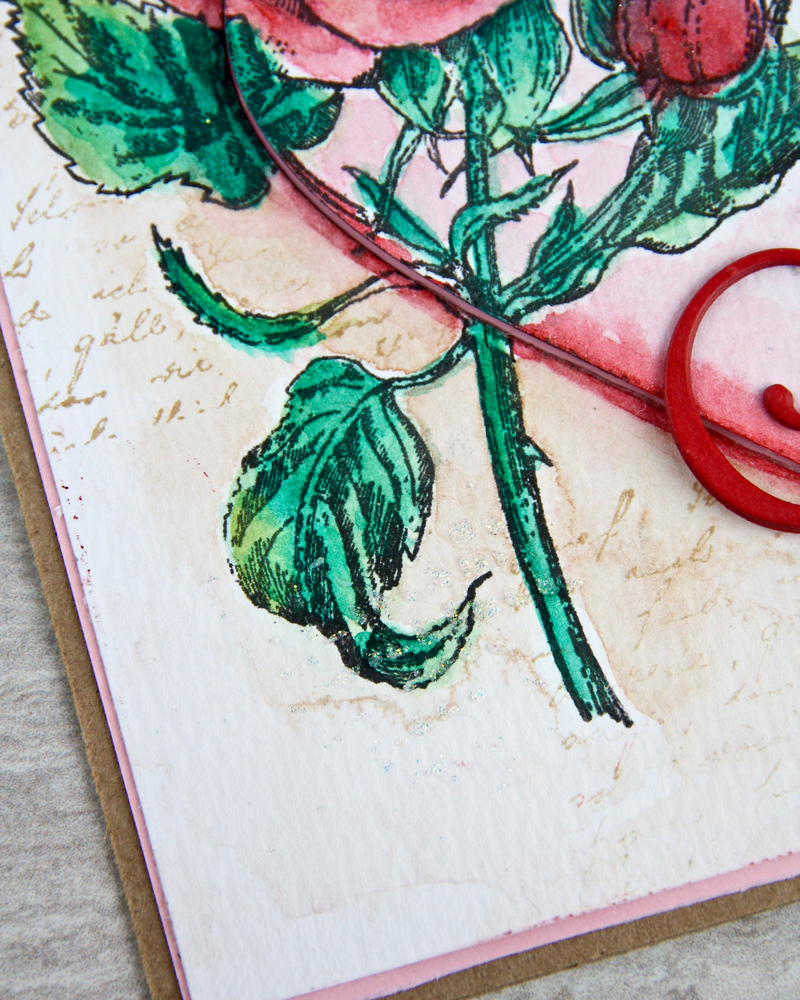 After it was dry, I randomly stamped "text" onto the panel using Adirondack Latte ink and the Penny Black Letter Background stamp in different places on the panel. Then, I mixed some brown watercolor onto a piece of acrylic and added lots of water to create a light wash that I could apply around the heart to give the feeling of depth.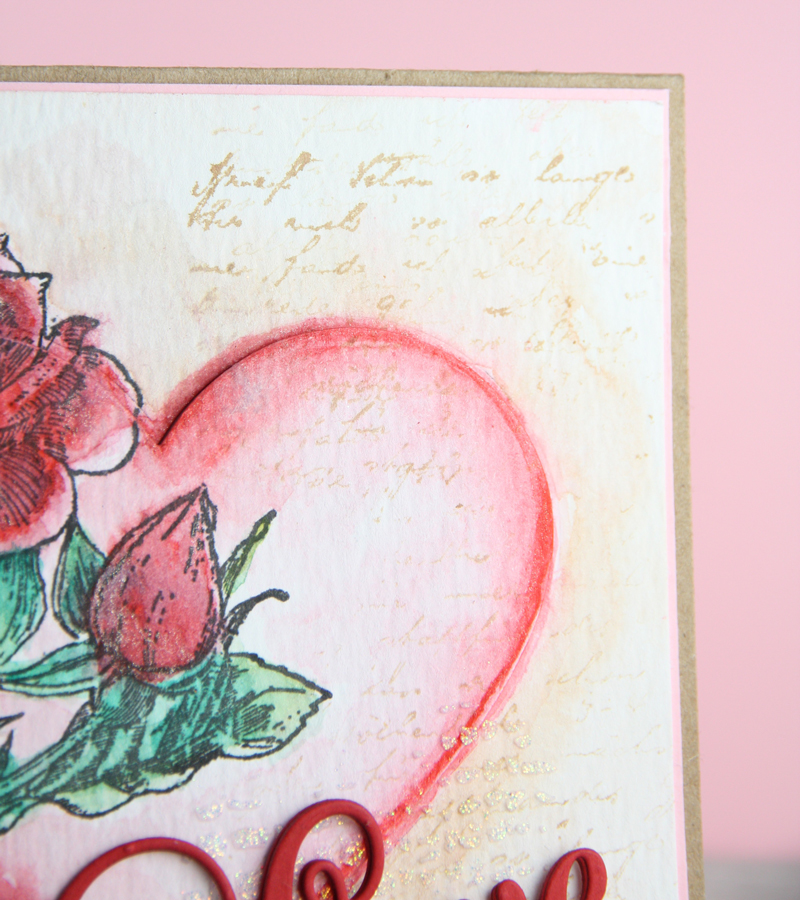 With the panel nearly down, I couldn't resist trying out the new Nuvo Moonstone Glitter Paste. It looked so pretty in the jar!
By randomly applying little areas of glimmer paste with a palette knife and using the mesh stencil from the Tim Holtz Mini Layering Stencils, set #14, it created a beautiful, shimmery clear with glitter texture to the card. It is really hard to see and it looks a little golden in the photos, but it really is a clear paste with glitter suspended in it.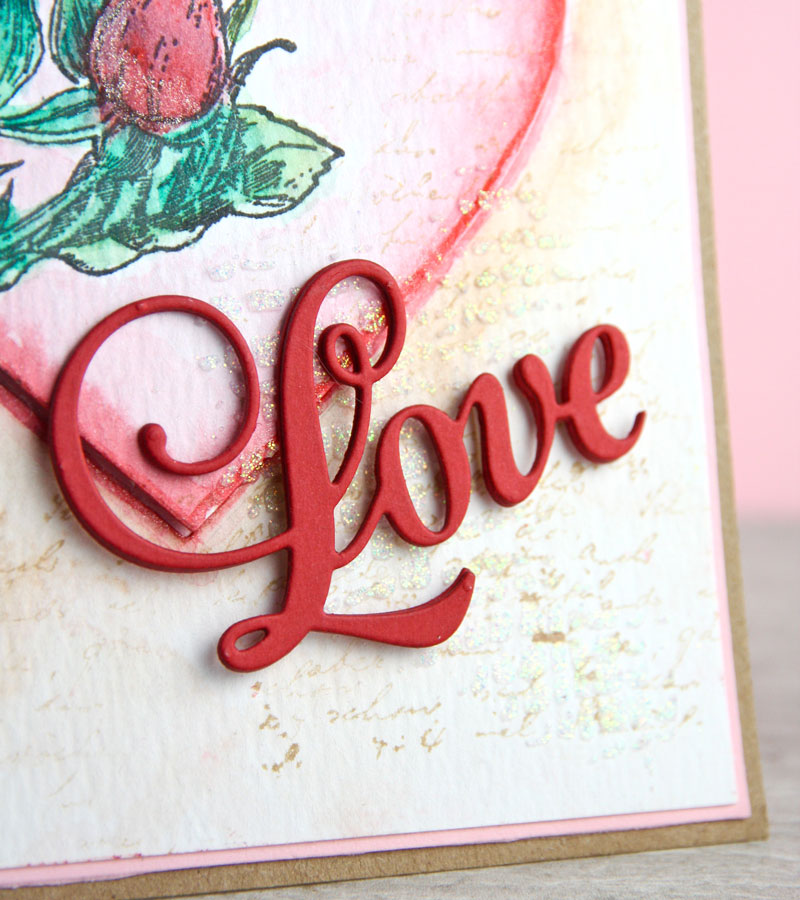 With the paste dry (it didn't take long at all), I 'popped' up the heart by adding to the back of the heart some foam cut with the same heart die and then added the "Love" sentiment from the Penny Black Love die. (By the by, I did cut 3 'love' sentiments, then stacked and glued them on top of one another to give a thicker appearance to the sentiment.)
The final steps were to mount a light pink Cotton Candy card stock layer onto the Desert Storm card base, then the top panel was mounted. The card is now ready to send to my loved one!

Supply List:
Penny
Black
Red
Blush
Stamp

Hero
Arts
Heart
Infinity
Dies

Penny
Black
Love
Die

Penny
Black
Letter
Background

Adirondack
Latte
Alcohol
Ink Pad

Versafine
Onyx
Black
Ink Pad
Nuvo
Moonstone
Glimmer
Paste

Canson
Watercolor
Paper

Pastel
Card
Stock
Pack

Neenah
Desert
Storm
card stock

Kuretake
Gansai
Tambi
Watercolors

White
Fun
Foam
Palette
Knife

Foam
Tape

ATG
Tape
Gun