Hi Creative Friends,
I am so excited to share a super fun and special project. It used the brand new In The Pocket die from Papertrey Ink and also gives you a chance to showcase your favorite flower. In my case, that would be the rose, so I chose the beautiful Enchanting Roses stamp and die set again by Papertrey Ink.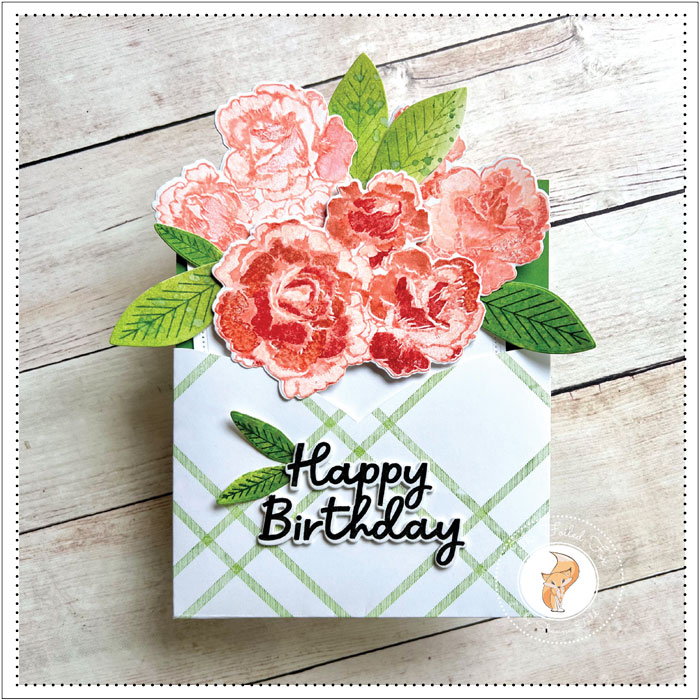 I began by creating the flowers. So, with my stamp positioner, Bristol paper, a curated collection of coordinating inks like Pinkfresh Studio's Heartbeat, and the layering stamps, I made three bunches of roses.
The leaves were stamped too using New Leaf and Pinkfeather inks. Since I wanted the leaf color to go all the way to the edge, I didn't use the solid leaf stamp included. Instead, I smooched the New Leaf ink onto my paper, then cut out the leaves and stamped the veining with Pinefeather ink.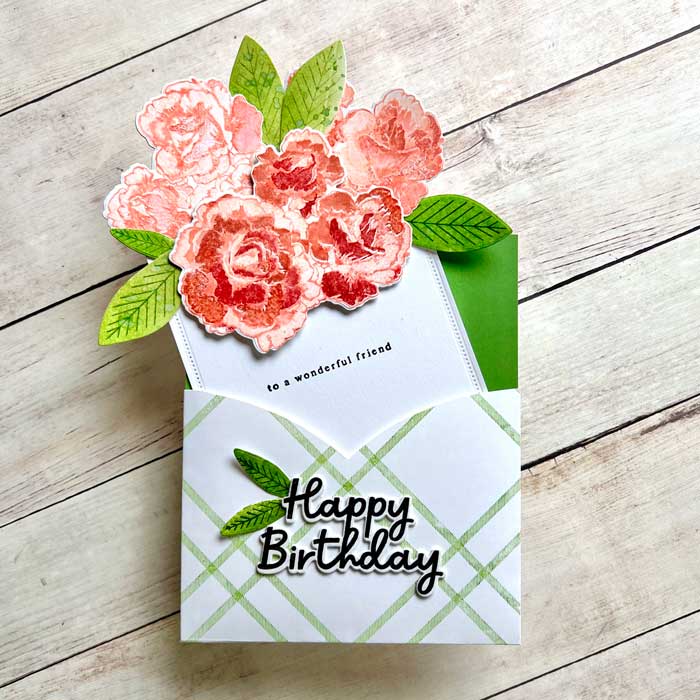 With the flowers and leaves done, I turned my attention to the pocket. The In The Pocket die has the back panel, front pocket, and a few decorative edges to choose from. I used Kiwi Crush cardstock for the back and white cardstock for the front. Then, the front was stamped using a plaid stamp like The Stamp Market's Criss Cross stamp, but there are lots of plaid stamps you can use. For that matter, an awesome piece of patterned paper would be wonderful too.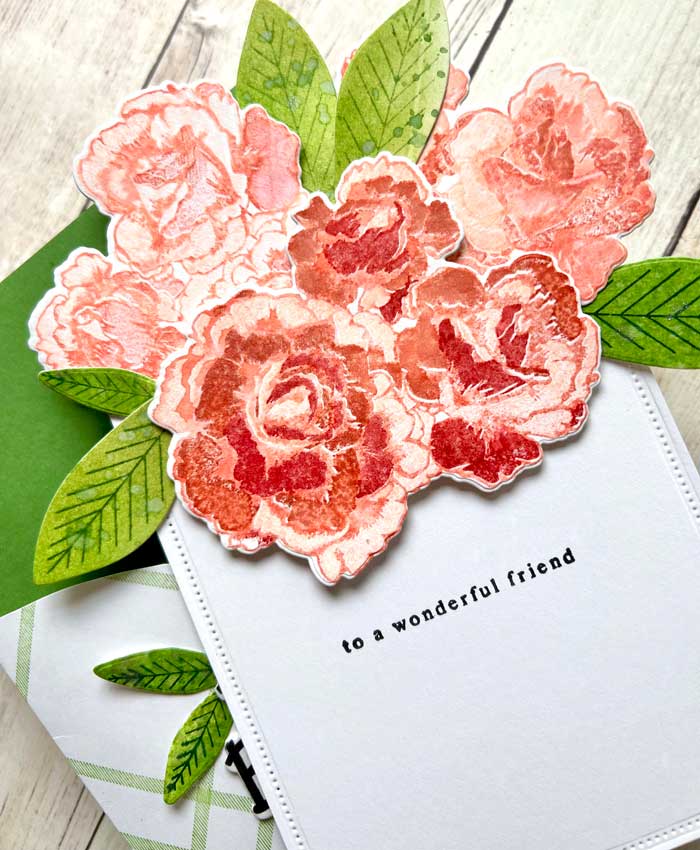 The pocket was assembled (it's pretty self-explanatory). Now on to the sentiment. I chose one from Papertrey Ink's Birthday Your Way stamp and die set. The sentiment was stamped with True Black ink, then cut out using the coordinating dies. I also cut out two more sentiment pieces, then stacked and glued them together. By the way, this sentiment set is awesome! I know it is out of stock right now, but it will be back soon so reserve your copy so you will be the first to get yours next.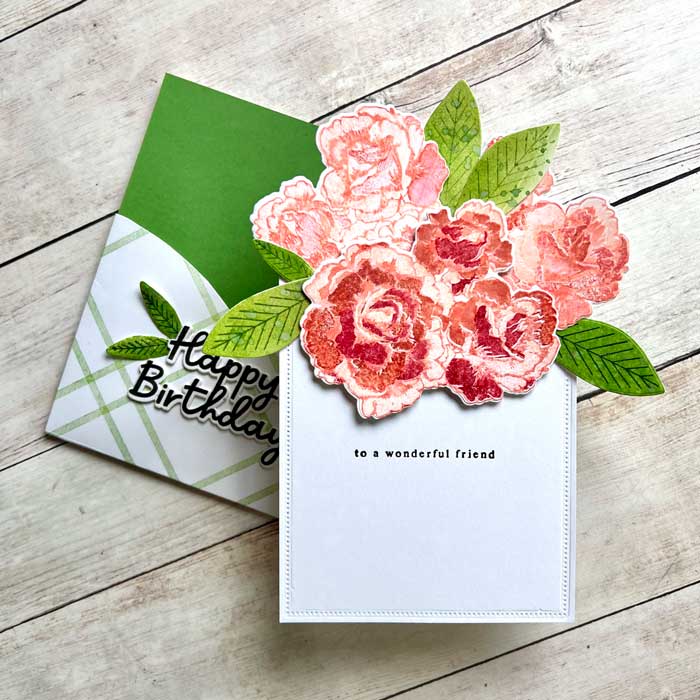 The inside panel was cut from white cardstock, then the flowers were arranged and mounted on top. The inside sentiment was stamped with True Black ink, making sure it is stamped low enough that it doesn't show from the front when the card is inserted into the pocket.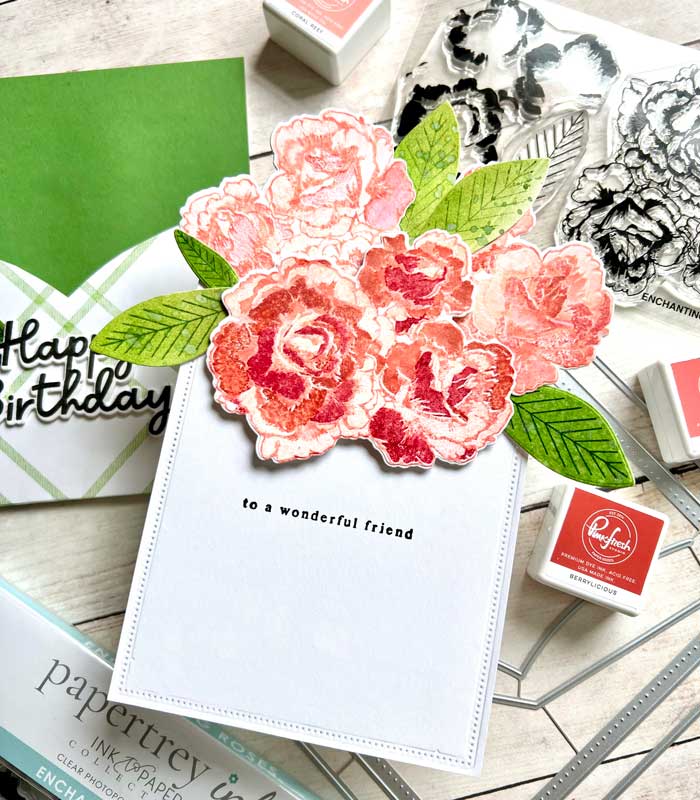 I just love how the pocket is the holder for the insert, yet the insert top is showings from the front too. It creates a very unique way to send a special greeting to your favorite person! I hope you give it a try! ♥
Goodies Used: