Hi Friends,
We are soooo excited to welcome Joan Bardee from the extra funny and creative Dear Paperlicious blog to our blog again. Joan has IT when it comes to design and composition. Everything she touches turns to AWESOME!
Today, she is sharing three wonderful card designs using The Stamp Market So Mini Hellos stamp set. This set has tons of fun stamps and dies, making it easy to create a bunch of different themed cards… and this is exactly what Joan did! Take a look.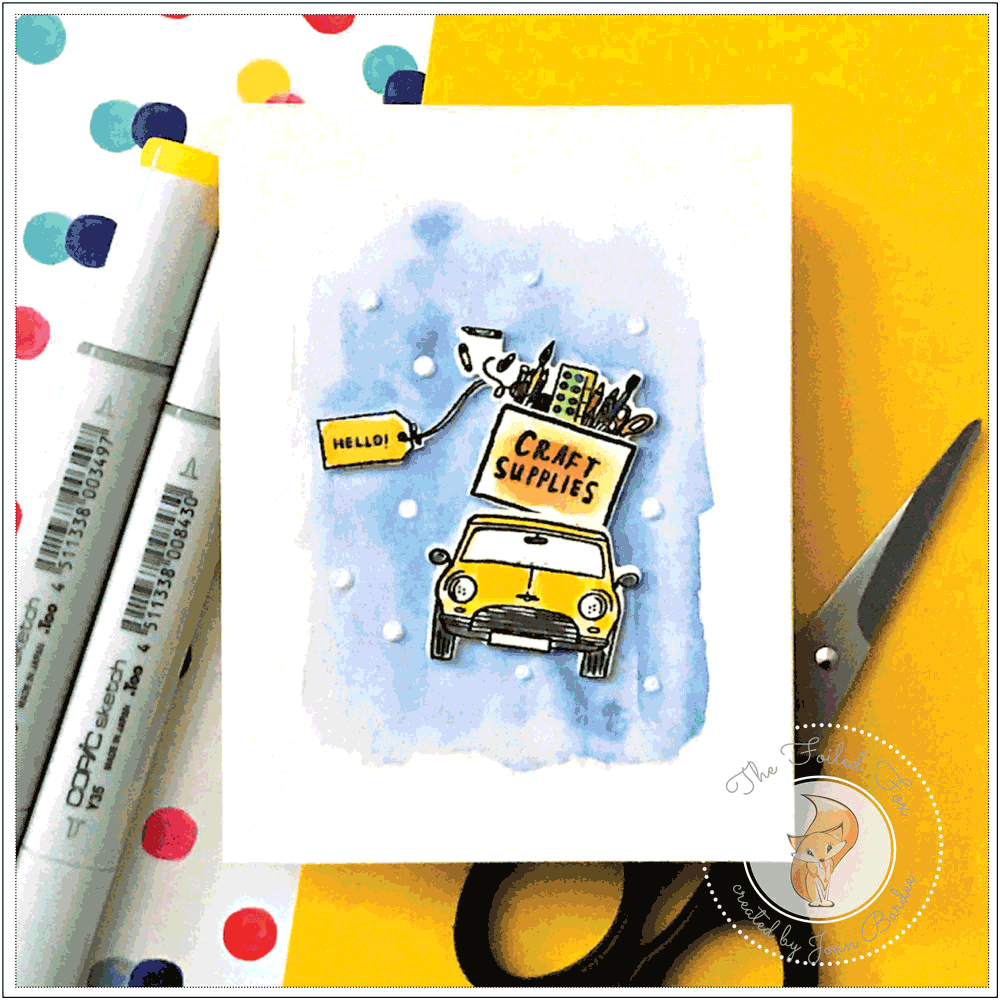 Hello! I'm happy to share with you a few cards I made with the versatile, super cute, unique, and fun (that's a lot of adjectives but they're all true!) So Mini Hellos set by The Stamp Market. 
I wanted this set to make Christmas cards, but I got distracted and started with this card, which is definitely designed for a crafty friend!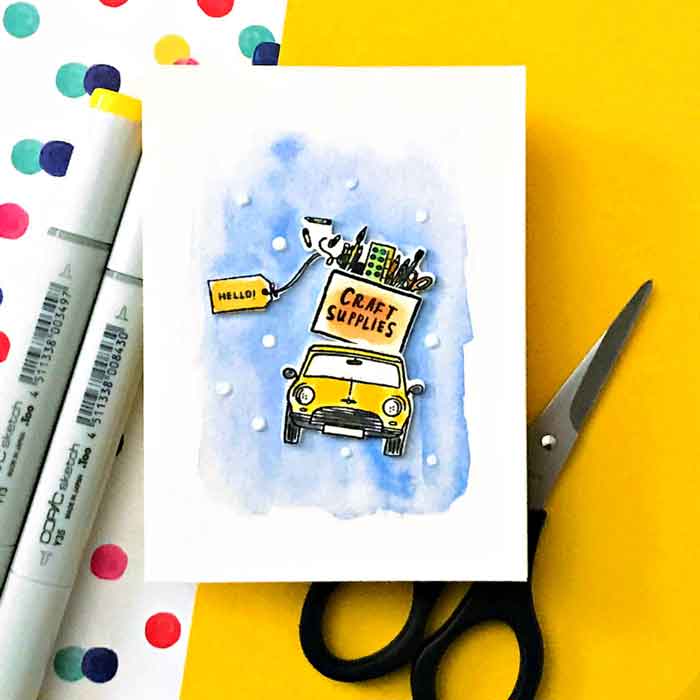 The idea behind this card is that the driver has so many craft supplies that the car she (or he!) is driving is tipping over. Can you relate?  I thought so!!
Speaking of Christmas and holiday cards, do you make them? If so, I assume you are almost done? HA. 
So many of us promise ourselves that we will make them throughout the year and then it's December 15th and we are scrambling! I'm sort of in the middle. I like to make a few during the year, but I don't really get in the mood until October, and then I make a few every week. But, by December 15th I'm in a panic! 
Last year I ended up supplementing with store-bought cards. EEEK. I cannot tell you how much it upset me to spend $20 on a box of Christmas cards. Not that there is anything wrong with that, but not this year! 
I hope.
How about you? Do you have a plan? Do you stick to it?
Back to the cards – so, of course, I had to make a couple of Christmas cards with this set.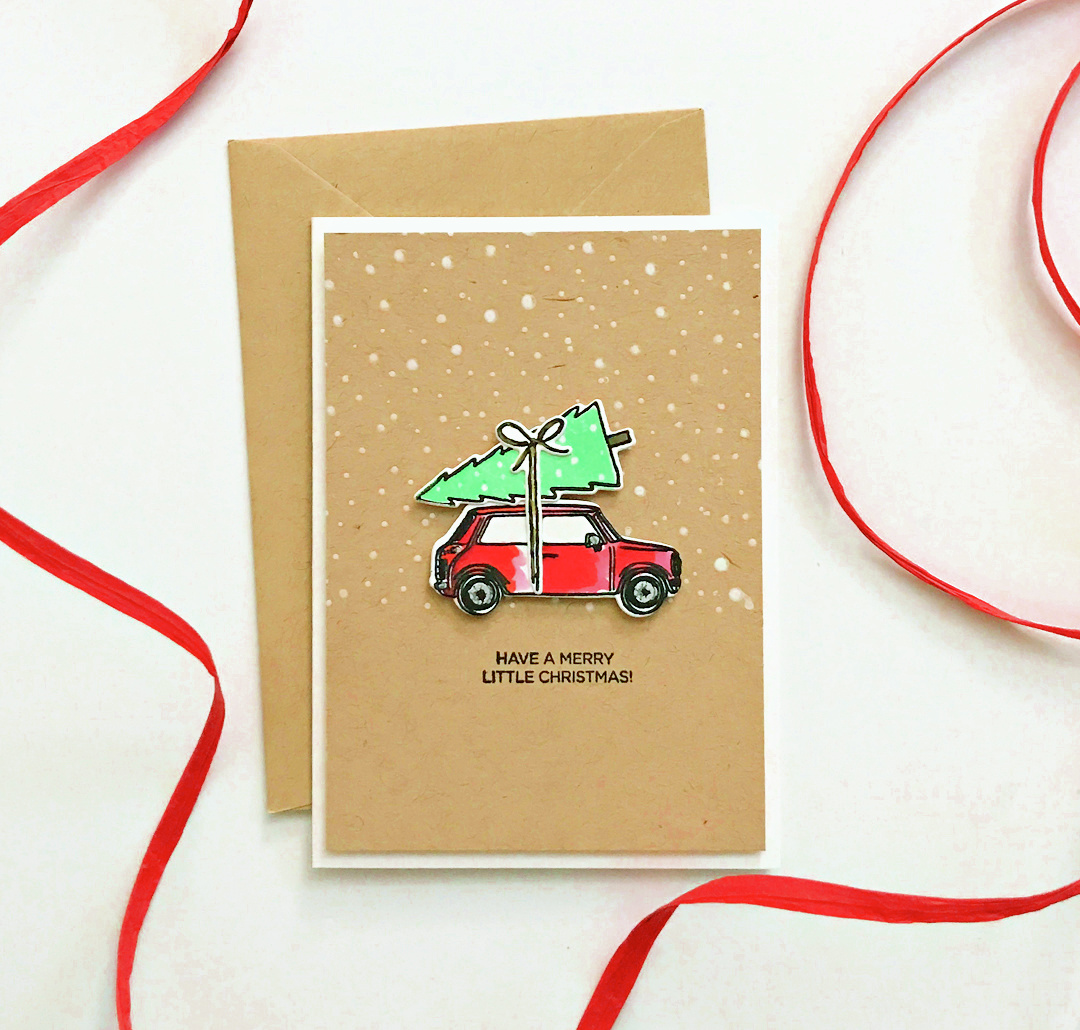 Can you stand how cute this Mini car is with the tree on top? The ribbon with a bow is a separate stamp and has a coordinating die. I think it makes the design! Decided to use kraft cardstock because I love the pop of red and white with kraft. 
Finally, I made an A2 Christmas card that doesn't use either of the Mini car images.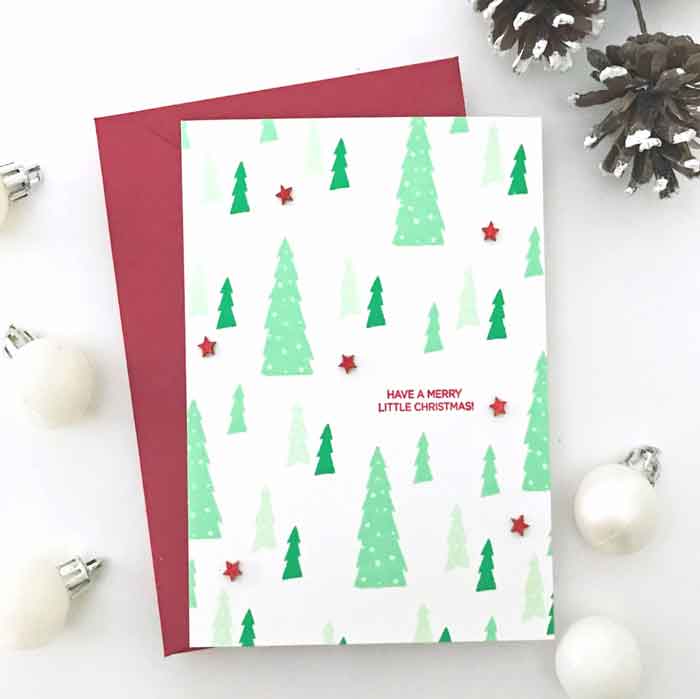 Love me a one-layer card for Christmas. Used a stamp positioner for the sentiment so I'd be sure to get it straight, but then stamped the solid trees from the set with an acrylic block using 3 different shades of green ink. Those stars are wood ones that I colored with a red (R27) Copic marker and they help fill in the blank spaces. You could use gems, sequins, liquid drops – just search through that stash of yours for the right thing. 
TIPS ON USING SO MINI HELLOS STAMPS AND DIES:
The images in this set are quite mini, I mean small. If you want to make an A2 size card using the cars, design the card with layers or other ways to ensure that the car doesn't get lost on the card. Otherwise, do what I did, and make a 4 bar card. 4 bar cards are 4 and 7/8" x 3 and ½".  I found it easiest to cut cardstock to 7" x 4 and 7/8" and score at 3 and ½".

Because the images are so small, unless you treat them carefully, you know you are going to lose one or more of them and you won't find them until you decide to move. In order to avoid this, for ONCE I thought ahead. I put the stamp set in a zip lock bag. I separated the dies and adhered each die with washi tape to a piece of cardstock and put all those pieces in the same zip lock bag. Every time I used a die or image, I immediately put it back in its place inside that bag. I didn't lose a thing!

A few more ideas — the balloons in the set come with two fillers – you can use those to make a coordinating background.  Switch up the colors and the Mini images are perfect for masculine birthday cards. Finally, it helps to have the dies but some of the images are actually easier to cut out by hand then die cut – the little hello tag and the ribbon are examples. 
MOOD WHEN DONE: Happy! Two more Christmas cards done (I think that makes 3 so far) and I'll be popping the other card in the mail to a fellow crafter. 
~ ~ ~ ~ ~ ~ ~ ~ ~
Learn a little more about Joan: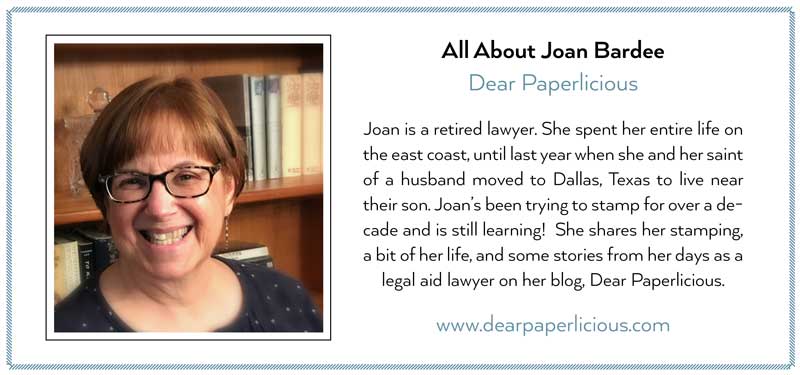 Goodies Used: