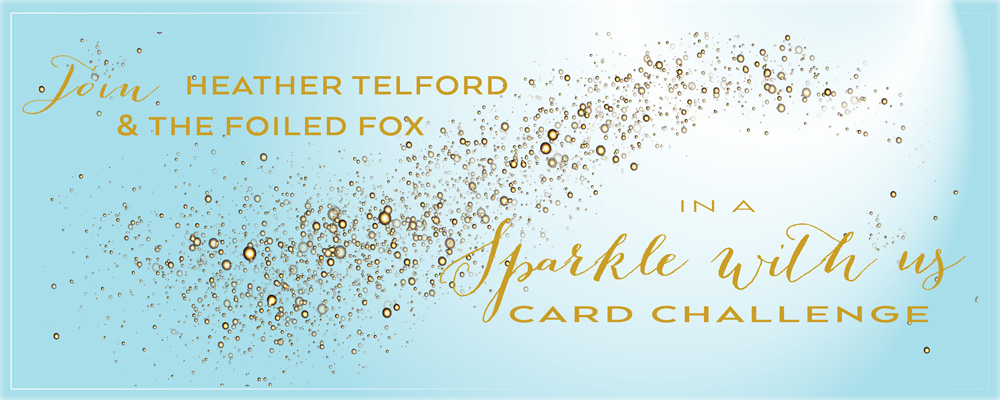 Hi Crafty Friends,
We are doing something soooo fun today (and for the next 18 days – ends March 19th). The girls here at Foiled Fox and Heather Telford are hosting a card challenge, complete with prizes – YAY! It is all about the SPARKLE – make something sparkly and share. All the instructions and the blue frog button for entry are below.
To start our card challenge off with a bang, Heather Telford has created the most beautiful gold sparkly card. She is sharing her technique with us all so we can create our own beauty. But don't stop there, get your sparkle on and go crazy! We are anxious to see your creations!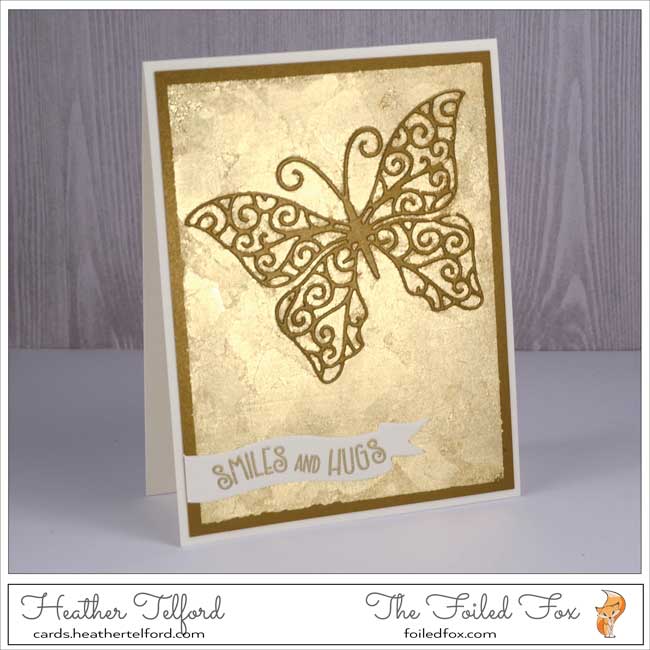 Hi there,
Today's post is an exciting one as I can once more invite you to participate in a Foiled Fox challenge. It's all about sparkle this time. Up in the north, we are still surrounded by the sparkle of snow but I chose the warm shine of gold.
To make my sparkly card I pulled out a bunch of shiny gold supplies. I worked on a panel of gold shimmer cardstock with Nuvo radiant gold bullion gilding flakes. I know I would have created more impact with contrasting cardstock and gilding flakes but I like the tone on tone effect even with shiny things.
I cut a piece of stick-it adhesive sheet 1/4″ shorter than my gold cardstock panel on both width and length. I attached the stick-it piece in the center of the panel and peeled off the top protective sheet. The butterfly is cut from the same gold cardstock with the Penny Black 'swirling wings' and pressed on to the stick-it adhesive.
Then, ever so carefully, without breathing at all, I placed the gold gilding flakes over the stick-it and over the butterfly. I used a pair of tweezers and my fingers to cover the panel with gilding flakes then switched to a stencil brush to press all the flakes onto the adhesive. The brush breaks up the flakes as you move it around and helps cover the whole panel.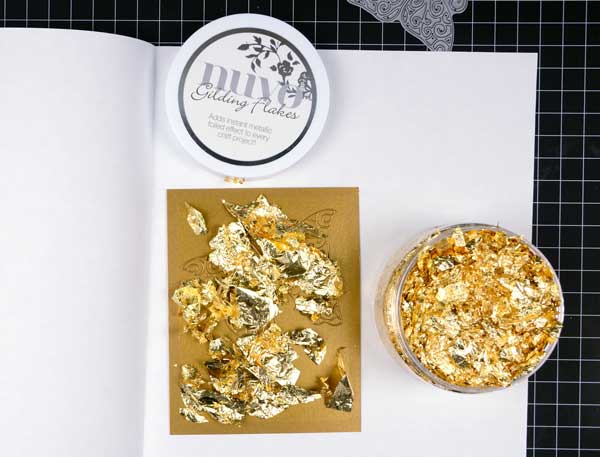 The effect of having some larger shinier flakes adhered as well as some brushed smaller flakes is quite lovely. The panel appears to have a lot of texture even though it is smooth.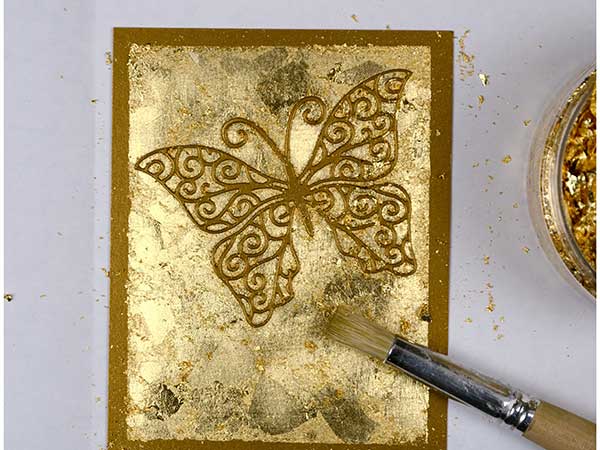 The gilding flakes are so delicate that the stencil brush breaks them apart over the die cut leaving it exposed over the gilded background.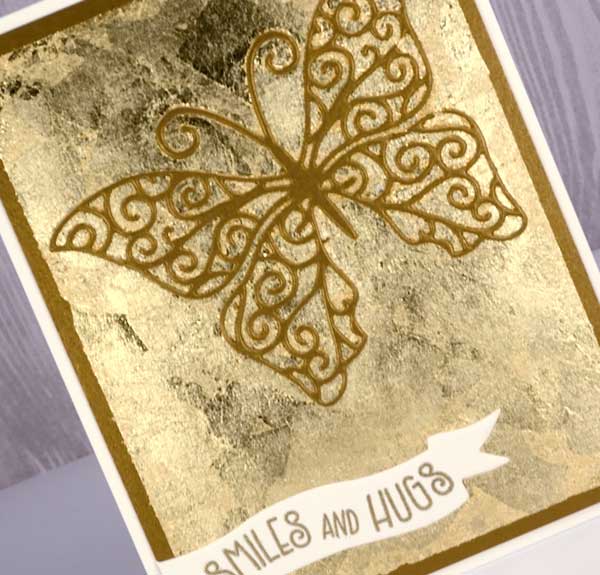 I attached my panel to a cream card base, stamped and embossed in gold a sentiment from the Penny Black set 'banner sentiments' on a die cut banner (triple banner set PB) and attached that to finish off the card.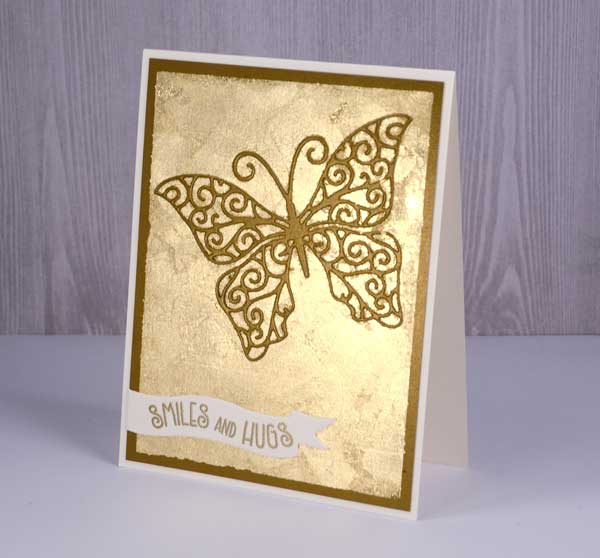 I am looking forward to seeing your sparkle – Heather
Supply List:
Shimmer
Antique
Gold
Cardstock

Penny
Black
Swirling
Wings
Die

Penny
Black
Triple
Banner
Creative
Die Set

Penny
Black
Banner
Sentiments
Stamp
Set

Nuvo
Radiant
Gold
Gilding
Flakes

Stick-It
Adhesive
Paper

Cream
Neenah
Cardstock
Ranger
Super
Fine
Gold
Embossing
Powder