Hi there, Crafty Friends,
We are over the moon today! We are featuring a gorgeous card design by the very talented Heather Telford. She used the Altenew's watercolor set and their Wonderland stamp and stencil set to create this beautiful design. The colors just pop over the paper and look so life-like! The vivid pinks and purples are amazing. Read how she did it, then pop over to her blog for more inspiration.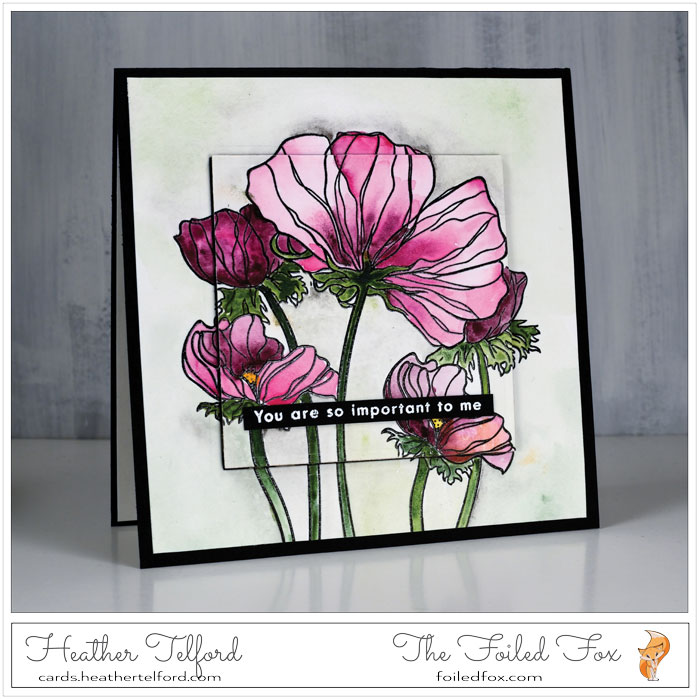 Before I hand over the blog to Heather. I wanted to announce a GIVEAWAY. All you have to do to enter is comment on this blog or Heather's (or both if you like) about your favorite flower. We are hoping this will encourage the flowers to start to bloom after a long winter! Heather and The Foiled Fox will be featuring our own floral designs along the way to keep you inspired.
Hurry, get your comments in to have a chance to win one of the two $25 gift certificate from the Foiled Fox store.

Now, as promised, here's Heather:
Hi there, I'm happy to be back with pretty new stamps from Altenew and a floral-themed giveaway with the Foiled Fox. I love flowers and you only have to look through my blog to see I love stamping them too! I haven't done a count but I'm pretty sure flower cards might be the most common theme on my blog followed closely by tree cards.
Today's card features the 'Wonderland' stamp set and coordinating stencils from Altenew. I stamped the large poppy first in Versafine Clair nocturne ink on hot pressed watercolor paper then embossed in clear powder. The coordinating stencil set includes the positive and negative pieces so I covered the stamped poppy with the stencil piece then stamped smaller poppy stamps either side and embossed. I really like have the stencil pieces to save me making a mask or doing partial stamping.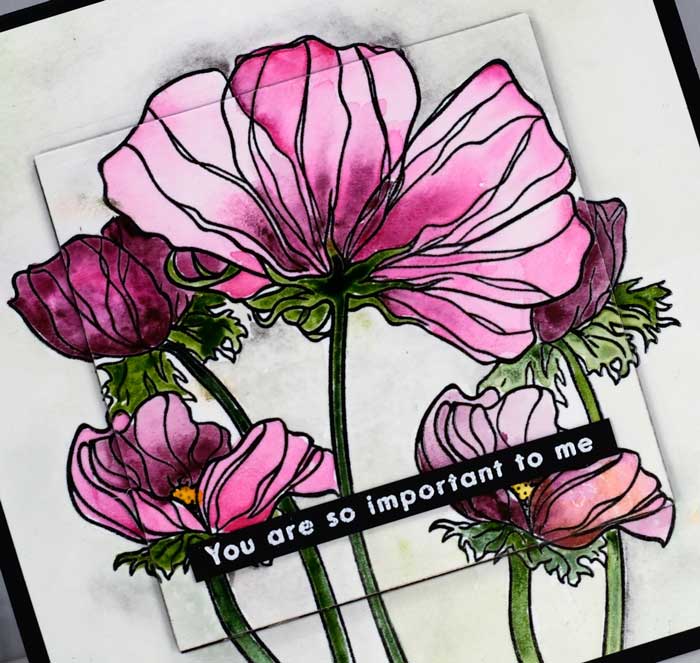 Once the stamping was complete I chose some colors from the Altenew watercolor paint set. Because the paint set is made up of groups of colors that work together it is quite easy to choose a color scheme. I picked pinks that are side by side in the set, (a light, medium, and a dark) plus two greens. I started by painting with the lightest pink, blended in some of the darker pinks then let it dry a bit before adding more paint for extra depth and shadow. I added a tiny bit of yellow to a few flower centres too.
To add a little bit of interest and texture to the background I painted around the poppies with water then dropped in some gray paint and blended it away to nothing with extra water. I dropped in some of the green of the leaves here and there too for variety.
Before putting the card together I die cut a square from the centre of the panel and popped it up on a piece of black foam. The color scheme is quite dramatic so I settled on a black card base with a cream panel added inside to write on. The little sentiment is from the same set, stamped in black and embossed in white.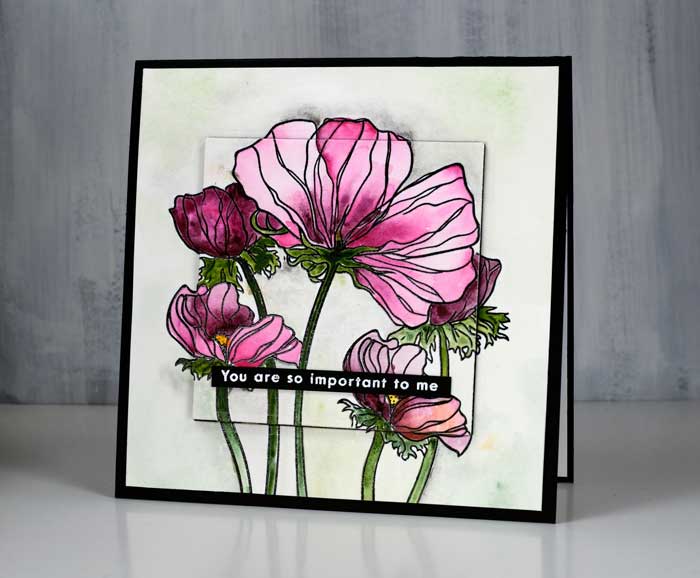 You have probably noticed new floral stamps are all around right now. Maybe new flowers are also popping up where you are, not here in Ottawa though, I'm still surrounded by snow and ice! To celebrate the return of spring and flowers we are having a giveaway. To enter leave a comment here or on my blog telling us what your favorite flower is. I do love roses but the blue of cornflowers is so pretty and so is the shape of sweet peas and the delicacy of poppy petals…you get the idea.
♥♥♥
Learn a little about Heather: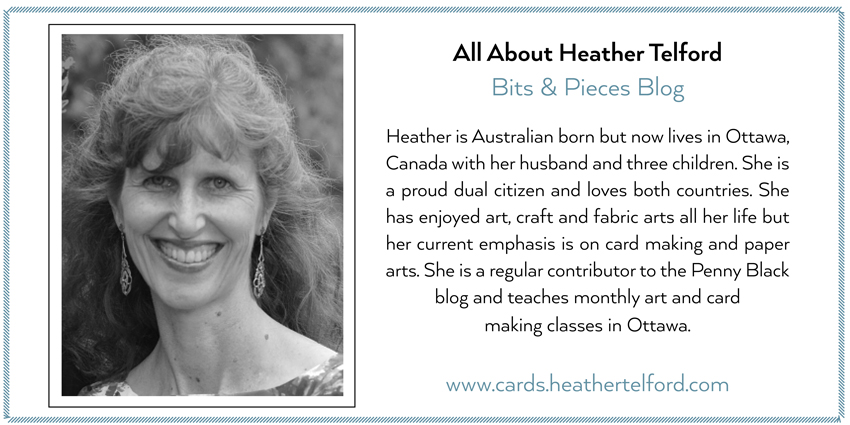 Supplies Used: